The third stop of the Freeride World Tour took place early in the morning in Fieberbrunn, Austria (extremely early if you're on Pacific Standard Time) under blue skies and in perfect snow conditions. Despite a historically large snowpack, a couple of sharks were still swimmin' in the water and managed to snag some of the riders. The face offered quite a few different line options compared to Hakuba or Kicking Horse, which meant we saw plenty of creative lines.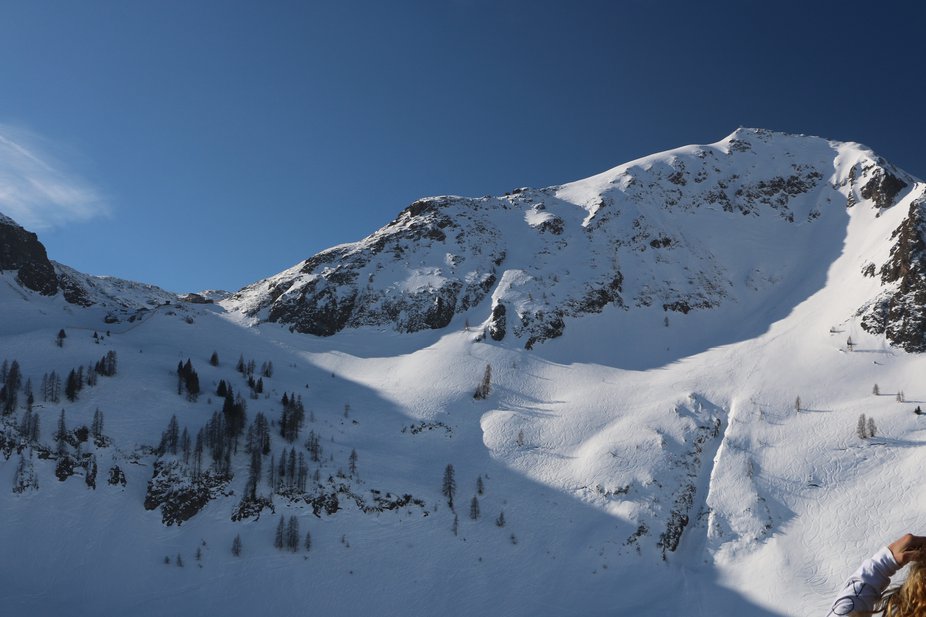 Face photo by Grifen Moller

Men's Ski Competition
The men's ski competition was quite the show; while many of the riders landed huge airs in very flowy lines, the judges took the -50 backslap rule to heart. They wanted to see the skiers land on their feet, so many of the high-risk runs scored low because of this.
Straight out of the gate Markus Eder earned himself a high score of 93.22 and landed in the hot seat with a redbull in his hand. (Did he also give Drew a redbull to hold?). He's looking dominant on this year's Freeride World Tour. Today he found two huge transfer airs, skiing fast across the face and stomping a huge windlip backie to cliff drop combo (almost as a double stager) at the bottom. Representing what skiing at Alta is all about, Andrew Pollard pulled together a run that looked had extremely smooth and effortless transitions and included two beautiful threes. The run earned him another high score of 85.33 and eventual second place. Berkeley Patterson, yet again, casually jumped off some monster cliffs and was able to land big air after big air - though due to a some backslaps, the judges only scored him a 62.00. Shoutout for going biggest of the day though.
Quite a few loose runs, hip checks, and falls led to some lower scores. Grifen Moller lost a ski out of literally nowhere (secret sniper?) and Craig Murray took a horrible fall when he exploded after landing on some rocks after a huge 360 transfer attempt. He snapped one of his skis but was able to safely get down the face on his remaining ski, somehow uninjured.
For a second it looked like Tanner Hall was able to go for the double backie, but instead went for the flat 3 and lost his footing on the landing somehow managing to self-arrest before tumbling over some cliffs. Perhaps he'll bring out the dub on the next venue. Mickael Bimboes sent a WOW run that was fast and flowy. Just like last year, he was able to gap the chute but this year he turned that iconic air into a triple. He only scored an 81 and was put into fourth place, the judges clearly penalising for a lack of tricks. Leo Slemett slid into third place combining a technical and exposed top section double stager (opening a new line) and sending a flawless backie off one of the windlips lower down, scoring of 84.33, knocking Kris Turdell into fourth place.

Full Replay:
https://www.facebook.com/peakperformance/videos/2191623281100679/
Key Run Timestamps:
Markus Eder 05:54
Andrew Pollard 14:44
Mickael Bimboes 48:05
Leo Slemmet: 01:02:16
_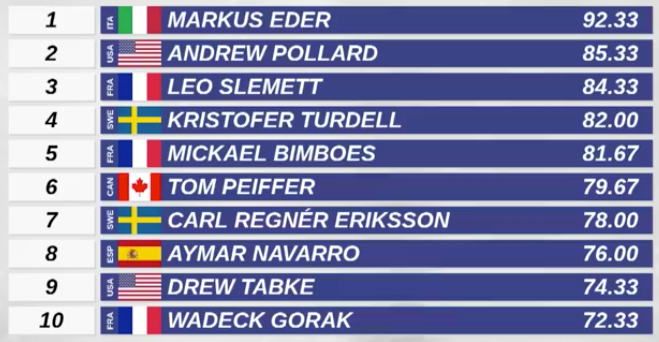 Women's Ski Competition
Only eight women competed at this stop but the tour did bring back Eva Walker as a wildcard, a veteran of the FWT. I'm finishing up this write-up at two am and so I may sound tired and lackluster, but it's honestly quite exciting how the women continue to raise the bar on each other in terms daring airs and technical runs.
First out of the gates was Jacqueline Pollard, proving again that the Pollard siblings are not to be overlooked. She scored a high 82.00 with a flowy run with multiple no-hesitant hits. Next up was Arianna Tricomi, who began a unique run into a technical chute and laced it up with some playful airs. One of her landings was a bit off, which is likely why the judges scored her a 74.33. Eva Walker was able to sneak in right above Arianna with a score of 77 and land in second. Norweigan mogul skier Hedvig Wessel seemingly started her run a bit slow, but near the end she threw down and landed a backflip. The trick scored her an 86.00, which edged out Jac for the first place. Elisabeth Gerritzen ended the women's ski competition with a very cool, calm and collected run with nice-sized airs that looked way too casual. She was awarded 80.00 points and a third-place finish.

Full Replay:
https://www.facebook.com/peakperformance/videos/2089652937795474/
_