Cover Photo: Puzzle Media
The women's segment from Faction's 'The Collective', filmed in Leysin and Saas-Fee, Switzerland, raised the bar for ladies freeski segments in major movies. But getting that segment made was far from plain sailing. By the time the Leysin shooting window came around, many of the riders were carrying injuries from comp season. In Saas-Fee, the sled driver for their private shoot got stuck for three hours trying to get up the mountain when the underground train broke down, leading to the shoot being canceled. How do I know? Because I was on the damn train trying to get up there too.
The next day the weather came in leaving me and Sarah lapping rails blind, but nobody getting any shots. But the crew persevered and the results speak for themselves. With the help of Anna Smoothy on question duty, we caught up with Sarah Hoefflin (SH), Mathilde Gremaud (MG), Kelly Sildaru (KS), Giulia Tanno (GT), Caroline Claire (CC) and Margaux Hackett (MH) to discuss the shoots, their plans and the future of women's skiing.
https://www.newschoolers.com/videos/watch/945317/THE-COLLECTIVE--X-Women-s-Segment--4k-
_
HOW WERE THE COLLECTIVE SHOOTS IN LEYSIN AND SAAS FEE?
KS: It was so much fun. I've never had an experience like that before. Usually, I only ski with or see the girls during comps. This time we were just enjoying skiing with each other totally removed from competition.
MG: "It was so cool to be with the girls and have a shoot just for the women. Sharing a room with the girls, going to dinner each night, the sunny weather, the whole week there, it was a very nice experience."
GT: It was nice to film with the girls. Unfortunately, I wasn't able to join Leysin due to an injury so I put myself under a lot of pressure in Saas-Fee since I really wanted to get some shots. We were a bit unlucky with the weather but skiing with those girls is always a pleasure.
_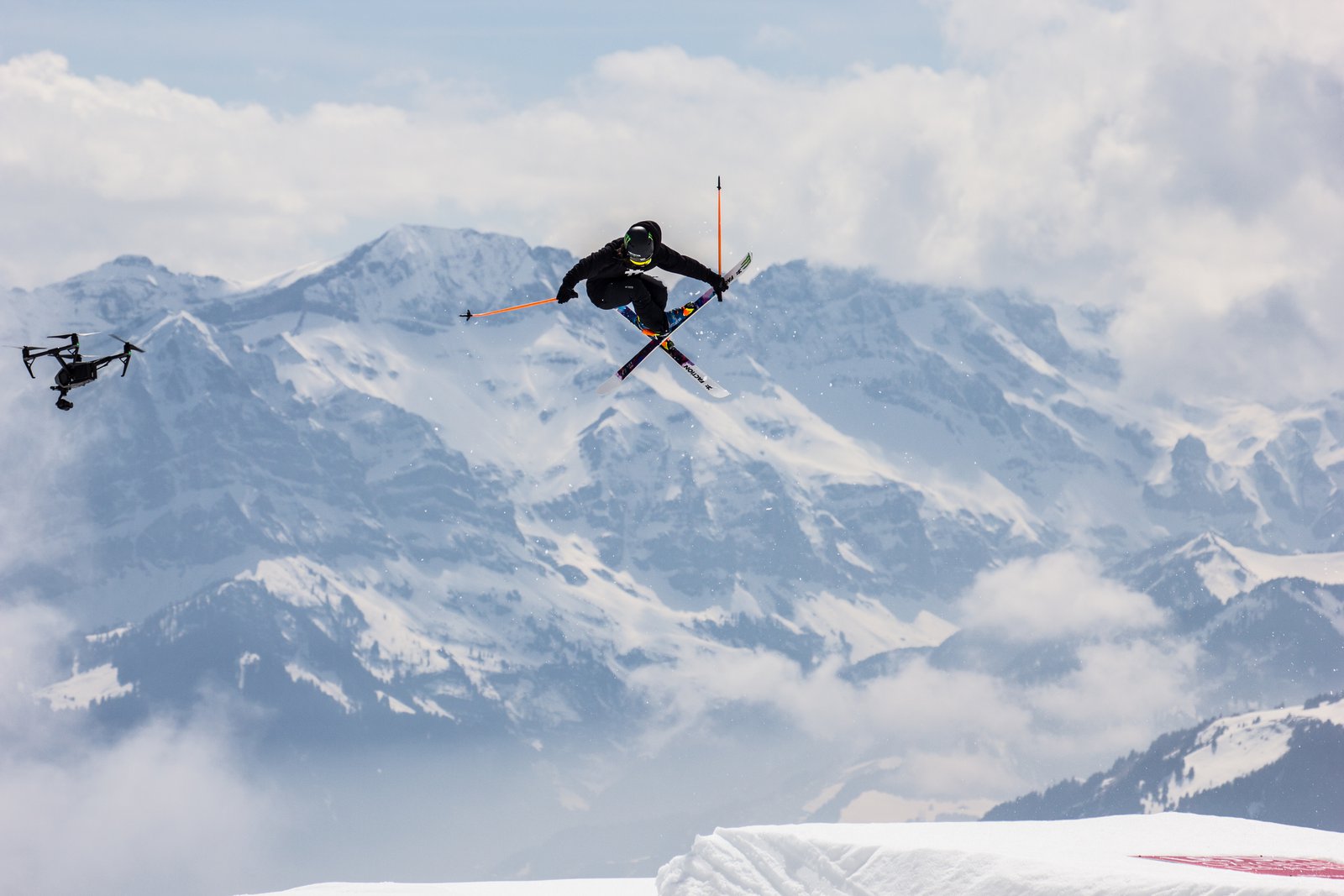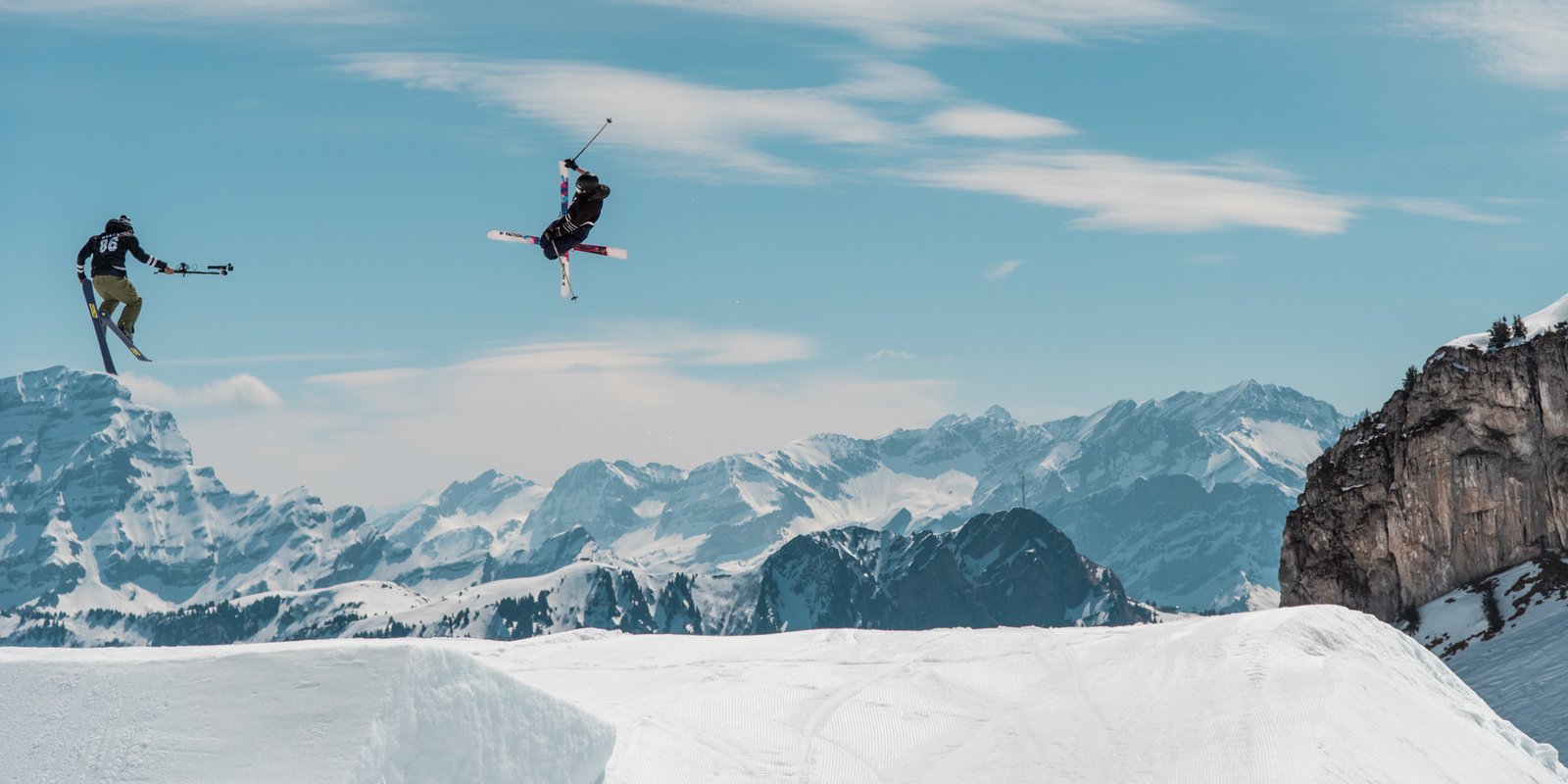 Two ways of getting the shot. Photos: Puzzle Media/Oscar Hall
_
WHAT WERE THE BEST MOMENTS FOR YOU WHILE SHOOTING THE COLLECTIVE?
CC: One of the last days of filming I felt I was starting to click with some skiing at the end of the day and so I probably took another 12-15 laps after everyone was finished to try and get this switch dub 9 I was working on. When I finally got it and I got down to the bottom everyone was freaking out and was so hyped. That was the highlight of my season then and there.
MH: Getting to know the girls a bit more and spending quality time together outside of the competition scene was really special. And also, just realizing how amazing this opportunity was. Taking it all in and feeling super grateful for everything that skiing has brought me.
GT: Hmm I think in the end it was just to know that we actually got some good shots after the challenging weather conditions.
_
WHAT DO YOU WANT TO SEE MORE OF IN SKI MEDIA?
KS: I really would like to see more "real" freestyle skiing. What I mean by this is that I prefer more creative skiing - like urban and also more creativity in the park. I think we see a lot of good freestyle skiing in the media now, but that's the best, so we can have more right? The spin-to-win tricks can be sick as well, but I think there are so many more creative aspects to explore.
CC: More women's segments like these. I think we've proven that we can do big segment-worthy tricks on big features and when given more opportunity we can inspire more through film and keep female freeskiing on the rise.
GT: More female projects.
_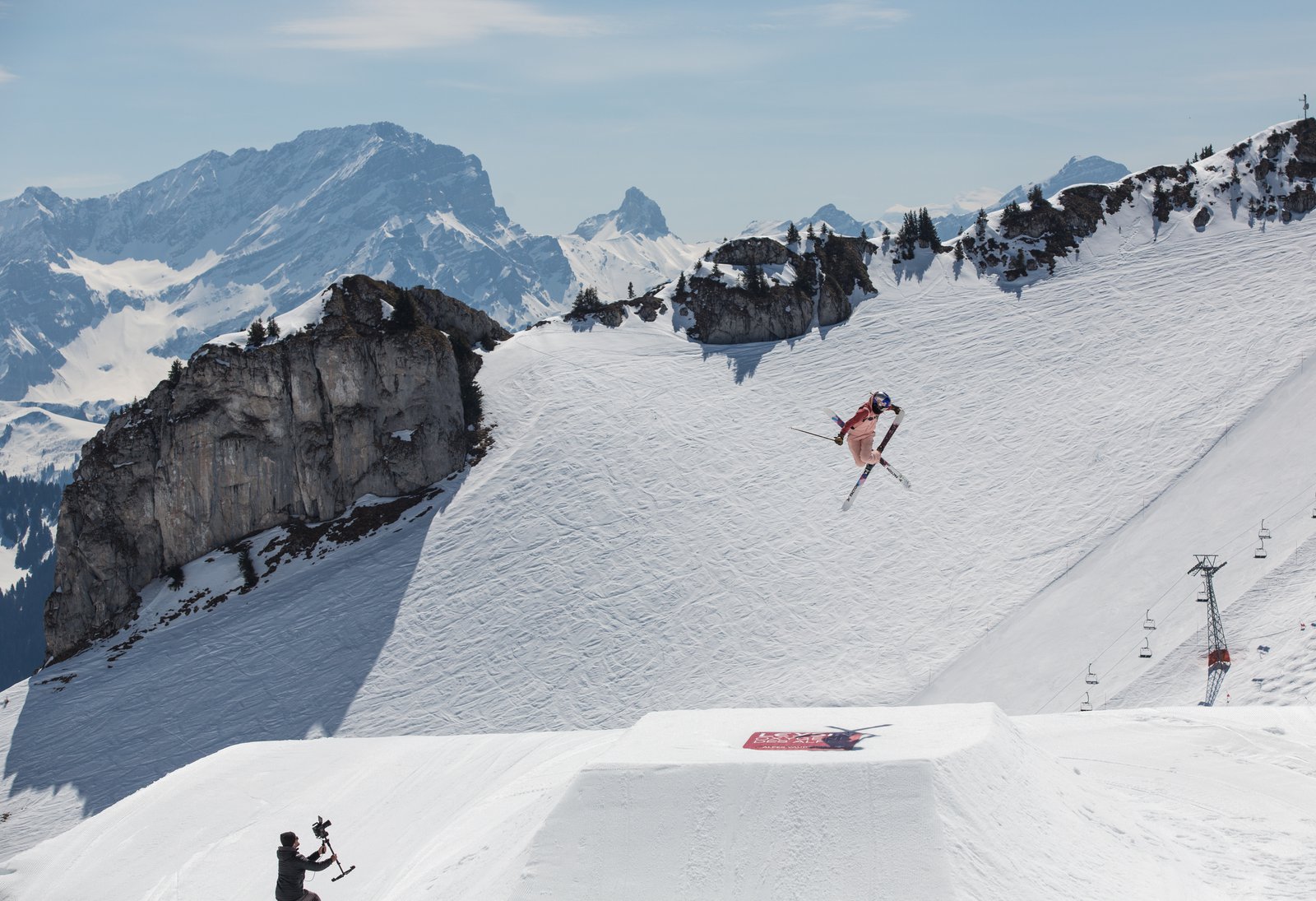 Kelly capping perfectly. Photo: Tero Repo
_
IS IT EASIER TO PROGRESS IN COMPETITION VERSUS SESSIONING WITH YOUR FRIENDS?
KS: It depends. Sometimes it's easier to push yourself more in comps, 'cause if you want to go for the win you need to push yourself. But at the same time, it can be a bit risky and stressful. During filming sessions, it can be easier. I like to learn or send new tricks with my friends when we are pushing each other in a less stressful environment. It's also super nice if you can get your new trick on film to begin with and then go do it in a comp later on.
MH: In my opinion, you can progress a lot more if you're filming and sessioning with your friends. Because there's not the pressure of competing, you can take the time to look around, get hyped and hype everyone up at the same time.
GT: I think for me it's easier to progress when I'm skiing with my friends as there is no pressure.
SH: "I never care what the setting is, skiing is skiing and friends are friends. Skiing with friends always makes the day so much better. You have fun, you don't take yourself so seriously, you ski all day and even when the weather sucks – life is awesome.
_
WHICH IS MORE SATISFYING? BAGGING A KILLER SHOT, OR STANDING ON A PODIUM?
CC: I think they're pretty similar feelings. Proving yourself and feeling that you accomplished something you go to bed thinking about is an indescribable feeling. At the end of the day, as long as you're happy and happy with your skiing, there's no better feeling.
MH: At this stage in my career I would say standing on a podium, but going and filming and getting a sick shot is super satisfying. They both showcase your hard work and dedication to what you're doing.
KS: Can't I say that I would like to take these both?! They're both super satisfying.
GT: I'd like to say a podium, but now that I think of it in a competition the final result isn't only influenced by your skiing but by the judges as well, so purely for yourself, a killer shot is probably more satisfying.
_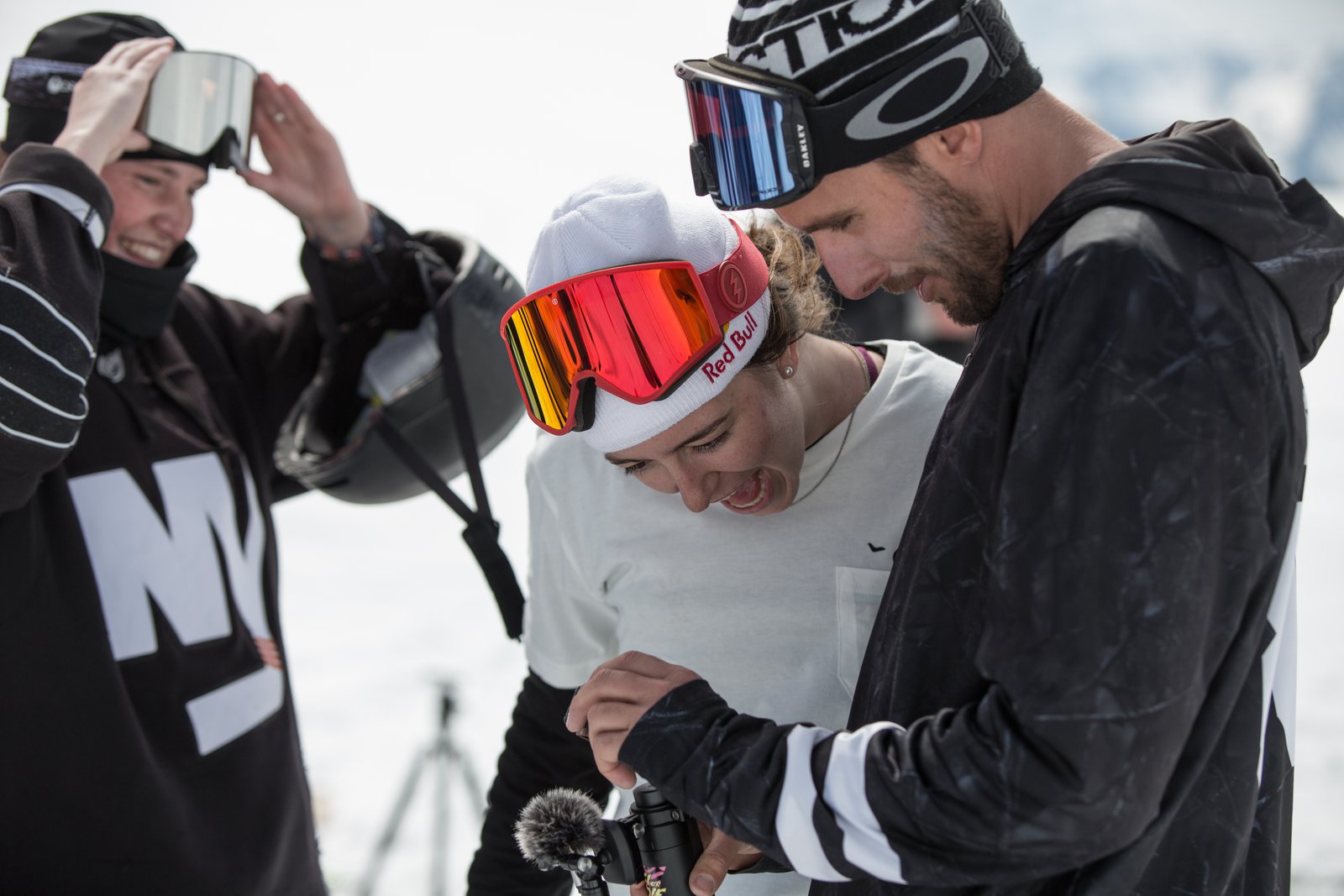 Mathilde Gremaud with that GTS feeling. Photo: Tero Repo
_
HOW DO YOU FEEL ABOUT THE PROGRESSION OF WOMEN'S FREESTYLE SKIING?
CC: It's been taking off! It's fun to see crazier and crazier tricks in each comp as the seasons have gone on and to see clips of girls going off on Instagram.
KS: I think women's skiing is progressing so much right now and pretty fast. It's nice to see it and be part of it.
GT: I'm really happy to see how women's skiing progressed in the past few years and I'm super excited to see how far we can push it.
_
WHAT'S THE DIFFERENCE BETWEEN RIDING WITH GUYS & WITH GALS?
CC: I don't feel a huge difference. I grew up with brothers and skied for all guy teams up until I was 15 so I loved being pushed by the guys as much as girls. At comps, I'm usually lapping with whoever is in sync with me, guy or girl. It was especially fun though to come together with the Faction girls and make something that was female-oriented.
MH: I feel like women get each other a lot better and we're all on the same kind of level so It's easier to relate to. I do think It's really important to ski with guys as well and push ourselves even more. We all ski together at comps but we're not really riding together as we're all just focused on what we're doing individually. So it's special when we get to ride outside of comps, sharing moments and having fun. THE COLLECTIVE was one of those times where you're all collaborating to make something awesome together.
GT: When I ski with other women it for sure pushes me more to try the tricks they are trying as the tricks are way more relatable than when I ski with guys that do triples. On the other hand, it really helps me to ski with the boys and look at their tricks and they always try to help me out which is super nice. But in the end, the best is just to ski with friends no matter the gender.
_
WITH REGARDS TO BOTH FILM AND COMPETITION, DO YOU FEEL THAT YOUR TEAMMATES PUSH ONE ANOTHER TO PROGRESS?
SH: For sure. I remember when Mathilde started doing switch dubs at the Olympics during training. If she hadn't done that, I'm not sure I would have been driven to put a switch dub into my run. So in a way, my success there was thanks to her. She pushed me to do a crazy trick that I didn't think was possible for me in a run.
CC: Yeah all the time! We're a tight-knit group that's always looking out for each other whether on hill or not.
MH: Definitely, we're all pretty stoked for each other and happy to help out in any way we can and show support to each other! I have a lot of respect for all of them and we all come from different backgrounds so it's incredible that we all get to be a part of something so special together. I'm super thankful to have a team like this one.
GT: For sure. I can mostly talk from Sarah, Mathilde and I as we are teammates and ski a lot together. I feel like we push each other a lot to progress in and outside of competition.
_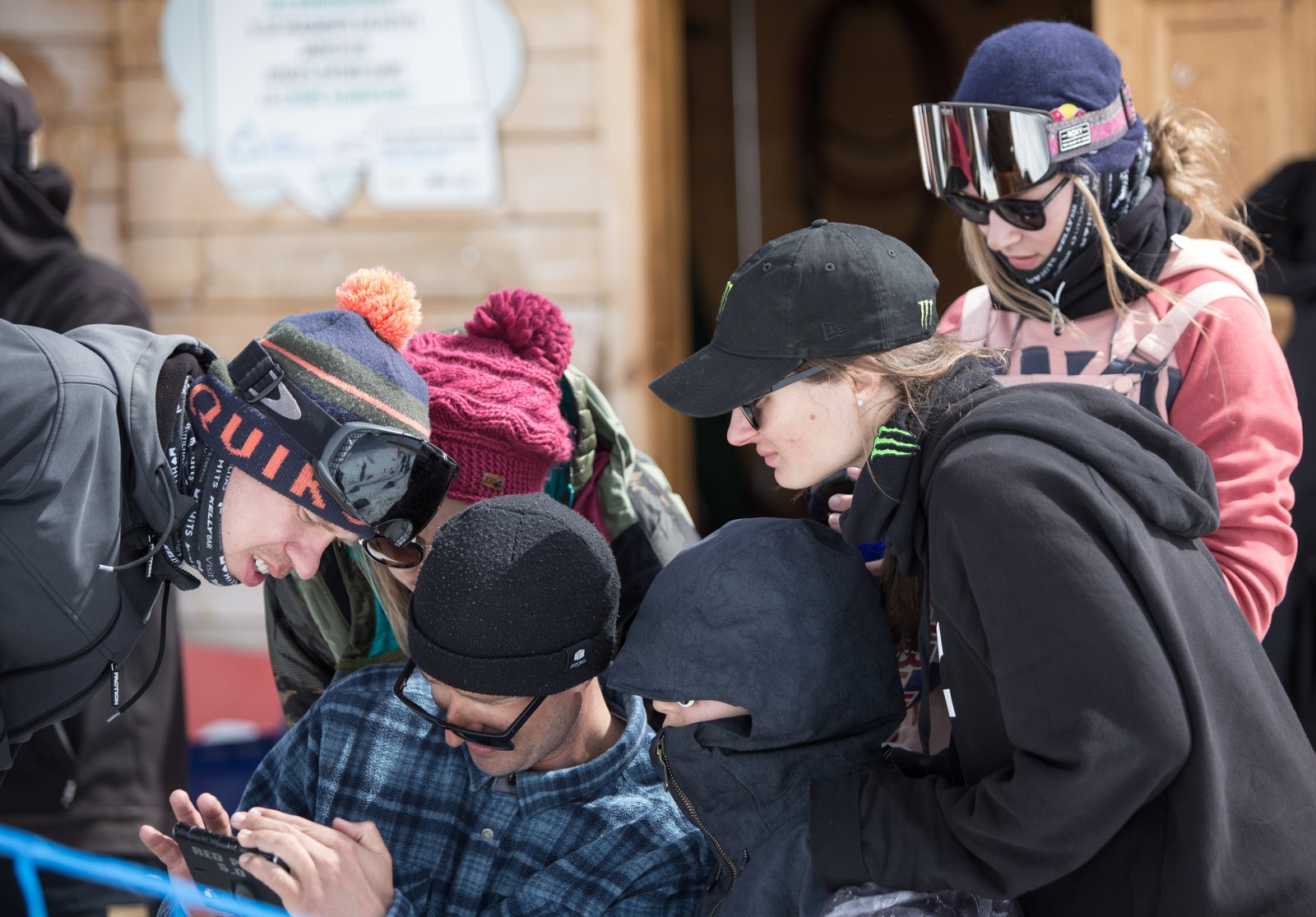 Both teammates and competitors. Photo: Tero Repo
_
WHAT IS THE PRIMARY GOAL YOU HAVE FOR YOUR SKIING MOVING FORWARD?
KS: The next step for me will be doubles. Mostly, I just want to have as much fun as possible skiing and enjoy my time in the mountains.
MH: I would say one of my main goals is becoming more a part of women's skiing progression which means being at the top of my game, I also want to film more to showcase what women can do and inspire more girls to come join the fun.
GT: For now and in the next few years it's for sure progress as much as possible and not get hurt again in the near future.
_
WITHIN SPORTS WOMEN, WHO DO YOU HOLD IN HIGH REGARD?
CC: As a kid and now I looked up to Devin Logan a lot. D Lo and I are from the same place in New York, we grew up skiing the same hill in Vermont and had the same coach. Just seeing her ski around oozing style was huge for me. I try to mirror her skiing in mine in every way, whether it's a grab or adding just that little bit more cleanness to anything.
MH: Watching Johanne Killi riding the park or Taylor Lundquist rip the streets is one of the most satisfying things I could watch. Or watching my best friend Anni Kärävä land a new trick or get over a certain fear. All these ladies and more inspire me to go out there and ride the best I can. They make me proud to be a skier.
GT: Jamie Anderson. She's been in the game for so long and has always been on top of the game so that's inspiring to me.
_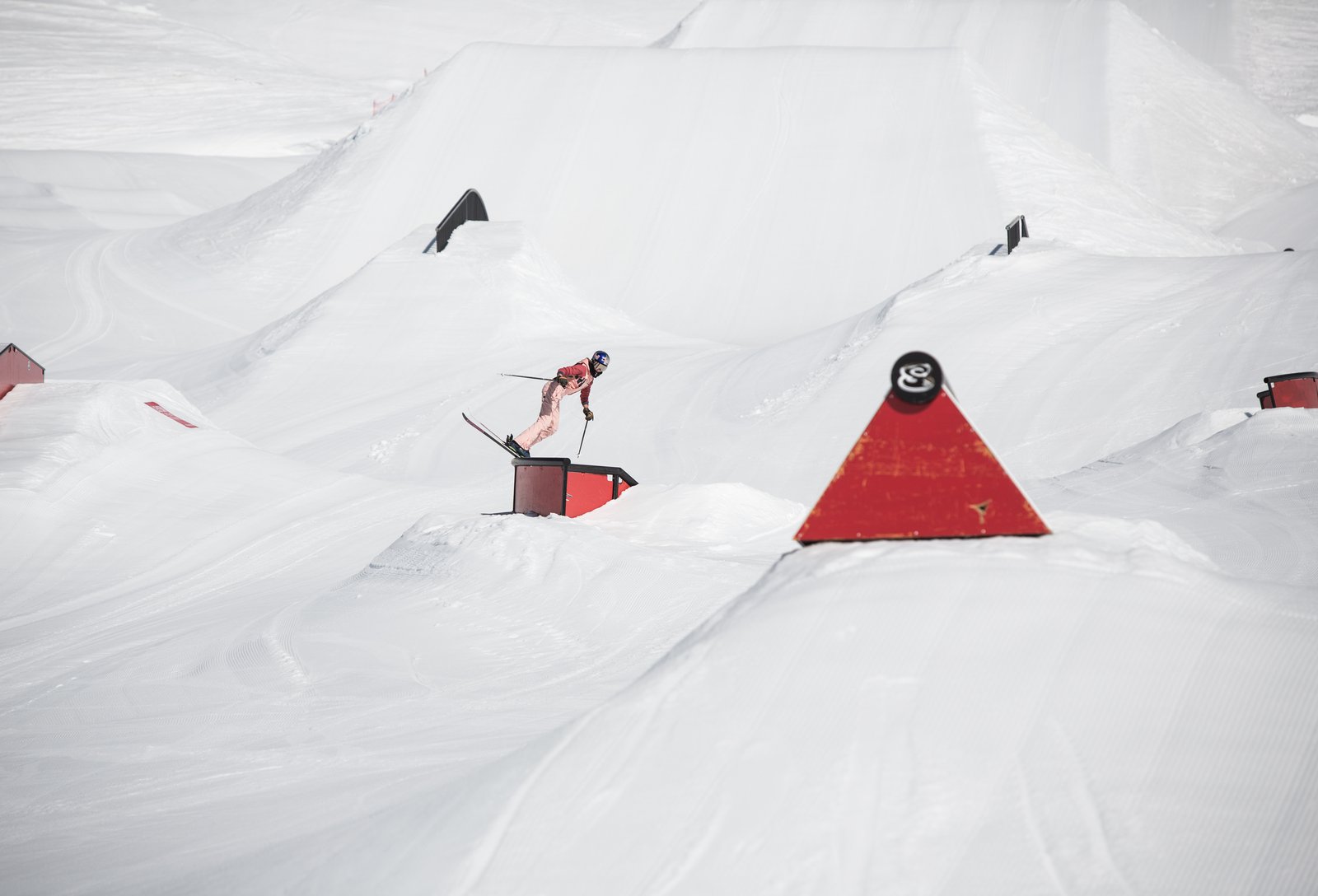 Kelly in rail paradise... how fun does this park look?! Photo: Tero Repo
_
WHAT DO YOU THINK IS THE BIGGEST CHALLENGE FOR WOMEN IN SPORT?
CC: I think we've come a long way in terms of opportunities for us, but there's still a long road ahead. I think it's great Faction has stepped up and shown how much we can give to the sport and how much there's still in the tank for us.
KS: The biggest challenge is probably trying to get on the same level as the guys. It's so awesome to see how quickly women's freestyle is progressing, so I'm pretty inspired by that.
GT: In my opinion, it's mainly to get recognized as much as the guys. In most sports, there is a gap between male and female level so often we're just compared to the guys and if the level is not the same we're seen as worse. A lot of people don't try to understand why that difference exists. I think it includes a bunch of factors like the differences in our bodies and also just how long women's skiing has even been a thing. But I think that's a question that can't be answered in just a few sentences.
_
FOR THE WOMEN WHO ARE READING THIS Q&A, DO YOU HAVE A FEW WORDS OF WISDOM OR ADVICE TO SHARE?
KS: Don't ever be afraid of people judging your decisions – it doesn't matter what others think. You are the number one priority for yourself. Try not to compete with others, rather, every day you should compete with yourself and be better than you were yesterday.
No matter what you do, make it fun and enjoy what you're doing to the fullest.
CC: Keep skiing. Don't think skiing ends when you may not do well in a local rail jam or anything. There are so many different avenues you can take in skiing that can take you to the coolest places and meet lifelong friends like the girls I get to call my Faction teammates.
_
HOW ABOUT FOR THE BOYS READING?
CC: I love you guys too.
MH: We're all out here doing something we love so let's appreciate and support each other!
KS: I get super motivated when skiing with guys who don't go "by the book" – it always gives me so much energy. The advice I said for girls applies to boys to – make sure it's fun, creative and you're focused on your own progression – not anyone else's.
GT: Watch out boys we're coming for you haha. ;)