StartFragmentTen Lesson's from Premier season, upcoming shows & by the way new gear at ragefilms.com
Lesson #1
Don't invite a bunch of kids from Utah to drink out of a keg or anyother device that isn't available in the bee hive state. I'm not going to mentionany names but lets just say a few of our veteran athletes turned the worldpremiere into a marathon drinking event. I was impressed by their ability tokeep pace, but not by their ability to lay off of the golden beverage
Lesson #2
Never decide to pick up the security deposit on a house rented for theathletes. Luckily Mike Mertion took pictures of all the devious activities andwe at Rage were able to pin point the athletes at fault. I however didn't needphotos of the "no pants no shirt" party that Mertion so happily organized.
Lesson #3
This is a lesson that Derek Spong learned. No matter how incapacitatedKyler Cooley looks do not ever try to wrestle him. I use tranquilizing a bearas reference. Never approach a bear that has been shot by a tranquilizer unlessyou are fully certain it is sleeping. Let it be known that the same law appliesfor Kyler.
Lesson #4
Limo rides with 20 year old chicks are cool until they hook up theirIpod to the overly loaded stereo. Pussycat dolls, and Rihanna, are much betterto look at, than to listen to.
Lesson #5
If your driving through Boise and its past midnight do not try to getfood. After kicking it with Scott's Kevin Kruse we decided to get some food. Ina college town you would figure that Domino's would be open 24 hours. To ourdismay nothing but Denny's was open. Although we all had grand slams it didn'tfeel all that grand the next morning.
Lesson #6
Oh Utah,land of lots of snow, bad ass terrain, and 3.2% fun. I know Utah is fun, butthe beer is overly painful to drink. We rolled into town had a great show atEast High with Bluehouse Skis and then decided to go out for some brews.Needless to say we all felt like over inflated balloons.
Lesson #7
Giray Dadali has some volleyball game, but Ashley does not. AlthoughGiray lost to the powerhouse team anchored by Dylan Natale, he carried the teamwith massive spikes on the court. Ashley however was ultimately scared of thesoft white volleyball and sent off loud piercing screams when the ballapproached her.
Lesson #8
Always make sure thatKyler Cooley is well fed. Half way through the after party Kyler became hungryand much like hungry bears, do not approach a hungry Kyler unless you come bearingfood. We quickly were able to diffuse what possibly could have been a messysituation by paying a sober partygoer to hall ass to a feed store and get food.
Lesson #9
When in Tahoe callup Moment skis if you are planning a party. After a successful Squaw premier,(thanks Savannah and Adam) we headed to a bar in the village. By the time weput down rounds of car bombs and ordered Casey's favorite drink Jaeger &Cran, I knew the next morning would hurt. Regardless Moment Skis knows how tohave a good time.
Lesson #10
When you are onthe road make sure to buy a souvenir like a dope wildlife shirt. Chicks dig them and they make you fit in to any redneck crowd, plus Ian Cosco owns 11 of them, so you know they are cool. Mark Dvorak our co-pilotfor the tour really wanted one throughout the trip, unfortunately he was unable to find one in the 21 gas stops along the way. After the Mt. Shasta premier westrolled into a fine local gas establishment and to Mark's pleasant surprise, afine collection of wolf, deer and other wildlife shirts were hanging from the rack.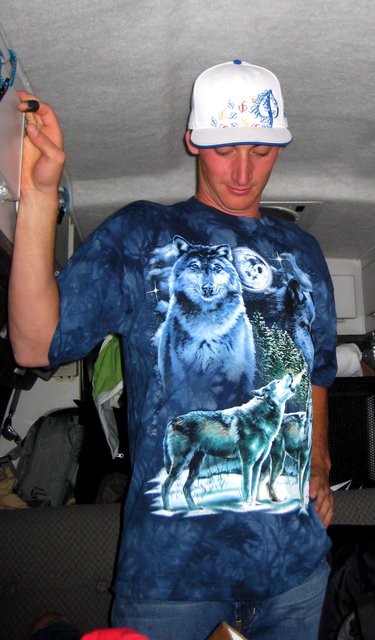 Bonus Lesson: Dan can never find his wallet.
Look forward to more tales from the road and make sure to hit up many ofour upcoming October premiers.
Oct 3 Aspen, Colorado Belly UP 9pm
Oct 4 Milwaukee, WI Helene Zelazao Center for the PerformingArts 6:30pm
Oct 8 Hood River, OR Full Sail Brewery 8pm
Oct 10 Reno, NV TBD
Oct 10 Seattle, WA University of Washington, Kane Hall 7pm (after party Finn McCools)
Oct 10 Denver, CO Stick-E Star Restaurant & Bar 5pm
Oct 11 Ludlow, VT The Loft 5pm
Oct 11 Vancouver, BC TBD
Oct 12 Whistler, CA Longhorn Saloon 5pm (all ages) 8pm (19+)
Oct 13 Belligham, WA TBD
Oct 17 Cal-Poly, Ponoma, CA Bronco Student Center 7pm
Oct 20 Bozeman, MT Emerson Theater 8pm
Oct 22 Missoula, MT Center Theater 7:30pm
Oct 25Gonzaga, WA Wolff Auditorium 7pm
EndFragment