Today sees the confirmation that Antti Ollila, one of Finland's most fearless and down right gnarly riders, has joined the small but very mighty Quiksilver ski team. Antti joins Sammy Carlson, Thibault Magnin, Kai Jones and Finn Bilous on their rider roster, as well as becoming a part of a wider family of skateboarders, snowboarders and surfers.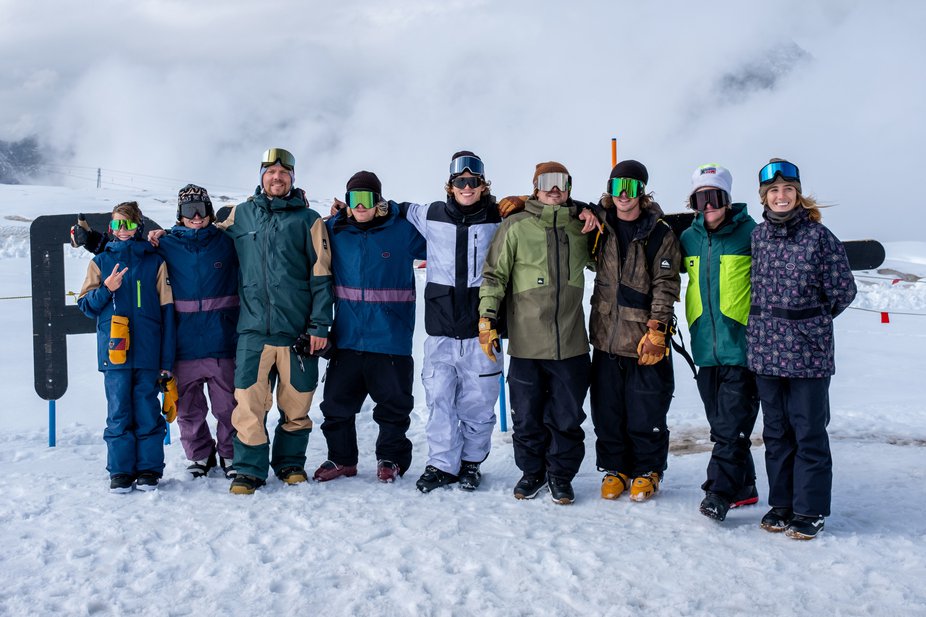 Antti hanging out with the rest of the Quiksilver team
Antti is known for riding at Mach 10 whilst keeping it both stylish and technical. He's not really one for chasing big sponsorship deals though. It wasn't all that long ago that he went without a skis sponsor for multiple seasons. It's no surprise, however, that a talent like Mr Ollila ultimately hasn't gone unnoticed and it's rad to see him getting approached and picked up by a giant of the action sports world such as Quiksilver.
I caught up with Antti who's recently returned to Ruka, the spiritual home of all things bonkers done on skis. Where he's preparing to see out the rest of the year before making the shift to another spiritual home of skiing.
"In the beginning of January I'm moving to Innsbruck for three months. The plan is to go and try and shoot something out there. A lot of people couldn't get out there last year, so a lot of homies will be there for winter. People want to ski some real mountains so it should be good.
The main reason I go is the Tirol Snow Card, you can ski 90 resorts around Innsbruck. If you have a car you have endless options and if you don't you still have plenty of options. Because there's so many resorts there's something to do whatever the conditions."
I tried to get some information about the filming Antti mentioned but he kept a pretty tight lid on that info (can't win 'em all!). Although it sounds like he's going to produce something of his own and get the homies involved. We expect to see the Keesh crew included but other than that I got little info on the project… it's enough to get me hyped though! It's great to see more rider produced content. This year's iterations of rider made movies have been spectacular and it'll be awesome to see what Antti can get done!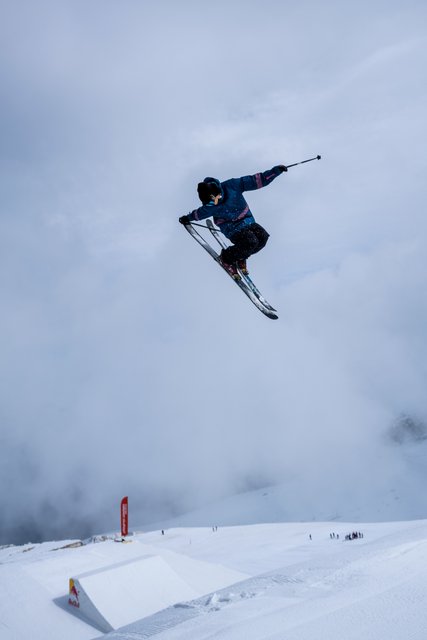 Classic Antti grabbing blunt
While the official announcement that he's joined Quiksilver comes today, you can see Antti in the fresh kit in Roots when it drops. We chatted about the few trips he did this winter while filming.
"I didn't do too many trips for the film because the guys came to Ruka for a week for that segment. Then I spent three weeks in Switzerland; we did the Verbier and Crans Montana park shoot in a row. I think Verbier was my favourite; it's my favourite kind of skiing to do anyway. Cruising around the resort and building features and lapping the chairs hoping for some soft snow."
It sounds as if we'll be seeing a lot more of this kind of skiing from Antti this winter. His motivation seems to lie in chasing softer snow and slush busting, rather than throwing himself down stairs and at walls… I can't say I blame him.
The Ruka segment of Roots was really beautiful and Antti takes centre stage on home turf. Colorful lights against that dark Finnish night sky alongside mind-bending tricks really felt like an all-time classic edit.
"We had one week and it turned out pretty good; it would have been nice to have a little more time but we got lucky with some snow at the start of the trip. It's crazy, we were shooting during the light festival they have there. Most of the hill is lit up with all these colors. A lot of people think that they'd been made in post or that we set it up, but it's a light festival Ruka has."
Antti is not a natural self-promoter, preferring to let his riding and segments do most of the talking. It's awesome to see that kind of graft being recognised by big names such as Quiksilver putting him on a team alongside other aforementioned - and notorious - names, Antti is stoked.
"It's been great. If you asked me a year ago I couldn't have imagined being on Quiksilver. They approached me and I was like 'woah!' I really feel like it's a good fit, me and Quiksilver, I'm a really big fan of what they're doing. Especially the new campaign, Surf The Mountain. This is something I want to be a part of. I'd say I'm happy and amazed at the same time."
The Surf The Mountain campaign runs alongside releases of signature outerwear for both Sammy Carlson and Travis Rice. No doubt we'll be seeing Antti in some of that series soon enough. Quiksilver was born from surfing and has influence in both the surf and snowboard world as well as skiing and it sounds like their athletes have plenty of crossover in terms of trips:
"I always liked the vibe of the company; who they have in their team. Even though there's skiers, snowboarders and surfers you still have that family vibe. A couple of weeks ago we did this trip in Switzerland, we went to Zermatt and Saas Fee then over to Alaïa Bay for some surfing. Everyone was doing each other's sport which was great. We went surfing and the surfers went snowboarding.
I had great coaches but it's not easy, I got up on the board a few times though, it's definitely easier to learn in a wave pool than in the ocean for sure. It was a great trip. I'd never really met any of the team personally before so it was great to meet Thibault, Sammy and the rest."
Antti in the pipe with his new kit //Photo Cred: Simo Vilhunen
It's no surprise that Antti hasn't done a lot of surfing. I can only imagine what that Baltic water is like to get in. Yet I'd be as stoked as he is to get the opportunity to learn at the hands of great surfers on the Quiksilver team. Sammy Carlson is known for loving surfing when he's not crushing pillow lines and that ocean influence is apparent; maybe we'll see that makes its way into Antti's style someday. Most likely it will still be the hard charging, aggressive, send that we know and love him for.
His closing words were all about looking forward to the future and just enjoying the opportunity to ride for Quiksilver. A fresh face on the team, soon be seen in some fresh gear!!