Words: Becca Babicz
Photos: Riley Snyder & Ray Gadd
The 5th Annual Queen's Cup Open went down this past weekend at Park City, Utah with many a skier chicks, sunshine, big spins, tech rails, smiles and high fives. After a blizzarding snowy day on Friday no one could expect the epic sunny blue bird day. And with that sun beating down on a perfectly sculpted course came tip top skiing maneuvers by ladies from across the world with a variety of skiing skills and experience.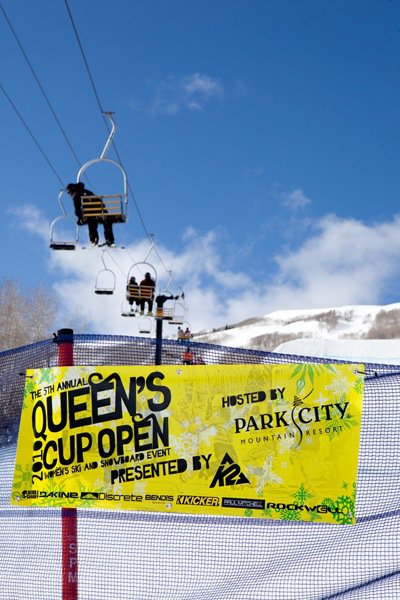 The contest held true to its unique team format, with invited coaches to lead the team through the park and individuals being judged as well at the overall team. The course consisted of a down rail/flat box option, three jumps, a flat rail/box option to drop off and the money booter. Each team and individual had their own highlights. Here's a re-cap from the coaches themselves...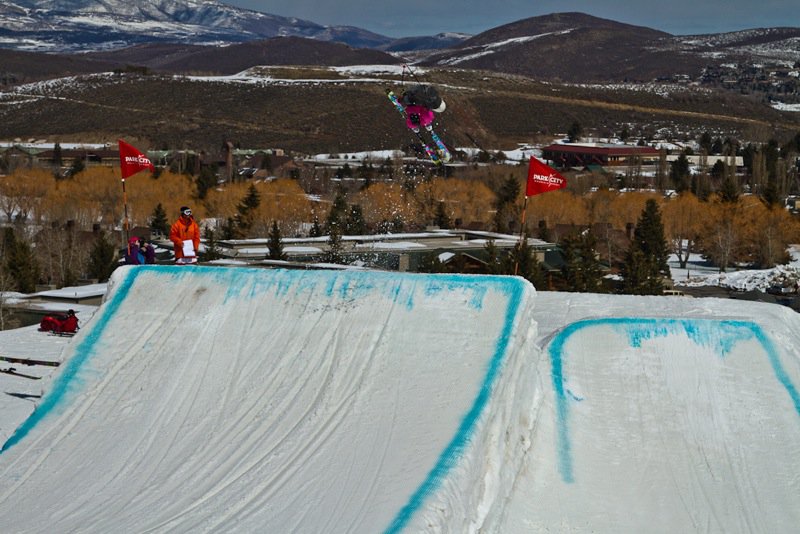 Erica Durtschi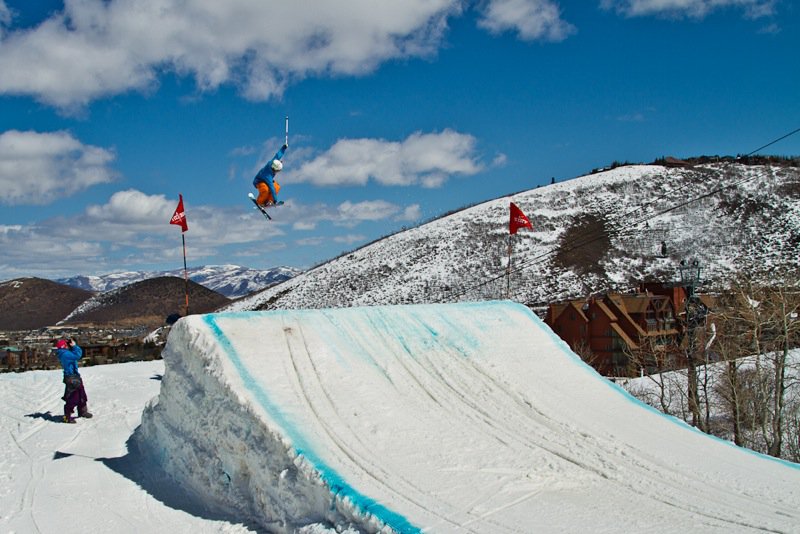 Anna Segal
"What was I stoked on? What wasn't I stoked on! Erica Durtschi (aka dirty Dirtschi) slayed the whole field and won first place, with switch hits and a sick corked 7. I also had fellow Austrailian on my team, Annaliese Fitzgerald which made me happy. Holly Hind showed off here super steeze, which only a Mammoth local could pull off. And Michelle Zeller from Jackson Hole, charged it with some huge 3's and creative grabs. The new generation of girl skiers is here, so watch out!" - Anna Segal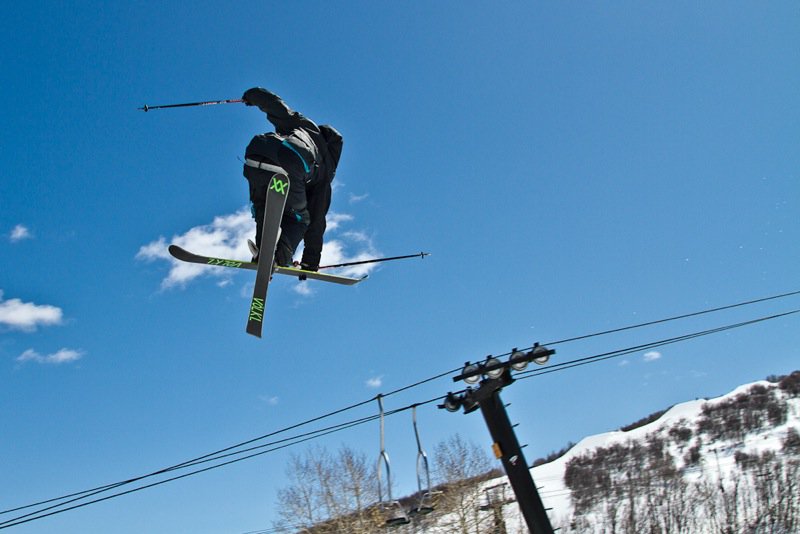 Ashley Battersby
"I was super stoked on all of my girls and especially their positivity! I was bummed because my camper from Windells Marley Rodwick broke her collar bone in practice but stayed and supported her team! Alex from Romania came to Queen's for her first comp and hit every jump solid! Ashton Glass who was one of the youngest competitors at age 9 and did a switch 180 and 180 like a baller! Eli Miller who was also my camper at Windells pulled a 900 on her last run/last jump wining second place for the best trick! All in all it was a progressive day for girls skiing!" - Ashley Battersby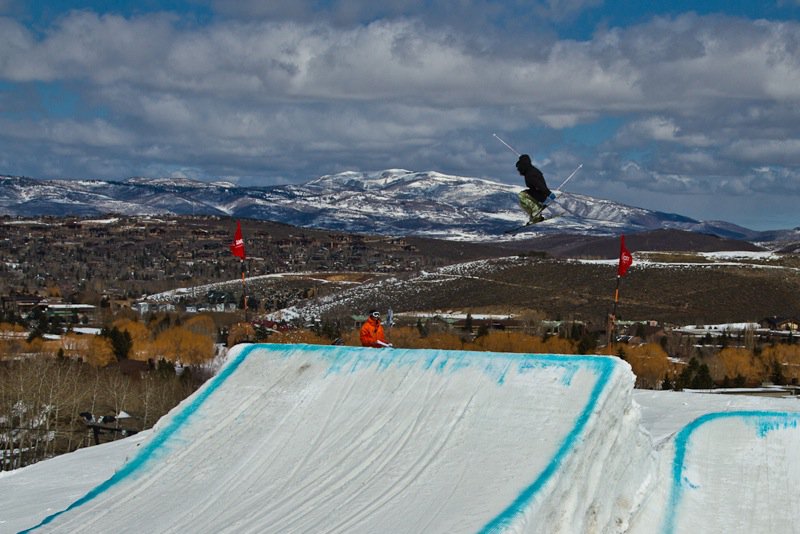 Veronica Kelly
"So stoked to see my little homie Danylle Hammett throwing left to right 360s and 450 out of the bottom rail! Watch for this little lady! Vern (Veronica Kelly), always looking fly, was getting down with 360 tails, 180 on and off boxes and her trickery on the bottom box. She broke her ski like a baller too! Camille Hind was trying new ticks today, left 180s to switch right 180s, going big on all the jumps and looking steezy! Ya team!" - Dania Assaly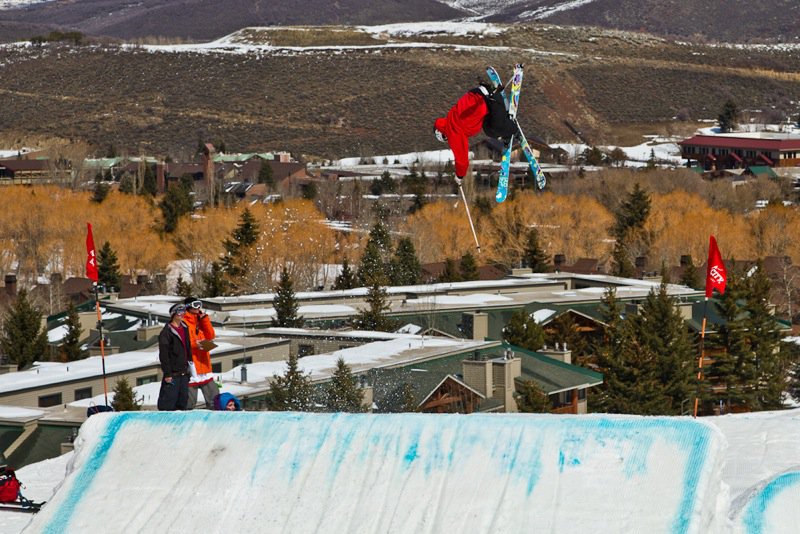 Megan Gunning
"I was so pumped on my big mountain group from Jackson Hole. Kali got her 360 safety grab like a champ. Jessica Moore got all her grabs on her straight airs as well as getting the down rail at the top. Hillary Bean slayed it so hard. She got her 720 to 360 to backflip, unfortunately she fell on her backflip. Watch out for these girls in the future of freeskiing!" - Megan Gunning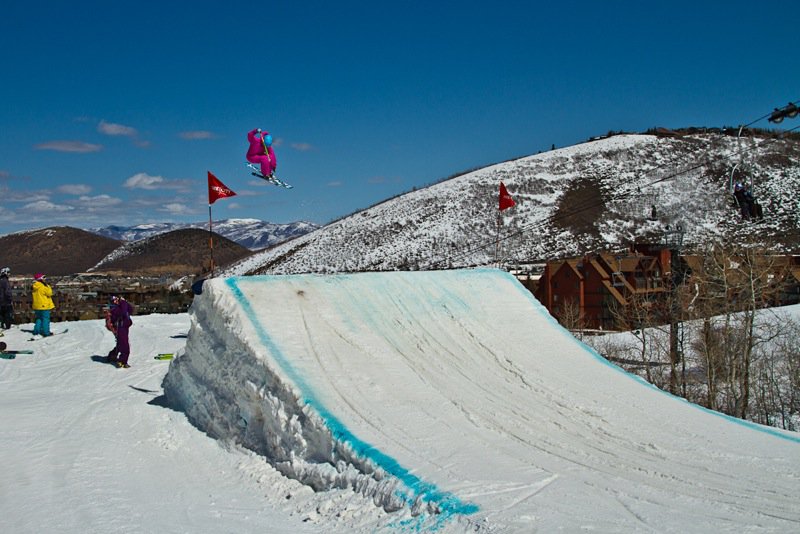 Mads Baker
"My girls killed it today! Everyone tried a new trick today! The progression within the comp was incredible! We had Taylor Lundquist, 270 on, switch up, 270 out of the box, also throwing a 3 and back to back 540s. Heather Hutchinson came switch out the boxes and did her first 540! Heather Thomas, also slayed and did a 9 hundo off the money booter. My girls killed it, and you will be hearing about them in the future! cheaa." - Mads Baker
"My group had a pretty diverse range of experience and abilities, but all were stoked to ski, learn new tricks and encouraging each other. Keni Maras threw a massive corked 900 on the bottom jump. She landed but had some issues with the switch ski-out. Adrienne Taylor was a competitor at her first slope event and was stomping switch 360s over several jumps in the course. Cassidy Ballard spent all day learning new grabs and stomped her first mute and safety grabs. Annalise Johnson was really nervous about trying her first 3s on the course but landed them throughout the day. Congrats to all my girls! I had an awesome day!" - Rosalind Groenewoud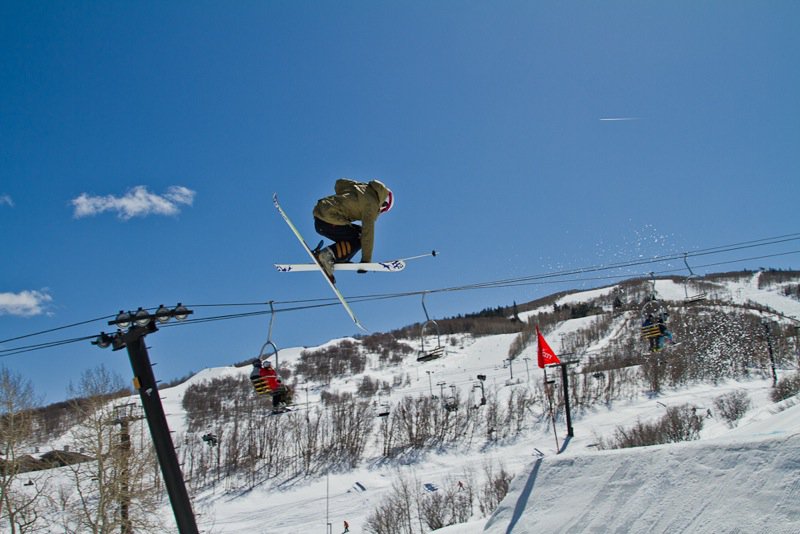 Olivia Akerly
"We lucked out with an awesome sunny park day. I was lucky to have two girls I coach during the season, 9-year-old Chandler Ries and 13-year-old Jessica Vass. I've seen these girls progress over the year and they were stoked to show off their moves at Queen's. They cleared the jumps perfectly and Jess did 180s, switch 180s and a 360. Olivia Akerly who is back after missing some serious skiing time because of two blown ACL's proved to everyone she's still got game. Oliva threw a huge, sick, crossed up, grabbed 540 on the money booter and tied for third place. My buddy Ali Agee came out from Reno and drove all by herself though the desert to throw down at Queen's! Ali got best trick by throwing a sick switch backflip and wound up in tied for third with a solid run of spinning and grabbing. I was so pumped on the nice weather and everyone's positive attitude." - Becca Babicz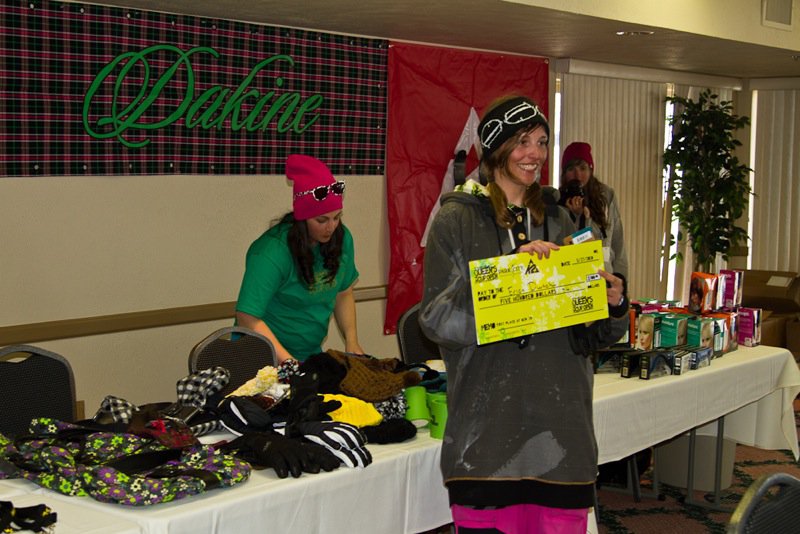 Results
Individual
1) Erica Durtschi
2) Eli Miller
3) Ali Agee / Olivia Akerly
Team Winner: Dania Assaly's team - Veronica Kelly, Danylle Hammett, Camille Hind
Best Trick
Ali Agee - switch backflip
Team Spirit
9-year old Ashton Glass & 8-year old Chandler Ries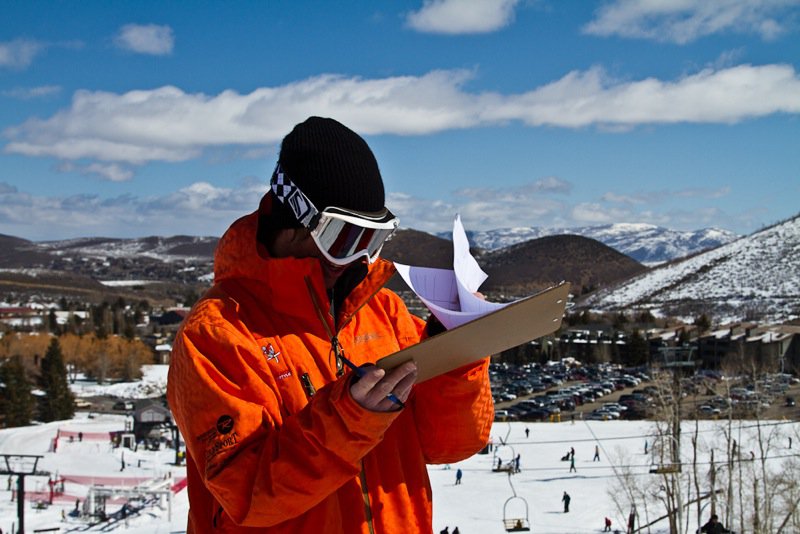 Ty Battersby
Huge thanks to our judges, Michelle Parker, Joe Stumpf, Austin Ramaley and Ty Battersby, you guys are the best! Tosh Peters, you killed it at the start gate. Markus Fragassi, for holding down the microphone. Brooklyn Hall for showing her support, Jeremy Copper for making the park so sick, Meisha Lawson and Becca Sedler for your great organizational skills. Riley Snyder, Emily Coffman and Ray Gad for the sick photos, you guys rule! Our presenting sponsor, K2 skis. Our other sponsors Paul Mitchell, Dakine, Kicker, Skullcandy, Bendis skin care, Rockwell, and PCMR. Stay tuned for photos and a video edit from My Super Sweet Park, going down the next three days at Park City.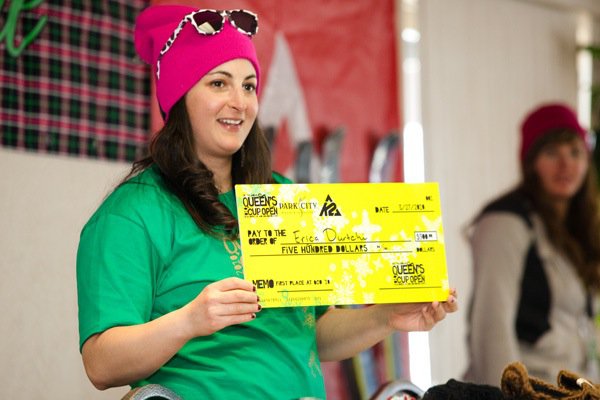 The woman who makes it all happen, Queen's Cup Open organizer Annaleah De Masi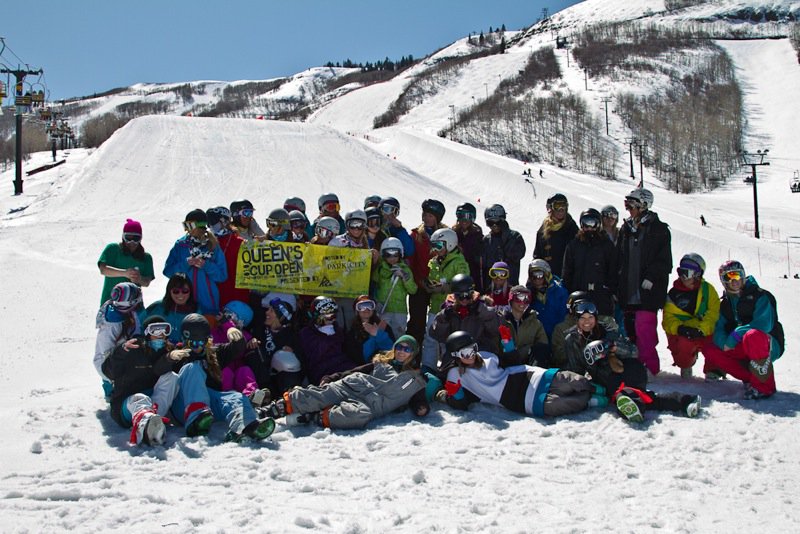 My Super Sweet Park
Words: Annaleah DeMasi
Photoso: Annaleah DeMasi, Rocky Maloney, Ray Gadd & Riley Snyder
As the 2nd Annual Queen's Cup Open My Super Sweet Park started we frantically checked noaa.com for the weather report. The girls were a blast to work with, super motivated and made the best out of the situation...but not even NOAA could predict that the four days we dedicated to shooting were literally going to have POST APOCALYPTIC conditions.
Day 1 was supposed to be a park session and we were to hit a few of Park City Mountain Resort's finely groomed jumps but despite the blue'ish skies we were plagued with what felt like 90 mph winds and were delayed for the day. We ended up having a jib session of which the ladies killed. Highlights included Ash's silky smooth 450s out of the up rail, Becca's flip out of the rail, Roz showing she's not just a pipe skier and Erica D's tap on the bonk feature.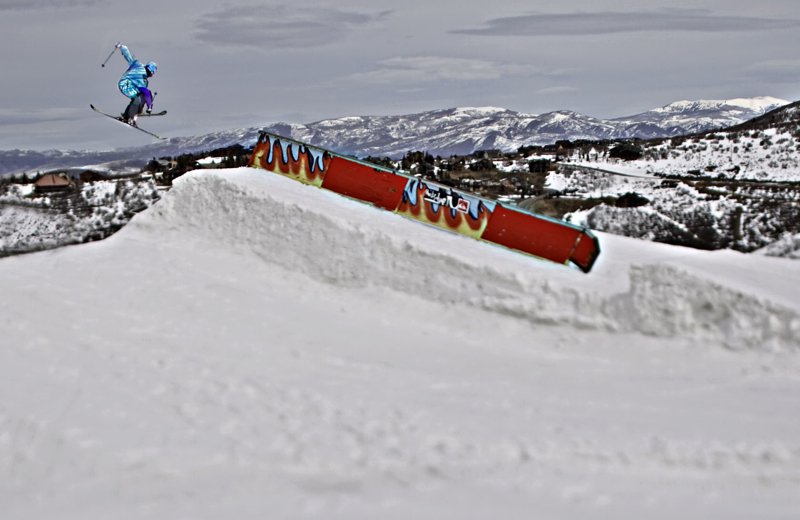 Ashley Battersby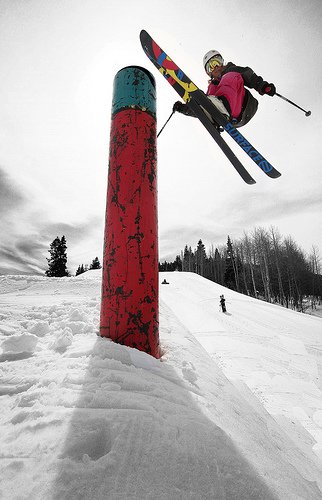 Erica Durtschi
Day 2 turned out even worse. As soon as we got to the hill Kieran (one of PCMR's park crew) said with his thick Aussie accent "I believe this is the worse day of the season. Like, of the ENTIRE season. Cheers mate!" The winds seemed to have picked up even more speed while extremely dark, ominous clouds lurked overhead for the morning that was eventually followed by a rain shower of MUD. Yes, MUD, seriously, MUD!!! Given the circumstances, there was a rail that had some fabulous views that displayed what the worst day of the season consisted of and we decided it was worth the effort. Becca and Veronica Kelly braved the conditions and slayed the down rail that was not easy to get on to.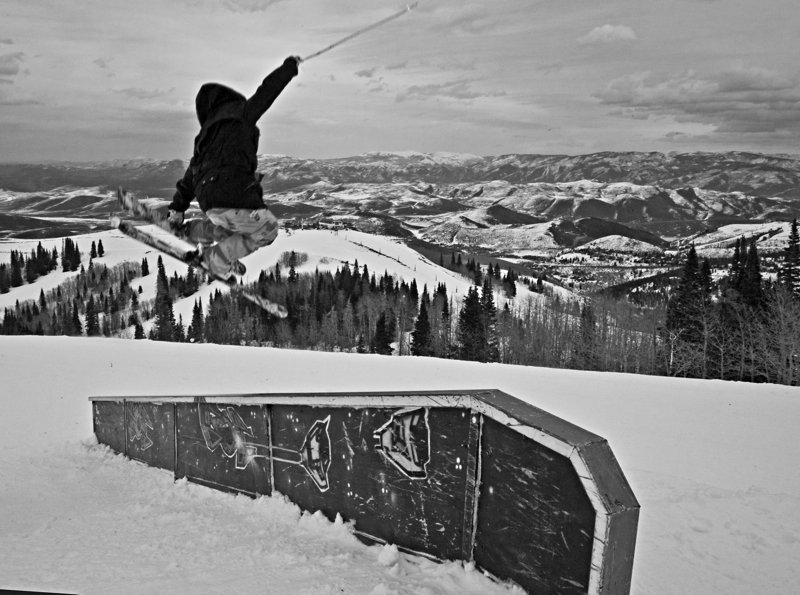 Veronica Kelly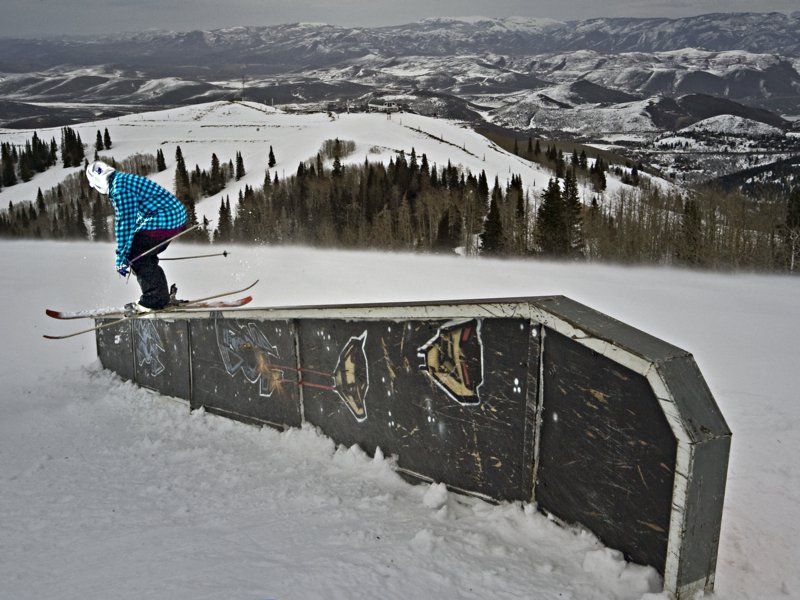 Becca Babicz
We woke up on day 3 with a fresh foot of pow. Thank god the rain turned into some of Utah's notoriously awesome pow which continued to fall throughout both day 3 and 4. Both days were completely cloudy with little sunshine and the pow was an unexpected surprise and we took advantage to the max.
Roz G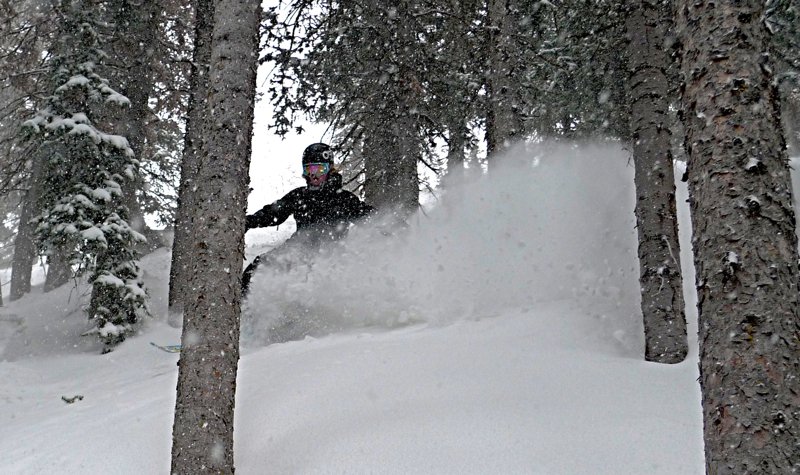 Megan Gunning
It's unfortunate Mother Nature didn't cooperate but everyone else put in their best effort for sure. I'd like to thank Jeremy Cooper from PCMR and his park crew of Kieran, Jordan, Jon and JP for doing everything possible to help battle the conditions. I'd also like to thank the photographers and filmers: Ray Gadd, Rockey Maloney, Riley Snyder, Ty Battersby and Mark Fragnassi that patiently crossed fingers throughout the week without much luck. Most importantly, I'd like to thank the girls for being themselves! They provided comic relief when necessary, high fives when killing it and motivation to GTS no matter what. A BIG shout out goes to the Battersby's for their amazing meals, continuous support and providing shelter for most of the ladies throughout the event.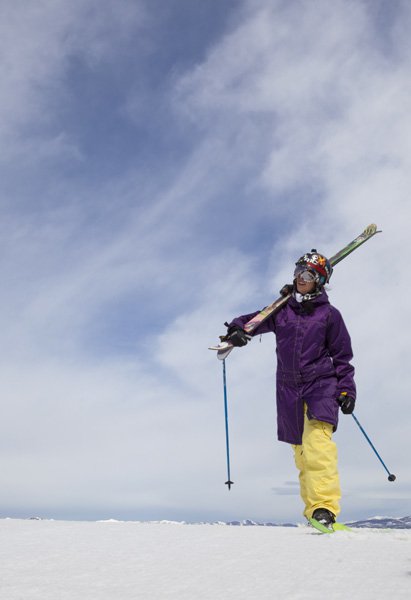 Roz
All of that being said, I think the Queen's Cup ladies have officially paid their dues to Mother Nature and we're looking forward to a bright and sunny 2011! Thanks again to everyone for keeping the stoke going and for your unconditional support. Over and out from Park City, Utah…