When I arrived at SIA, I was overwhelmed by the convention center and amount of booths to check out. Luckily, I had none other than Tall T Dan to guide me around. "Let's check out Vishnu." Vishnu? Never heard of them, but I was definitely down to check out some micro ski companies. We showed up and no one was at the booth, but the skis were awesome and I had to know more. After checking back multiple times, I was able to catch Kale Cimperman, and Emmett Davis, two of the most down to earth guys I chatted with while in Denver. They told me a bit, but here is the lot.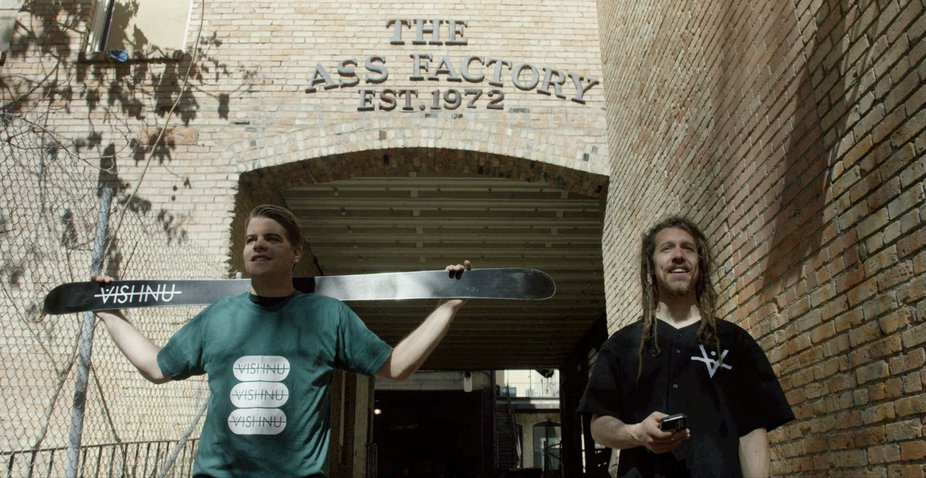 Emmett and Kale; PC: Spencer Liautaud
1) Tell me about the brand. Who are the brains behind the operation? Who are the riders?
Kale Cimperman: Vishnu is a street skiing brand. Founded by Emmett Davis, Dylan Manley and myself. Emmett and I handle the day-to-day operations, but everyone involved has input. The team is made up of kids we have been skiing with for a while.
Emmett Davis: I like to film and shovel and I try to ski every day. I don't want to get a real job, even though I have a college degree now and probably should. Kale and I started Vishnu about a year ago; I'd say we are "the brains" along with the collective brains of the team Dylan Manley, Luke Roberts, The Kid, and A4. Spencer Liautaud is our film intern. Serge Du Preez and Dylan Head help. All of our friends and roommates have an impact on our ideas as well, even if we don't realize it at the time.
Dylan Manley: Vishnu is a very tight knit operation. Everyone from the owners to the riders were all homies before it began. Its an honor to be part of a ski company were the vision is promoting unconventional skiing.
A4; PC: TheHoodCrew
2) You guys gave me an awesome explanation at SIA about the backstory of the brand and where the name Vishnu came from. Fill me in again.
Kale: Vishnu is a Hindu deity. He also might have been a blue alien with lasers and flying machines, depending on how you interpret the Bhagavad-Gita and the Mahabharata…
Emmett: There's this video on youtube of an interview with the guy that helped develop the atomic bomb (Robert J. Oppenheimer). At one point he quotes a Hindu holy book called the Bhagavad-Gita. The verse he quotes is about the deity Vishnu being the "destroyer of worlds" and I thought that sounded pretty cool.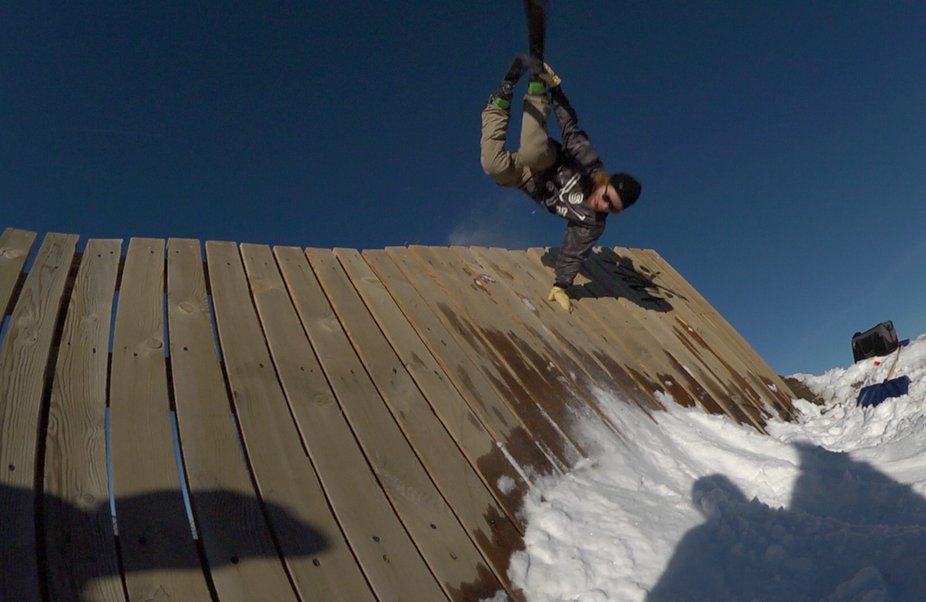 Dylan Manley; PC: Emmet Davis
3) Going along with that, what's the deal with the logo?
Emmett: I was working a really beat night shift job and I was bored at work killing flies with a fly swatter. I realized that there are a ton of brands of all kinds that use an animal for their logo, but I've never seen a dead one. That's pretty much it, although the dead fly can mean whatever you want, really. The V, however, is Illuminati mind control. Don't look at it directly.
Dylan: A fly has lifespan of 24 hours. The dead fly symbolizes the short time span of the ski season, as well as the few years that we as skiers have to go out and really give it our all. The V logo just looks good.
Kale: The V logo has a bit of the All Seeing Eye, a pentagram, and the sacred feminine all in one. I've got a thing for pagan imagery.
4) Tell me about the ski.
Emmett: It's called the Wet and it's extremely chill. The idea at first was that we wanted a ski that you could catch tranny down anything on. Jersey barriers, dumpsters, whatever. Then we realized some of our guys like to hit jumps, so we made it beefier underfoot for stable landings on bigger stuff. Highly recommended.
Kale: The Wet is made in Salt Lake City, Utah. No one (outside of the CRAFT section at SIA) cares about what kind of fiberglass and epoxy we use, so I won't bore you all. What's important is that our skis are quality, durable, and fun. Emmett, Dylan, and I designed the ski, with the style of riding we enjoy in mind. The ski is symmetrical in shape and flex. Heavily rockered in the tip and tail, cambered underfoot. The flex in the tip and tails of the Wet is the softest you will find on the market. This flex pattern allows you to butter, press, and match transition better than any other ski. But before any of you freak out about whether the ski will ride well going fast or on jumps/large features, you should know that the flex underfoot, in the cambered area, is as stiff as it needs to be. You won't wash out if you land properly.
Dylan: When Kale and Emmett approached me initially about Vishnu, the idea was to make a ski designed for street skiing. Something light, symmetrical, durable, strong underfoot but with insane flex patterns at bow and stern. As noodley as the tips may strike you, they charge through any condition. Definitely recommend to anyone who wants the flexiest and most playful ski to date.
http://www.newschoolers.com/membervideo/740939.0/VISHNU-14-15-Video-Lookbook?s=225826&t=6&o=8
Vishnu 14/15 Lookbook
5) What made you guys want to start a ski brand? Were the current products in the industry not meeting your needs?
Emmett: Kale and I were skiing on a flow deal for a large, multi-national ski brand. It was very frustrating that any and all input we gave for improving their freestyle program was completely ignored. We have always had a unique way of capturing and presenting skiing to the masses (watch The Struggle by Thirdward on Vimeo) and figured if these 45 year olds in suits who don't even ski could run a company, so could we.
Dylan: After having been flow for a year on another company, becoming a part of Vishnu was rad because there was no disconnect between them and myself. I can stop by HQ whenever, pick up what I need and have creative input in our videos and our products.
Kale: In terms of product, no skis were soft enough. You don't need to weigh our skis down with cinder blocks for a few weeks to be able to be able to do fully extended and controlled butters/presses. Our skis are ready to bend right out of the box. Aside from that, there was no Street Skiing brand. As skiing grows, the sub genres, for want of better term, become more defined. The last five years or so have seen a large specialization of riding focus, and finally, it has become "acceptable" to only ride rails/jibs. In comparable sports, (snowboarding, skateboarding, rollerblading, BMX) there are riders who are "pro", whose sole purpose as an athlete revolves around filming and producing a street riding video part. This has also become the case in skiing (thank you Stept), but not without some resistance. While some ski companies support street skiers, it is not yet to the point where it needs to be. Unlike other action sports, skiing developed without a sole focus on freestyle riding. Because of the way it developed, skiing carries a large amount of baggage, in terms of many skiers conception of what "real" skiing is. The idea that some things aren't "real" skiing is complete shit. We hope that our company adds to the collective push to legitimize and expand street riding as a segment of our sport.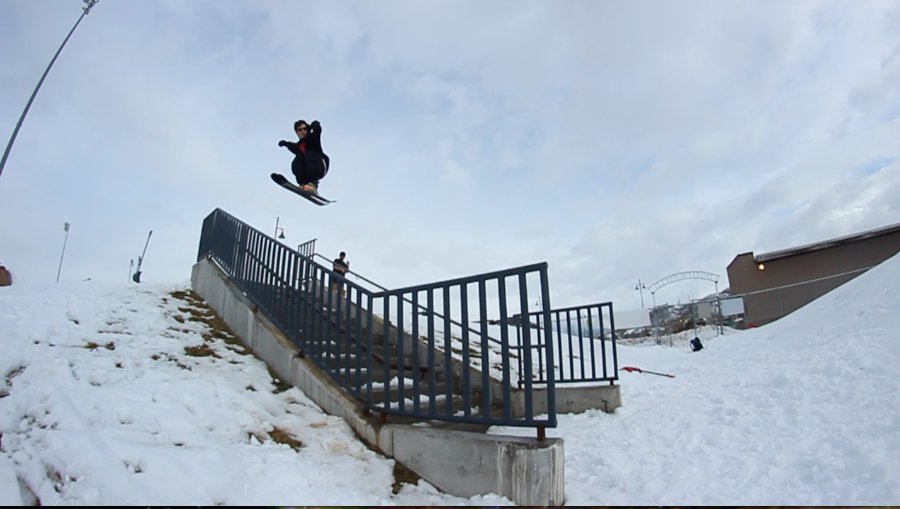 The Kid; PC: TheHoodCrew
6) Your team video "Gas" was released a month ago and it was awesome. How do you guys separate yourselves from the rest of the urban crews that are out there?
Emmett: Hey thanks. There are no ski companies that I know of where one co-founder films the team movie (me) and the other co-founder has a part in the movie (Kale). Secondly, we all ski together at PCMR as well as hit street together, which leads to everyone having a unifying element to their styles. Third, we are about to not only have a street movie from this season, but a post-season movie- filmed on late season snow- due out in a few months. Stay tuned for that.
Kale: Everyone on our team is doing their own thing, in terms of their approach to street skiing. That being said, I feel that everyone's skiing fits into an overarching theme that defines Vishnu as a brand.
Dylan: I would say just the fact that we went out and made a team video sets us apart. With the exception of HG's "5 to 9" or the fact that nearly everyone in Stept was on K2 at various points in the past, you don't really get that in skiing. Also, no one else in skiing is stalling as many chains as Kale and I wouldn't say there is a basic skier amongst our crew.
http://www.newschoolers.com/watch/760725.0/GAS--VISHNU-SKIS-Team-Video
Vishnu Freeski's team video "Gas"
7) Now for the generic questions: what is the future of the brand? Is the focus going to be on creating video projects and a solid team? Do you want the brand to explode in size or will it stay as more of a micro brand?
Dylan: Fortune 500. We would like to offer a few different models and just have a shit ton of more inventory down the road and I'd say we are well on track. Yes, there will be a Vishnu movie next year, as well as many edits released by Emmett, myself, Spencer, whomever.
Emmett: To us, street skiing and the culture that surrounds it is the future of skiing, period. As a brand, we don't care about anything else. Not to say that I don't respect powder/big mountain skiing, it just doesn't interest me, and that is okay. The Kid wanted me to say the following: "the unique skis and apparel we make will catch the mainstream hook, allowing for dominance in the industry and beyond. Vishnu will be seen in the country club as well as the nightclub. The Kid will be seen drinking hip hop soda and wearing gold teefs."
Kale: We want to give back to the ski community (by making cool videos), as well as push street skiing further in the direction that we think it should go. Look for several video projects from us in the future, hopefully produced in cooperation with Newschoolers!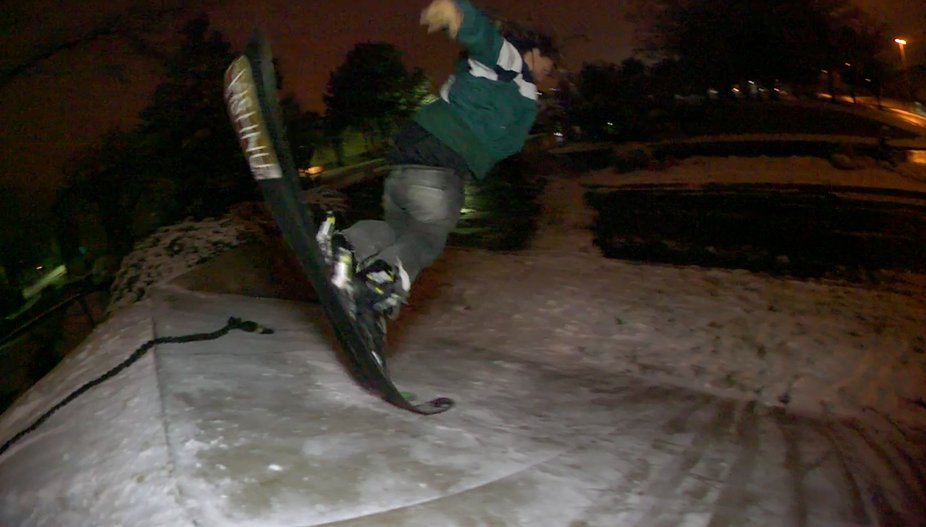 Kale Cimperman; PC: Emmett Davis
8) Should mountains start incorporating more urban style parks or is it best left for off the mountain?
Emmett: Park skiing is just practice for street skiing, so yes.
Dylan: Kids gotta learn how to pop.
Kale: I think urban style parks are great, so much fun. That being said, filming outside of the resort and building your own set ups will always be something separate, and in my view more valuable, than riding anything designed to be skied on.
9) Thanks a bunch guys! Anything else you would like to add?
Kale: Thank you man! I'd like to shout out SPHC and all the homies at 7 Springs. All the kids out there shredding rails, rope tow parks, shitty set-ups- get out there and hit street! It doesn't have to be death defying if you don't want, just go do something cool with your friends and film it with a fish eye. Also, we get a lot of sponsor me emails. Our team is full right now, but if you want to ski for Vishnu in the future, send us a street segment.
Emmett: Try hard and believe in yourself. A wise man named Bran Lan once told me to ski for myself. Dave Crichton's opening segment from Forward in 2003 is the best part ever.
Dylan: Shouts to the 716 and keep an eye for the Vishnu post-season video coming soon!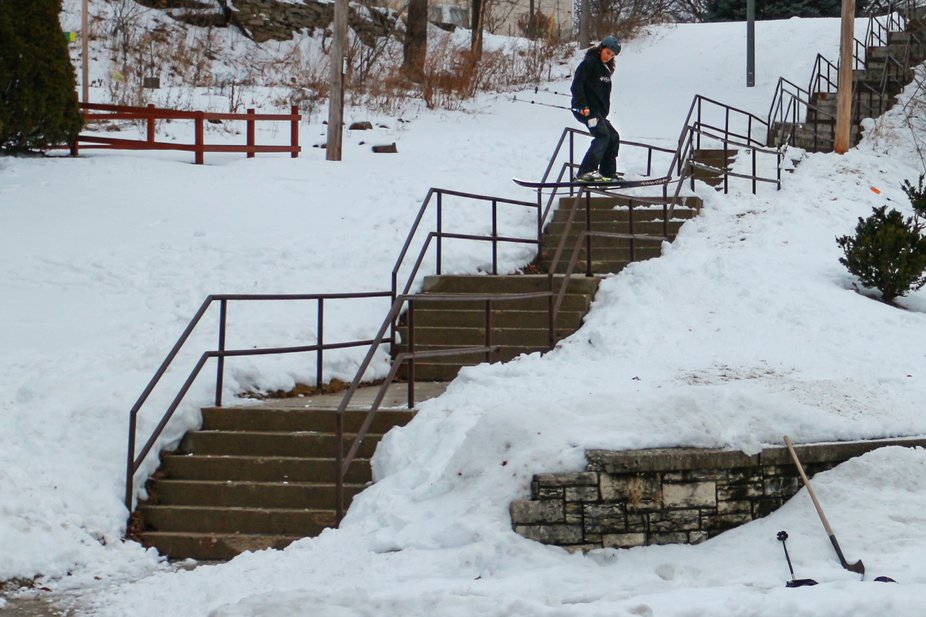 Luke Robert; PC: Andy Paskov
For more info, check out Vishnu Freeski on their website and social media:
FB: https://www.facebook.com/vishnufreeski?fref=ts
IG: https://instagram.com/vishnufreeski/ @vishnufreeski