The first freeski event of the 2018 Olympic Games is under way and the ladies were sending it from the off on the biggest course of the year. Things are looking good out in Korea: loads of spectators in the stands watching on, flawless looking course and freeskiing on its biggest stage. There were some big overshoots and some brutal knuckles in the first run but there were some heavy runs on show too. The big names were trying to keep it conservative knowing they have 3 more runs of finals later on and they mostly made it through unscathed. The big exception was Tess Ledeux, who couldn't keep it clean, royally fucking up our predictions. Maggie Voisin had a long, anxious wait on the bubble spot but made it through.
Run 1:
- Sarah Hoefflin put down a fairly clean run right off the bat: front 2 out of the first big rail, switch disaster to forward, blind 2 out the flat bar backed up with a right 5 to switch 7 to switch 5 on the jumps. Safe run but a decent score in the 80s by keeping it clean.
- Massive overshoot from Kim Lamarre, she seemed to be ok but she went all the way to the bottom on the final jump.
- Maggie Voisin: HUGE on the jumps and very messy (but tech through the rails). Left rodeo 9 on the wu tang jump, with a massive right 5 at the bottom. Good enough for 72s.
- Tess Ledeux: Front 4 off the drop rail up top, a switch misty 9 and a left cork 9 on the first/third jumps but also some messy landings putting her on a 69.
- Anastasia Tatalina: F4, 2 disaster, (early off straight slide) on the big flat down, right 5, switch cork 5, 9 tail. Surprising potential contender run if she gets it clean in finals.
- Johanne Killi: Front swap on the dfd, left cork 7, right cork 9 tail, switch 7 safety. Some small bobbles but it was good enough for provisional first with an 87.
- Katie Summerhayes: Back 2 off the first big rail, front 4 off the dfd, stall 180 on the wallride/wallie from the bowl, switch 180 on the pointless bump feature, b2b 3s and then a 7 japan. Lands clean, good for 3rd. Clever tactics with many others crashing.
- Devin Logan: Back 2 back blind 2s up top, front 2 out of the flat rail, switch 3 the pointless bump, switch left 5, right 3, solid 7 blunt. Tiny hand game strong, UK commentator nearly died laughing. 84 for for provisional second.
- Emma Dahlstrom: Front 4, unnat blind 2 dfd, hip staight air to safety slide, backflip the bump, cork 7, right 5, switch 7 japan. Provisional first with a score in the 90s.
- Mathilde Gremaud: Front swap pretz 2 the first down rail, switch disaster dfd, hip to safety slide, left 3 tail bump, 5, switch 7s b2b. 85.4.
Emma Dahlstrom laying the steeze on.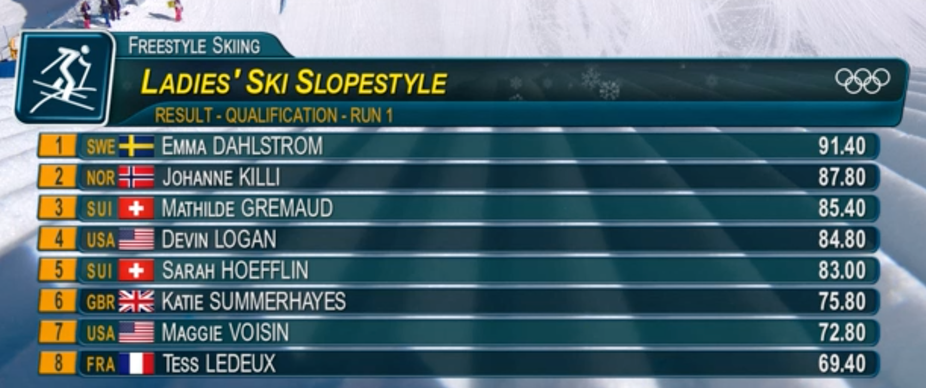 Run 2:
- Sarah Hoefflin: Big switch right 10 attempt to switch skiless ride out. Her 83 from run 1 seemed safe.
- Tiril: Cleaned up her first run: Front swap switch, switch 2 on to the box to blind 2 the down rail rail combo, front 2 out of the flat rail (first part of s/z) right 7, left 5, switch right 7 blunt. 89 and provisional second.
- Yuki Tsubota: Front 2, switch disaster, straight slide, bump backie, right 5, switch left 5, left 7 missed grab. 78.
- Maggie Voisin: Again decently tech. Left 2on the big down tube, lip blind 2 the second of those but again sketchy. 73.0 but that looked close to the bubble.
- Tess Ledeux: F4, blind 2 the goalpost, straight slide, cork 7 the wu, opp cork 7, massive overshoot on a cork 9 at the bottom. Looked like the best run of the day but again a scary wait for the bubble.
- Lana Prusukova: 70.6 despite an early off on one rail, she did have a stomped cork 9 blunt on the last jump though. She pushes Tess Ledeux to 11th.
- Jennie-Lee: Super steezy, super simple on the rails mostly flowy lines of straight slides. 1 up on to the bump switch one cuban off was beautiful, right 5 tail, to switch 5 tail, 5 safety. Definitely tactical but it's a 77 and that is her in the finals.
- Anastasia Tatalina: Front 4 the big drop, 2 disaster, front swap the massive flat down, right 5 (no grab), switch cork 5 japan, left 9 tail. 81. That's goodbye to Tess.
- Isabel Atkin: Front 4, hip tail grab to straight slide the down, lip disaster the gap to flat, hand drag 3 the bump, left 7, big flat 5 (sketchy), massive switch 5. 86.8.
- Katie Summerhayes: Stepped up her last jump to a 9, tech rails but still only a 77.6.
- Dara Howell: Lipslide, 2 disaster dfd, rodeo 5 sw r 7 safety, dropped a ski on a massive switch right 5. Maggie Voisin, now on the bubble, lived to fight another day.
- Lee-Meehyun Kling (is king): The last threat to Maggie's final spot went tech on the rails. Front 2 out the drop, switch 2 disaster, switch 5, right 5 (missed grab), switch 7 mute. And she misses finals by .2 of a point. Maggie makes it.
Qualifiers:
1. Emma Dahlstrom
2. Tiril Christiansen
3. Johanne Killi
4. Isabel Atkin
5. Mathilde Gremaud
6. Devin Logan
7. Sarah Hoefflin
8. Anastasia Tatalina
9. Yuki Tsubota
10. Katie Summerhayes
11. Jennie-Lee Burmansson
12. Maggie Voisin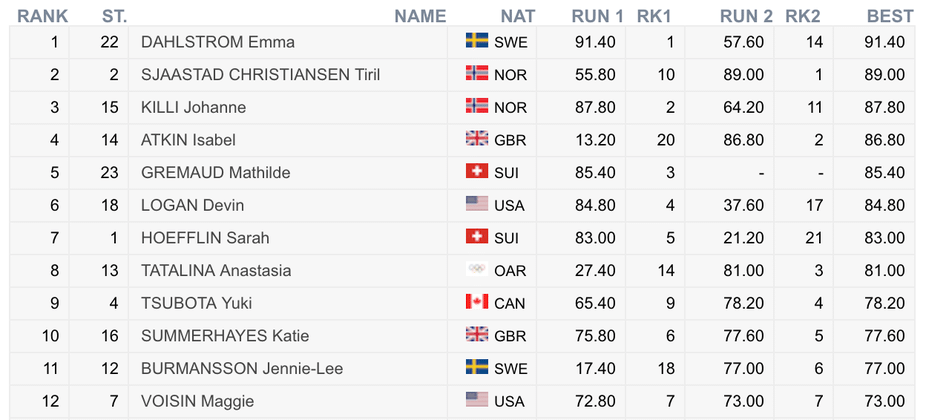 Finals start soon!