-Sponsored Content-
In November 2016, 686 announced the signing of Parker White to their pro team having never sponsored a professional or amateur skier before. In the ski world, the reaction was as close to wholeheartedly positive as possible, but the move certainly got some keyboard warriors riled up on the uni-plank side of the 'divide'.
At the time, founder and CEO Michael Akira West, played off the dramatic reaction explaining that "686 has always been a technical apparel company first and foremost," adding that "GCLR (outerwear) has given us the opportunity to explore and experiment beyond our current boundaries. Parker and skiing are another way we continue to explore new avenues."
It's hardly the first time that a 'snowboard brand' has dipped its fingers into the ski world but the moves made by 686 suggest a much longer-term commitment. Since joining the team, Parker has been tasked with growing the ski squad and injecting his own input into 686 and GLCR apparel designs. Not only have 686 added Parker (and later Laurent DeMartin) to boost their presence in the ski world, they've also started tweaking their gear to work better for skiers.
686 have always made quality outerwear and this winter's collection is the first to feature Parker's influence. They sent us a couple of pieces to check out and Twig spent a month or so rocking them at the start of the season.
_
GLCR GT Jacket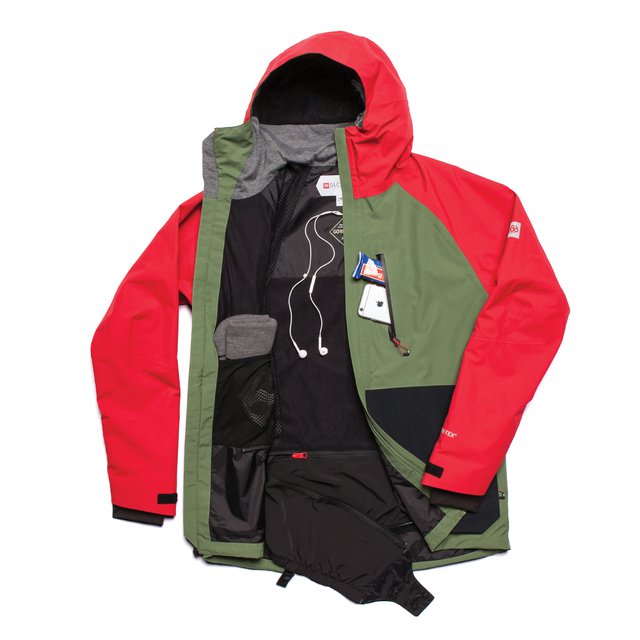 Full disclosure: I'd prefer not to wear a 'proper jacket' most days since I mostly ride park and I find them uncomfortable. But with the early season dumps Europe has enjoyed this year, I was stoked to have this offering from 686 land in my lap. The GLCR GT Jacket is the lower end GORE-TEX shell jacket from 686 but I would never need anything more tech than this. With 2L GORE-TEX the GT comfortably held up to horizontal rain back in the UK (always a good place to test waterproofing) so the only reason to go for anything more tech would be to save weight or to tour. While this isn't a heavy jacket and they call it a shell, the lining, a combo of mesh and thin fleece in key areas actually kept me warm enough that with a Mons Royale Merino base + Transition mid-layer combo I never had to wear anything more to keep warm, even when the temperature dropped well below zero. All the regular features you'd need in a regular Jacket are there, from sleeve pass pockets to detachable powder skirts etc.
If there's one area to say the GT Jacket is slightly lacking, perhaps it's only having the two under-arm vents to allow airflow, meaning in some situations (hiking rails on warmer days) I found myself getting too hot. Good breathability meant I always felt fine on the downhill so that's a fairly minor critique on an otherwise great jacket unless you tour a lot. On the sizing front, I'm 5'9 and 145lbs and I got sent a medium. The fit worked out great for me, I prefer relatively regular fitting outerwear though so if I was in to super-baggy gear, I'd probably go large. Oh and I actually found the GT so comfortable that I've been wearing it on occasional park days.
_
Smarty 3-in-1 Cargo Pant
Instead of the matching GORE-TEX GT pants, 686 sent over their 3-in-1 Cargo Pants, which arrived with promises of being the toughest pant they have ever made. I assumed that would be all talk, I generally find outerwear to be much of a muchness. But hand on heart, I think these are the toughest ski pants I've ever owned. I used them for a month and they still look like new. Usually I end up slicing up the inside leg of all my pants around the boot. While most ski pants have some kind of reinforcement in that area, it rarely does the job well enough to stop my destruction. Whatever 686 have used for this area definitely holds up though, I have yet to slice through the fabric even once so props to them for that. Many snowboard pants lack any reinforcement in that area at all, so while 686 call this feature an "Anti-Abrasion Coated Inner Fabric Kick Panel" it feels like it's more targeted at skiers to me. The rest of the pant is targeted at durability too, with "Ultra Durable Fabrication" and a "Wrapped Side Seam Design for Added Durability". However, the 20k Duracore doesn't sacrifice much on the waterproofing front either and I didn't notice my legs getting any wetter than my Gore-Tex wrapped torso.
Again, I was rocking a medium, and the fit was good, slightly baggy without getting in the way. The waist came up a bit big so I had to wear suspenders, but since I generally do anyway that wasn't an issue. The 3-in-1 element came in the form of an inner liner that made the pants so warm I never used it beyond the a quick run for testing. Even with that removed, I wouldn't quite call them a true shell; fleece lines the crotch area (covering about the same area as a pair of shorts would) and a lining stretches all the way down the leg. As with the jacket, I found them more than warm enough in their 'shell only' configuration, but if it gets super cold where you are, the liner will have you covered for sure. Like the jacket, they aren't as light as most true shells but they tick all the other boxes. For a park rider and I think these are a high end, super-tough pant that is well worth a look.