Now get more creative endless angle opportunities only at $1477!
No matter whatever shot you want to capture!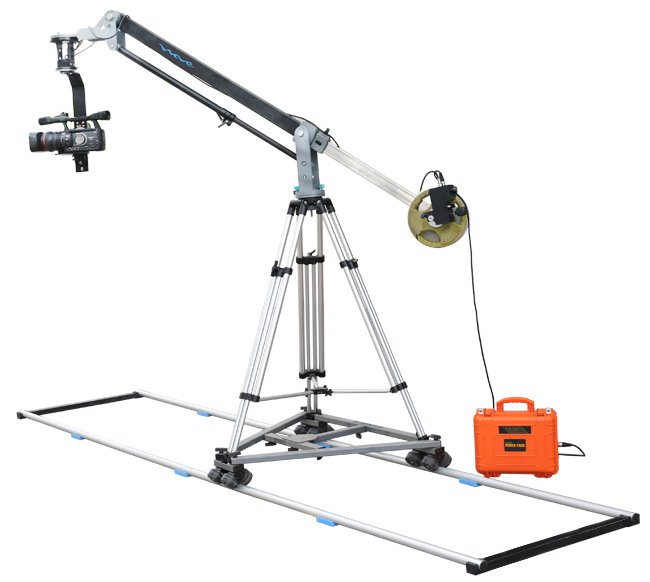 Our Proaim Elite Camera Jib is Full-fledged production package which will satisfy your all gear needs. This package has been constructed with super smart features and advance technology.
Just imagine, if we consider the cost of only tripod, its approx. $400; Jib arm-$1000; Pan Tilt $500 and Dolly track - $500. It comes approximately $2400, power pack is not considered. This Proaim Production package saves your pocket by $1000; you can purchase new gears with this saved $1000.
Designed With The End User In Mind, With Solution For Every Situation, Location And Concept!
We guarantee you'll not get well-built various gears in one production package at $1477 in the whole world!
• Compact and lightweight user friendly 7ft jib.
• Ideal for studio, remote location or multi camera production.
• Rock solid tripod supports weight up to 100lbs.
• Invertible camera platform for under slung shots.
• 360° pan tilt head ensures smooth movements.
• Heavy duty Swift dolly for stable rides.
• Keep rolling to capture pleasing shots along a tough aluminum Straight track.
• Absolutely Free High capacity Power Pack solution for extensive hours shooting.
• To complete the system we have Storage case to transport it.
• Uniquely designed free storage case for life time product safety.
Don't stick with your old gears, avail infinite Possibilities and Opportunities!!
Save Your Bucks With Our ELITE And Invest Somewhere Else!
For more Information please visit our website @dvcity.com