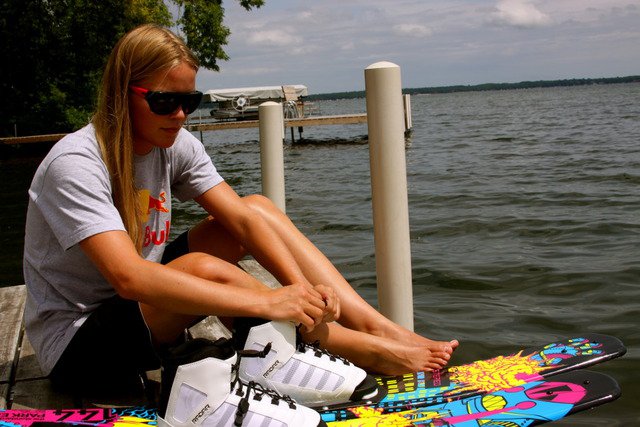 I started snow skiing at age two and water-skiing at age five. Since then I have spent every winter and summer doing exactly that. When I first heard about Stereo Skis I was a little hesitant. Mainly, because I had been on the water a lot during the summers and never seen anything like it before. But after watching the videos on the Stereo Ski Web-site I realized it was something I needed to try.
Essentially, it is just like snow twin-tip skiing on water, but with a wake-board twist to it. My brother Knut who is a snowboard, sister and I went behind our family?s Boston Whaler and gave it a shot. Everyone did really well, from riding switch to grinding the wake and trying grabs. I even got a 180 over the wake, but I am still learning.
Even my friend and pro wake-boarder Amber Wing said I should go down and try a cable park because she thinks I would be really good at it because of my snow background. This Fall I am going to be touring my all girls ski movie, Say My Name, http://www.saymynameski.com but I think after that I would love to come down to the cable parks and freshen up my rail tricks and jumps before the snow arrives. To me it seems like the perfect cross-training to snow skiing and vice versa. I love living two seasons, so I am going to continue to do both.
See you on the lake or mountain! Grete
Here you can read more about Grete: http://greteeliassen.com/