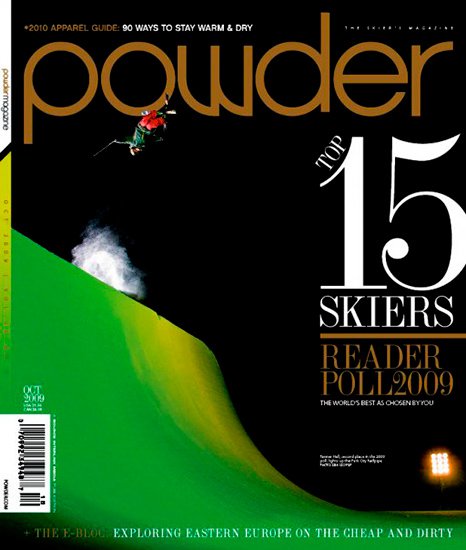 This is the one I wondered if I'd ever get. I've had covers outside of North America for a few years now and last season got my first one with SBC Skier Magazine out of Canada but still had yet to get one in the country I live in. It became a running joke actually with some of my colleagues that I'm huge in Japan or whatever. I didn't think I'd get one for a while in the USA, especially Powder as most of what I shoot is really jib/freestyle heavy. I found out about a month ago and it hadn't really hit me as being that big of a deal until today. This was literally a childhood dream. I remember looking reading every Powder magazine that came through growing up and looking at the photos of Paul Morrison, Scott Markewitz, Lee Cohen, Hank DeVre, Mark Gallup, Wade McCoy and Mark Shapiro thinking about how cool it would be to have a photo of mine on the cover of Powder.
Sitting in my graphics class in high school I was stoked beyond belief that I made a fake Powder Magazine cover on a computer. The 33mhz (or something rediculously slow like that) Macintosh II computer with a photo of my friend jumping a 35 footer to the flattest, shittiest landing we could find at Crystal Mountain, WA that I took on a disposable camera. I thought that was really cool, never really thinking this could actually happen for real. I didn't think it could happen, that I'd have this fantasy land job where I travel around, skiing around with friends that happen to be professional skiers, taking photos and making a living off of this, having a job that is fun.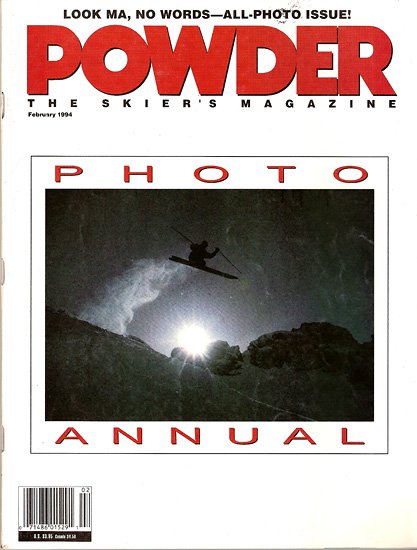 I just happened to pick up the 1994 Powder photo annual as it was sitting around from my recent move to a new place which was the same year I made that fake magazine cover. So much has changed in photography, skiing, and in the snow sports media in general its mind numbing. The skiing and the approach to documenting the action through photography have both evolved so much since then from terrain parks to AK lines to snowmobiles to professional ski careers to digital photography and to studio lighting in the backcountry.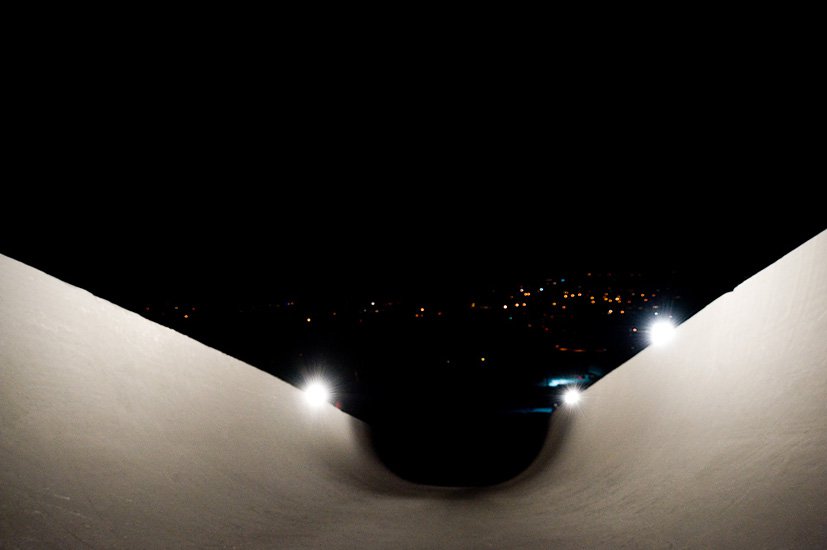 Back to this photo though, this was a bear of a shoot. I got in on this Poor Boyz Productions shoot with Tanner hall at the last minute.  Alex O'Brien couldn't make it to both days so I was fortunate enough to get the call for this one. It was a private, two day night superpipe shoot at Park City Mountain Resort in Park City, Utah. PBP brought in five massive cinema lights they rented and this was one hell of a production. To give you an idea of how big and rediculous these lights were, they were delivered in your standard sized U-Haul type moving truck and were about the size and output a Junior High School football/baseball field would have.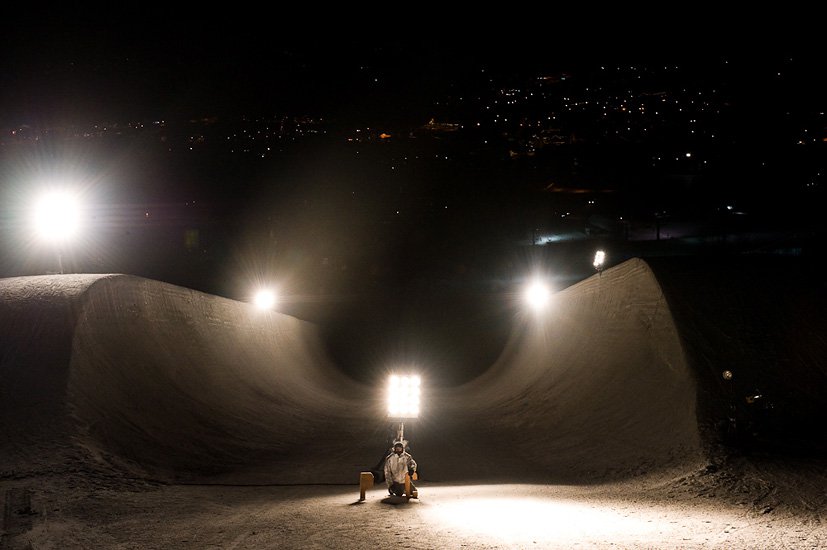 While PBP was figuring out their lights, I was busy getting my gear ready since I brought up everything including the kitchen sink, and some borrowed gear as well. The setup was an Elinchrom Ranger, Profoto 7b, (2) Alien Bees 800, Alien Bees 400 and (4) Nikon SB-80 DX flashes. It was a lot going on at once, and everything had to work for it to work out right.  Of course, in a production the size of this one and with all that gear, something had to go wrong.   Apparently, Pocket Wizards (radio transmitters for my flashes) don't like to transmit very far when it is 2 degrees Farenheit, while I"m at the bottom of a 22 foot tall wall of ice (22′ superpipe) , even with line of sight to the recievers on the strobes and the strobes away from the metal light stands. This was a problem. We tried using the Multi-Max's in relay mode, getting them away from the pipe wall, closer to the pipe wall, higher up, new batteries, hand warmers, switching between any of the 10 transceivers we had up there, just about anything we could think of and things still weren't working. The shots I wanted were all from where I was so I had to figure out a way to make it work, especially since I was using everything, including the kitchen sink on this one.
I was fortunate enough to have my friend Tim Kemple, one of the best climbing photographers in the biz out there helping me out for those two days. Being at the bottom of the pipe makes it damn near impossible to efficiently move around, change settings, and most importantly, help to troubleshoot strobe problems when they are on the deck of the pipe so without help, I couldn't have pulled any shots from that night off. So in the end, with all the Pocket Wizard malfunctions we ended up using a few of the PW's that were working to fire the strobes that were being cooperative, then using the optical slaves in the Nikon SB-80DX's to fire uphill to the backlight, which would then trigger the main fill lights, also on optical slave mode. In a normal situation this would again have been an easy thing to accomplish, however the massive hot light setup that PBP brought was putting out so much light that we had to move the SB-80DX's being used as an optical triggering relay close as the hot lights were overpowering the SB-80DX's even for the very sensitive optical slaves to pick them up until they were super close together. Since there was just a few shots I was focusing on we eventually came out of there stoked, with what we were there for.
Thanks to Tyler Hamlet, Johnny DeCesare, Cody Carter and Steve Rozendaal, the crew at PBP for making this shoot happen.
Fortunately for me, Powder Magazine did not turn this into a Ball Park Franks ad like Transworld Snowboarding did to their latest cover.