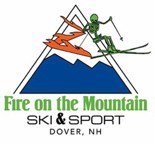 Fire On The Mountain, Redhook Brewery and Matchstick Productions present
THE MATCHSTICK MOVIE TOUR FEATURING THE SEACOAST PREMIERE OF "CLAIM, The greatest ski movie…EVER!"
Fire On The Mountain Ski Shop, Redhook Brewery and Matchstick Productions are proud to once again bring to the Seacoast, the most anticipated preseason ski event of the year – the premiere of "CLAIM, The greatest ski movie…EVER!". Join us at the Redhook Brewery in Portsmouth, NH on Saturday October 18th for two action packed shows.
Come meet the stars of the movie, win great prizes and party to the sounds of "Sweatshop Union" after the show. It's the best way to get psyched for the upcoming ski season!
MSP brings their award-winning approach to the table with "CLAIM," this time poking fun at themselves and the industry as a whole. Highlights from the film include a speed riding session from Chamonix, France – literally a synthesis of paragliding and skiing where skiers skip down sheer mountain faces with the aid of a small paraglider. Matchstick captured this insane new sport with a state of the art high-definition helicopter mounted camera. "We have been doing this for over 15 years and we feel like with 'CLAIM' we have created a masterpiece. This film is really going to blow some minds," claims executive producer Murray Wais.
"CLAIM" features several longtime MSP all-stars as well as a few newcomers, making up an A list roster. "CLAIM" is shot in high-definition on location in Whistler, Chamonix, Courmayer, Valdez, Aspen, Chatter Creek, and additional destinations worldwide.
Meet the stars of the movie at Fire On The Mountain before the show and later that night at the movie!
Schedule of events:
Saturday October 18, 2008
Ski shop autograph session
2:30 – 4:00
Fire On The Mountain
41 First St
Dover, NH 03820
603-742-1019
Movie Venue
Redhook Brewery
35 Corporate Drive
Portsmouth, NH 03801
603-430-8600
All ages show
5:00 pm Doors/autographs
5:30 pm Movie starts
6:45 pm Prize giveaways
21 + show
7:15 pm Doors/autographs
8:00 pm Movie
9:30 – 11:00 pm Sweatshop Union performs, prize giveaways
Tickets:
$15.00 and are available at Fire On The Mountain, Redhook Brewery and at the door.
For more information contact:
Fire On The Mountain
Bob Siener
603-742-1019
fotmbb@comcast.net
Redhook Brewery
Jessica Watts
603-430-8600
jessica.watts@craftbrewers.com