TNF PFO 2009
Steffen Hamree from Norway won the Big Air competition at The North Face Polish Freeskiing Open 2009 that took place on the 30th and 31st of January at Gubalowka Mountain in Zakopane. Finishing 4th Szczepan Karpiel won the first ever title of Polish Champion in Freeskiing.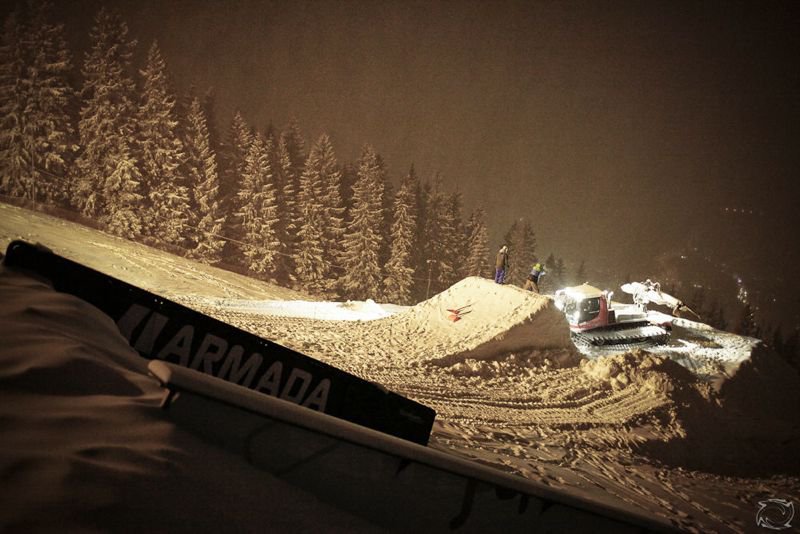 Over 80 riders from 16 countries took a part in qualifications of Big Air (15 m table) and Rails (6 features). This year among well known competitors from Czech Republic and Slovakia one could find guests from Finland, Sweden, Great Britain and South Africa. Some of the riders like Aleksi Laitinen from Finland and Fabian Kronig from Switzerland came for a second time bringing some of their friends.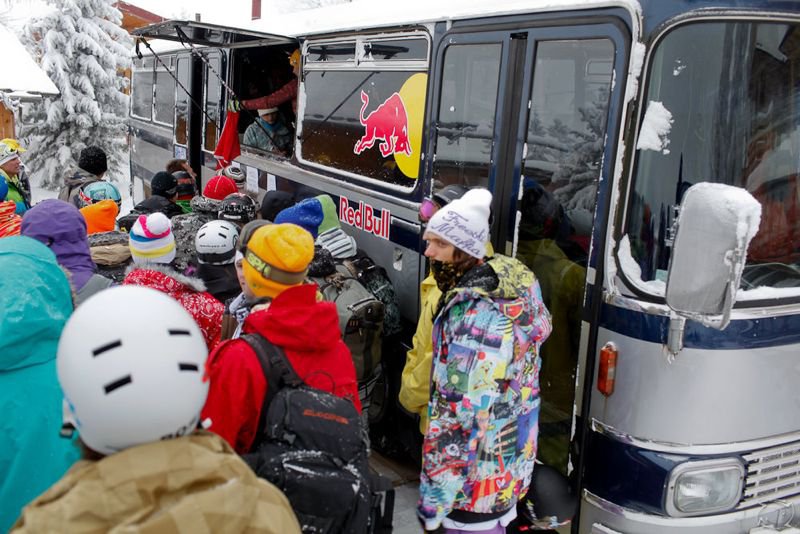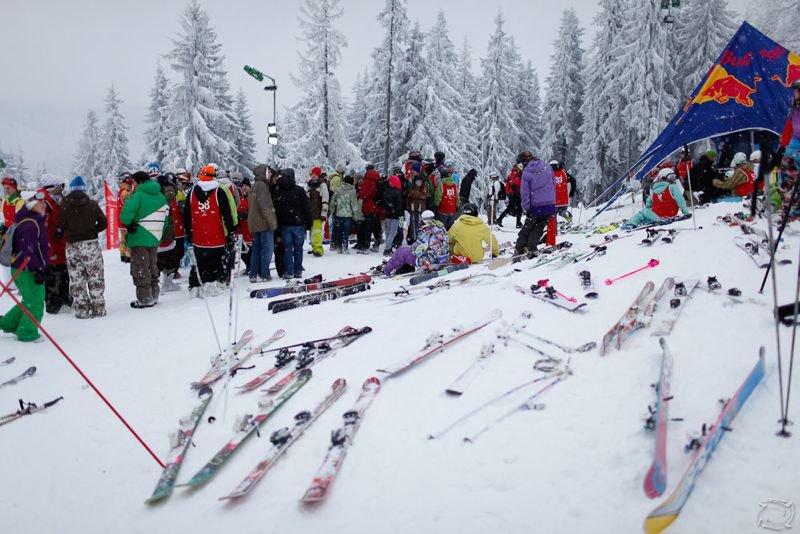 Thanks to a success of past editions more and more people want to come and visit 'exotic' Poland – said Szczepan Karpiel.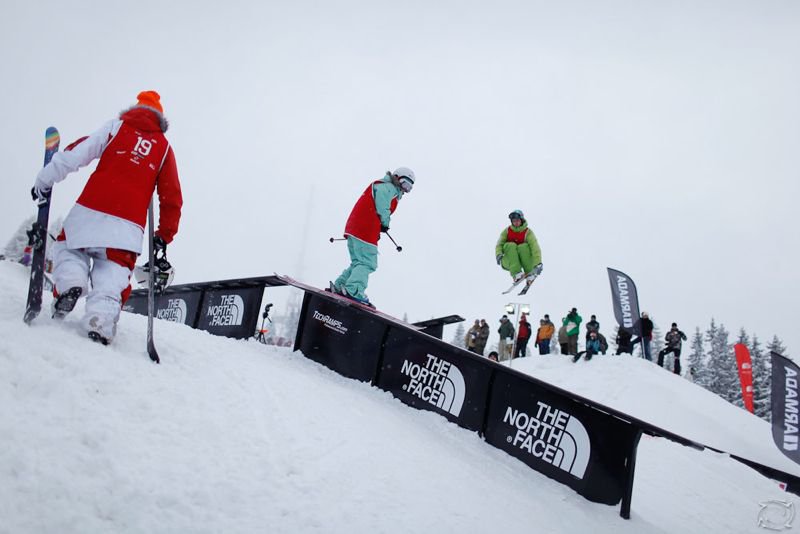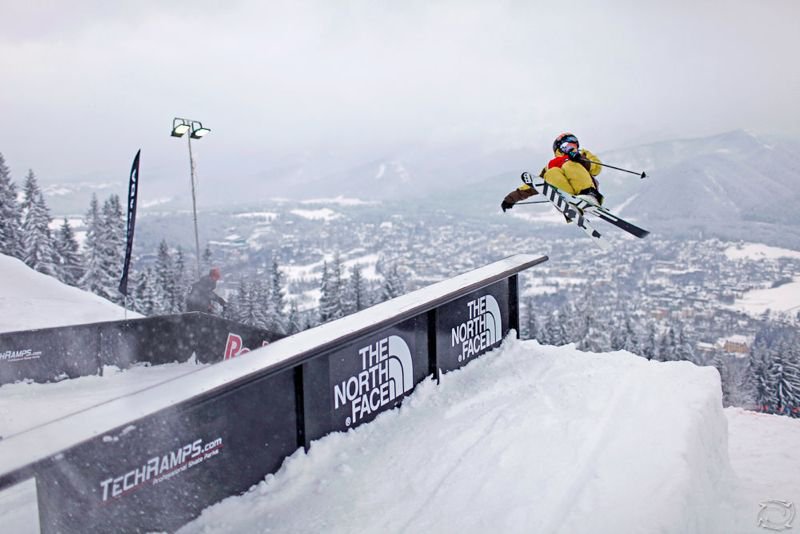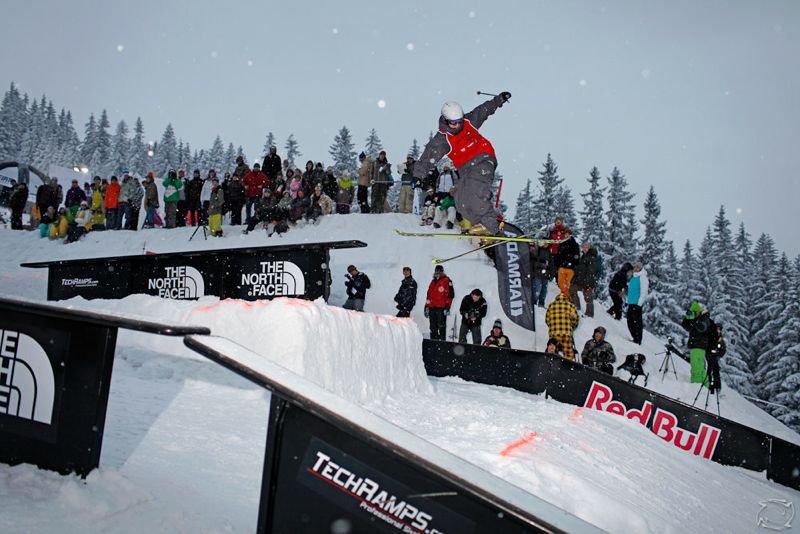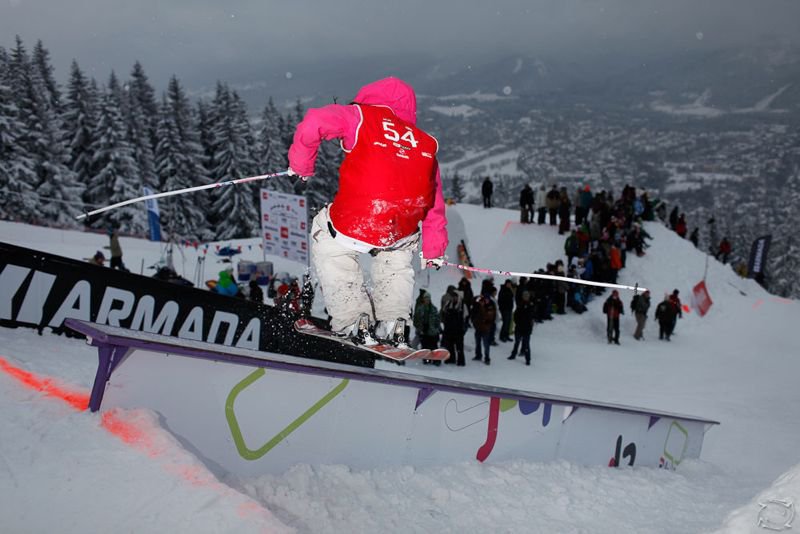 Competitors had two jumps in qualification round from which the better one counted. Qualifications of Rails were held in Jam session format. Pepe Kalensky from Czech Republic who dominated Rails at PFO2008 impressed everybody with number of tricks as he was taking more laps thru the Rails section than anyone else.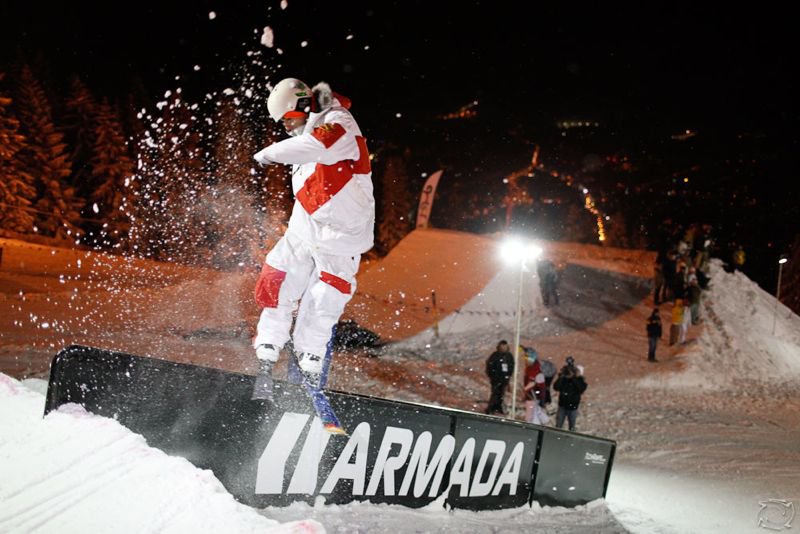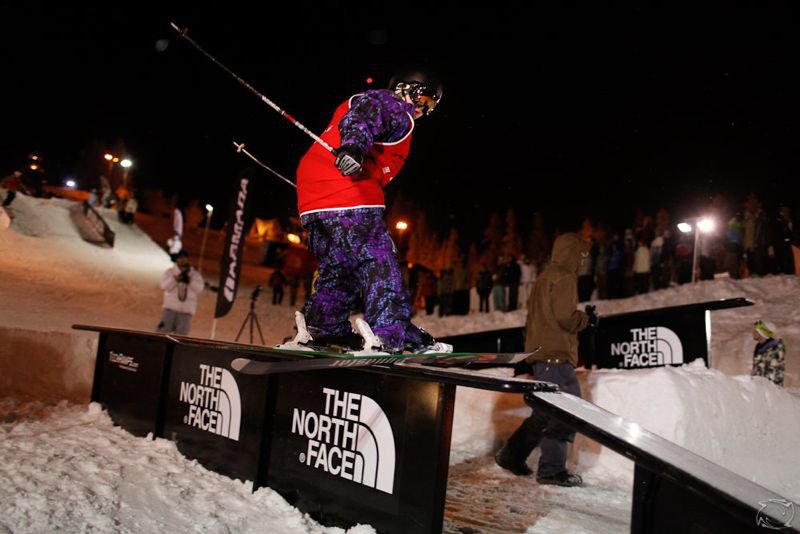 On the Friday evening traditional Night Rails Session took place. And it was Weronika Chyc from Zakopane and Fabien Kronig who took the prize for Best Performance.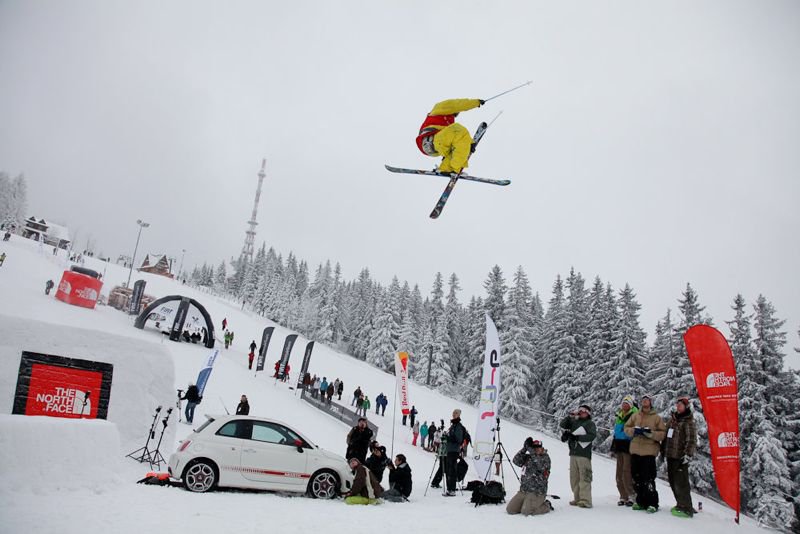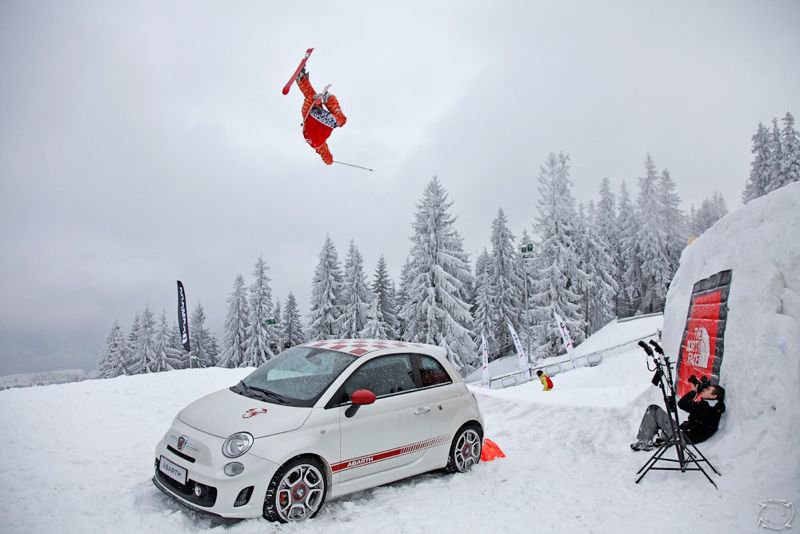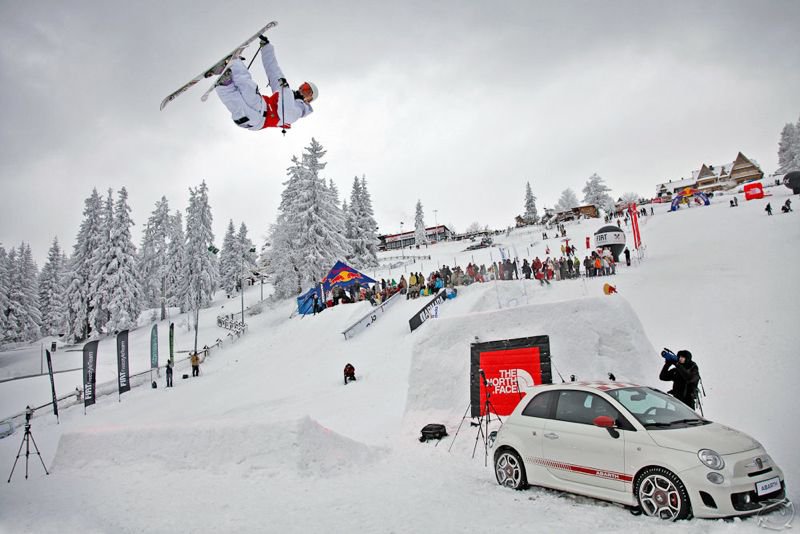 But the best was still to come. The second day of competition started with trainings and Semi Finals of Big Air. 32 riders had a chance to jump 3 times and 2 of those tricks counted. It was time to show everybody what you are really able to do. There was no place for mistakes or good luck. Only confidence and best style could help you to get to the final 12.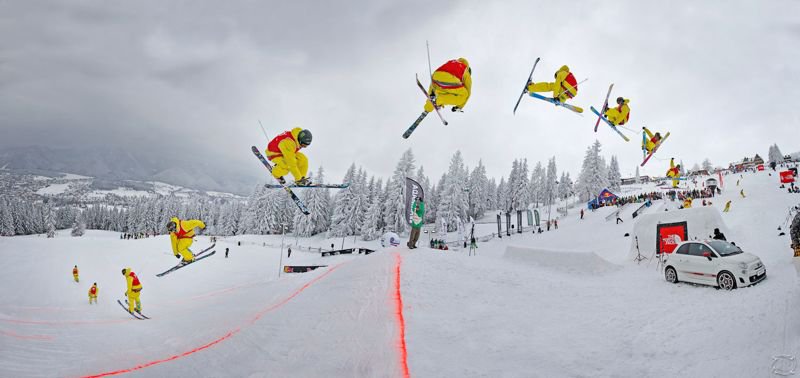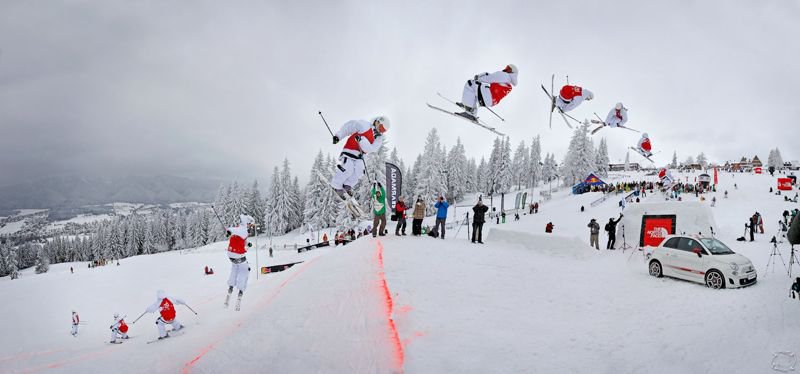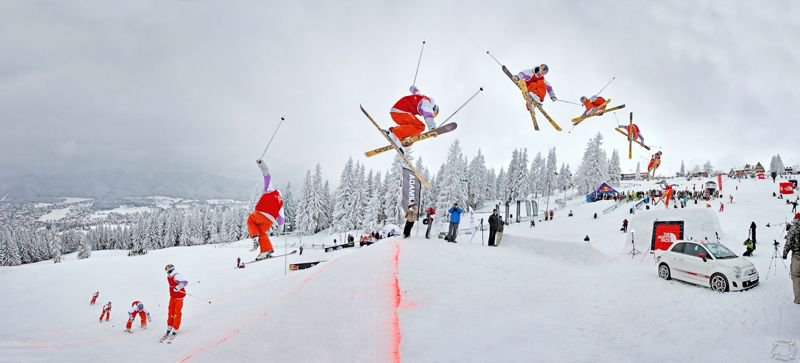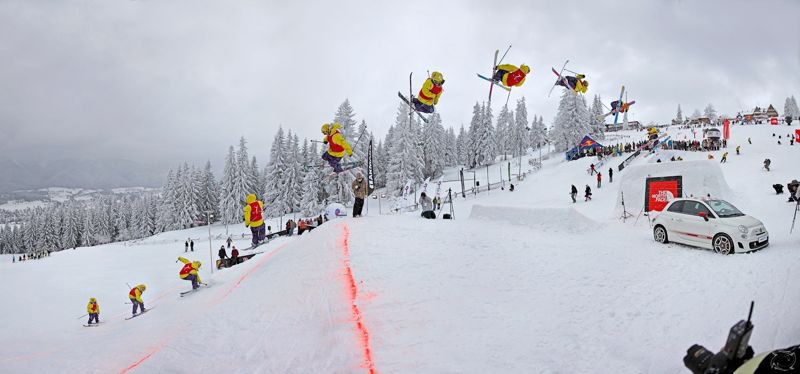 In the final round of Big Air riders had 5 jumps from which 4 counted and one had to be not bigger than stylish 540 rotation. Jan Krzysztof and Szczepan Karpiel were competing not only against all the other riders but also had their own battle for the Champion of Poland title.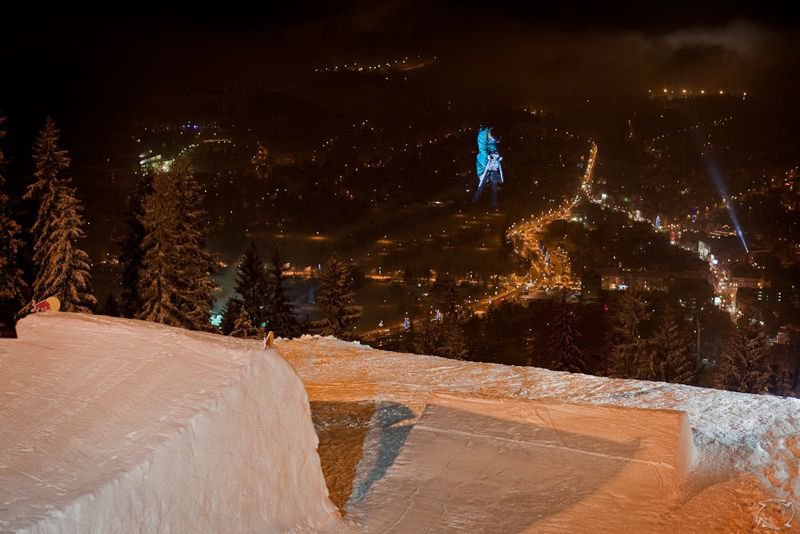 It is hard to write about the level of tricks shown in the Final. Both sides spins in every angle, grabs, doubles and jumps to the very bottom of the landing made it a hard day at work for judges (Kostek Strzelski and Piotr Gnalicki). In the end it was Steffen Hamree from Norway who took home 3000 PLN with his 27,4 points. Oscar Scherlin from Sweden was second earning 2000 PLN. Scoring only 0,1 point more than Szczepan Karpiel it was James Woods who got third with 25,3 points.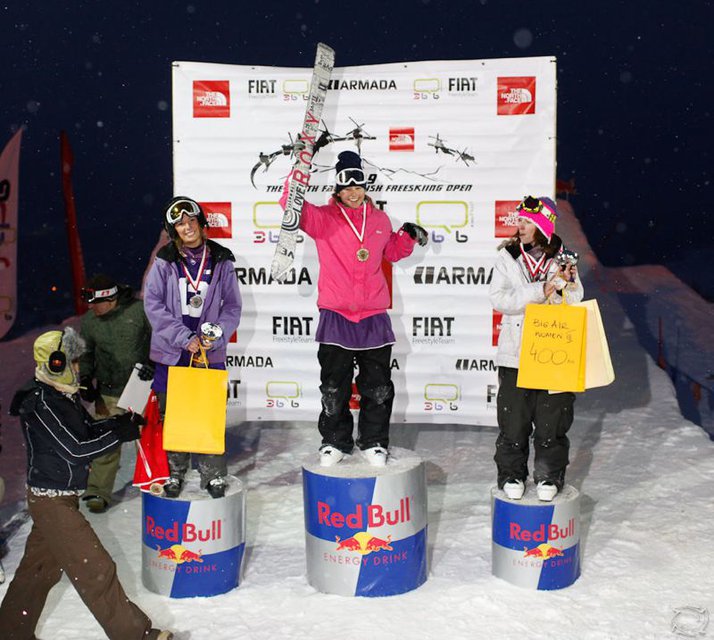 Women category was dominated by girls from Slovakia. Zuza Stromkova scoring 6,3 points took 1000 PLN and left Beata Badanik (600 PLN) and Natalia Slepecka (400PLN) far behind.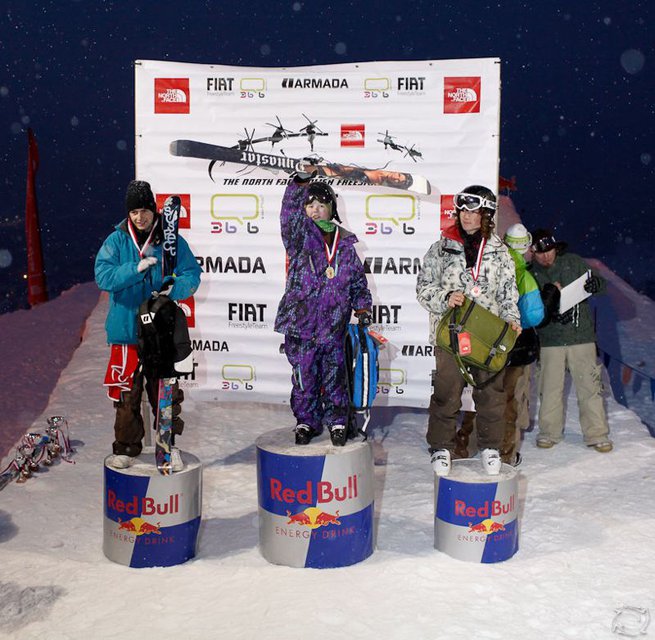 Without a doubt, 14 year old Anttijussi Heikkinen who showed some huge jumps and tricks that impressed most of the senior competitors and became Best JR. Tomek Pazdzior and Pawel Palichleb took second and third place.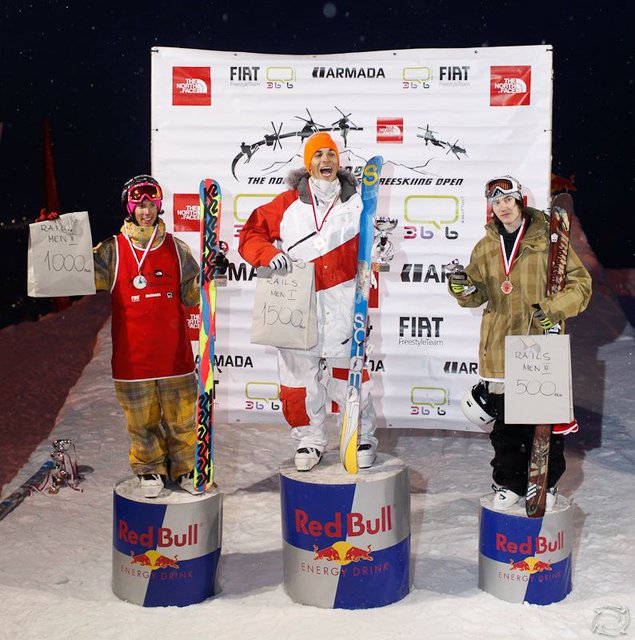 For the second year in a row Pepe Kalensky from Czech Republic, followed by his native Robin Holub and Aleksi Laitinen from Finalnd, won the Rails category. The main prize in womens category once again went to Zuza Stromkova. Weronika Chyc took second and Natalia Slepecka third in Rails.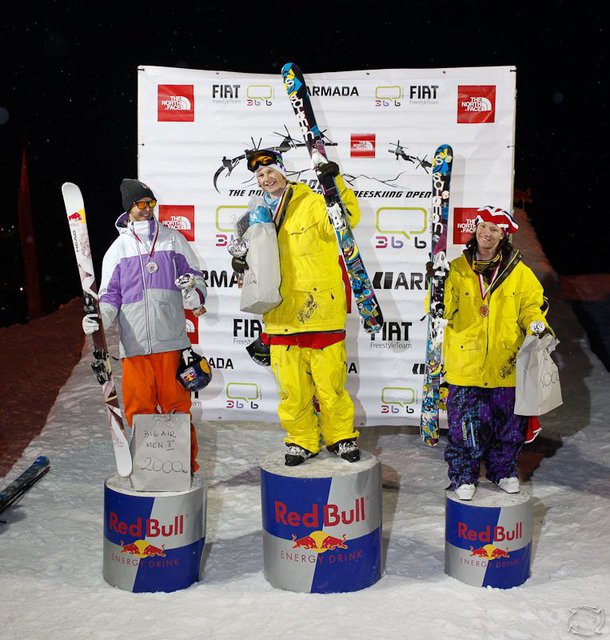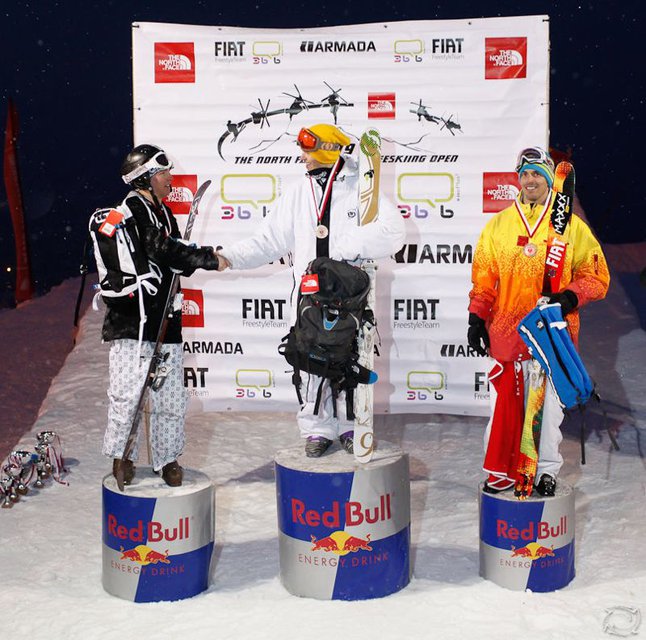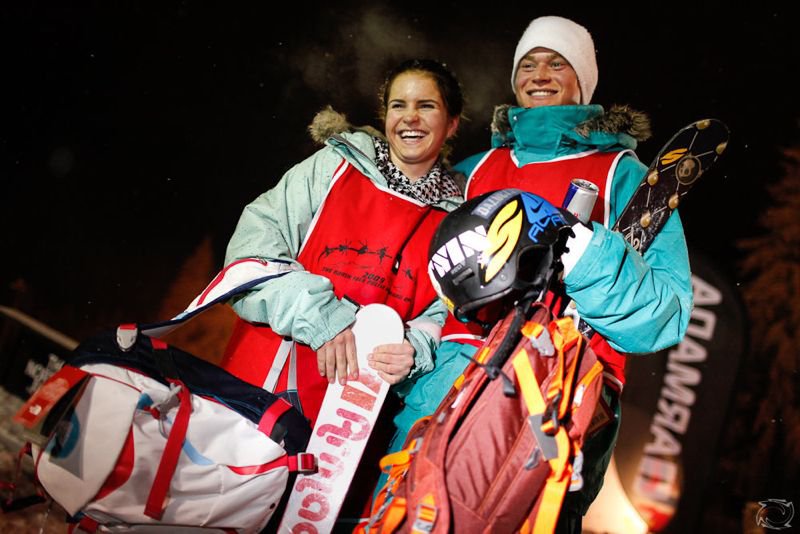 It was a long prize giving cremony. Not only the winners of Big Air, Rails and Championship of Poland got some money to spend at the afterparty but also got some stuff from The North Face and Armada Skis. Also Wojciech Bulas took some nice pair of new Armada Skis for showing some nice level of riding. The long day ended with crazy Afterparty in Ampstrong Club at which winners and other riders celebrated the end of sixth edition of The North Face Polish Freeskiing Open.
Photos by Tomek Gola (http://www.fikcja.pl)
Organizatorzy: Polskie Stowarzyszenie Freeskiingu, Ski2die.pl
Sponsorzy: The North Face, Red Bull, Fiat Freestyle Team, Armada Skis, 36i6
Patroni medialni: nTV, RMF Maxxx, Men`s Health, Extreme Channel, Polska Gazeta Krakowska, Extremium, Hiro, High, SKI-magazyn, Onet.pl, skionline.pl, newschoolers.com, downdays.eu, freeskiing.cz, freeride.sk, ski2die.pl
Partnerzy: Polski Zwi�zek Narciarski, PKL, Biuro Promocji Zakopanego, Hiver.pl, Fikcja.pl
Results
Big Air Qualifiers - Men
1. James Woods GBR 7,5
2. Szczepan Karpiel POL 6,9
3. Steffen Hamre NOR 6,8
4. Andrew Metthew GBR 6,6
4. Johennes Rinne FIN 6,6
6. Pepe Kalensky CZE 6,5
7. Fabian Kronig SUI 5,9
7. Oscar Scherlin SWE 5,9
7. Roman Dalecky CZE 5,9
10. Robin Holub CZE 5,8
11. Brano Zboja SVK 5,5
12. Jussi Mononen FIN 5,0
12. Jerry Pekar CZE 5,0
14. Ondra Benes CZE 4,9
15. Filip Taraba CZE 4,8
16. Martin Horak CZE 4,8
17. Bine Zalohar SVK 4,7
18. Anttijussi Heikkinen FIN 4,6
19. Jussi Sarinen FIN 4,5
20. Aleksi Laitinen FIN 4,4
20. Grigoryi Fuzeev RUS 4,4
22. Joel Mooser SUI 4,3
23. Juraj Bernat SVK 4,2
24. Sebastian Litner POL 4,1
25. Tomek Paüdzior POL 3,8
26. Jammie Matthew GBR 3,6
27. Stanis≥aw WardyÒski POL 3,5
28. Micha≥ BurzyÒski POL 3,3
29. Tomek Majewski POL 3,2
30. Marcin Pierzcha≥a POL 3,1
31. Lukas Trso HUN 3,0
32. Pawe≥ Palichleb POL 2,9
33. Andrzej Podsiad≥o POL 2,8
34. Wayde MacMillan RPA 2,5
34. Wojciech Bulas POL 2,5
34. Piotr Wojarski POL 2,5
37. Peter Csanaky HUN 2,3
38. MArtin Vranek CZE 2,2
39. Robert Szul POL 2,1
40. Andrzej £apka POL 2,0
41. Jan Kastory POL 1,9
42. Martin Bernard CZE 1,0
43. Norbert Koch AUT 0,9
44. Micha≥ Trzebunia POL 0,8
45. Wiktor Kitzman POL 0,4
Big Air Qualifiers - Women
1. Zuzanna Stromkova SVK 2,1
2. Beata Badanik SVK 1,9
3. Andrejka Kryslova CZE 1,3
4. Natalia Slepecka SVK 1,1
5. Mery Strzelska POL 1,0
6. Alicja Grzejszczak POL 0,8
7. Anna Szymanowska POL 0,6
8. Karolina NikliÒska POL DNS
Big Air Semi-Finals - Men
1. James Woods GBR 13,5
2. Szczepan Karpiel POL 13,5
3. Steffen Hamre NOR 13,2
4. Jan Krzysztof POL 13
5. Oscar Scherlin SWE 12,7
6. Andrew Matthew GBR 12,6
7. Roman Dalecky CZE 12,4
8. Pepe Kalensky CZE 11,5
8. Joel Mooser SUI 11,5
10. Filip Taraba CZE 11,2
10. Fabian Kronig SUI 11,2
10. Jussi Sarinen FIN 11,2
13. Aleksi Laitinen FIN 10,6
13. Jussi Mononen FIN 10,6
15. Martin Horak CZE 10,4
15. Johannes Rinne FIN 10,4
17. Robin Holub CZE 10,2
18. Brano Zboja SLO 9,9
19. Staszek Karpiel POL 9,5
20. Anttijussi Heikkinen FIN 9,4
21. Bine Zalohar SLO 8,7
22. Tomek Paüdzior POL 8,1
23. Grigoryi Fuzeev RUS 8
24. Juraj Bernat SVK 4,5
25. Tomek Majewski POL 4,4
26. Jamie Metthew SCO 4,3
27. Ondra Benes CZE 4
28. Jerry Pekar CZE 3,5
29. Sebastian Litner POL 1,7
30. Stanis≥aw WardyÒski POL 1
31. Micha≥ BurzyÒski POL 0
32. Marcin Pierzcha≥a POL 0
Big Air Semi-Finals - Women
1. Zuzanna Stromkova SVK 3,1
2. Beata Badanik SVK 2,5
3. Andrejka Kryslova SVK 2,4
4. Natalia Slepecka 2,0
5. Mery Strzelska 1,9
6. Anna Szymanowska 1,1
7. Karolina Niklinska 0,5
8. Alicja Grzejszczak 0,3
Big Air Finals - Men
1. Steffen Hamre (NOR) - 27,4 - Switch 5 Japan (Style), Bio 9 Double Nose, Switch 9 Mute, Switch 10 Mute, Bio 7 Double Nose
2. Oscar Scherlin (SWE) - 27,2 - Switch 5 Japical (Style), Switch 10 Nose Mute, Switch 9 Nose, Switch 7 Double Grab, Switch 9 Mute
3. James Woods (GBR) - 25,4 - Switch 5 Japical (Style),Switch Cork 9, Switch Cork 10, Switch Cork 10, Kangaroo Flip 720
4. Szczepan Karpiel (POL) - 25,3 - 5 Unnatural Mute (style), Bio 10 Mute, Switch 9 Mute, Switch 9 Octo, Switch 5
5. Fabien Kronig (SUI) - Switch 5 Double Tail(Style), Switch 9 Blunt, Switch 5, Switch 9 Blunt, Switch 5 Double Tail
6. Joel Mooser (SUI) - Switch 5 Nose (Style), Switch 9 Mute, Switch 10 Mute, Switch Cork 7, Cork 9 Tail
7. Pepe Kalensky (CZE) - Rodeo 5 Double Nose (Style), Rodeo 5 Truck, Bio 9 Mute, Switch 10 Tail, Switch 7 Double Duffy Grab
8. Jan Krzysztof (POL) - 3 Unnatural Tail (STyle), 9 Tail to Tail, Switch Cork 9 Blunt, 7 Unnatural Tail, Switch Cork 12
9. Filip Taraba (CZE) - Switch Cork 5 Double Nose (STyle), Cork 7 Mute, Switch 9 Tail, Switch 7, Double Back
10. Andrew Matthew (GBR) - Rodeo 5 Double Grab (Style), Bio 7, Bio 7 Mute, Bio 9 Mute, Bio 9 Mute
11. Jussi Sarinen (FIN) - 5 Japan (style), Switch 9 Japan, Switch 9, Switch 9 Japan, 9 Nose Mute
12. Roman Dalecky (CZE) - 5 Nose (style), Switch Rodeo 7, Switch 9 MUte, Sitch Rodeo 7, Switch Cork
Big Air Finals - Women
1. Zuzanna Stromkova (SVK) - 360, 540 Mute, 360, 540, 360
2. Beata Badanik (SVK) - Straight, 360, 360, 360 Mute, 360
3. Natalia Slepecka (SVK) - 360 (small kicker), 360 (sk), Straight, 360 (sk), Straight
Rail Finals - Men
1. Pepe Kalensky (CZE) - 9,8
2. Robin Holub (CZE) - 7,9
3. Aleksi Laitinen (FIN) - 7,6
4. James Woods (GBR) - 7,5
5. Fabian Kronig (SUI) - 6,8
6. Martin Vranek (CZE) - 5,1
7. Petr Krivanek (SVK) - 4,6
8. Andy Collin (GBR) - 4,5
9. Jakub Stekly (CZE) - 4,2
10. Andrzej Podsiad≥o (POL) - 3,8
11. Grigoriy Fuzeev (RUS) - 3,7
12. Ondra Benes (CZE) - 3,2
13. Sebastian Litner (POL) - 3,1
13. Wojtek Bulas (POL) - 3,1
15. Joel Mooser (SUI) - 2,9
16. Villam TOmo (SVK) - 2,8
16. Marek Skala (CZE) - 2,8
18. Juraj Bernat (SVK) - 2,7
19. Anttijussi Heikkinen (FIN) - 2,6
20. Szczepan Karpiel (POL) - 2,5
21. Karol Or≥owski (POL) - 2,4
22. Micha≥ NikliÒski (POL) - 2,1
23. Wayde MacMillan (RPA) - 2,0
24. Bine Zalohar (SLO) - 1,0
25. Robert Szul (POL) - 0,8
26. Andrew Matthew (GBR) - 0,6
27. Tomes Mrugac (SVK) - DNS
28. Dominik Prno (SVK) - DNS
29. Peter Csanaky (HUN) - DNS
30. Lukas Trso (HUN) - DNS
Rail Finals - Women
1. Zuzanna Stromkova (SVK) - 3,0
2. Weronika Chyc (POL) - 1,9
3. Natalia Slepecka (SVK) - 1,4
4. Alicja Grzejszczak (POL) - 1,2
5. Anna Szymanowska (POL) - 0,6