We caught up with legendary freeskiing pioneer Philippe Bélanger to get his top picks for new gear this year. Whether you're looking to shred park, all-mountain, or get out into the backcountry he's got you covered with the best set-ups. Phil is the co-owner of D-Structure, which turns 20 years old this year and has definitely earned its spot in skiings hall of fame for fuelling the freestyle scene. If you've ever been to a D-jam back in the day, you know Newschoolers has grown up side by side with D/S over the years. We couldn't be more proud to see them still supporting our sport. Congratulations D-structure and thanks for all the great times over the years!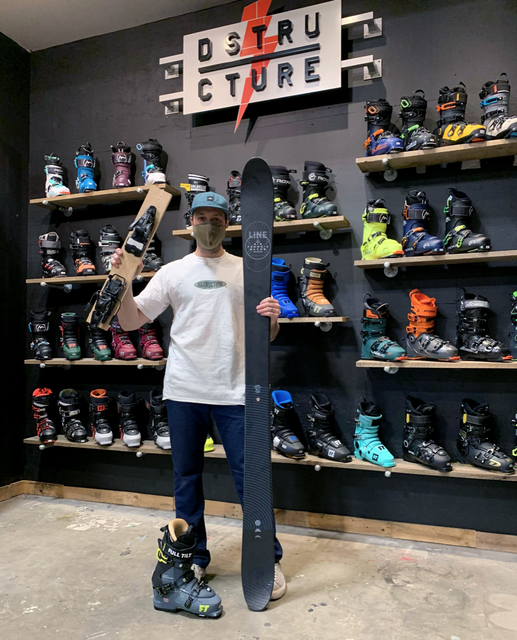 Men's Freeride touring / Freetour Setup
Line Sir Francis Bacon
Full twin, lightweight construction, 107mm underfoot, and a whole lotta fun. The SFB is the obvious choice if you're going for a mid-fat all-mountain / freestyle / powder / touring ski. It does it all. It's easy on the up and a blast on the down. Convex tips & tails provide a surfy feeling without having to go for fat powder skis. Check it out here
Atomic / Armada Shift MNC 13
It's already been 3 years since its release and the Shift is one of the most (if not THE most) sold touring binding on the market. I guess by now you all know how awesome it is. This binding bridges the gap between tech bindings and alpine bindings. When properly tuned, these bad boys are the most reliable touring bindings out there. 6-13 DIN on front & back, Anti friction devices and a proper forward pressure adjustment make it super safe and fun to ski both in the backcountry and inbound at your local resort. That's what I personally run on my skis and pretty much all our employees are running this binding as well. Check it out here
Full Tilt Ascendant Approach
Brand new for 2021, the Full Tilt Ascendant Approach is one hell of a freetour boot. Its 102mm last provides a comfy and roomy ride while the stiff Flex 10/120 gives you all the power you'll ever need. It features a Grilamid shell so you shouldn't get tired too fast on your way up. They even slapped a fully heat-moldable Intuition Pro Tour tongue liner in there so you can go all day long. Check it out here
Pomoca Pro S-Glide
Hands down our favorite touring skins. The plush provides good glide and grip while the glue is extra sticky and durable. Made in Swiss so you know you're getting the good stuff. Check it out here
Black Diamond Expedition 2 Pro
Lightweight but heavy-duty, these poles are going to last you a lifetime. 100% aluminum with metal adjustment clamps, the Expedition 2 Pro will be your best friends on steep ascents. Check it out here
Women's Freeride touring / Freetour setup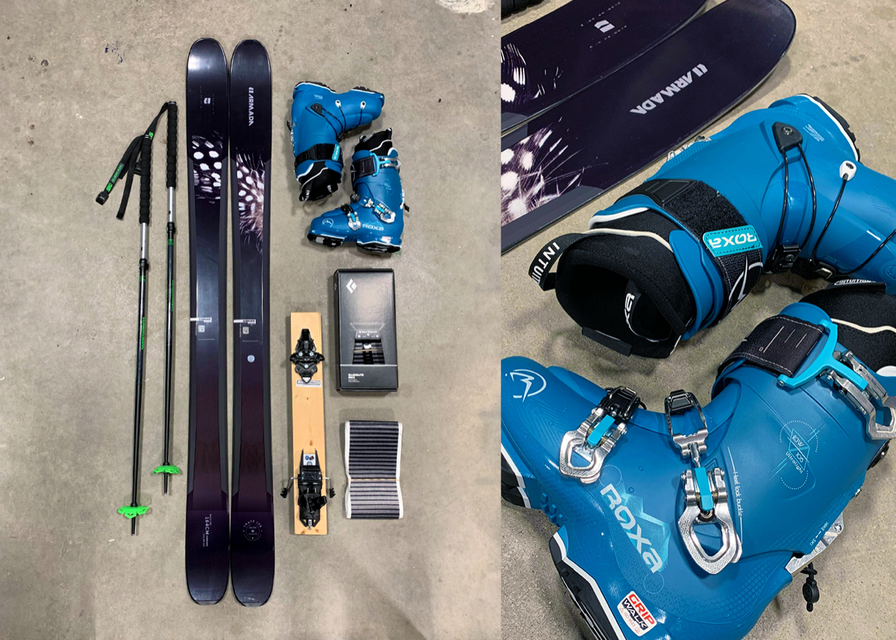 Armada Trace 108
Touring skis that rip anything and everything in front of them. Pair a lightweight Caruba (that's an exotic tree from Brazil) core with Titanal plates underfoot and you got the best all mountain / touring ski you can ask for. A nimble 108mm at the waist with a fat 132mm at the tip to add some float. Groomers or tight tree lines, the Trace 108 will take you anywhere. Check it out here
Dynafit ST Rotation 10
A breeze on the up yet a beast on the down. The patented Dynafit pivoting toe piece evens out impacts that can affect ski and binding during a dynamic and powerful descent. Paired with a whopping 10mm forward pressure, binding release function is thus more reliable and is even more effective in countering unwanted early release. It's moderate weight-wise and easy on the wallet compared to similar options on the market. Check it out here
Roxa R3W 105 TI IR
Made it on the list for a second year. The entire Roxa R3 platform could've made it. Next-gen cabrio design for maximum performance, Bio-Fit shell + 100% heat-moldable Intuition liners for maximum comfort and Grilamid construction for maximum weight reduction. Of course, these come with Dynafit certified tech inserts, GripWalk outsoles AND free alpine outsoles if your old alpine bindings aren't GripWalk compatible. These boots are the definition of versatility. Park? No problem. Touring? Eaasyyy. Groomers? Bring it on. Check it out here
Black Diamond GlideLite mohair mix
The best bang for your buck out there. We sell a TON of these since they're our least expensive option. They now come pre-cut in length so all you've got to do is trim the width. You also get the best skin saver in the game straight out of the box. Check it out here
Armada Alloy Adjustable Poles
When durability and adjustability are paramount, the Armada Alloy Adjustable is your go-to pole for a day on the slopes. Built with 7000series Aluminum, this adjustable pole will take any abuse you can throw at it while adjusting easily for upward or cross-hill travel. A dual-density overmold grip keeps your hands confidently in place all day long. Check it out here
All mountain / Park setup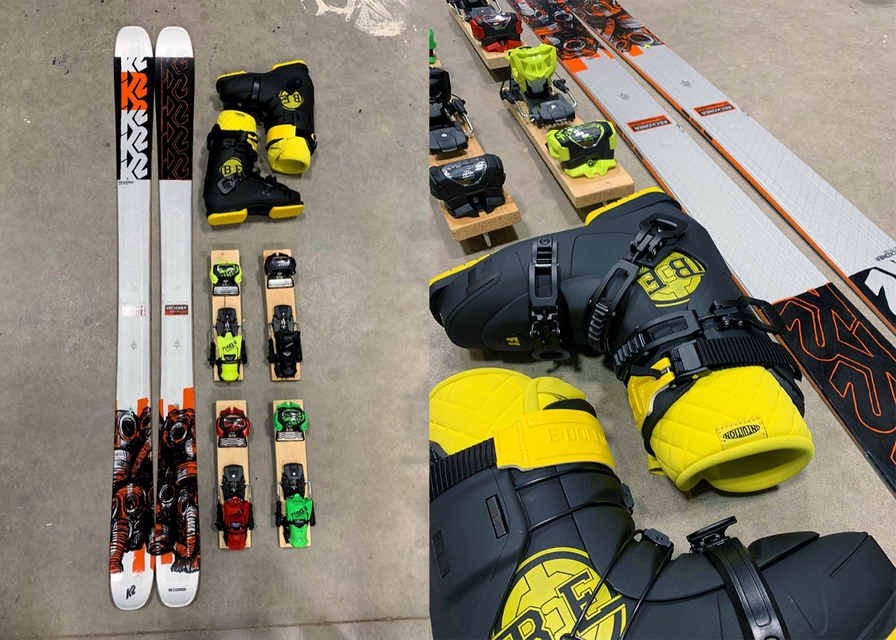 K2 Reckoner 102
Our new favorite all-mountain / park ski from K2. Unlike what we're used to seeing from K2, the Reckoner 102 is a light and nimble park ski. The 102mm waist has your back whatever winter brings. It also features carbon boost braids, so you know they have pop for days. Check it out here
Tyrolia Attack² 13 GW
It's no secret that our favorite all-mountain / park binding is the Attack² 13 GW from Tyrolia. We'd been on the lookout for the strongest park binding for years and we found it a couple of years ago. Since then, we've been selling hundreds of pairs every season. What makes this binding so solid you may ask? The brakes are screwed through the metal baseplate directly into the skis. They're also beefy AF. The most beautiful thing about 'em? They're the cheapest in their category. Check it out here
Full Tilt B&E Pro
Full Tilt's tagline is ''Comfort is performance'' and Henrik's & Phil's B&E truly embodies that. A roomy 102mm last paired with heat-moldable Intuition Pro Wrap liners (we're big fans of Intuition liners) will give you the most comfortable fit you've ever experienced in a ski boot. New this season; they inverted the toe buckle making them sturdier than ever before. Check it out here
Final words
All the aforementioned products (and a LOT more) are available in-store and online at www.d-structure.com. We offer free shipping on all 90$+ (reg. price) orders in Canada and 10$ flat rate shipping to the USA.
If you have any questions at all, feel free to reach out any time via Instagram, Facebook, email, or phone.
Cheers
- Phil Belanger, co-owner
-Sponsored Content-