Words and Video: Jason Wagner
Photos: Michelle Wagner
I was bummed when I woke up to the pouring rain Thursday morning. Ski Roundtop
in central Pennsylvania had planned a huge rail jam that night sponsored by
a local skate park, More Skates. Roundtop built their biggest rail to date;
a massive 53' Battleship rail sitting about 12 feet above the takeoff. The rain
ended about two hours before the scheduled start time of 6 o'clock. Despite
the ugly conditions, the jam was on! Local jibbers helped the park and pipe
crew sculpt the perfect jump and add finishing touches to the rail. A bunch
of skiers and snowboarders braved the wind and cold for a session on the battleship.
The competition was broken up into categories where the skiers were judged by
skiing judges and one winner would be selected. The 2 hour jam started off slow
as skiers familiarized themselves with the steep 20' upslope. A rail this size
is almost unheard of for Pennsylvania so it took the riders a while to adapt.
After a few runs Tom Wallisch and Steve Stepp were greasing the rail pretty
consistently. Tom and Steve both progressed to switch ups over the second kink.
Tom took the win with his smooth runs consisting of switch ups and 270s out
of the massive jib. This event was just a preview of the big things to come
at Ski Roundtop this season.
Winner: Tom Wallisch
Check out some pics from the event: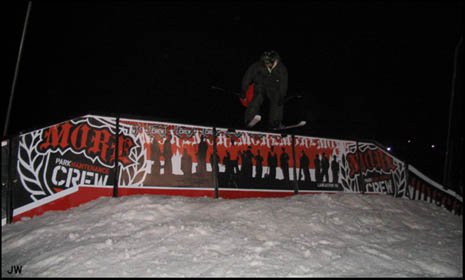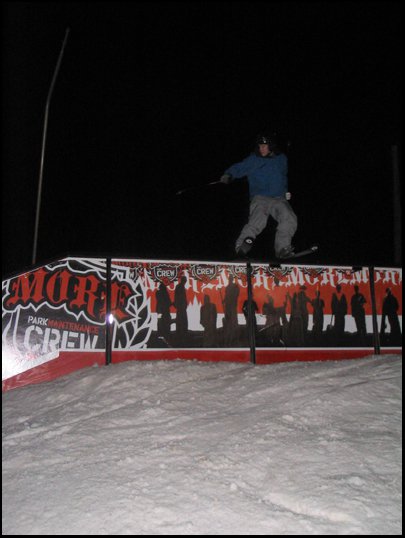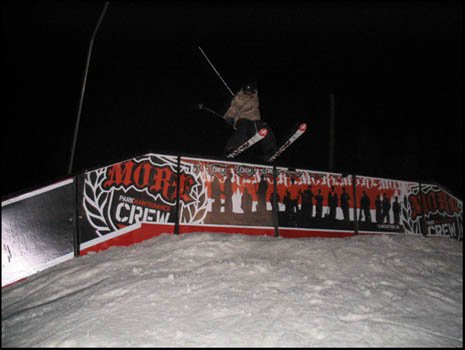 Watch the video!