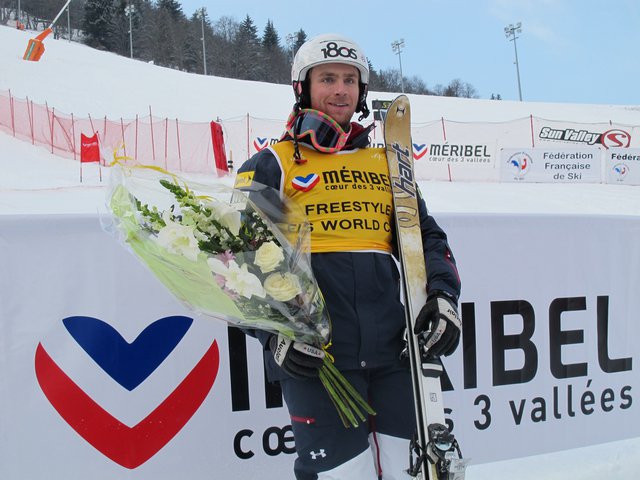 Current World Champion and World Cup leader Patrick Deneen podiums again today at the Freestyle Mogul World Cup in Meribel, France. With a win last weekend in Ruka, Finland and a Silver here in Meribel, two podiums in five days has eart Deneen the 'yellow bib' yet again, making him number one in the world and current World Cup leader.
The dual mogul event in Meribel was a spectacular event where after a qualification round, competitors raced side by side down the 199m mogul course.
Deneen known as 'the rocket' was certainly on rocket fuel today skiing lighting fast and pushing other competitors beyond their limits. Qualifying in 12th place Deneen knew that from the first dual against team mate Jeremy Coda he would have to ski tactically well and as fast as he could to progress on to the next round.
With a solid 'D-spin' on top and huge 'back flip X' on bottom, Deneen did exactly that and pushed his way through four duals ready for the ultimate final dual against Gilbaut Colas from France.
One competitor said ' Patrick is the fastest in the world and so when you draw to race against him, all you can do is hang on for your life as you try to keep up with him!'
[Show as slideshow]







With the crowd cheering, adrenaline pumping and the drop of the start gates Deneen and Colas dueled it out for First and Second place. Both pulling the same top air in unison the crowd erupted as Deneen put his foot on the accelerater and gained almost a full two bumps ahead of Colas in the middle section of the course. By the bottom air Colas was determined not to let Deneen get too far ahead and fought hard to catch him up. This dual was one of the most exciting and closest duals we have seen in awhile.
With only a few points difference between them Colas who had the home field advantage managed to take the gold while Deneen took silver, his second podium so far this year, keeping him ranked number one in the world and winning the World Cup leaders' yellow bib.
'I have been working hard over the last year with my coaches Timmy Meagher and Chris Seeman to find a run which will allow me to ski consistently as fast as a can with big air.' commented Deneen, ' my competition package is working for me this year and it feels great to hold onto the yellow bib and be ranked number one in the world! '
Patrick now heads to China for the next World Cup competition which will be on the 21st of December. This will be the first Freestyle Mogul World Cup event ever held in China and yet again another exciting event.