Words by Ben Amburgey. Photos by Jacob Dube except where noted
Come springtime every year terrain parks around the east coast begin to truly come into shape as the snow softens and the sun starts to shine. This period only can only last so long however before the mountains start to shut down, giving way to postseason hike sessions and summer activities. These days postseason rail jams and events are becoming more and more of a rarity, and this is especially true in the state of Maine, where the nearest of such events can be as far as 4-5 hours away. Skiers must look to superparks and spring video shoots to get their fix; events like Kimbosessions and Superunknown, or New England's own Peace Pipe and the now long gone Heat Harvest and Hike n' Huck. Many resorts simply don't see the monetary gain in hosting these events; their core audience has already moved on to summer and most of the park crew has probably been laid off by this point already.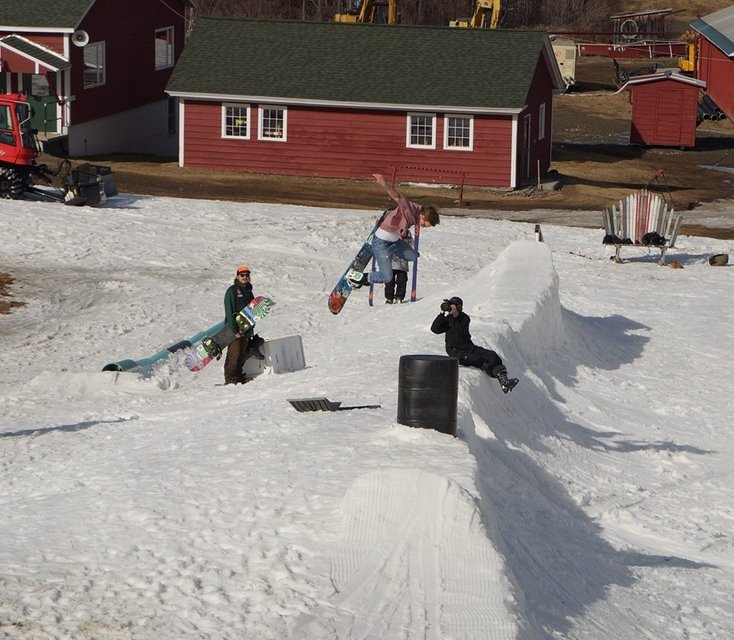 Pukwana Pipe, the predecessor to this event // Photo: Nolan Rogers
Two years ago after the season ended at Titcomb Mountain in Farmington Maine, we had the opportunity to have our own postseason event. After the pond skim we hand shaped what was left of the pond into a minipipe, and had a great 3 day session with mostly friends and locals. You can read the write-up and watch the edit from that here:
https://www.newschoolers.com/news/read/Pukwana-Pipe-rider-built-designed-halfpipe-backwoods-Maine
This year when spring started to come around we decided we wanted to have another event like it; but on an even bigger scale. Last year Titcomb hired Seth Noonkester as general manager. Given that Seth is a park skier himself, this gave us a lot more freedom and resources to make this event as wild as we wanted too. In addition to those of us volunteering with the Riders Club (a local Maine nonprofit aimed at getting kids to freeski and snowboard) to shape and design the park, we would have 3-4 days of cat time to design the setup. Initial plans called for a superpark on the main slope, but were modified to run the main park all the way down the mountain instead of just halfway, allowing skiers to hit 20-30 features in one run. We began working with Jacob Dube (perhaps better known as @WeRidePark on instagram) to promote the event and provide some prizes, and set the date for Saturday March 31st.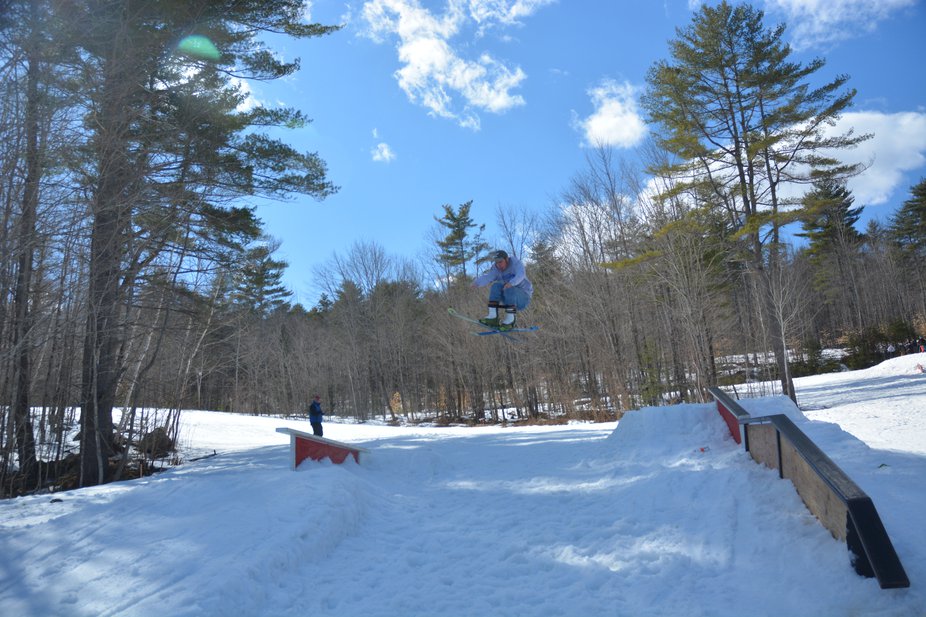 Titcomb General Manager Seth Noonkester gaps from the DFD to the Whale Tail Rail // Photo: Avery Boucher
Unfortunately on the first day of the build, the tracks on the snowcat (which had been limping along already for a portion of the season) finally broke, leaving us with 2 mounds of snow at the bottom of the mountain and not much else. With 6 days to go until the event and practically nothing done we discussed canceling. Fortunately Titcomb has 2 snowcats, but the second one which is used for grooming the T-Bar lift lines and nordic trails was quite a bit different then the one typically used for the park. The blade was almost half the size; had no wings on the side and barely any working hydraulics. It would take almost twice as long to do anything the other cat could do; but it was better then canceling the event which we had already begun to hype up. We decided to scale down the event, and instead set up a rail garden next to the pony lift on the beginner slope. Over the next couple days our volunteer park crew along with cat driver Dustin worked to setup what might be the best park Titcomb has ever had. 10 rails and jibs of various sizes and ability levels were crammed into the beginner slope.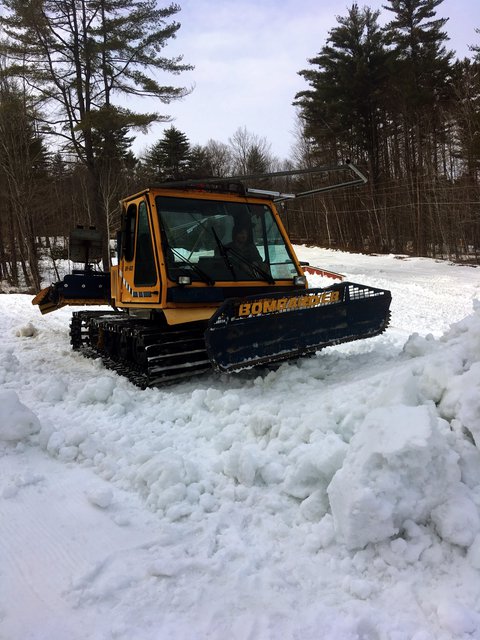 Building a park with this thing was not easy // Photo: Ben Amburgey
Come Saturday morning; the weather could not have been better. Temperatures were in the 40s with plenty of sun and the park was buttery soft but not too slow. As the event kicked off around 11:30 a small crowd of 30 skiers and riders were already present, making this the biggest park event the mountain had hosted in several seasons. Some of the best tricks thrown that day were Tommy Cogswell with a disaster 4 on to the flat down, blind swap to broken slide safety grab continuing two on the Flat bar, Rowan Stamp with a disaster two continuing two on the flat down, Taylor Davis and Kyle Joseph lip blind 2ing the 35 degree elbow kink (pulled from Titcomb's junkyard just for this event) several flips tossed off the culvert at the bottom, and Isaac Wright closing off the day with a super Illusive (Fs, Fs, Blind 4) on the flat down at twilight.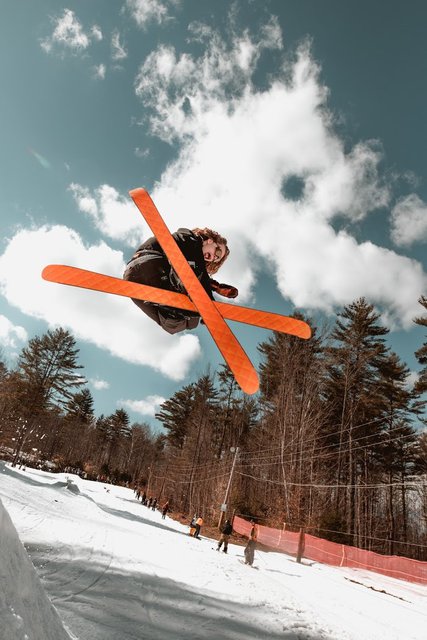 Lane Brooks on the QP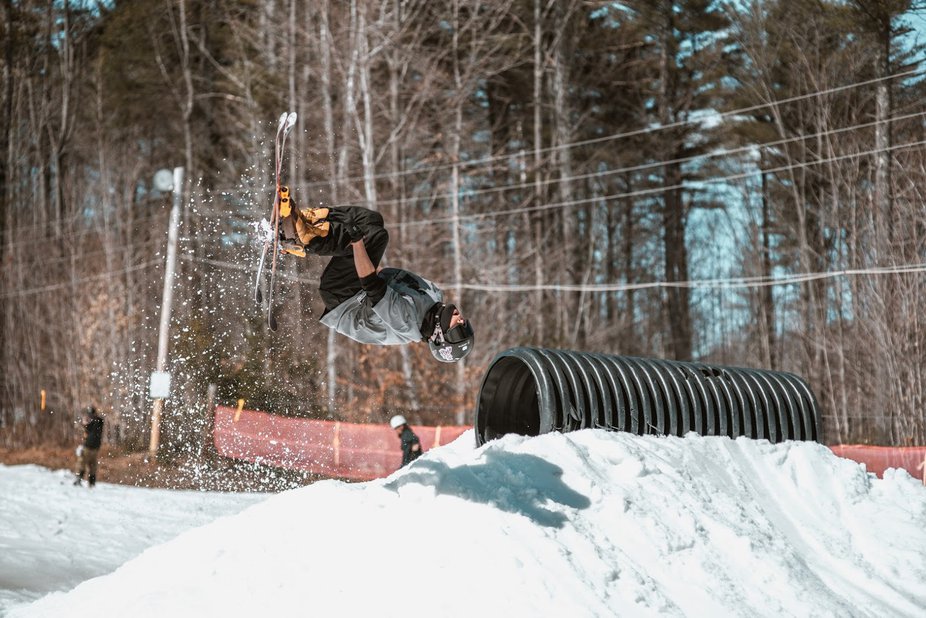 Ryan Meyer getting Inverted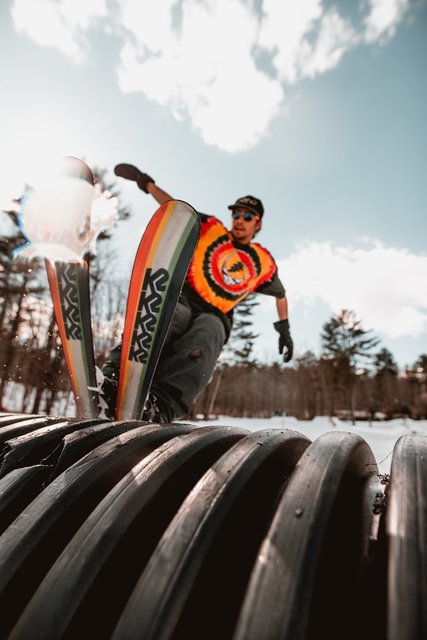 Titcomb OG Casey Taylor on the Culvert QP, a staple feature at Titcomb which had to be included in this setup
These heaters being tossed out were definitely a highlight, but so was seeing so many skiers come out to shred and progress no matter their ability level. Among the 70+ individuals who came to ride at some point during the day many were just beginning to hit rails, but shredded all day and had a good time regardless.
2 Edits from the event, by Ben Amburgey and Lukas Grube
https://www.newschoolers.com/videos/watch/902527/Party-in-the-Park
https://www.newschoolers.com/videos/watch/902531/Party-in-the-Park---Lukas-Grube---Winthrop
Overall the day was a great way to end the season at Titcomb; it sits easily within my top 3 days from this past season. Despite the setbacks it goes to show that where a large budget can't get you, sheer community and teamwork can. This event would have never happened without the help of the volunteers listed below
Park Builders/Shapers
-Drew Bates
-Dustin Duchesne
-Geno Federico
-Kyle Joseph
-Rowan Stamp
-Isaac Seigle
-Justin Mathieu
-Ben Amburgey
Event Coordinators
-Drew Bates
-Seth Noonkester
-Jacob Dube
-Barry Tripp and the Riders Club
-Kyle Joseph
Filmers/Photographers
-Jacob Dube
-Lukas Grube
-Ben Amburgey
-Avery Boucher
-Kyle Joseph
-Jimmy Corcoran
And of course a special thanks to everyone who came to the event and made it such a great day. We hope to see you again next season!