Originally posted at http://www.level1productions.com
At the ripe ages of 19 and 20 respectively, Parker White and Chris Logan stepped up to the plate this past Spring and quickly proved they could hold their own with some of the most recognizable park slayers and seasoned veterans in the Level 1 crew. Longtime friends, both skiers are quickly making names for themselves. I recently interviewed the two friends about their seasons, Eye Trip, and the much-anticipated Sun Valley transfer gap.
Interview by: Jonnie Sirotek
Let?s touch on your backgrounds first. Where are you from, where are you currently, your age and sponsors?
Parker White: My name is Parker White and I am 19 years old. I grew up Skiing at Bromley originally ? a really small resort in VT. I moved to Mount Snow when I was 13 and then moved to Mammoth when I was 16. Right now I am camping in Government Camp, Oregon with some homies riding Hood everyday. Big ups to Electric, Tomahawk, Kooter Brown, Skullcandy, and Rossignol.
Chris Logan: My name is Chris Logan and I am a twenty-year old skier who rides for Rossignol, Electric, Orage, Skullcandy, and Kooter Brown.
How did you get into skiing?
PW: Both of my parents ski a lot, and I grew up so close to the mountain it just happened.
CL: I grew up in New York as one of five kids who all skied. My parents weren?t big skiers growing up so I don?t really know how we all got into it (laughs). When I was five all I can remember during the winter was taking trips every weekend up to Mt. Snow to ski. I would ski all weekend and then drive four hours back home to New York. When I was about eight I started skiing the weekend program on the Mt. Snow freestyle team. At that time I don?t even remember if they had a terrain park, and if they did then skiers were definitely not allowed in it. I skied moguls, and upright aerials until I was about fourteen, and started getting into the park when I was around twelve. I loved jumping and being in the air more then anything. I kind of had to fight my parents a little bit because they wanted me to keep skiing bumps, but I ended up winning that battle. In high school I spent my winters going to the Mt. Snow Academy, where I would go to school half the day and ski the other half. I graduated high school in January of 2008 and spent a few months at Mt. Snow before I moved to Mammoth for the spring.
P White, Buck Hunting
Outside of skiing, you two are close friends. Did you grow up skiing together? Can you describe how your skiing affects one another?
PW: I moved in with Chris and his family when I was 14. We rode Mount Snow together for a couple of years and both ended up moving to Mammoth. We are both good at different stuff so it?s cool to ride with someone who thinks and skis differently.
CL: Well originally Parker grew up skiing at Bromley and I grew up riding at Mt. Snow, so we would compete against each other in USSA mogul and aerial events. Our teams got along at events and we would all hang out, but we didn?t really like one another (laughs). At events we would go back and forth, he would win one week, and then I would beat him the next. It wasn?t until I was in ninth grade (Parker in eighth) that we really started skiing together. The following two years after that, Parker lived with my mom, little sister, and me at my place at Mt. Snow. After that we both, along with our other homie, Nick Miles, all had the same idea to move out to Mammoth. Skiing against and now with him, we both have always pushed one another. We were both out to be the best, so if he would do something sick then I would have to top him and then when I would do that it was his turn to top me. It was always and still is a back and forth battle between us, which makes it so much fun.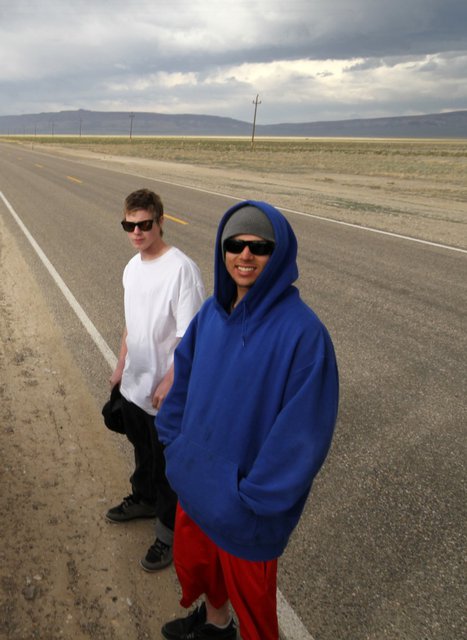 People may suggest that you broke onto the scene this season. What was your overall season like? Where were you? What tricks were you working on?
PW: (laughs) Naw I don?t know about that but the season was rad. For the most part I was just chillin? in Mamm riding park when it was sunny and pow when it snowed. I took a couple of trips, got to ride Bridger with my brother and dad for a little while, did some filming with Duncan Lake and the Electric homies in Key, and got to go to those park shoots with Level 1 in the spring. I just was trying to get my right side stuff a little better and keep style in mind.
CL: My season started off in Mammoth. Typical early season hitting rails and little jumps, waiting for the snow to come. We took a trip together to Colorado where we met up with Duncan Lake, Jon Brogan, and Liam Downey to put together an electric edit. Mammoth at the time was working on building a huge half pipe for the snowboard grand prix, so we wanted to go ride some sweet parks and figured there was no better place to go then Summit County. After that we came back to ride Mammoth for a while with the crew (Montage Inc.) and do some filming for our mini movie, ?For The Hell Of It?. We took a trip back home to the east coast at the end of March to compete in a few events back there and see some friends that we grew up skiing with. After that we came back to Mam where we were just planning on skiing the rest of the spring, until we got an email from Berman inviting us to join the Level 1 crew up at Alpine Meadows for a park shoot. We were both so excited to head up there and get a chance to shred with some of the best skiers in the industry right now. Everything at Alpine went real well so we were lucky enough to tag along and join them at the Sun Valley shoot as well as the Mammoth shoot. I was really trying to work on my right game this season, along with getting a few doubles because nowadays in skiing it seems like you need at least one to have a fighting chance with everyone else. Overall I would say it was an amazing season.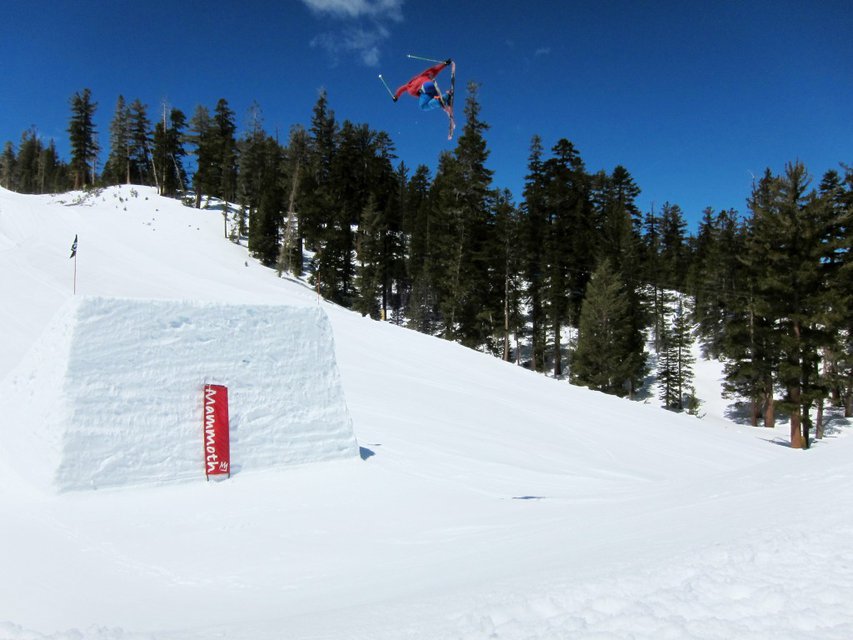 Darhkness
Who or what influences your own skiing?
PW: I like Candide?s style. And some dudes in skateboarding like David Gonzalez and Brent Atchley.
CL: I would have to say that everyone who I ski with, the whole Montage Inc. crew influences my skiing. Parker and I are the young guys in the crew so we both look up to those guys for new tricks to do, and tips on how to make our skiing better. They are never afraid to tell us that something looks good or not so when we do something and they are stoked on it really gets us pumped up.
What plans for the summer? What are your plans for next season?
PW: Right now I am camping and skiing in Hood. Next season just want to film with Montage and Level 1 hopefully put out a nice segment with both.
CL: My plan for the summer is to work security and ride at Camp of Champions. The lane is so good this year and just filled top to bottom with some real fun features so it should be a real good summer. Next season I hope to do some more filming with the Level 1 guys, maybe try to get into the backcountry with them a bit. I am going to keep living and filming in Mammoth with the crew and trying to put out some quality edits. I really want to try and qualify for the Dew Tour as well. After growing up and competing in slopestyle events I really like the pressure it puts on you. Only getting two runs or so to stomp your hardest tricks, it makes you have to be on it.
How did you get involved with Level 1? How was your experience filming with Level 1 this season?
PW: Last year Jimbo Morgan gave Berman a call and got Darhkness (Chris Logan) and I involved in the Mammoth Shoot. This year they gave me a call and invited me to some park shoots at the end of the year. It was pretty insane filming with Level 1. We got to hit some really creative features with a notorious crew.
CL: I got involved with Level 1 through having amazing team managers. Matt Rihm from Rossignol and Jimbo Morgan with Electric and Skullcandy are the main reasons why I am here. I guess they bugged Berman, Decker, and Freedle enough to get us a chance to ride with those guys, so when we got that chance we took it and ran with it. My experience with those guys couldn?t have been better. The whole crew was so nice to us and they are so much fun to ski with. They all kill it super hard and are always stoked which makes it easy to have fun and just shred.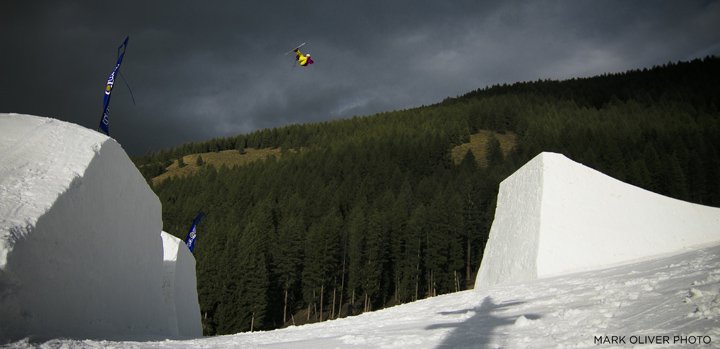 Parker White © Mark Oliver 2010
Speaking of this season, many of our fans have been tuned-in to the hype surrounding the Sun Valley park shoot, and the Transfer Gap in particular. Can you share with our readers your experiences at the Sun Valley shoot? How was the jump? What do you remember most from the session?
PW: Yeah that was the biggest jump I have ever hit. Big ups to Peter Columbo though, and the whole Sun Valley park crew for that matter, for how big the jump was ? it was super smooth. I don?t know if any one thing really stood out. Everyone killed it the whole session and it was a good vibe the whole time.
CL: Sun Valley was amazing. The jump that Pete built for us was unbelievable. It was so big you probably could have seen it from space. The whole town was so nice and welcomed us all like we grew up riding there. The jump was definitely intimidating, 110 feet to the deck was scary enough, let alone the fact that there was a huge gap between the jump and the landing. It was like floating when you came off the thing because you had so much air time. What I remember most was Tom?s double ten, huge rodeo 5, and P White with the biggest front flip and zero that I have every seen.
Any sneak peek into what viewers will witness from you two in our upcoming film, Eye Trip?
PW: (laughs) don?t even know man. Hopefully something cool.
CL: They will see some carving off jumps followed by some grabbing of our tails. Other then that they will just have to watch the movie to get a real idea of everything that went down.
Keep an eye out for these two young guns in our upcoming film, Eye Trip.