Photos: Anna Plocinska
Thanks to Zermatt Glacier Days, the summer park on the Plateau Rosa has become one of the most dreamed of summer skiing destinations in the world. Known for having more creative features than most summer parks, it's certainly top of my list of fun places to shred in summer. The park crew, headed up by Matteo Ferris, has a bit less area to work with this year but there's still a ton of fun to be had in the shadow of the Matterhorn.
_
Rails/Jibs:
Zermatt is known for its rails and this year they are the park's strong suit once again. The run starts with chill features up top, including a flat down, two mega PVC tubes and a cannon tube that, to my surprise had a down rail hidden behind it. You can then continue straight on for the jumps or bank left for a variety of more challenging rail features which will be changing up throughout the summer. There's also a trademark Zermatt pyramid and a big QP at the bottom of the run which leads you into the long, fat Z tube.
https://www.instagram.com/p/CCWWK6KHwEz/
_
Jumps:
The Theodul Glacier is pretty flat, particularly the spot where the park is built, so big jumps aren't the easiest to build. That's why Zermatt is famous for jibbing as a rule. This year, the park features 3 small/medium jumps on the lookers left and a bigger jump in the center of the park. After that bigger jump, you'll find a big ol' knuckle ( which will eventually become a second medium/large sized jump) but it's a ton of how it is right now too. The landings are fairly flat but you can still have plenty of fun. It's more of a place for stepping up your jump game than somewhere for those chucking dubs though.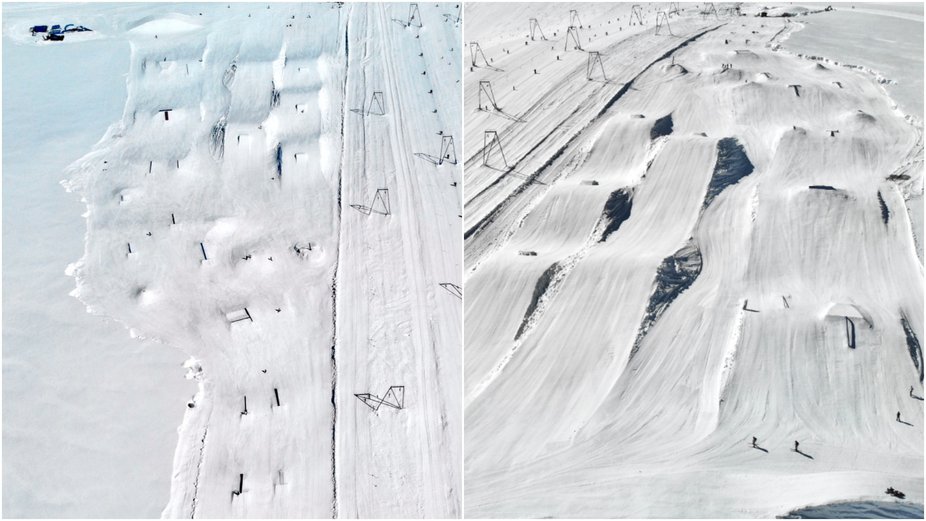 _
Vibe:
Zermatt has always been a place for good vibes and that is certainly true again this year. The large chill zone centered around the Coffee Bar manned by swap boss Clinci is a great place to rest and watch those out there shredding. The park is pretty busy and it's mostly riders there for fun rather than pros. It's definitely less intimidating than most summer parks, so that's a huge plus in my book. It's more like hanging at the beach with a good crew than a heavy park session. There's also a series of events on weekends, including after-hours hike sessions and cash for tricks jams. Don't miss the cash for tricks jam on 18th July.
_
Lift access:
It takes about 45 minutes to get from town to the Plateau Rosa. The park is usually served by its own lift, but it wasn't open during my visit last week, which meant there were some pretty hefty lift lines full of racers. But as soon as the park lift starts going, queues typically become a non-issue and you can hot lap to your heart's content. This summer, you can ski all the way back down to Trockner Steg, so there's no need to upload to get back down the mountain at the end of the day. It's a fun, slushy shred down and means you can sometimes get away with hiking features after closing time.
_
Other:
Testa Grigia is a great spot for beers and food after you're done shredding. It's on the Italian side, so prices are a bit more reasonable but please be aware, you need to be on the lift by 12:59:59 or the lifties will make you walk. The swiss have not quite got the hang of hospitality. There are some fun river shreds on the way down later in the season, and potential pond skims but be careful: the lakes are deep and you definitely could die.