In the second of three judging rounds for The North Face Peak2Park Virtual Competition, judges met at Brighton Resort to score slopestyle edits submitted to the Park and Pipe Open Series (PPOS). Specialty prize winners have also been chosen, including Best Trick, Best 100% GoPro Edit, Team Scholarship Award, Viewer's Choice and the coveted PPOS Grand Prize award announced today by The North Face athlete and freeski legend, Tom Wallisch via live stream from his official Facebook athlete page (@tomwallisch).
Finalists from over 22 home resorts submitted short edits simulating a slopestyle competition run.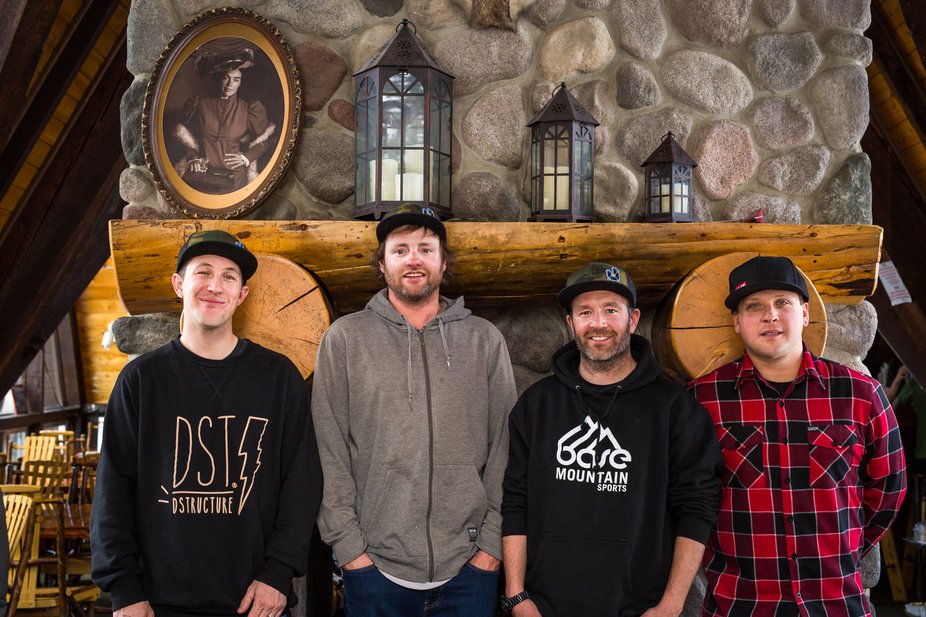 FIS A Level and AFP Platinum Level Judges Steele Spence, Ian Meader and Dan Allen teamed up with IFSA head judge and next week's All Mountain Ski Head Judge Max Kuszaj to score this year's slope runs.
Darian Stevens (Park City) who had a season ending knee injury at the 2015 X-Games has since recovered and moved to Park City, UT to train and work towards her goal of the 2018 PyeongChang Winter Olympics. After placing first in PPOS Big Air just one week ago, Stevens is back with a run that was heavy on big rails and featured an impressive switch left nine Japan to left nine tail. "Stevens had two really solid nines with a Japan and a tail grab. She also was doing tricks on, up, and down rails which made her stand out amongst the rest," said Meader.
http://www.newschoolers.com/videos/watch/863316/Darian-Stevens---2017-PPOS-Slopestyle-and-Grand-Prize-Winner?c=52504
Team Park City United member and World Cup Competitor Marin Hamill (Park City) returns to the number two spot. "Marin is so comfortable spinning both ways that she gives you no indication which way she is going to spin, it's really cool to watch," said Allen.
Grace Henderson (Waterville Valley) finished in third with an impressive left rodeo five—"She got super flat on her axis, good style," said Kuszaj.
Ethan Swadburg (Breckenridge) stomped a "pretty flawless competition run," said Spence. First place slopestyle finishes at the 2016 Aspen Open, Carinthia Open and a feature in Level 1's Pleasure primed Swadburg's 2017 PPOS Slopestyle win.
http://www.newschoolers.com/videos/watch/863319/Ethan-Swadburg---2017-PPOS-Slopestyle-and-Grand-Prize-Winner?c=52504
"His rails are technical and done perfectly, especially his left 4 pretzel 4. His jumps were also extremely tech and done with a good variety of grabs and an impressive execution. A very enjoyable run to watch," said Meader.
Finishing in second place, Alex Hall (Park City/LAAX) returns to the slopestyle podium after taking first at the Mammoth Revolution Tour and earning a silver medal win at the Winter Youth Olympic Games in February 2017.
http://www.newschoolers.com/videos/watch/863328/Alex-Hall---2017-PPOS-Slopestyle-Run?c=52504
Dean Bercovitch (Whistler, BC) was in a league of his own with an edit that was incredibly progressive. "Bercovitch broke the mold with his submission. It wasn't a standard competition run," said Meader.
http://www.newschoolers.com/videos/watch/863330/Dean-Bercovitch-is-in-a-league-of-his-own?c=52504
"His right nose butter double 10 safety off the knuckle of a 90-foot jump was insane!" said Allen.
"That could be the sickest switch 3 ever done," added Steele.
Judges had a hard time placing the unique style of Bercovitch—"When judging trick difficulty—it was hard to calculate because no one is really doing jump tricks like him. It really threw us for a loop when trying to figure out where to place him. Swadburg and Hall had a more solid rail game overall, but Bercovitch was definitely our favorite to watch today," said Steele.
At the conclusion of each PPOS competition season, one grand prize winner is chosen by Tom Wallisch to ski and film with The Good Company on an all expense paid trip. Past grand prize winners include Noah Wallace and Colby Stevenson. Today, Wallisch has chosen Ethan Swadburg as the 2017 PPOS Grand Prize winner.
"Swadburg brought some serious heat in his slopestyle edit. His video was filled with good tech skiing, crazy good style, I loved that four pretzel four and that switch doub nine—tweaking a grab the whole way— that was awesome." said Wallisch. "I speak for the whole Good Company crew in saying that we look forward to filming with him this spring. We are excited to help out in getting his name even more out there." The Grand Prize includes travel, ground transportation, lift tickets and lodging.
Brayden Tritter (Winsport) executed a crazy left hand drag 450, railside to switch, earning the 19-year-old Canadian the 2017 PPOS Best Trick award. "It's a high consequence move, super unique. I have never seen someone do a hand drag four and then slide after that—beyond creative," said Meader. Tritter is receiving a gear kit from The North Face valued at $1,000 USD.
http://www.newschoolers.com/videos/watch/863329/Brayden-Tritter-wins-PPOS--Best-Trick-?c=52504
Notable Mentions
Junior Women's Slopestyle—
Props to Ava Surridge (Vail) for entering into all three PPOS categories and placing first out in both slope and big air. Surridge had some solid switch tricks, slid some bigger rails, and spun both ways on fives.
Vay O'brien (Bridger Bowl) had impressive back to back, left and right threes.
Junior Men's Slopestyle—
On Troy Podmilsak (Park City)—"Troy is the future! His run was incredible, especially at his age. He nailed all four ways to seven on rails, both forward fours and switch twos. He nailed double tens in both directions." - Meader
On Connor and Dylan Ladd (Winter Park)—"The Ladd brothers are killing it. C. Ladd's double cork seven and D. Ladd's left double ten safety were super solid and executed with great style." - Allen
"I loved coming up to Brighton, great setting for judging the contest. I was really impressed with the junior division and the level of skiing, guys and girls throughout the contest, as far as the juniors go, it was really impressive," said Spence.
"I think this event is great because it gives kids who can't usually compete the opportunity to put together a competition run while really thinking about how to best construct a winning run—including all of the technical requirements around demonstrating your ability. It is great because everyone is on their own terrain, showing what they can do with the park features they have," said Allen.
"I wish I had a competition like this growing up! Too bad the internet hadn't been invented yet."
Read the full story and check out a complete list of results/video submissions HERE.