Sämi is one of those skiers that you have to see ski in person to appreciate how good they really are. I first met him a few years ago, skiing slushy laps through the Saas-Fee summer park and he stood out like a sore thumb amongst the many training dubs for the next winter's contest circuit. On that day he was doing things I'd never even imagined on rails without a camera in sight but, as his appearances in Traveling Circus and Meathead films show, he can ski anything and everything. Check out the edit below of his past few seasons footage and read on to find out a little more about one of the most creative skiers out there.
https://www.newschoolers.com/videos/watch/686857/S--mi-Ortlieb-PAST-SEASONS
Sämi Ortlieb: Past Seasons
I think the first thing everyone will want to know is how long did it take to grow your hair? Do you control the hair or does it control you?
I've been growing it for a couple of years now. I get it cut from time to time, usually when my grandma makes me… but she pays for it. So my grandma is kinda in control.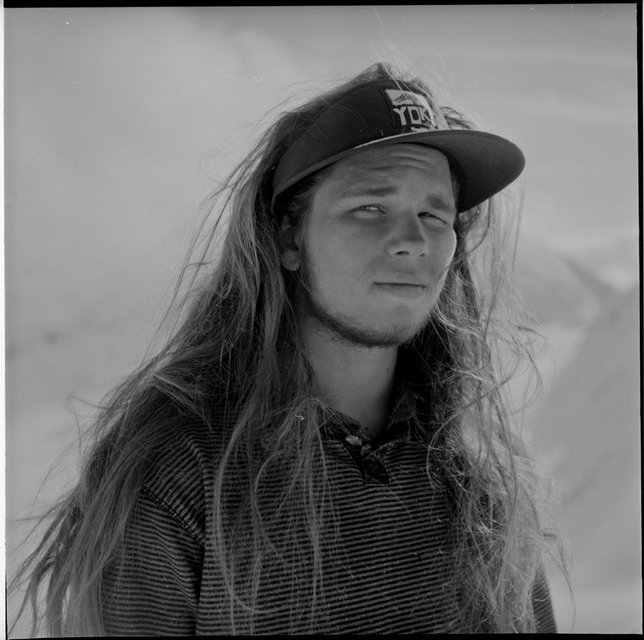 photo: Ruedi Flück
I guess most people know you from Traveling Circus but don't know much else about you, so tell me a bit about yourself.
I'm from Schwanden, Switzerland and I turned 22 this year. Schwanden is in a small valley called Glarus, which is often described as a place where everybody knows everybody. I've got to say it's probably my favorite place on earth. We are surrounded by beautiful mountains with lots of snow in the winter and there are so many creative and interesting people living here.
Back when I was skateboarding more, a bunch of my Swiss friends were coming up in the industry only to be forced to do a year of military service which kind of destroyed their careers, have you already done yours or is that still to come? How do you feel about that as a law?
I got out of the army because of my ACL injury so, I'm in the 'Civil Protection Service'. I have to do one week of service every year. I think the military service should be a choice, not forced.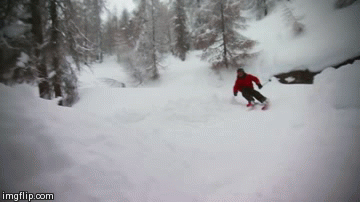 You get to travel a lot with TC and spend a lot of time in the US, what's the biggest difference between skiing in the US and at home?
The urban aspect of skiing is definitely different. The spots seem different to me and also the mentality, especially in Salt Lake where you have so many different crews. It always seems to me there is much more of rivalry to one up the last guy, whereas if you hit some spot in Glarus, you're probably going to be the only person ever to ski there. In the US there are so many "perfect" handrails, which are really hard to find in Switzerland. You just have to look at things differently here and you will find really sick urban stuff to hit.
That explains where your creative way of looking at features comes from, what inspires you outside of skiing?
Skateboarding as an activity definitely inspires me a lot, but also there are so many inspirational people in skateboarding. I also get a lot of ideas from Art and Music, but I think some of my biggest inspirations are my friends at home and other special people with individual style that cannot be replicated.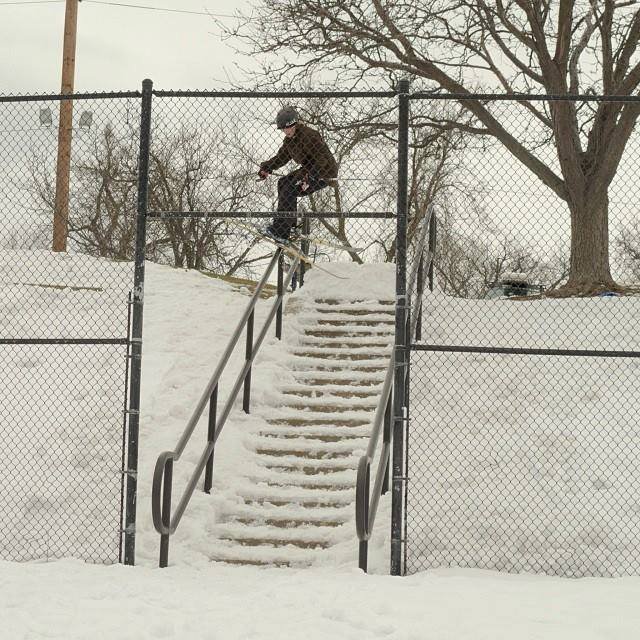 So if you could swap lives and skills with anyone in the world for a week, who would you pick?
That's a hard decision! Being Gonz or Mark Suciu for a week would be sick, but I think in the end I would be my buddy Silvan Zweifel for a week.
Gonz would be on my list, I'd love to know what it feels like to be in that guy's head! Sorry to be boring but back to Traveling Circus for a bit... you seem like a guy who is totally happy doing his own thing at home, so how on earth did you end up sponsored by Line and skiing all over the world with Traveling Circus?
I love to be at home, but I also love to travel. I think only through travelling you can you find out what and where home is and what it feels like. I guess I was just lucky enough that they skied in Europe and I got to meet them. I've always looked up to a lot of the guys in the TC crew, especially Erik Olson, so it has been a dream come true to ski and travel around with them.
What's it like spending time in the van, is it as crazy as everyone imagines?
Spending time in the van is actually pretty boring most of the time because if you're in the van that usually means you're driving for at least 4 hours. Last time I was in the van it was a 37h drive, on which we took like two 20 minute breaks.
Which smells worse, the van on a normal day or the raclette you cooked on the dash?
I don't think the van ever smelled as bad as on the day of the dashboard raclette, it smelled like someone puked all over the van.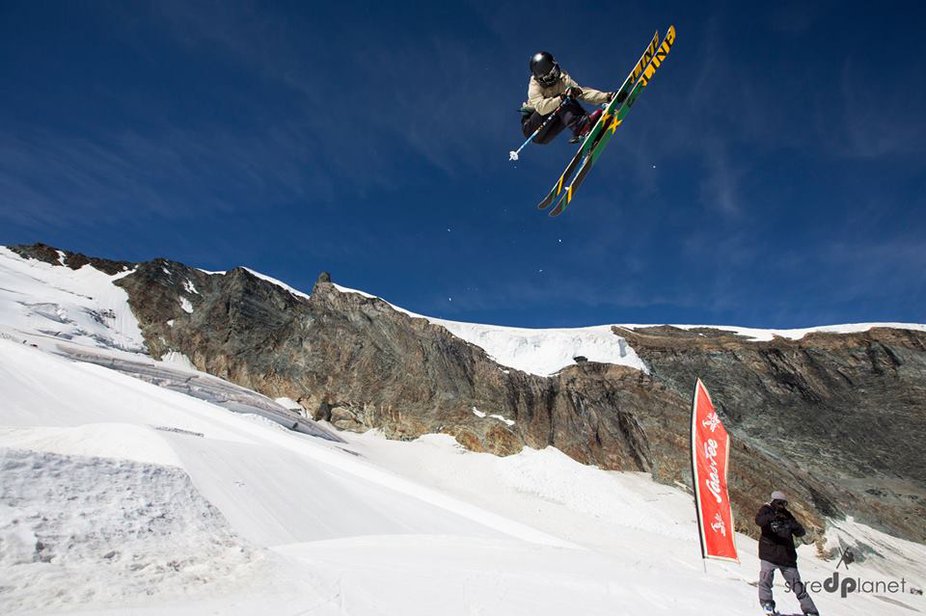 photo: shredplanet
You're also a pretty accomplished filmer, you've produced a mini movie and put out a series of edits for Kai Mahler, is that something you plan to keep up or is there too much skiing to do at the moment?
It's always hard to keep up with both things, but filming is definitely a big part of my life. Actually I'm working on a new movie with my homies. It's gonna be called Birds 2D and it's a continuation of the first Birds movie.
You did a bunch of animation for Birds and also a T-shirt graphic for Yoke. Is art/design a big part of your life and is it something you want to do more of when you're done skiing?
Yes, drawing has always been a big part of my life. I pretty much always have a sketchbook on me. Art is something that will always be in my life but probably not as a job or anything, because as soon as drawing gets serious it just doesn't work for me. It needs to be spontaneous and free, I need to be able to do whatever I want and however I want it.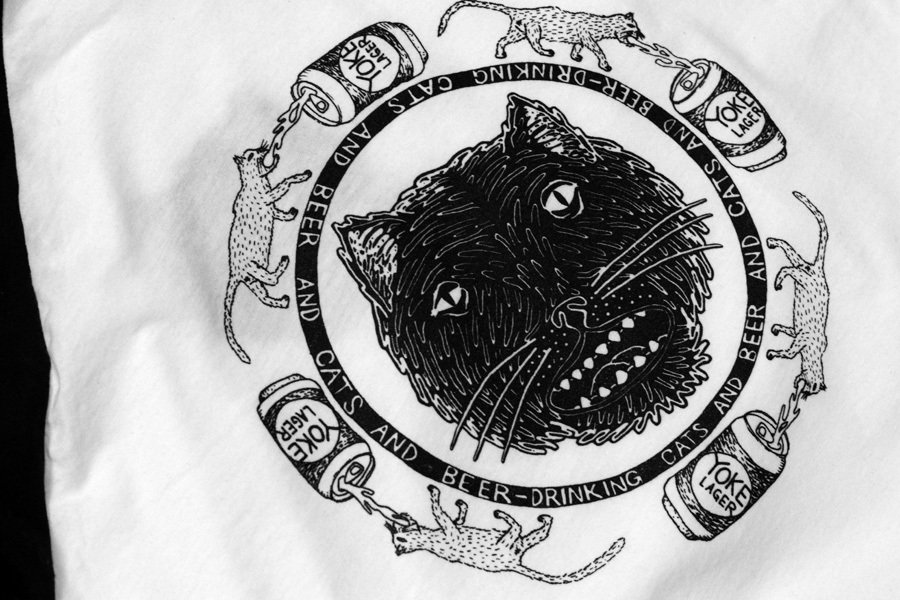 Sami's work, photo: Yoke Collection
Quite a lot of your output seems to feature cats, what's the deal with that?
I believe in Cat King Carl as my spiritual leader, so its natural that there are a lot of cats in my drawings.
That wraps it up for proper questions, time for the quickfire round!
Cartoon world to live in? I would live in Superjail. The violence there is just so entertaining.
Burritos or Sushi? BURRITO-DIET for life
Urban or Pow? Pow
Street or Miniramp? Just skateboarding, it doesn't matter where you do it.
Tom or Jerry? Tom
Raclette or Fondue? Raclette
Film or be Filmed? Film
Cats or Beer? Beer Cats
Thanks man! Any shoutouts to finish up?
Shoutout to Boris and Ruedi ..... and thanks to everyone who supported me in any way.