Interview by Jeff Schmuck
Photos by Mason Mashon & Bruce Giovando
How's it hanging gentlemen?
Bruce Giovando: Pretty good.
Darren Rayner: Pretty good as well, just sitting in my underwear waiting to go shredding with VDP and Axe Kill at Seymour.
Speaking of which, how about all the snow in BC over the last month?
Darren Rayner: Oh it's been good. We've had more than a few solid powder days up in Whistler. But we haven't been shooting too much yet. We're just waiting until winter has fully kicked in and then we'll start goin at er.
A fraction of the Voleurz family. photo: Bruce Giovando
On to the main task at hand, as some people out there may already know but some may not, you guys have a bit of an announcement to make.
Darren Rayner: Yep. We're going to be premiering our new film, Outdoor Graduation, online for free on Newschoolers this Wednesday, December 9th, at 5pm Pacific time, 8pm Eastern. Newschoolers is the exclusive host, and it's going to be a live broadcast internationally, so we hope everyone is free to join us and our team in the live chat while watching the movie.
For the people out there who haven't already had the chance to check out the film during the extensive premiere tour you just wrapped up, tell everyone what they can expect to see in Outdoor Graduation on Wednesday night.
Darren Rayner: Well we basically took our formula from last year and revamped it. The biggest progression I noticed was from our riders. Our riders stepped it up to the next level this year for us, and we became really picky with the footage we decided to put in. But we also took it back to the basics and did some really fun summer and winter Volympic events, so there's a segment of that, and there's some really banging skateboarding intertwined with our ski and snowboard footage. Ski segments to look out for in my mind are the Norway/Sweden segment with TJ and Cosco, and Max Hill's closing segment with his unique style. And our snowboarders definitely stepped it up big time with Justin VDP, Braden Dean and Jesmond Dubeau, who all put together some really solid footage.
Darren GTS'ing, cigar and all. photo: Mashon Mashon
You guys just more or less finished up all your premieres, save for a stop or two here and there right?
Darren Rayner: Yeah well on top of the online premiere all we actually have left is Revelstoke on December 13th, and then we're doing an encore premiere in Vancouver on the 12th as well for the people that really want to party with us one more time.
Tell us about the raucous adventure you embarked on in an RV with six guys to show the film all across Western Canada.
Darren Rayner: (laughs) It was Max Hill, Braden Dean, Justin VDP, Shayne Zwickel, Bruce Giovando and myself, and we rented the biggest RV we could find and did eight stops in 11 days. So it was basically our job to party every single night, and as fun as that seems, it becomes pretty ridiculous after a while when you wake up in a moving vehicle going 120 kilometers an hour down the road only to find out you've got another premiere in about an hour and a half and you have to start getting ready and start drinking again. (laughs)
Vernon premiere. photo: Bruce Giovando
Just how quickly did that RV get undesirable?
Darren Rayner: (laughs) Pretty quick. At our Vernon stop, which is one of our biggest stops, we had a pre-party in the RV and I think we had between 25-30 people in there and it just got destroyed. But somehow we got our damage deposit back, so no big deal.
What were some of the highlights of the tour?
Bruce Giovando: I would say Justin VDP's alter ego, Jerry Christ. (laughs)
Darren Rayner: (laughs) Yeah VDP was dancing so hard on all fours that he accidentally put one of his hands through a large chunk of glass, so we started calling him Jerry Christ, since his hand was bleeding everywhere and it looked like he'd be crucified (laughs). Only half crucified I guess though.
Justin VDP, aka Jerry Christ. photo: Bruce Giovando
You guys are one of, if not the only production company with skiing, snowboard and skateboarding in your films. But since it's been something a lot of people have seemingly wanted for years, why do you think you guys are the only company really doing it full on?
Darren Rayner: Well we all grew up skiing and snowboarding together and during the off-season we'd always skateboard and do other activities. And as we grew up none of us every really isolated ourselves from one sport. And then when we started shooting ourselves doing what we were doing we didn't see the need to isolate one sport over the other. We never thought 'Oh let's make a bunch of money by trying to market one sport.' It was all about us just doing what we love to do and trying to do something different and fresh that people would hopefully appreciate. Also one of our main goals has always been to try to reduce the animosity between snowboarding and skiing, so hopefully we're helping that. I noticed in a lot of the cool ski movies that came out this year that some of the smaller guys are adding snowboarding to the skiing mix, so it's really cool to see that a couple of other companies are thinking the same way.
Braden Dean & Jeff Boake. photo: Mason Mashon
Does having all three sports make it more difficult to market the film and obtain sponsorship for it, or easier? In short, what are some of the pros and cons of making a multi-sport film?
Darren Rayner: Some of the sponsors really like it, and those are the sponsors we like to work with. If there's a sponsor that just wants to be fully exclusive to one sport and doesn't want to have any association with the other then that's not a good mix for us. But most of the brands out there like what we're doing. Line skis in particular is really stoked that we have skateboarding and snowboarding in our films, and they're encouraging us to continue with that. So most of our sponsors see it as a benefit, and that makes us that much more excited to have them involved with us.
In addition to this free online premiere you're doing, you guys don't sell your film at all, and produce a DVD version of it that you give away for free. What's your reasoning behind that when literally everyone else out there sells their movie?
Darren Rayner: About two years ago we decided that we needed to do something different, and the Internet is a really powerful tool, and we want as many people to see our film as possible as opposed to just trying to capitalize on DVD sales. A large portion of the population seems to download movies anyway, so we figured people would be that much more stoked to watch it for free on their computer or get a free DVD in the mail as opposed to heading down to their local shop and shelling out 30 bucks for it. Plus as opposed to pressing 10,000 DVD's we can render 100,000-200,000 views online, and that's really good for our riders and for Voleurz as a whole to have that many people watching our film and getting excited about what we're up to every year.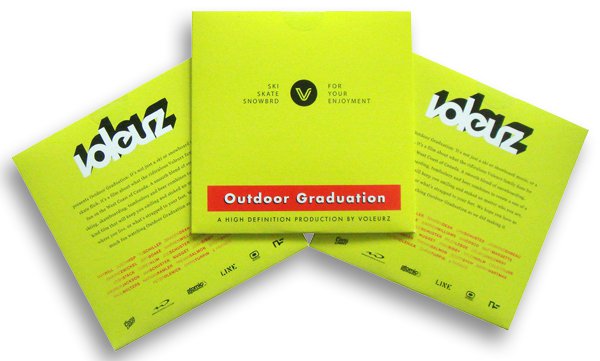 Do you plan to continue with that strategy in the years to come?
Darren Rayner: Yeah we played around with a bunch of other ideas earlier this year like webisodes and doing what Traveling Circus is doing, but although the webisode era is taking off right now and I think it's a great way to go, there's no premiere tour with a webisode series, and since that's a whole lot of fun we decided to continue the party and continue the dream and produce an annual film.
What are your plans for next year's movie Darren?
Darren Rayner: I've got some really cool ideas involving a series of short stories, but I don't want to get into it too much yet because it's still in the works. We're going to continue with a similar format of what you'll see in Outdoor Graduation, which is us striving to be unique, which you'll see especially in the intro, because it's kind of a unique idea and edit that we threw together. We want to push ourselves as filmmakers and do as many unique edits as possible, even by incorporating non-ski, non-snowboard and non-skateboard edits with funny stuff like cliff jumping, and basically just trying to portray what the Voleurz family is all about, which is having fun, as that's always our main goal.
Whoops! Voleurz goes golfing from Voleurz on Vimeo.
 Let's talk about the clothes, because that's originally how you guys started out and are continuing with to this day in a big, big way. Bruce, can you start by talking a bit about the origins of Voleurz and how you guys all came together?
Bruce Giovando: Yeah for sure. It was basically just Darren and I in the beginning in Victoria, BC doing a mix of filming and hanging with our friends, going long boarding and just doing all the stuff we love to do. And then we ended up getting some really cheap t-shirts and spray painting them with a Voleurz stencil in our basement and people were super stoked on them and interest grew, and eventually it kind of took off and we started to take it more seriously and brought Harvey Li on board and turned it into a full-fledged clothing company.
As anyone who's seen them or has some of their own can attest to, you clothes are extremely unique, from the designs to materials and everything in between. How do you guys pull off going that extra mile as opposed to just being a run of the mill t-shirt and hoodie company?
Bruce Giovando: Well right from the start we always wanted to make really awesome stuff and we kind of told ourselves that we would never compromise that goal no matter what. We always wanted the quality of our clothing to be really high and the designs to be really good, so we've always pushed ourselves to never drop below our initial outlook of how we wanted the brand to be.
Darren Rayner: Yeah when we're designing pieces we never try to sacrifice quality or cut corners for the sake of lowering costs. We try to add all the little accessories and all the small things that count. We make sure the cut and sews are exactly how we want and always try to use the highest quality materials and threads as possible.
And speaking of accessories, one thing that a lot of people have been commenting on from your current season's line is the fanny pack, which you guys are attempting to bring back. How'd you come up with that idea?
Bruce Giovando: I think it was Harvey that came up with it actually. I'm not sure what his inspiration was but I sort of think it was the right time to bring it back.
Darren Rayner: Yeah we thought it would be kind of a goofy and fun accessory that people would actually use and find functional in their day-to-day lives, as we've seen with you wearing it all over the place (laughs), along with most of our riders. So it's been really a cool piece that's gone over well for us.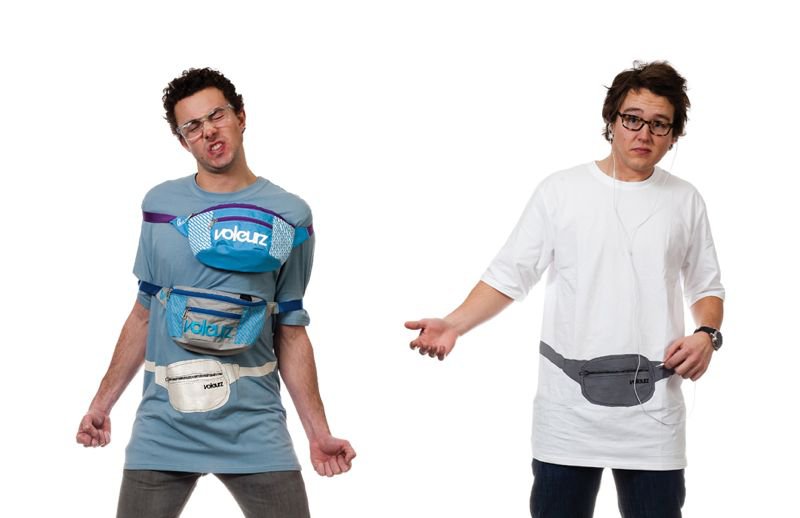 photo: Mason Mashon
Every season your line seems to vary quite a bit from the last, with diverse color themes, materials, pieces, etc. How challenging is it for you Bruce as a designer to try to stay ahead of the curve?
Bruce Giovando: It's pretty hard. I spend a lot of time researching stuff that's out there but it's always a guessing game to figure out what's going to be in style next season. But we always strive for our line to mature each season by doing more detailed pieces and things like that while experimenting with different colors and whatnot. But as much as we try to keep up with trends, we're always looking to do our own thing and be as unique as possible as opposed to being too concerned with what's out there and what the trend forecasts and color forecasts are telling us.
What are your plans for the future of the clothing line?
Bruce Giovando: To continue what we're doing now and obviously bring out new pieces all the time. We want to expand our line up by getting into bottoms along with some different style hoodies and t-shirts and stuff like that, including cut and sews as opposed to just a plain t-shirt with a graphic on the front.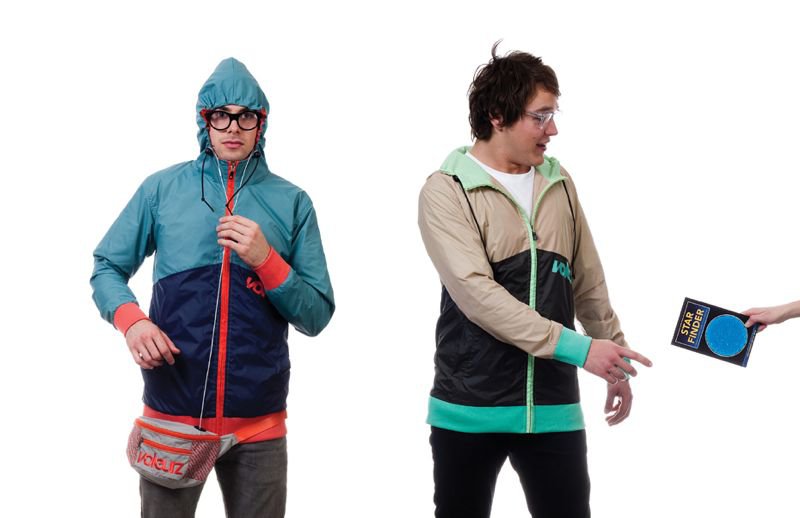 photo: Mason Mashon
After the windbreaker came out I heard a lot of chatter from people saying that you guys should start making outerwear. Do you have any aspirations to do that down the road?
Bruce Giovando: I don't want to talk too much about that but it's definitely something we've considered, but I'm not 100% sure where it will go. We've talked to some people about doing a collaboration with an outerwear piece, so I would imagine that would be the first step to test the waters and see what we can bring to the table in terms of that.
We're once again going to have some of your clothes in the NS Store in the coming weeks, with more early next year when your spring/summer line comes out. Why should the kids reading this take a good hard look at picking up some of your gear?
Darren Rayner: Well since we're still a very small company we're producing limited runs, and we could literally write on every piece that it's limited edition, because we're making less than 75 pieces or something like that. So because of that, if you buy a shirt, you're going to be one of the only people wearing that shirt. And the thing with the gear that will be in the Newschoolers store is that because we sold out so quickly with all our retailers in Canada there's not going to be a whole bunch to choose from for this season, so basically whatever is there that's it for this season until our spring/summer stuff comes out, so if you have an opportunity to grab a piece I would act quickly.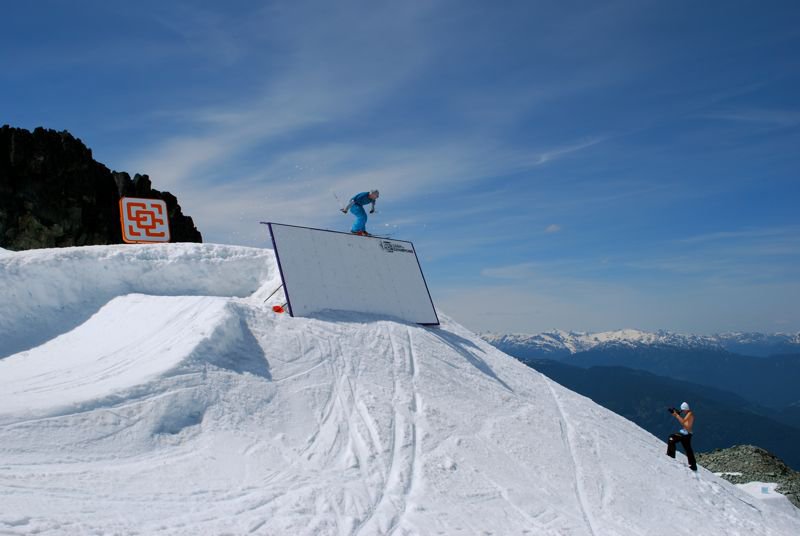 Joe Schuster & Darren Rayner at Camp of Champions. photo: Jeff Schmuck
I've seen a lot of threads over the past while with people asking what stores they can buy in it. So in the event that a piece they're looking for isn't available in the NS Store, what shops can people hit up to grab some of your stuff?
Darren Rayner: There's actually quite a few, and to see the full list of the shops in Canada that are selling it you can check out voleurz.com/retailers. In BC and Alberta we have shops in every major metropolis as well as most towns and cities, and in Quebec we have D-Structure, Axis, and a couple of others, and then in Ontario we have Ron John's, so we're slowly starting to break into the Eastern Canadian market. But as far as the International market goes it's pretty slim pickings right now. It'll be in the Newschoolers store and then our online store when we get it up and running in two months in time for next season's line, at which point everyone everywhere will have access to our clothing.
Are you guys planning to have it in shops in the States and overseas eventually?
Darren Rayner: Yeah we're going to slowly expand internationally, and our online store will definitely be the first step in that direction.
And lastly, you guys have one of the biggest and most well rounded teams in action sports. Can you list everyone who's on it?
Darren Rayner: Yeah here's the list of our skiers, snowboarders, skateboarders and musicians. Hopefully I don't forget anyone. Max Hill, Justin VDP, Braden Dean, Cam Schuster, Peter Olenick, Shayne Zwickel, Chris Turpin, Jeff Boake, Josh Bibby, Mike Riddle, Warren Williams, Matt Margetts, Josh Stack, Corey Klim, Joe Schuster, Riley Leboe, Colby James West, Andrew Jackson, Justin Dorey, Mat the Alien, Jan Schuster, Nick Moore, Colston JVB, Tyler Holm, Nathan Ramler, Trevan Salmon, Scott Sych, Barry Hartman, Jordan Gibson-Fraser, Coal Drexler, Zach Aller, and of course...Reed Speedman.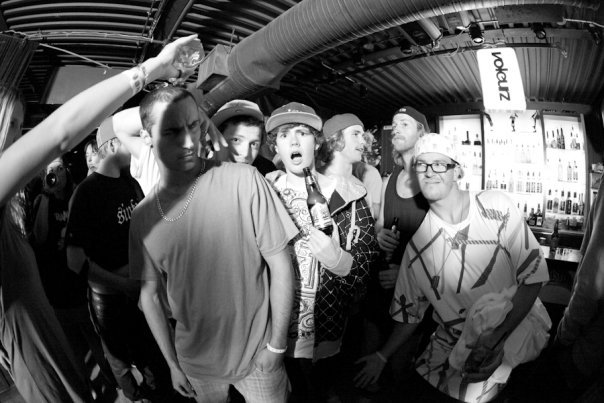 photo: Mason Mashon
Final words and thank-you's?
Bruce Giovando: I'd like to thank my parents, because they're really nice. (laughs)
Darren Rayner: (laughs) I'd like to thank all our sponsors who stuck with us through the 2009 season when the economy was in tough shape, and that's Whistler Blackcomb, Line Skis, Atomic Snowboards, Coors Light, Newschoolers and Ogio. And I really want to thank all the people in Vancouver and Whistler who have really supported us and helped us get to where we're at today. It's really because of all our fans in the Voleurz family that we've been driven to take our brand to the next level. We can only do so much, and really the brand is in the hands of our extended family and the people who've supported us from day one. And you know who you are, so thank-you very much for your continued support.
Don't miss the live online premiere of Voleurz' new film, Outdoor Graduation, this Wednesday, December 9th at 5pm Pacific time, 8pm Eastern, only on Newschoolers.com. Click here to check it out.