This year has been a rough year for most members of team Orage. Granted, we did bag some high profile podiums, slayed some urban features, and got more shots than Joey Baggadonuts on spring break in Atlantic City. Regardless, I'm pretty sure that there was some sort of voo-doo hex cast on the team, because damn near everybody ended up getting injured. Here's a rundown of all the carnage that was inflicted on the team over the past few months.
Phil Casabon - Some rumors have surfaced suggesting that Phil hyperextended his leg while hitting an urban rail in Finland with the Level 1 crew resulting in an injured tibia plateau. These rumors are of course false, because everybody knows that there are no handrails in Finland.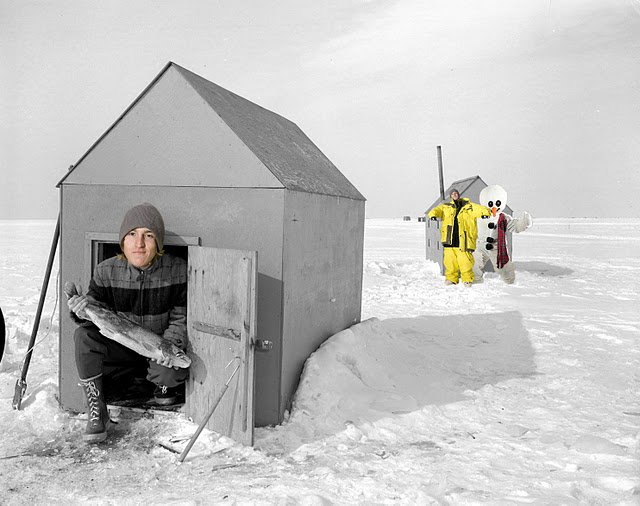 Photo courtesy Finnish National Ice-Fishery ArchivesIn reality, Phil was in Finland to embark on an ice fishing trip with his partner in crime Henrik Harlaut. According to Harlaut, "Aw man me 'n Phil was jus' gillin' around on that ice 'n Phil got bit by a pike. I was jus' gonna let beef slide but then that pike started moufin' off so I had to kick that sucka back to Latvia or wherever he came from yaddaddamean?"Phil is currently rehabbing by spending a lot of time on the stationary bike and in the pool, and is hoping to get back on skis by next week. He'll be spending the rest of the season shooting with Level 1 Productions and the Blackout Project.  Despite this minor setback, Phil is still poised to have one of his best film segments yet with Level 1.  Stay tuned!Jess Cumming -"I got injured the first night of X Games practice in the pipe.  I had learned right 5's earlier in the week and I knew that I needed to get them bigger and contest-ready that night.  I started setting them really corked and about 3/4 of the way through practice came down on one with my leg kind of straight and my ski twisted and then I ended up landing forward hunched over my knee.  I pretty much knew I had torn something because I did my left leg 6 years prior at US Open and knew how it felt.  I went back to Vail and got an MRI the next day and found out I blew my ACL with partial tears to my MCL.  (During surgery the doctors found out that I also tore my meniscus.)"
Jess's gory surgery photos... Clockwise from top left:  Weird fleshy stuff, probably not healthy // Looks like a closeup of the rings of Saturn // Poking through with what appears to be a Bic pen // More rings of SaturnJess had her surgery in the 2nd week of February (see photos above) and has been on a long and arduous road to recovery since.  So far her regimen includes physio 5-6 days a week, and she's hoping to get her full range of motion back soon.  Jess will be hanging out up at the Orage Masters in Whistler in late April, and is hoping to be back on skis in September.Max Hill - "The ghost town of Clearwater, the god awful place I told myself I would never return to film again, was forced upon me stopping for a couple handrails on our way from Vancouver to Edmonton with Voleurz. We had hit a downbar all day at an elementary school with a garbage can chained to the end to get some tap out combos.  After I had greased it a couple times, I noticed a gap from the school roof, over the road over a 5 foot high fence.We used a banshee bungee tied from the fence across the road up onto the school roof to pull me in.I didn't have enough speed the first two speed checks, so we just pulled the bungee another 10 feet back and started rolling tape..."

Fractured Tibial Plateau on the left...  Not to be confused with the Tibetan Plateau on the right."Instantly as I let go of the bungee pulling me in I regretted committing so damn hard.  I had dropped 25 feet to the fence with an extended knee, fractured my tibial plateau on impact, and hung my chest up on the fence just coming up short.  I instantly started coughing as I peeled my body off the fence and started stumbling off to the car saying I cant believe im going to walk away from this.  My adrenaline had completely hit rock bottom within 5 seconds, and as I took another step I just started screaming.  2 months in bed, and now I am back.  I leave to california tomorrow for a Line shoot in Big Bear, then back to vancouver to film with voleurz.  Hopefully get Hot Lunch 2 rolling a documentary with the Anthony Boronowski and the joystick crew.  The Orage masters and wsi,and a couple shoots here and there in the states with voleurz.  Theres an SBC photo shoot for a wekk somewhere in the mix,wow. just writing this i never noticed how busy my next 2 months are looking." - Max Hill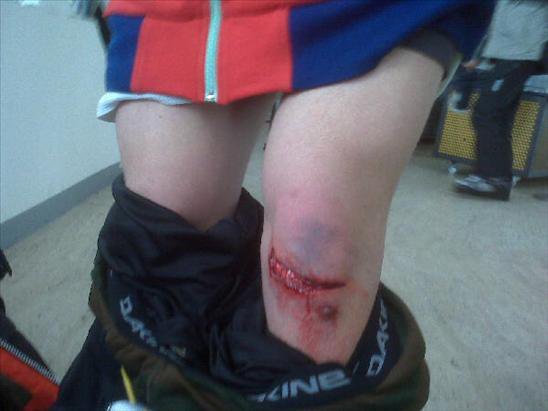 Matt Margetts' battle scar would be pretty disgusting if it wasn't so damn adorable.  "Look!  It's smiling!  It must like you!"Matt Margetts - A couple weeks ago at the European Open, Matt was in the Laax public park learning tails-first switch 270s onto urban set up rails.  One botched attempt left Matt with his knee sliced wide open.  Marge was pretty stoked on his new gash, which looked like a big ol' smile, and also served as a great place to stash his chapstick.  After 23 stitches, his knee is repaired and he'll be laid up for a couple more weeks.  Marge will be back on snow for the Orage Masters, some spring photo shoots, and he'll be coaching at the Camp of Champions.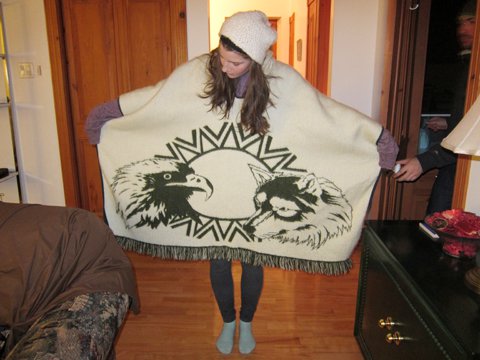 Kaya summons the shamanistic powers of her Arapaho beach blanket to help heal her kneeKaya Turski - Last week at the European X Games Kaya was building off the momentum of her recent X Games gold to put together rock solid runs.  In the finals, she laid down a picture perfect first run topped off with a huge cab 7 which landed her comfortably in first place.  Always the true competitor, Kaya decided to one-up her previous run by going for a cab 9 in her final run.  Kaya had the trick dialed, but landed slightly back seat and felt something give out in her knee.  She's scheduled to have an MRI today and will know to what extent she is injured, but she is in remarkable spirits and is able to walk.  We'll keep you posted with the details on Kaya as we get them.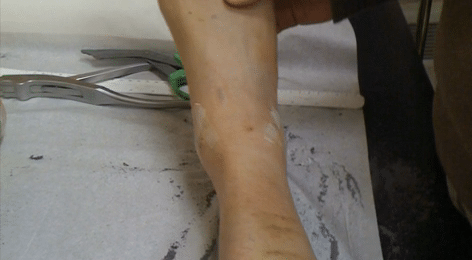 Taylor  Seaton's dislocated + swollen ankle.Taylor Seaton - Taylor had some rough luck this year.  He was sidelined for most of the season after dislocating his ankle at Woodward at Copper over the summer.  After a few long months of healing, Taylor was back on snow and hungry at the X Games.  During practice, he took a rare spill and caught the grip of his pole directly in his stomach, resulting in a lacerated liver and a severe hematoma.  Taylor is hoping to get back on snow for some mellow cruising by the end of the season.  He'll be up at the Orage Masters as a guest judge, and then it's off to Windell's where he'll be coaching and getting his feet back under him as he makes his way back to the top of the game.Keep your eyes peeled as the Orage team makes their comeback over the next few months.  While they might have been down, they're definitely not out, and it's safe to say team Orage is hungrier than ever.