Words and photos: Jeff KingOn Saturday, February 24th, one of
Ontario's best parks hosted the Orage Pros and Powder tour at Mount St.
Louis Moonstone. Great weather along with an awesome park setup greeted
the crowd of young skiers made up almost entirely of NS members.
Despite the facts that Orage's shipment of prizes and gear failed to
make it into the country and TJ Schiller had to stay at home to take
care of an ankle injury sustained only a few days earlier, tour
organizer, operator, MC, and one-man army Cody Lynge was determined to
make sure everyone had a great time. Orage pro Craig Coker also somehow
managed to make it across the border for his first visit to the great
white north. As the lone pro for the day, he was on a mission to make
sure everyone in attendance was as stoked as he was to be skiing.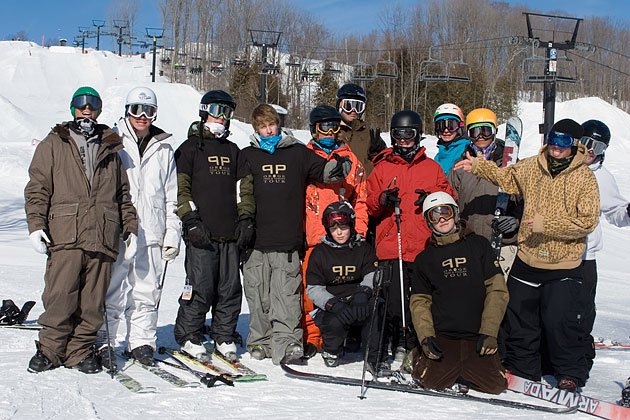 Craig Coker (far Left) along with the Righteous Riders crew posed with some fresh t-shirts before things got rolling.With
some free shwag to give away, Cody got on the mic to announce a couple
of sessions throughout the day to determine the winners of Orage
jackets and Anon goggles. In between contests Craig was making sure he
met everyone in attendence while participating in the ongoing trains
that were consistently lapping the park.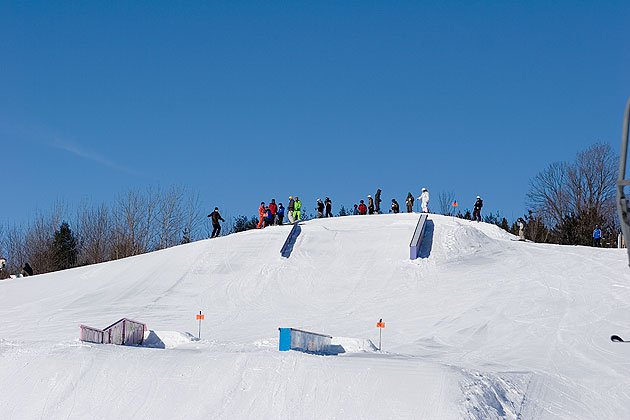 The crowd gathers above the first rail section.
The outback quad is a reasonably short ride back to the top.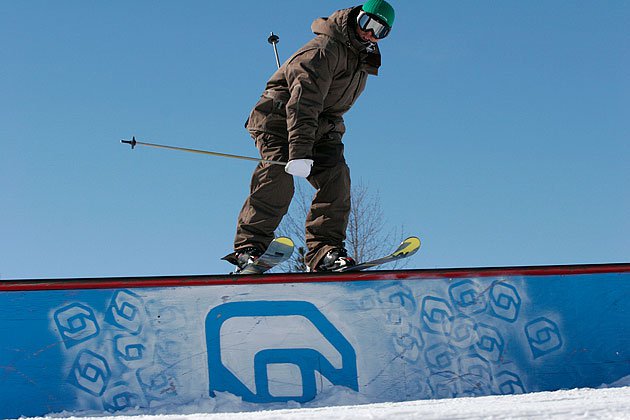 Craig found time in between memorizing everyone's name to pose for a picture on the flat box.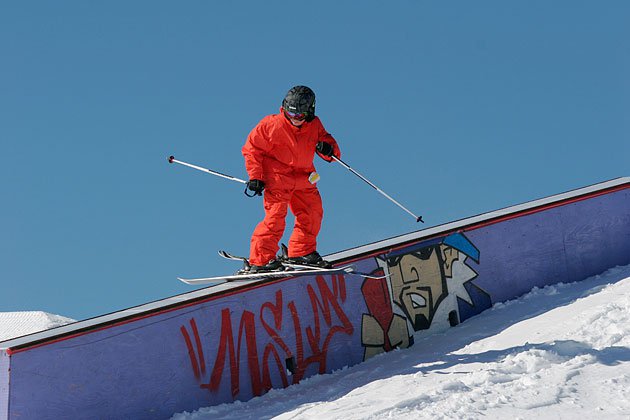 Scott ThuroskiThe
rail jam went down on a 45 foot long flat bar at the bottom of the
park. A tough rail to clean to the end and much harder if you chose to
spin on. The half-hour session produced many valiant attempts and near
misses but the rail was thankfully only two feet off the snow, so
everyone skied away intact. In the end, one of the few people in
attendance even capable of growing facial hair used his rail experience
to make a switch lip 270 stick and put his order in with Orage for a
new jacket.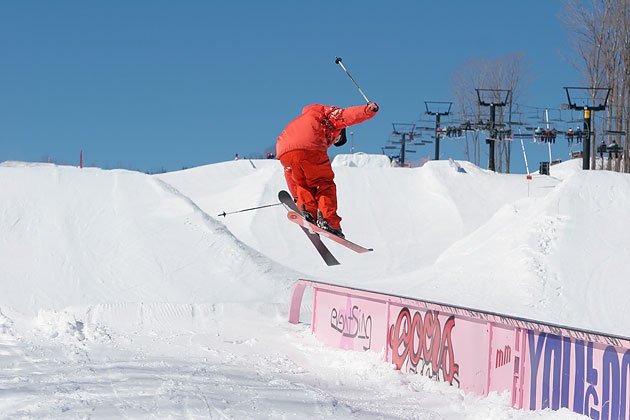 Sandy Boville mid 270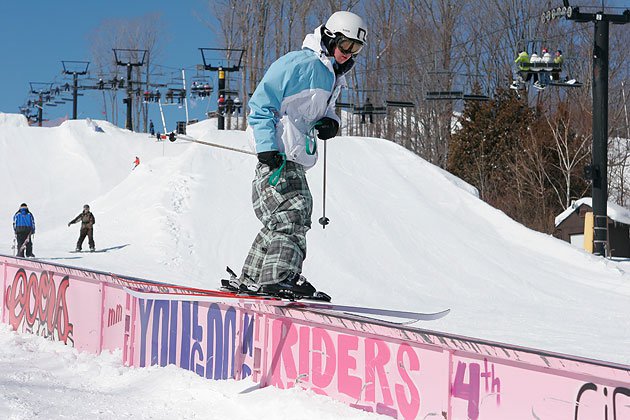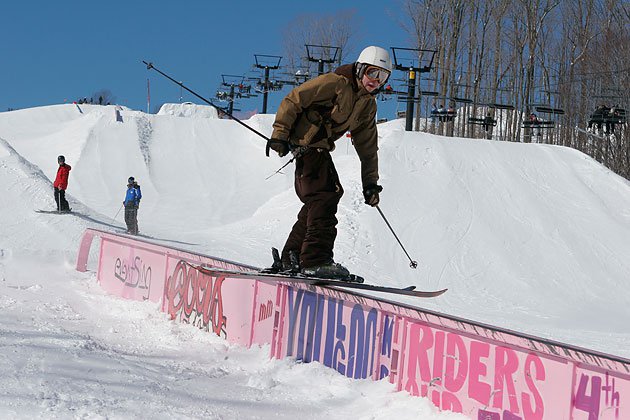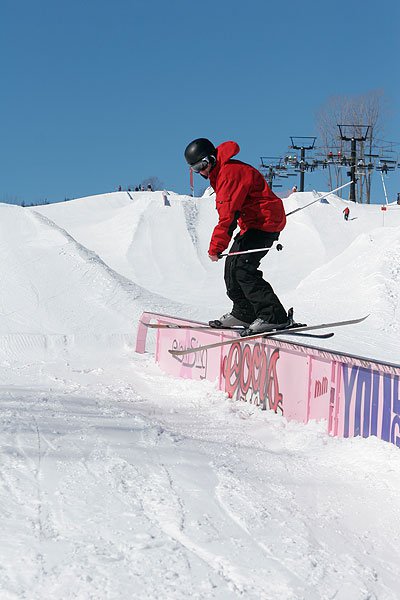 Mark Hunt took home some bills for his rail efforts on the 45-foot flat bar.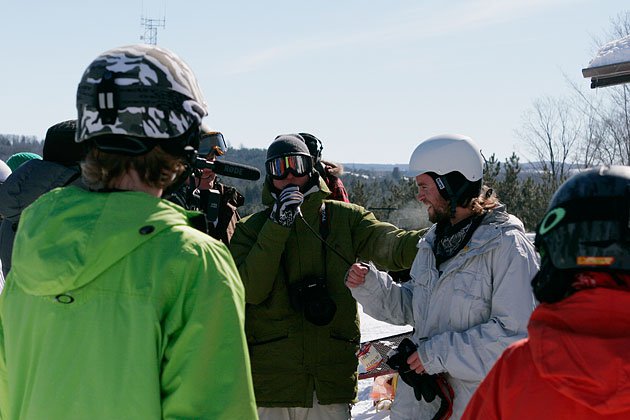 AJ Delong won a new Orage jacket for winning the rail session with a switch lip 270.During
lunch, Craig Coker made a stop at the bank of MSLM, withdrawing some
five-dollar bills to hand out and keep the stoke fires burning. Due to
some shipping issues this particular stop of the Pros and Powder tour
was a little more grassroots than planned so some prizes needed to be
improvised, so Craig Coker heroically put down the plastic and made it
happen. The second session of the day went down midway through the park
on the unique butter pad step-down jump. Cody and Craig took their
judging positions on the dfd rail while the paparazzi assembled around
the deck of the jump. The contest quickly evolved into a most unique
trick contest with weird grabs, team jumps, high fives, and spread
eagles galore. The pictures can say more than I can from this point on
so I'll let them do the talking. Sandy Boville won the session and a
new Orage jacket of his choice.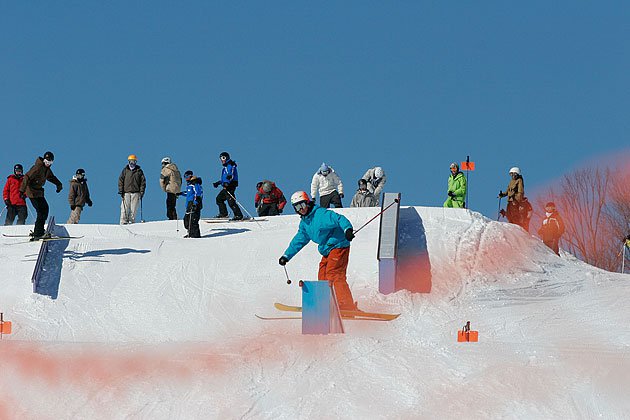 i8van along with Makaio taking part in the rail train leading in to the butter pad jump.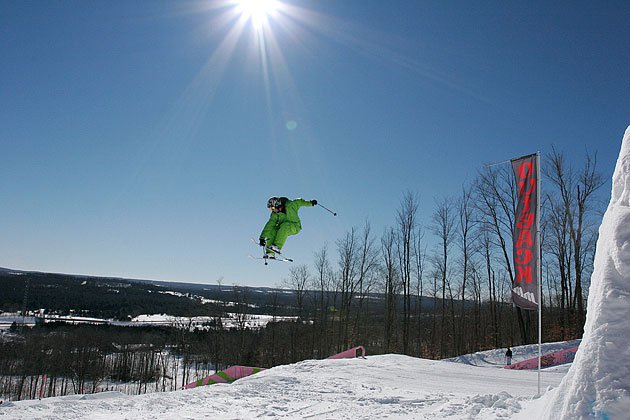 After the rail set it was onto the butter pad and off this step down. Skier Ian Thuroski.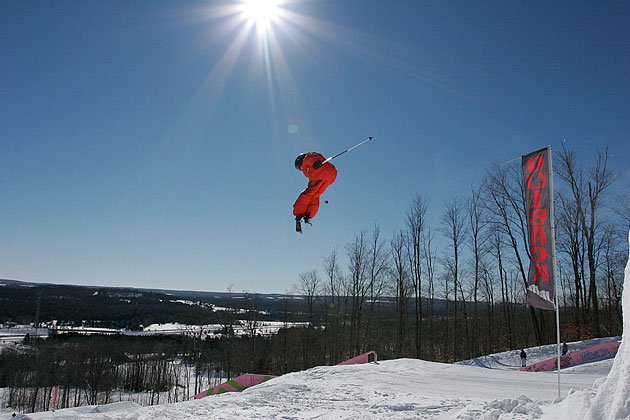 little man Scott Thuroski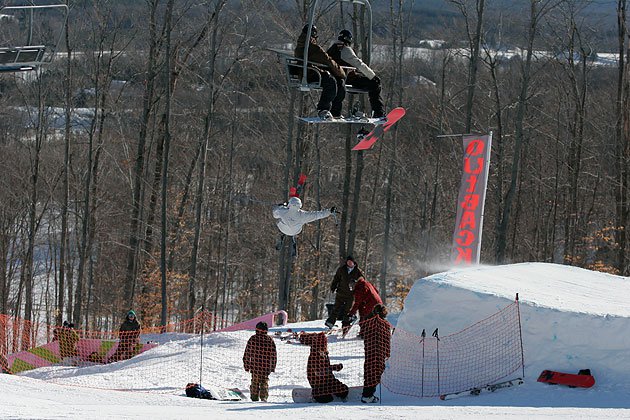 AJ Delong put in his best effort to walk away with his 2nd Orage jacket on this misty 5 attempt off the butter box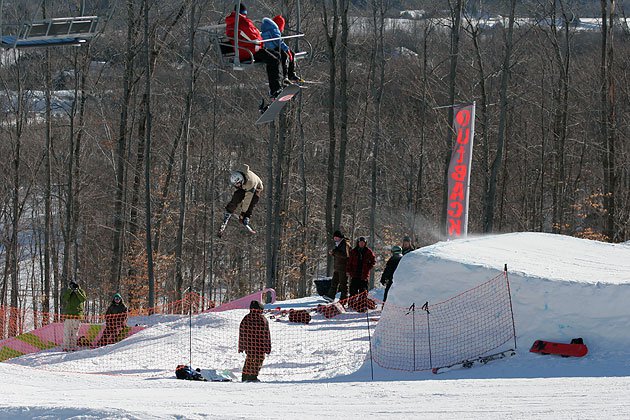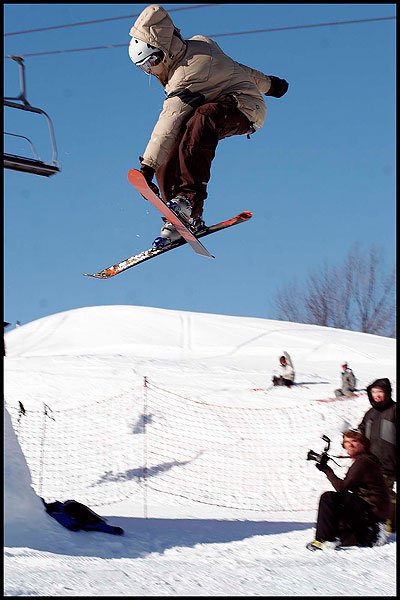 Photo: Ben Ricetto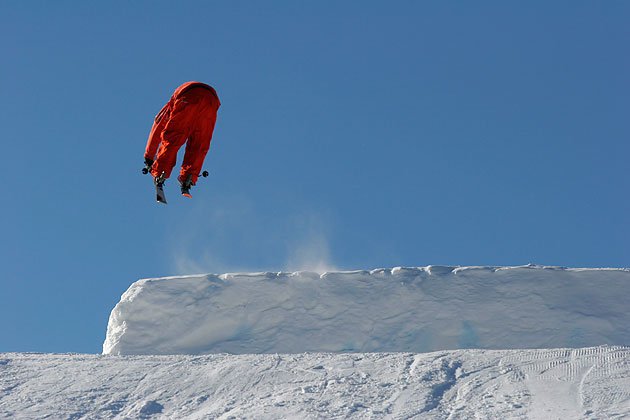 Sandy's zero spin truck driver made a mysterious beeping noise.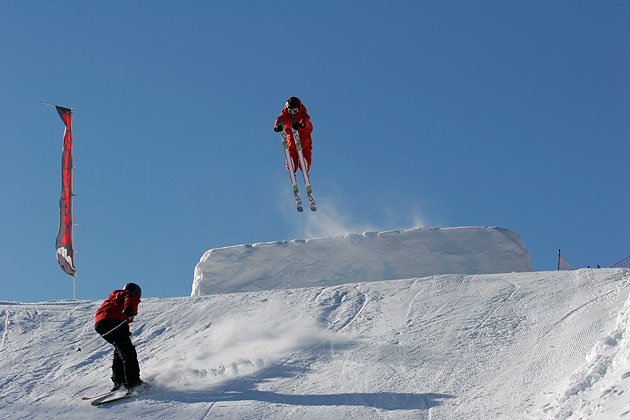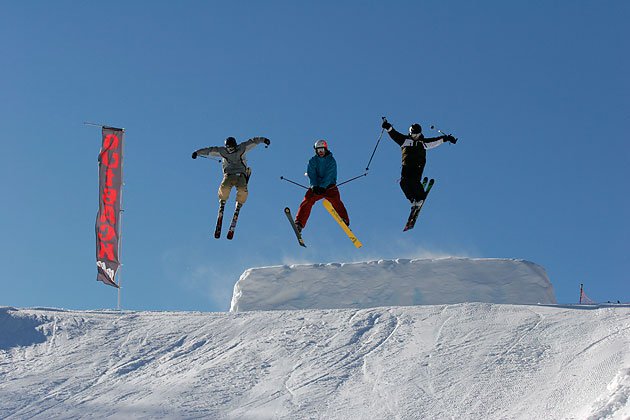 If syncronized swimming is an Olympic sport....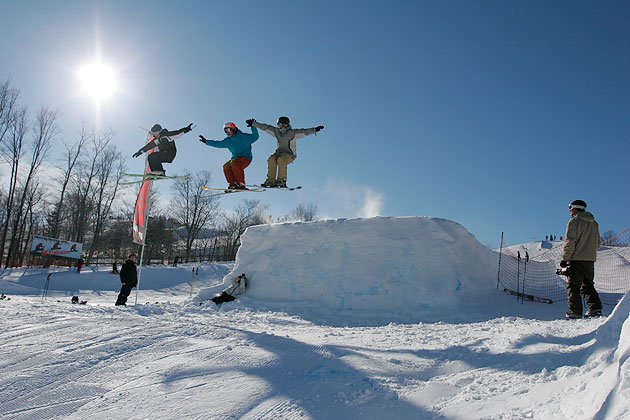 High five!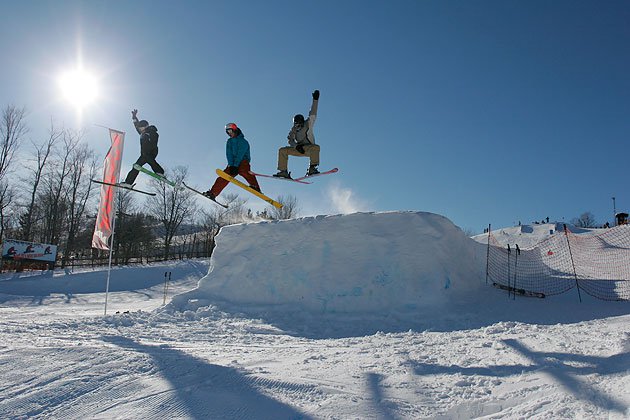 $5 bills for everyone. NS members: 4ss4ssin, i8van, timmi
I would ski no poles, but then again I couldn't sword fight! Now
for more photos from the rest of the day. Thanks to Cody Lynge from
Orage and Craig Coker for making it a great day. As Craig said, "It's
pretty hard not to keep people stoked on a day like this."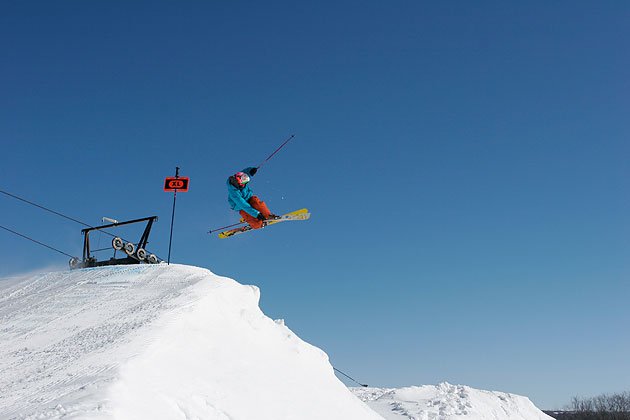 i8van off the money booter, using cash earned from winning the Rossignol Create-it contest.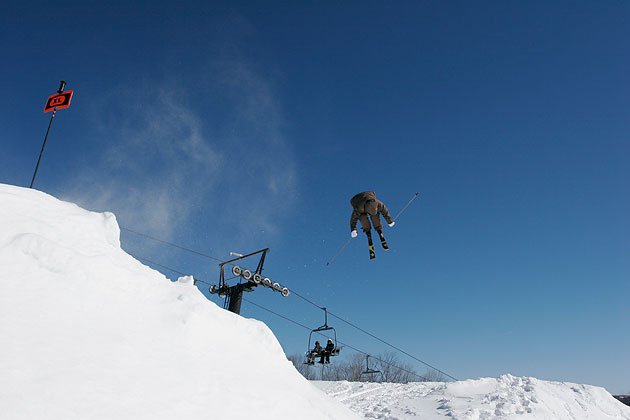 if Craig Coker was your pet cat you could call him Mittens.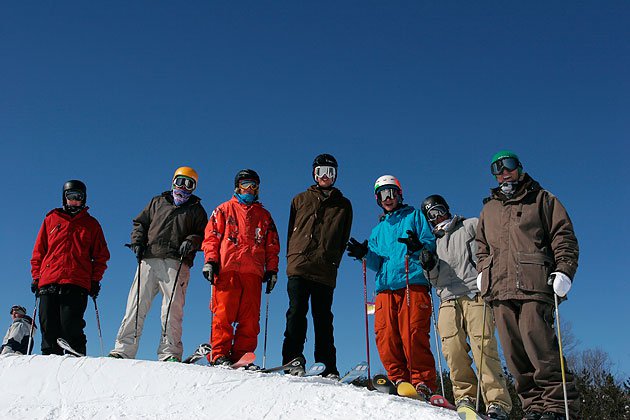 Newschoolers unofficial official gathering point.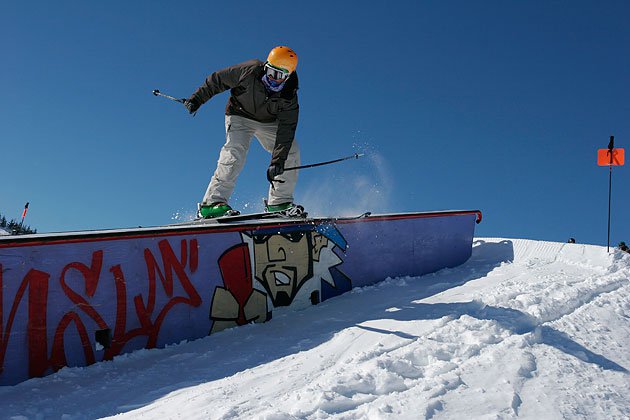 Skier unknown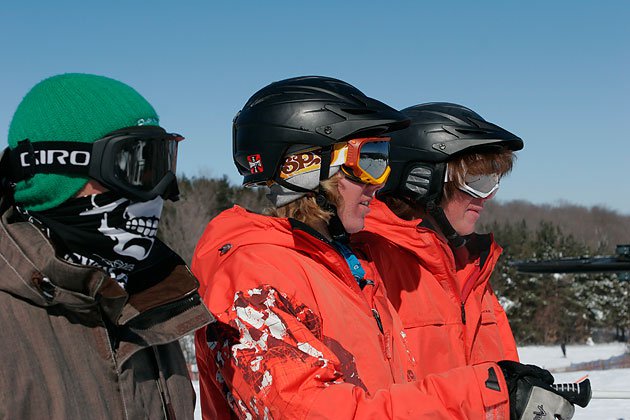 Craig Coker's skeletor inspired bandana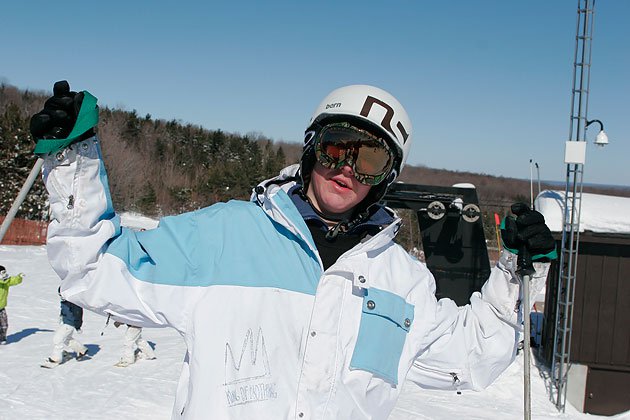 NS stickers being put to good use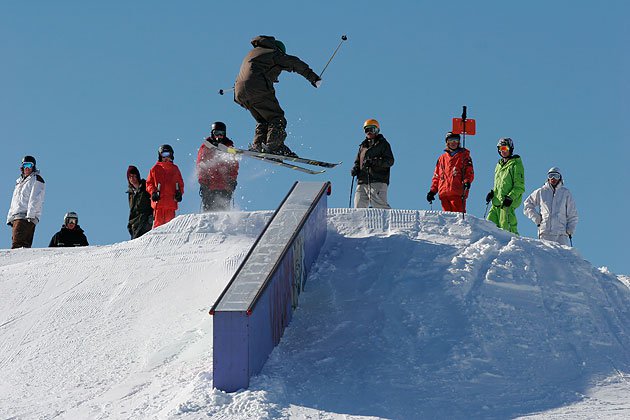 everyone let Craig go first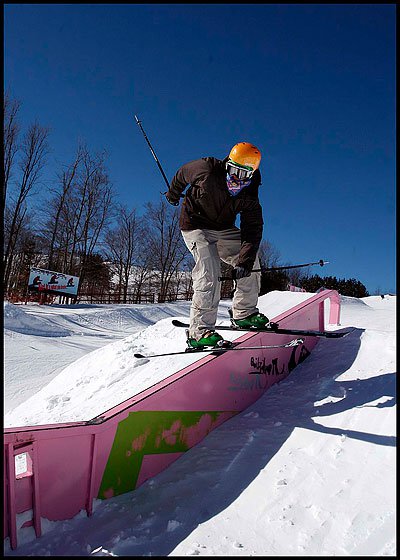 unknown skier on the down flat down. Photo: Ben Ricetto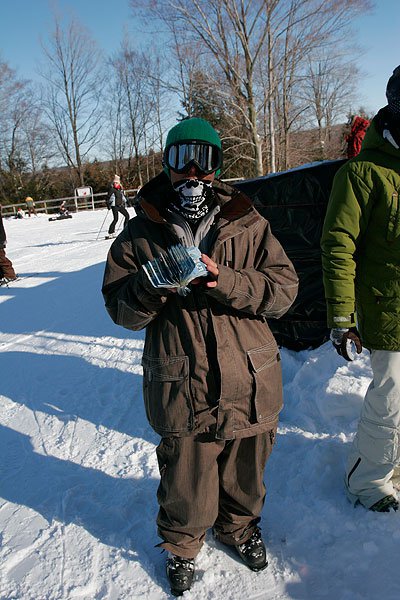 ninety-five $5 bills ready to distribute... sounds like money laundering to me.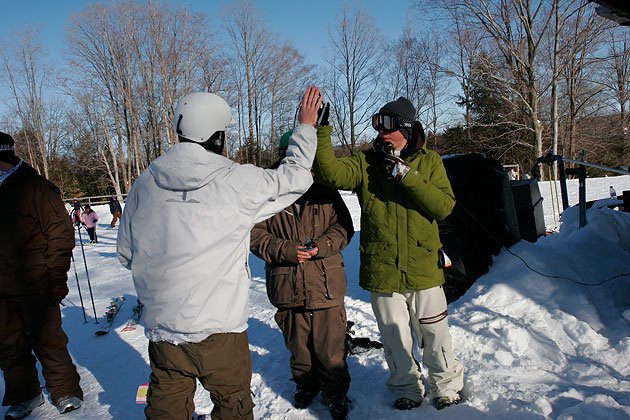 High five! Now here's some fives.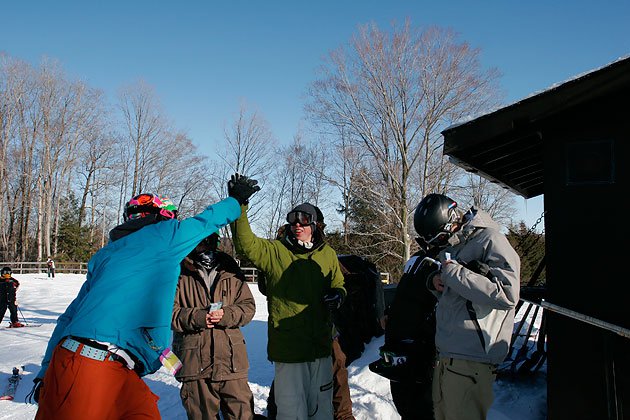 High five! the 3 man syncro team had to split their money up evenly, someone got screwed.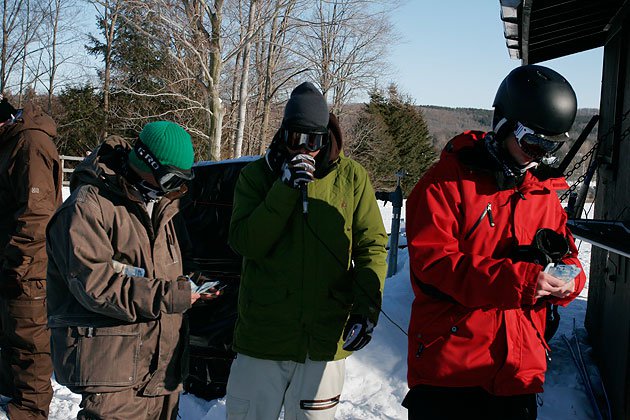 fives for "50"... count it, it's all there.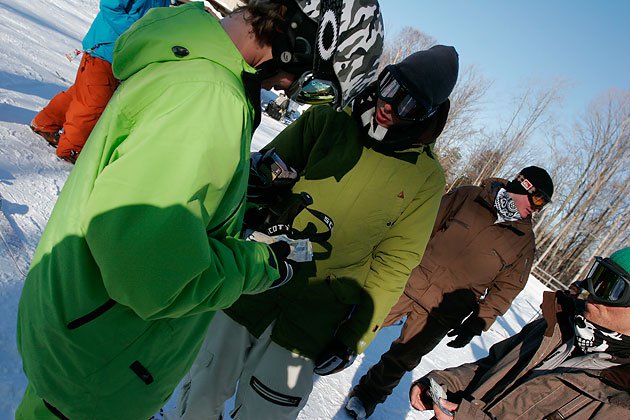 Ian Thuroski took home some fives and a sweet pair of Anon snake skin goggles for his overall performance.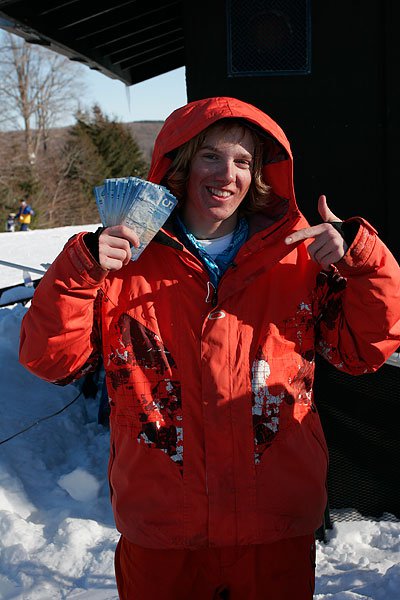 Overall winner for the day Sandy Boville, loaded with 20 fives, and a new Orage jacket coming soon.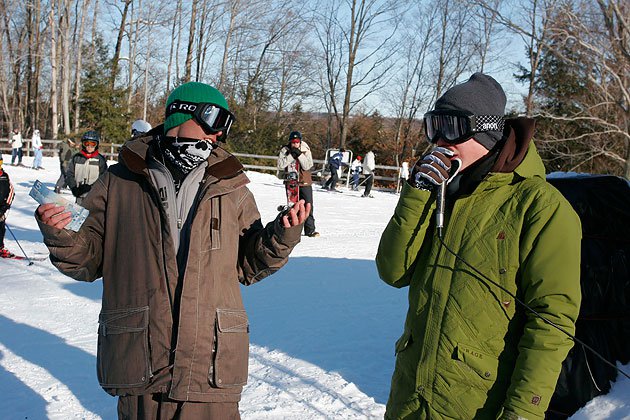 about 92 five dollar bills lighter