Words: Dan Abrams
Photos: Felix Rioux & Dan Abrams
The seventh annual Orage Masters is over and done, and rain in Whistler village did nothing to dampen the vibe of an event so wild and different it has been dubbed the 'anti-comp' since its inception. Eight teams faced off in head-to-head slopestyle battles, with each round judged by the remaining teams. Creativity, showmanship, and partying hard counted for at least as much as the skiing itself. This year's course consisted of a gap jump in to an option of either a large spine or cannon box to flat-down box; followed by a jib section and capped off with a log stall that offered many options for bonks and hand plants. On the mic was the man, the myth, the legend, the voice of skiing himself, Luke Van Valin. At times it seemed that it was his voice alone keeping order amidst the chaos.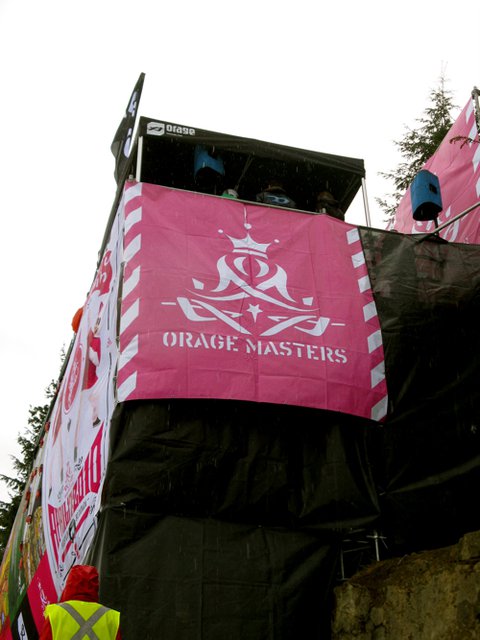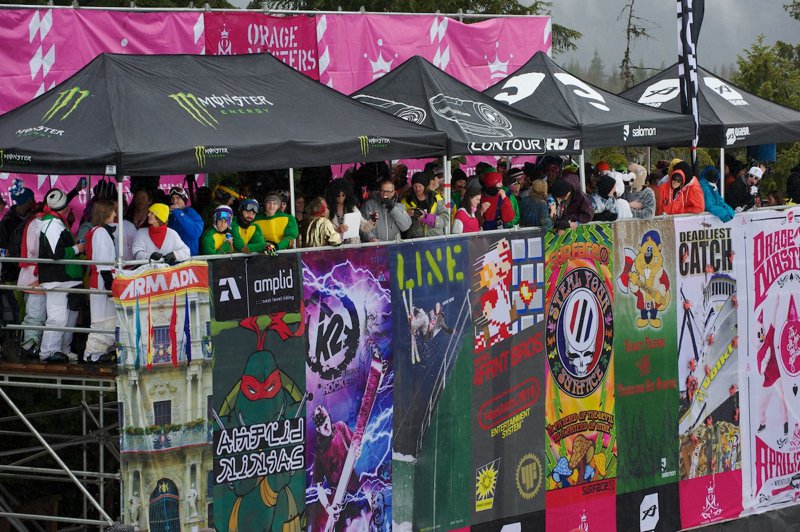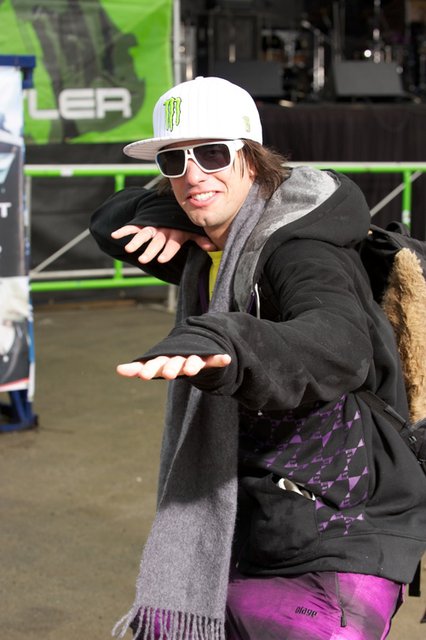 Your MC: Luke Van Valin
The first battle of the quarterfinal round pitted Team Volkl's crab fishermen of the reality TV show "Deadliest Catch" against the silent but deadly mimes of Team Line. Volkl was represented by Walter Wood, JF Houle, Tim Russell and Grete Eliassen. Line's team consisted of Joss Christensen, Steph Myers, Andy Parry and Max Hill who was unfortunately injured in practice on a massive end-to-end air over the spine feature. Despite fast and fluid laps and technical skiing from Volkl, the mimes' well-choreographed runs complete with mimed follow cams and silent high-fives drowned the fishermen.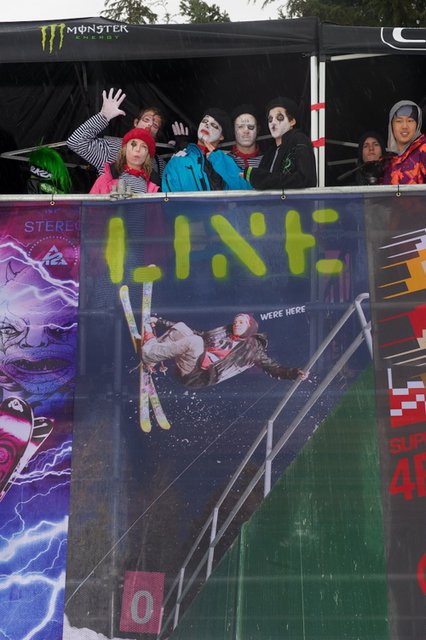 Team Line's Mimes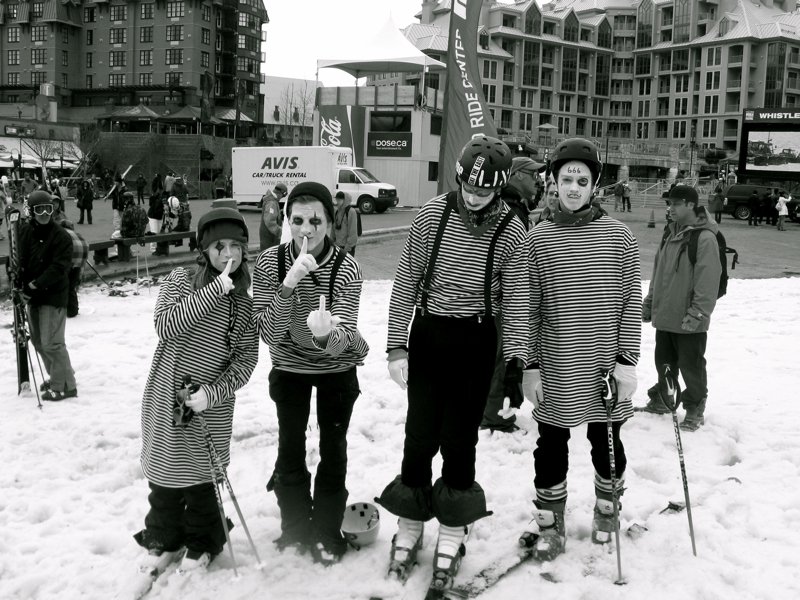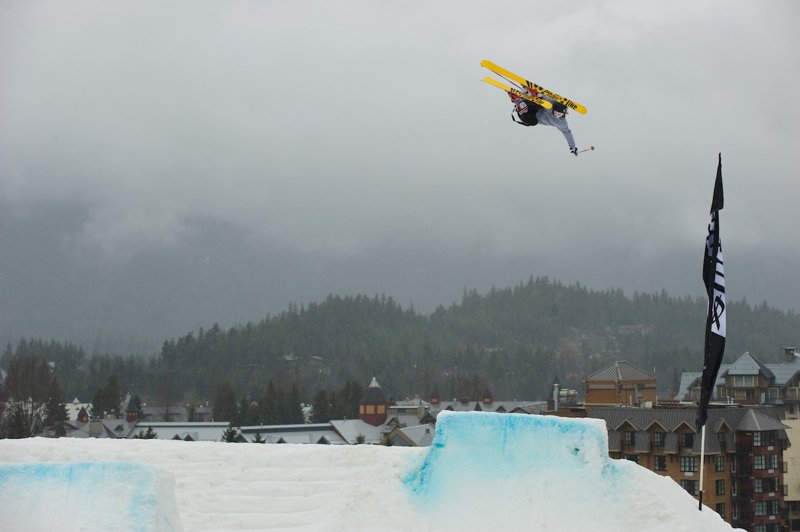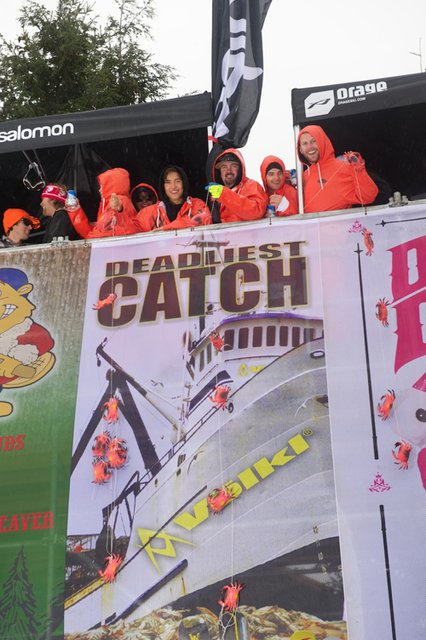 Team Volkl's Deadliest Catch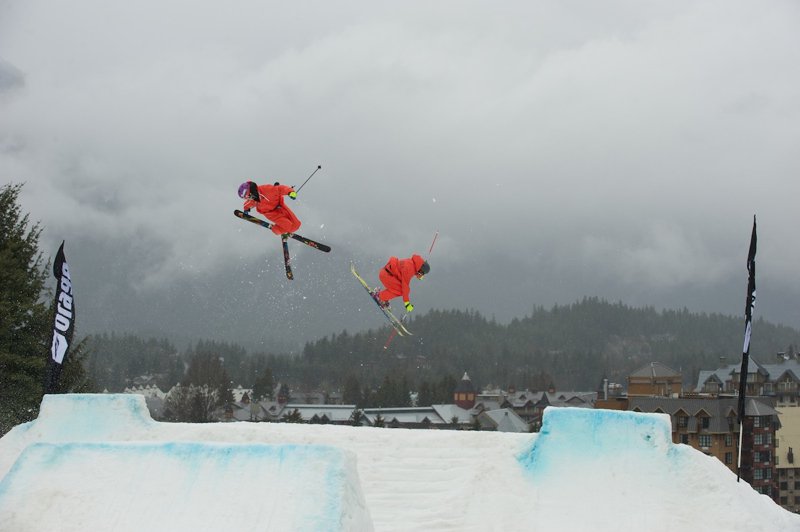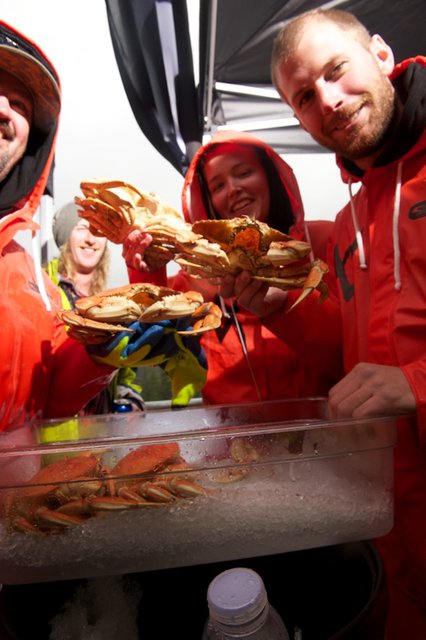 After elimination, Team Volkl cracked into the catch of the day.
The next round saw Team Salomon's forest critters take on the K2 Rockers. The critters, (Sandy Boville, Megan Gunning, Noah Bowman and AJ Kemppainen) struggled on their first run, leaving furry body parts strewn across the hill, but hit their stride on their second, highlighted by a big switch backflip over the gap jump from Bowman. K2 (Sean Jordan, Sean Pettit, Anna Segal and Matt Margetts) showed up like true rockstars with groupies in tow, and not only slayed the course but took a break mid-run to rock out with their adoring fans. One lucky lady even got a ride down the rest of the course in Matt Margett's lap. Badass beat out cute and cuddly and Team K2 advanced to the next round.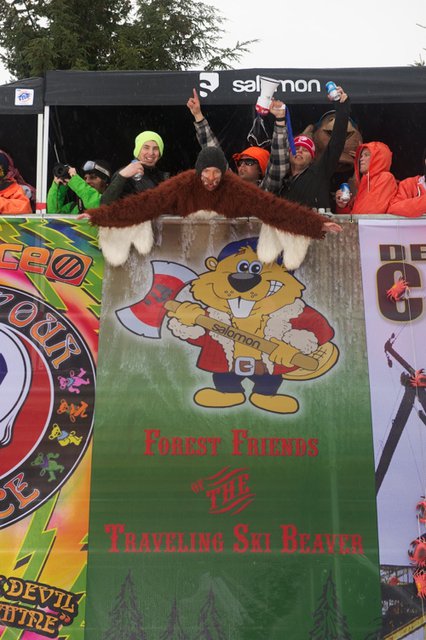 Team Salomon's Forest Friends of the Traveling Ski Beaver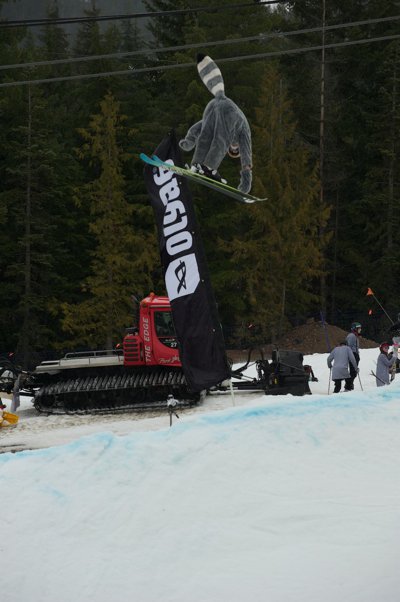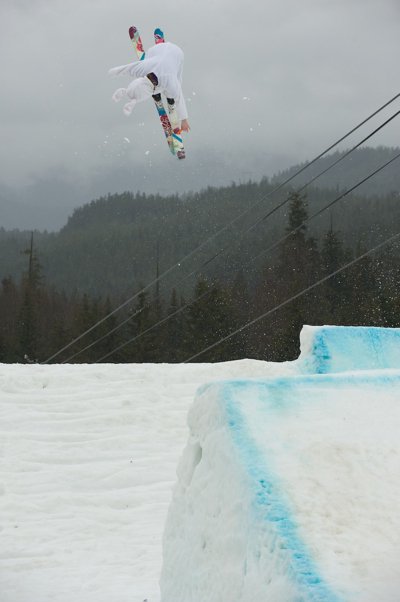 Noah Bowman & Megan Gunning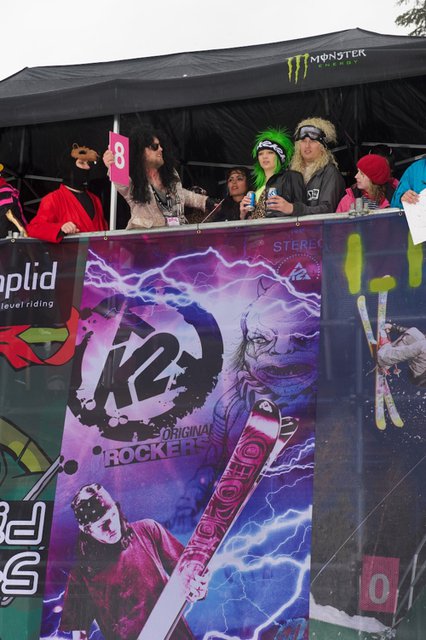 Team K2's Original Rockers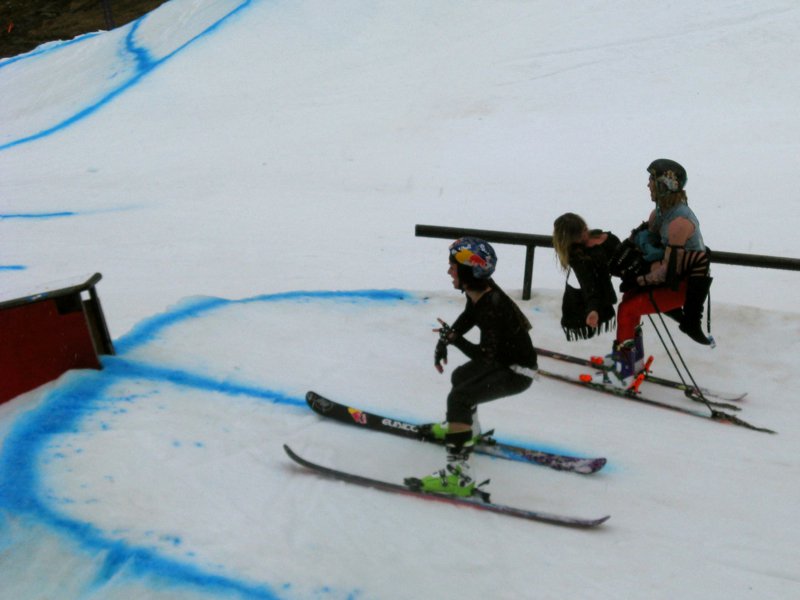 "Matt Margetts is carrying that woman down the course, and I don't even know what to call what she's wearing." – LVV
Team Armada (Devin Logan, Alex Bellemare, Mike Hornbeck and Phil Casabon) chose the Running of the Bulls as their theme, and dominated the course with style. Surface (Banks Gilberti, Jeff Kiesel, John Ware and Dania Assaly) showed up as hippies, and took time out of their runs to stage a protest for peace and love and to enjoy a smoke break and group hug. With the scores tied, the decision was placed back in the head judge's hands and given to Armada.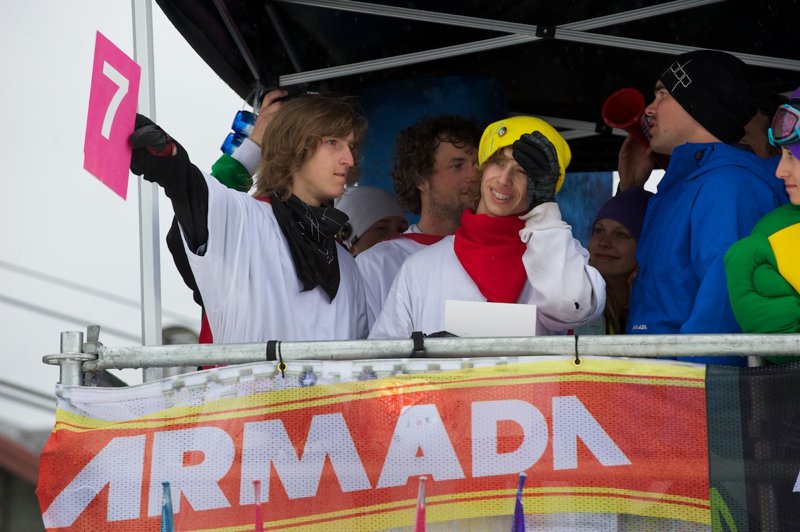 Team Armada's Running of the Bulls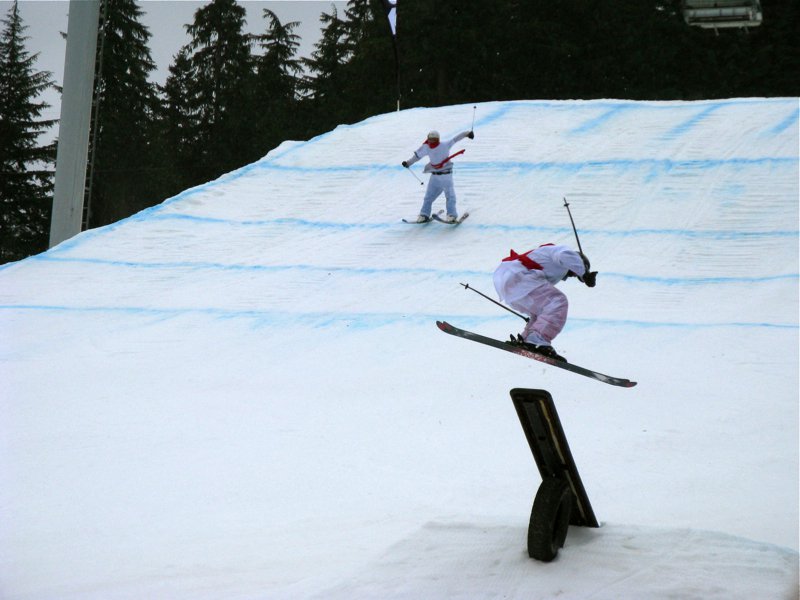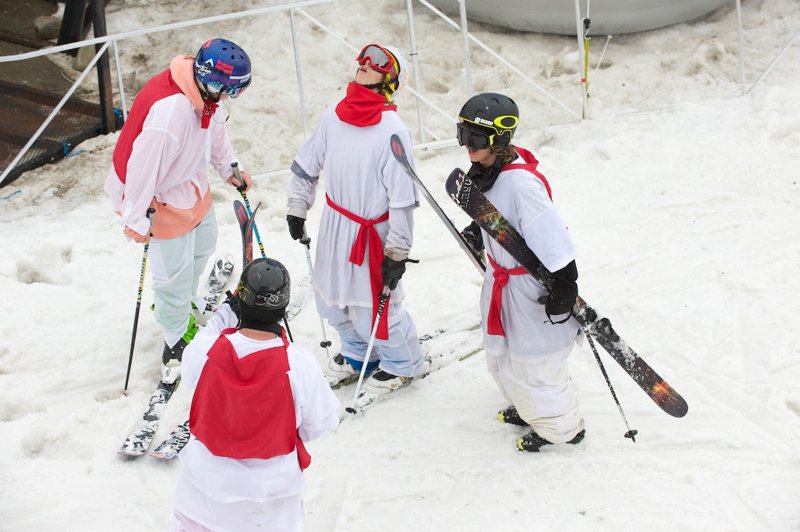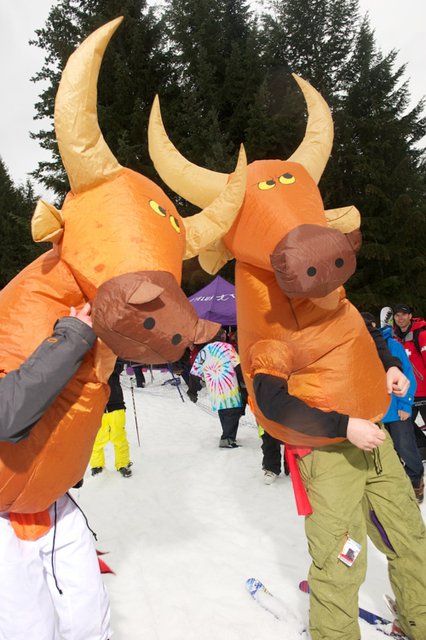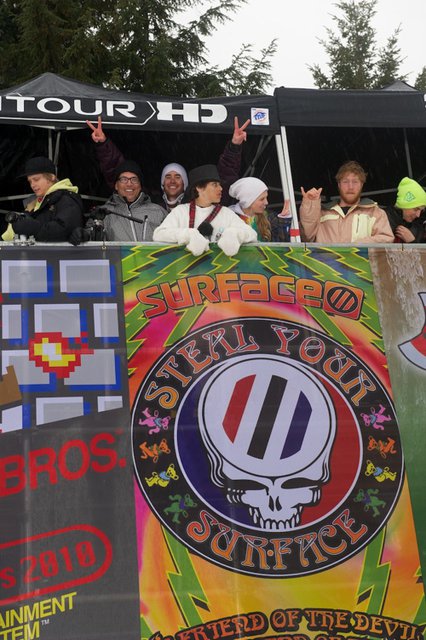 Team Surface's 'Steal Your Surface' Hippies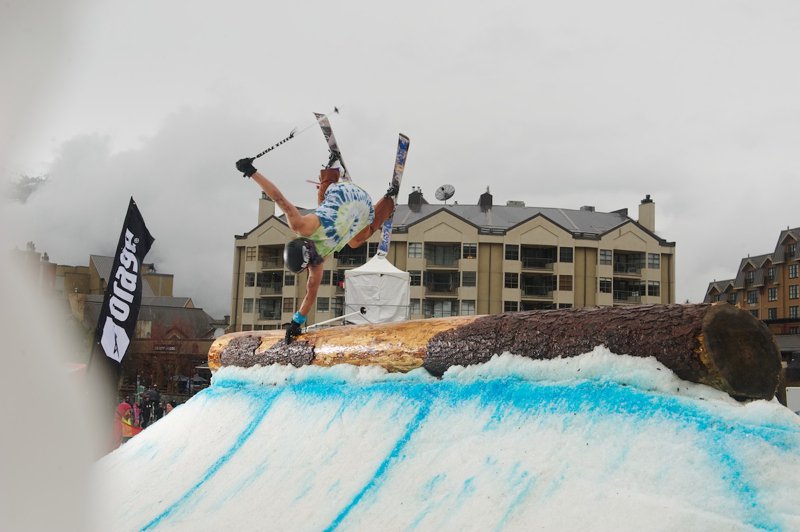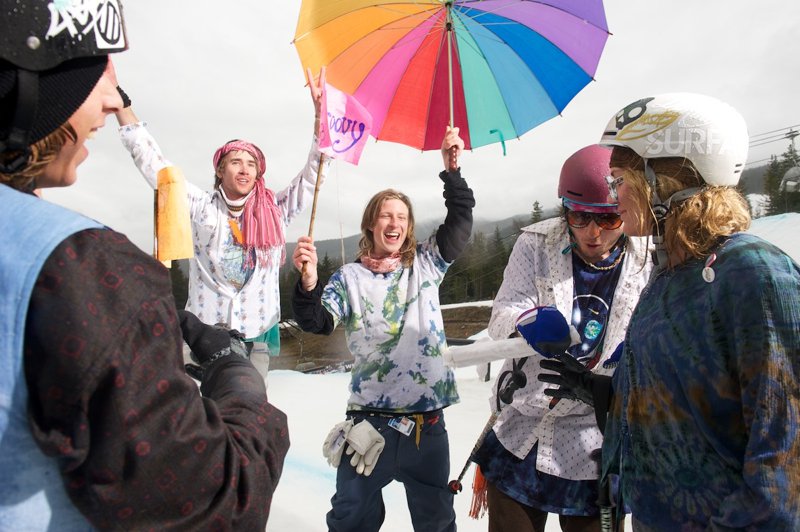 The last round of the quarterfinals featured the Ninja Turtles of Team Amplid (in their first Orage Masters appearance) taking on the Super 4FRNT Bros. Amplid was represented by Pako Benguerel, Steve Stepp, Jessica Warll and McRae Williams, while 4FRNT brought Will Berman, Keltie Hansen, Finn Anderson and Mack Jones. Amplid's riders hit the coause with weapons in hand, but took some breaks from skiing to pay respect to their Master Splinter and to hold a pizza party on the picnic table jib. What 4FRNT lacked in choreography they made up for in purely sending it with coordinated front and back flips over the gap jump and Mack Jones stomping a massive crowd-pleasing flatspin 5 over the spine, which had not been hit end-to-end since Max Hill's fateful crash in practice. The Super 4FRNT Bros advanced to the next level.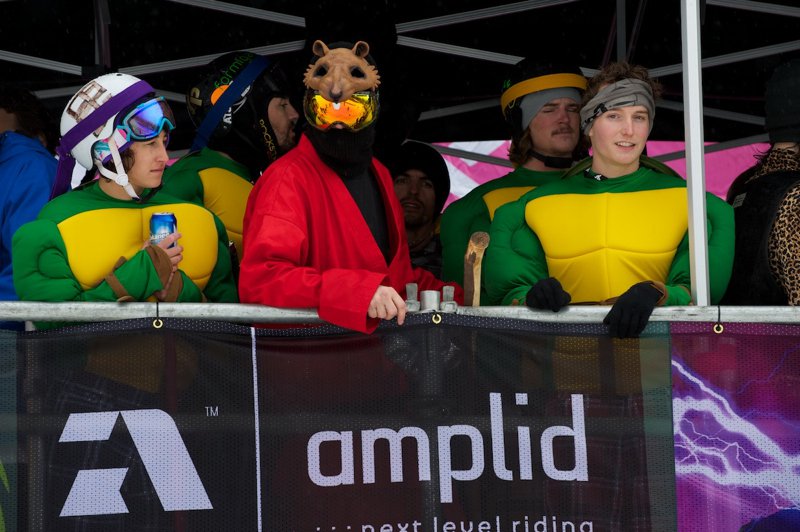 Team Amplid's Ninja Turtles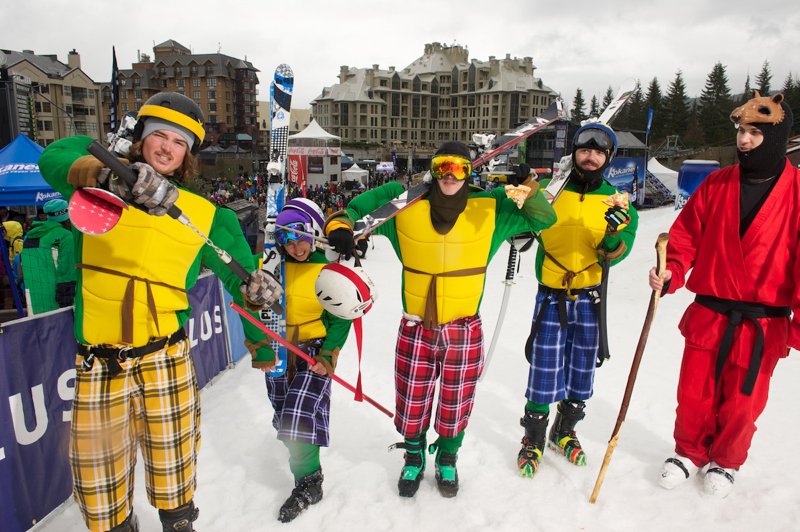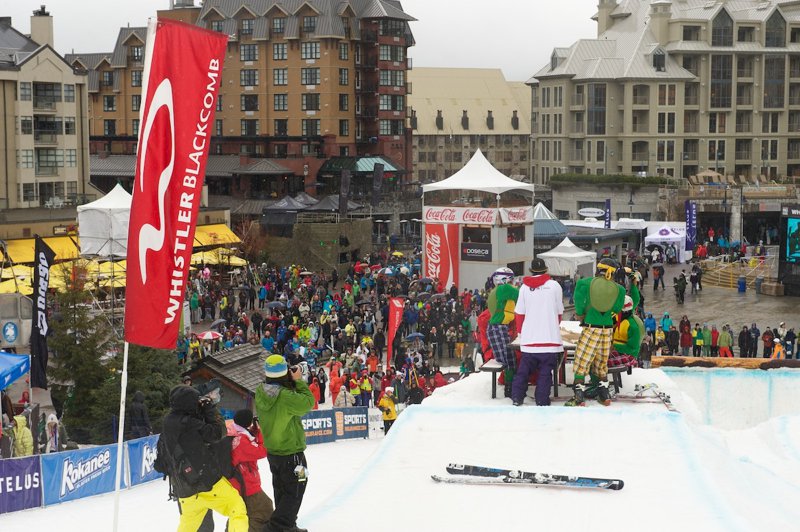 The Amplid Ninja Turtles throw a pizza party on the picnic table.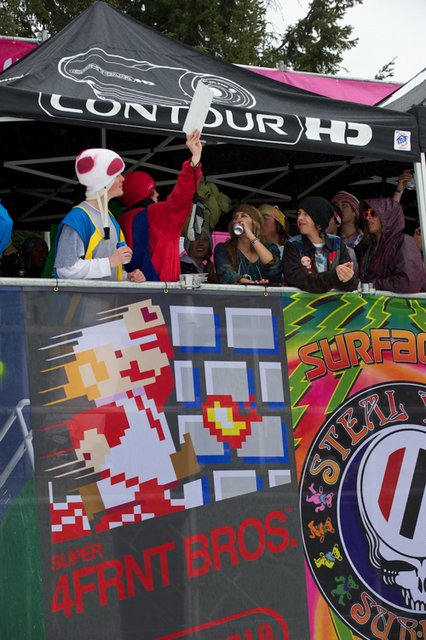 Team Super 4FRNT Bros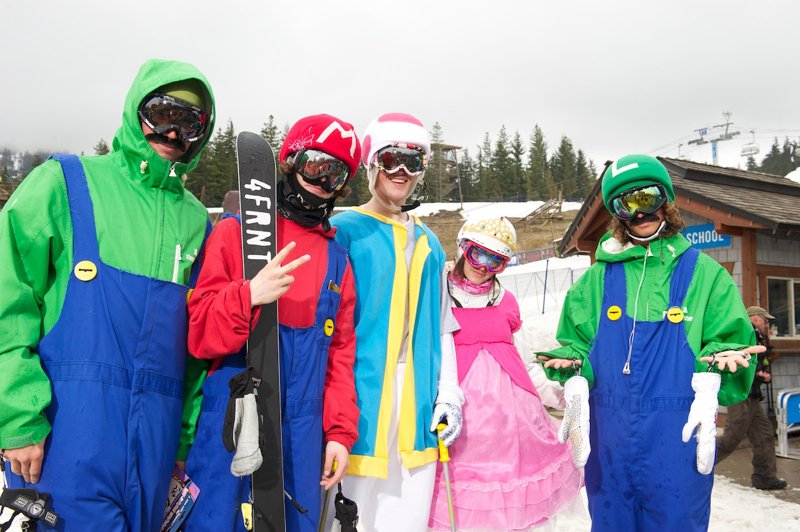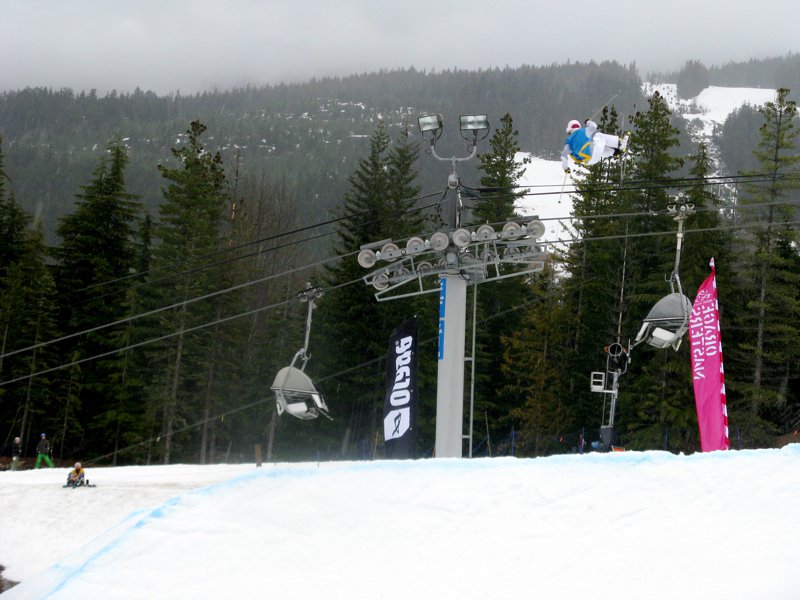 Mack Jones going big for the crowd.
With the quarterfinals over, the four remaining teams were invited to nominate one member each to participate in the Half-Time Hoe Down. The four lucky athletes were then given snowblades and a snowman head to restrict their vision, then sent down the course in a winner take all skiercross race, where hitting features on the way down was mandatory. Banks Gilberti took the win and $1000 for Team Surface, clutching the nose of his snowman head in order to stabilize it and thus being the only competitor to complete the course on his feet. This event was new to the Masters this year, and based on the crowd's reaction it's safe to say it was a big success.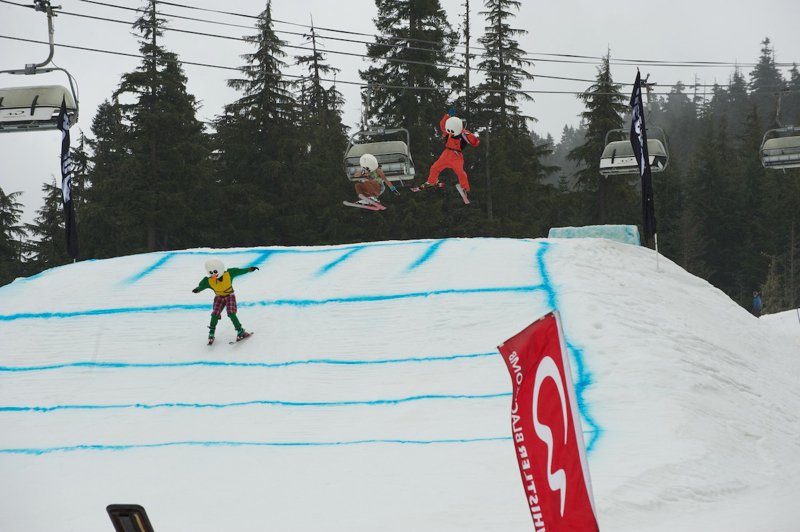 The Half-Time Hoe Down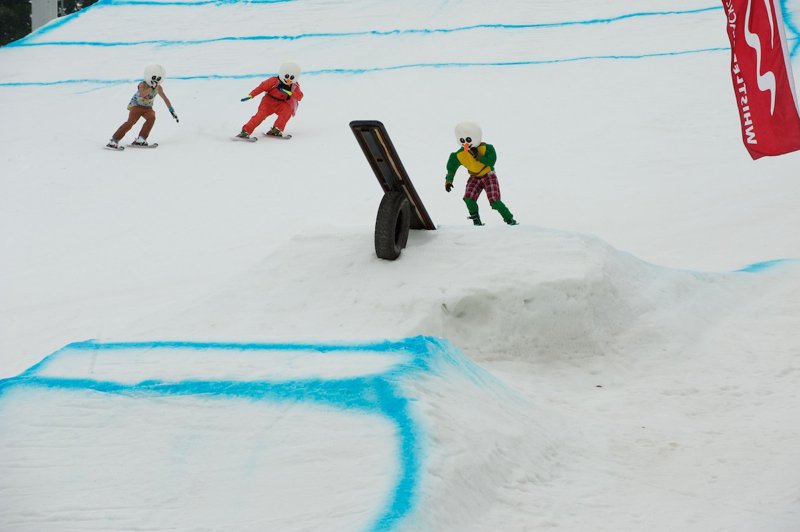 Banks Gilberti holds his nose on the way to victory…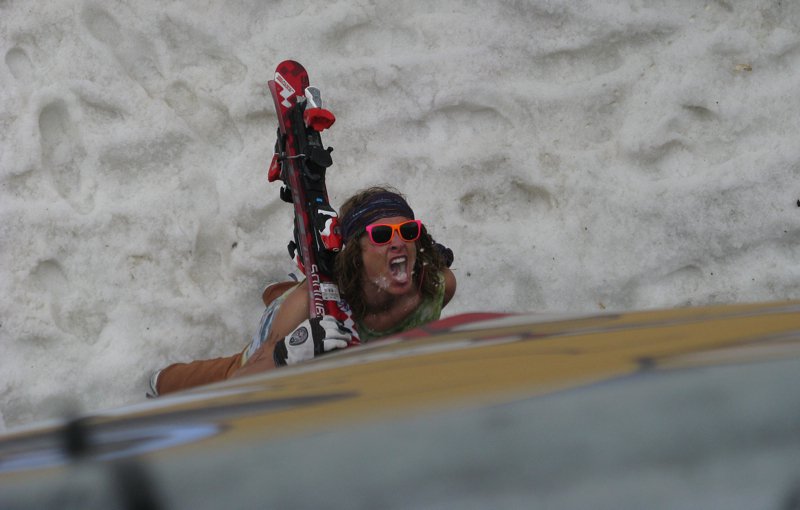 …and a beer shower from the Surface booth.
The first semi-final match-up was Line vs K2. The rockers dominated the down-flat box in particular; first crowd-surfing Anna Segal onto it, then following up with clean 270's on and off by Matt Margetts and Sean Jordan and finally a crotch slide by Sean Pettit. Margetts also pulled out a big save on a laid out yet over-rotated frontflip over the spin, which he rolled smoothly away from despite gasps from the crowd. For their efforts, Team K2 was awarded the first perfect scores of the competition.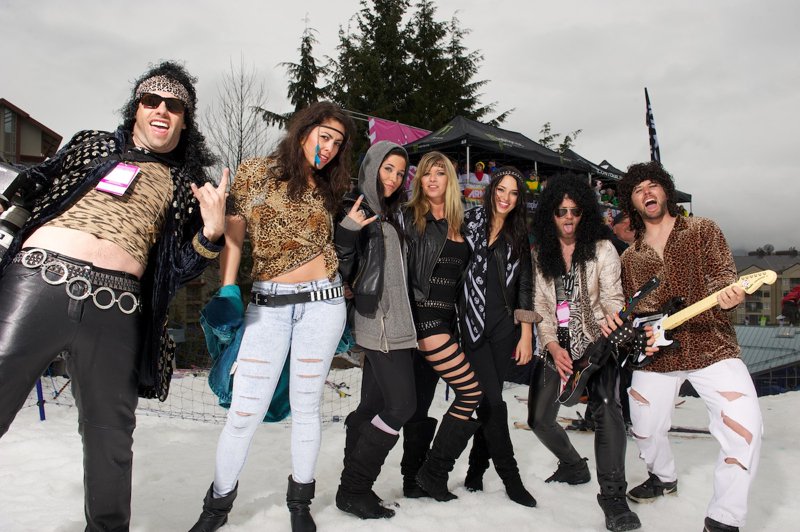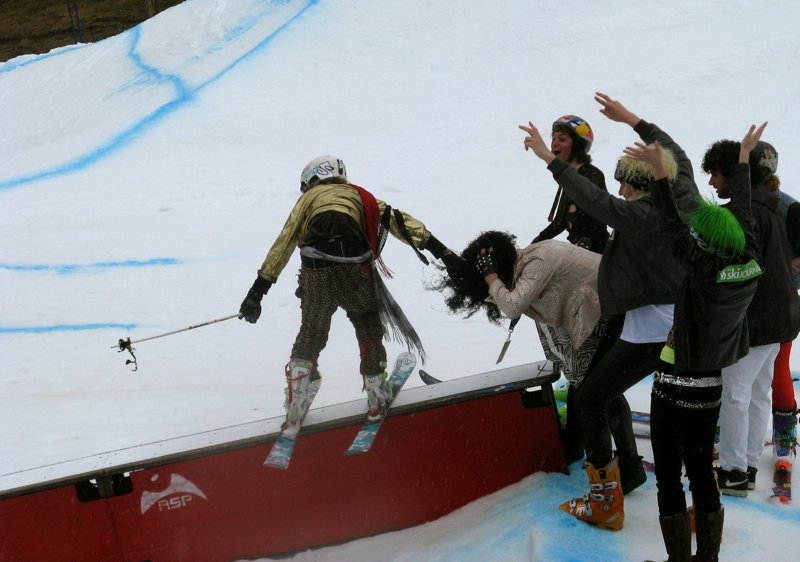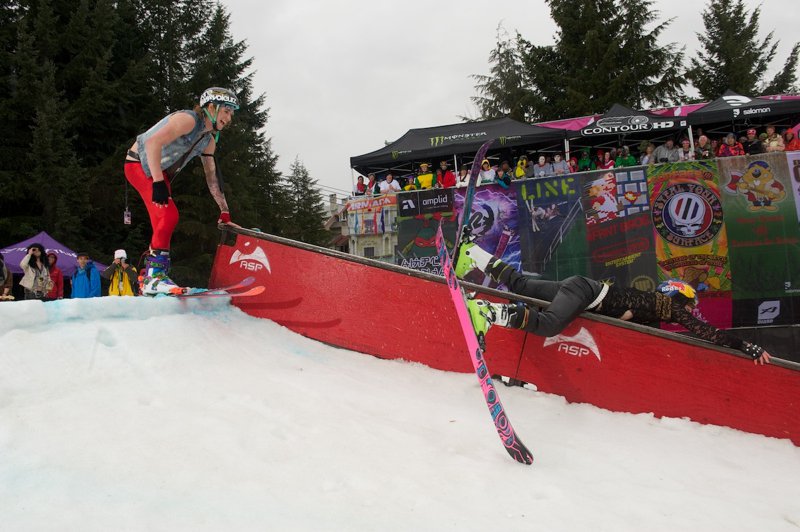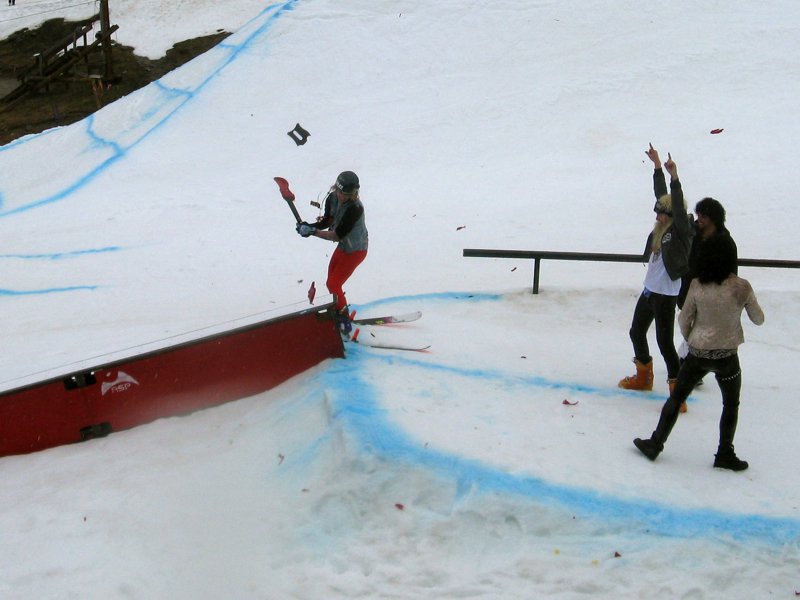 That down-flat box got rocked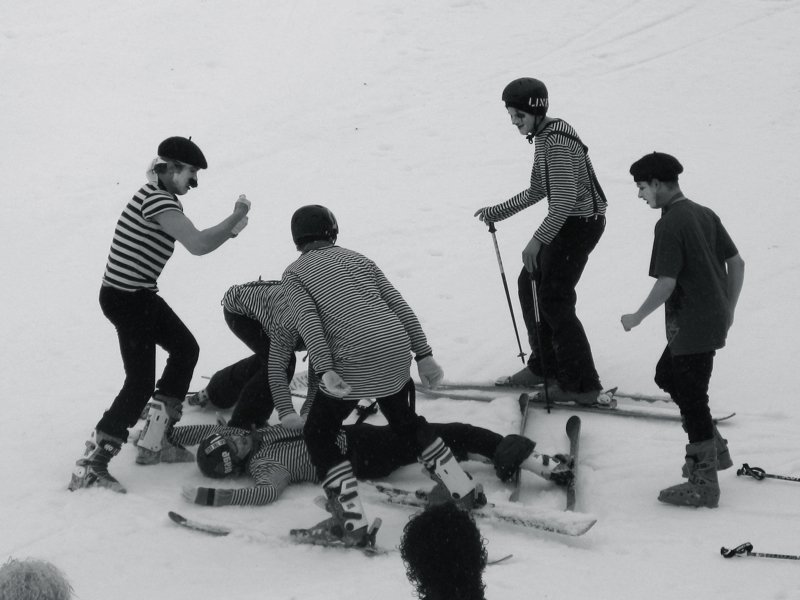 The mimes perform some silent first-aid…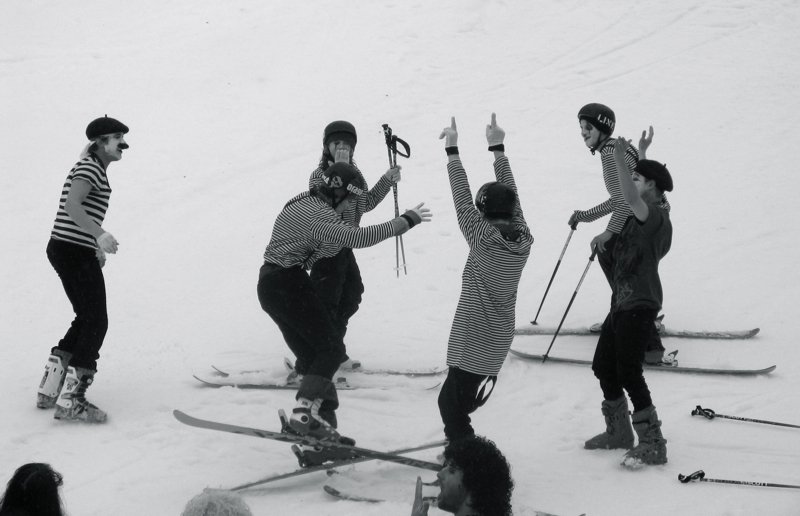 …success!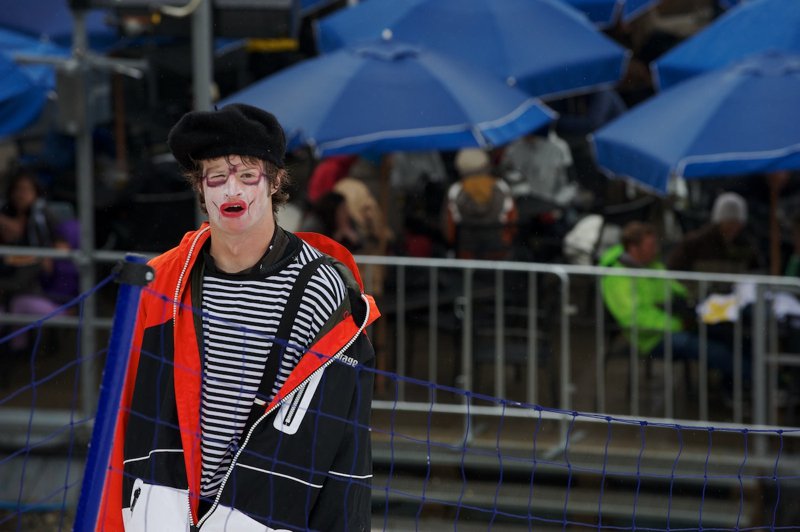 Mime, hippy-killer, Andy Parry is a man of many talents.
In the other semi-final contest, Mack Jones helped boost the Super 4FRNT Bros to victory yet again with large and consistent tricks over the spine, this time stepping it up and stomping a rodeo 9, while Will Berman upped the ante as well with double frontflips over the top gap. Armada put in a great team effort with strong and stylish skiing from everyone, and though the scores were close, Team 4FRNT won by a narrow margin.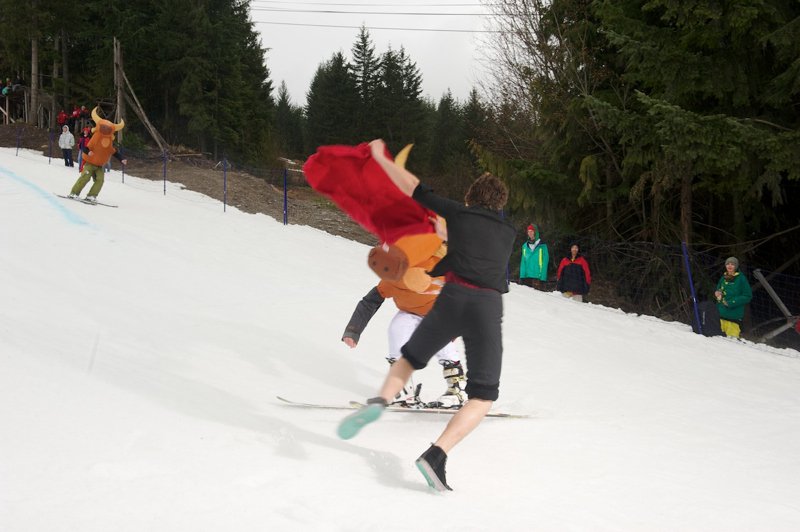 The bull runners charge the bottom of the course with Riley Leboe acting as El Matador.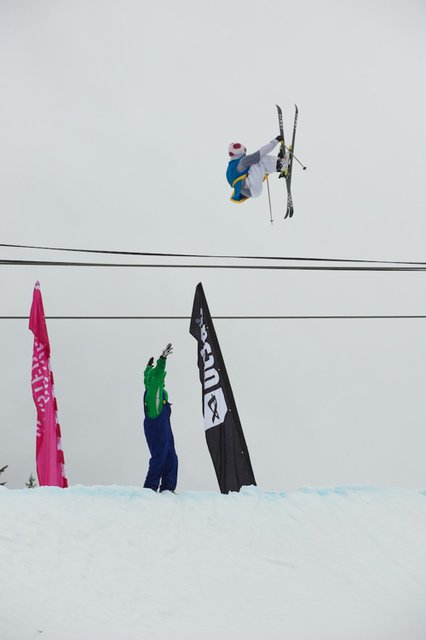 Mack Jones. "I think that Toad would have to be my new favourite Mario Brothers character." – LVV
The stage was finally set for the final round, and both teams K2 and 4FRNT brought the thunder. Jones continued his standout performance on the spine gap, but was finally matched by Matt Margetts who stomped a massive Lincoln loop over his entire entourage of groupies. The rockers continued to keep the good times rolling by busting out a mirror and filling their faces with white powder (which Van Valin assured the crowd was not actually cocaine). The combination of strong skiing and rocking out hard is exactly what the Masters is all about, and the K2 Rockers took home a deserved win. Additional awards were given to Team Salomon for Best Costume/Theme and Team Amplid for Best Choreography.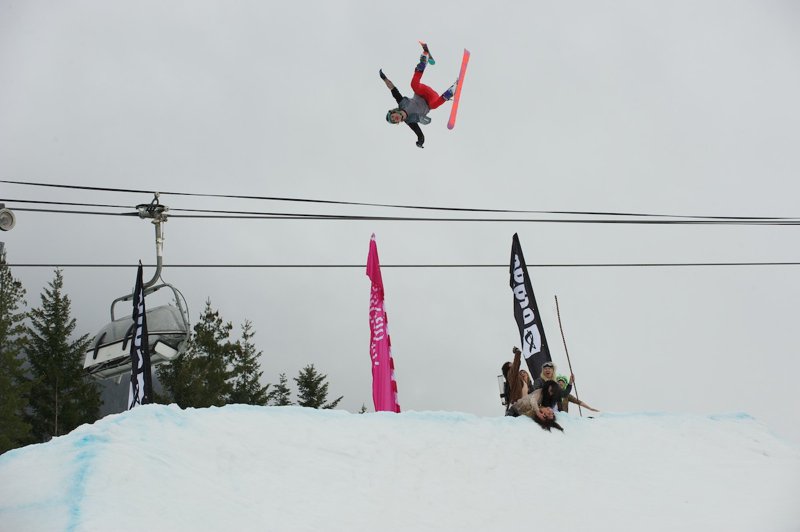 Margetts boosting over his groupies.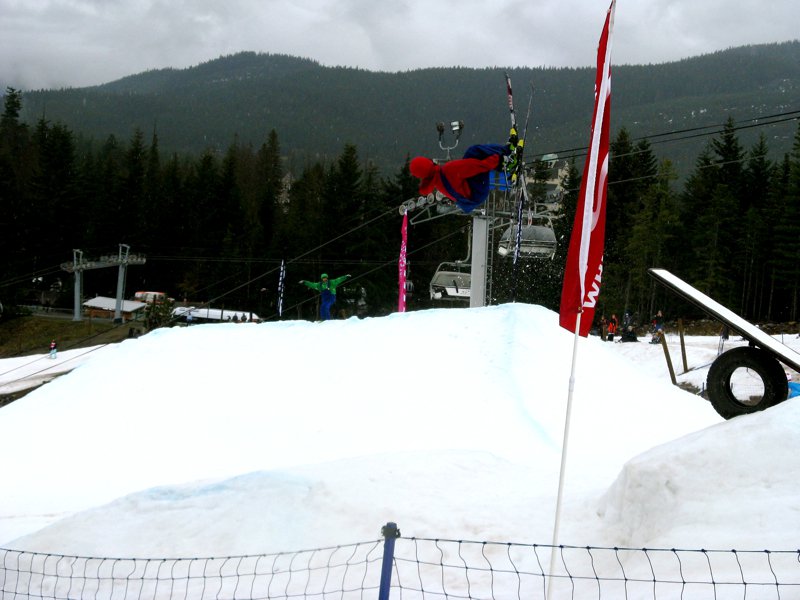 Will Berman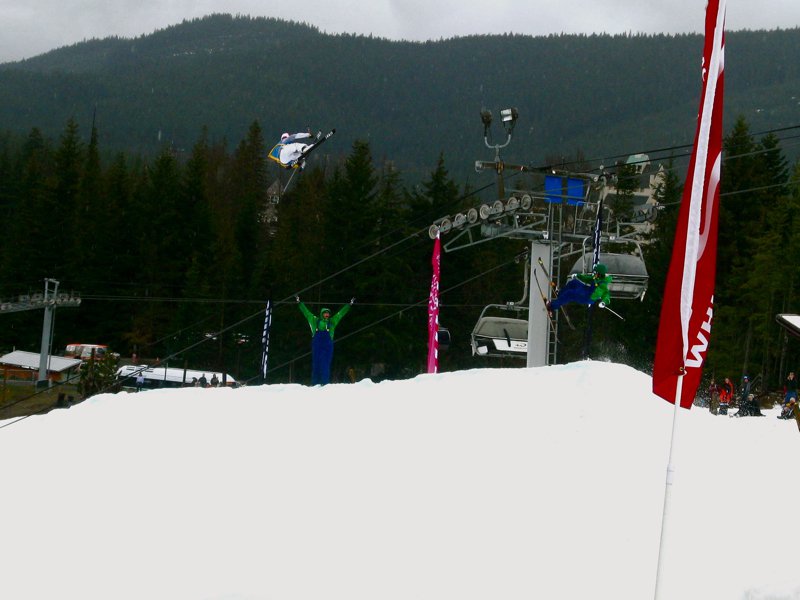 Mack Jones, still large and in charge.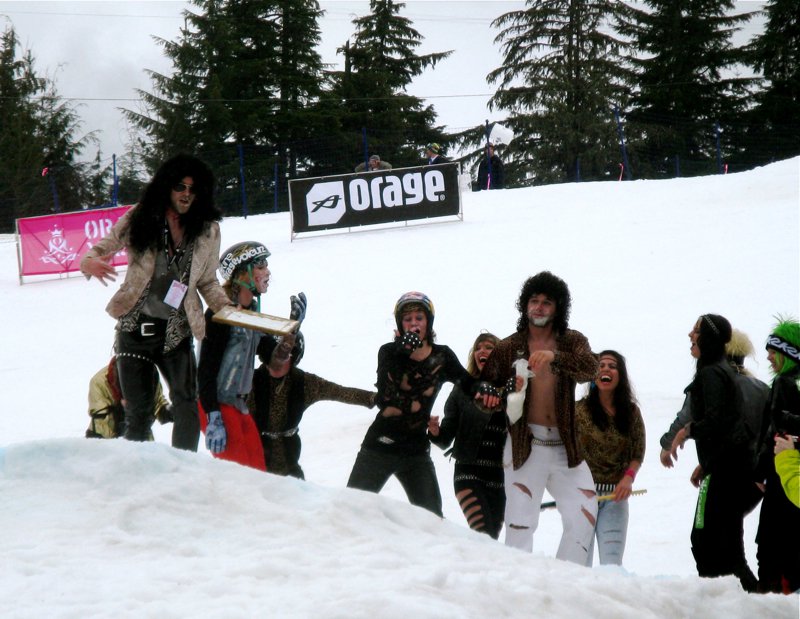 The K2 Original Rockers know how to party.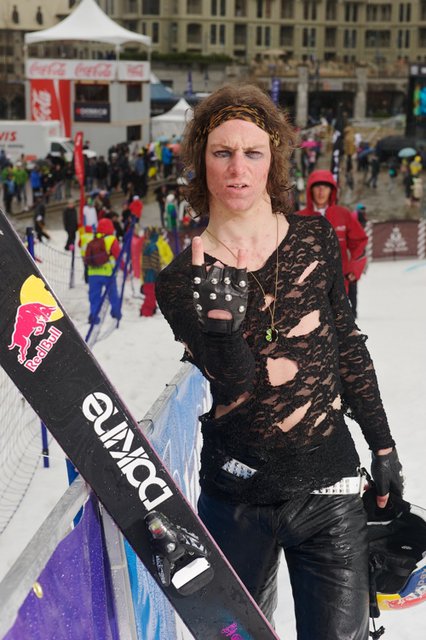 Pettit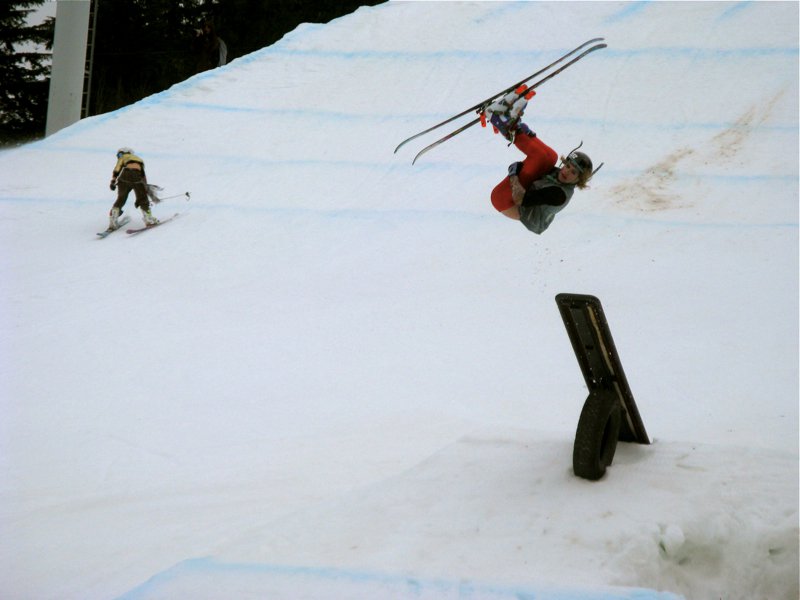 Margetts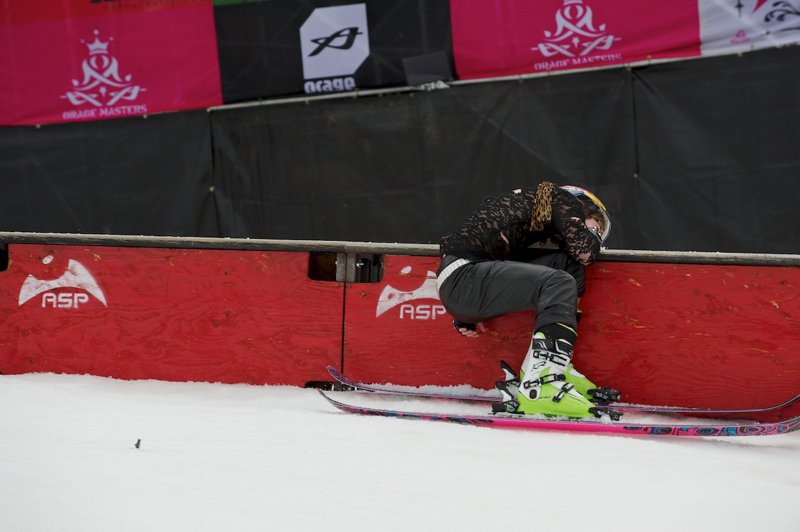 Sean Pettit hitting a different kind of rail.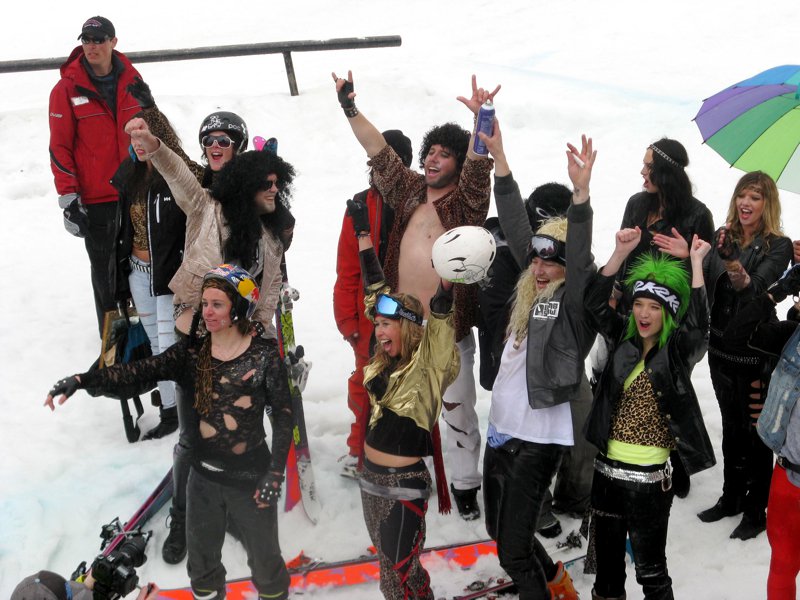 K2 reacts to the scores.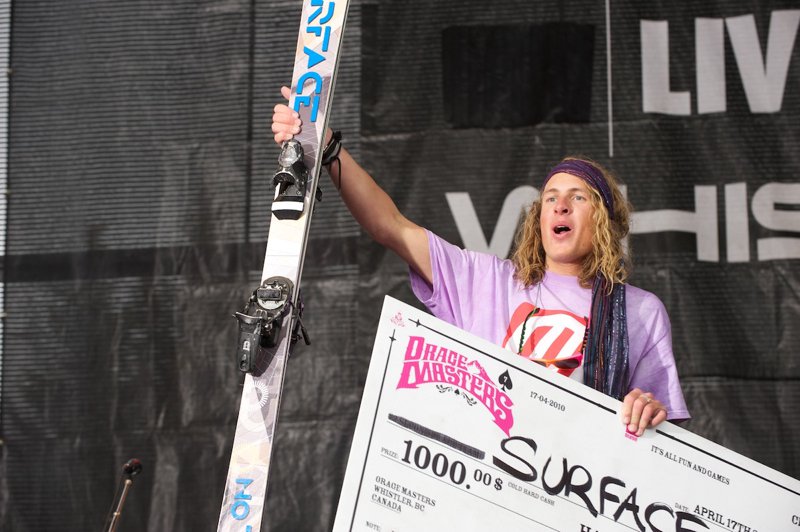 Banks Gilberti, winner of the Half-Time Hoe-Down.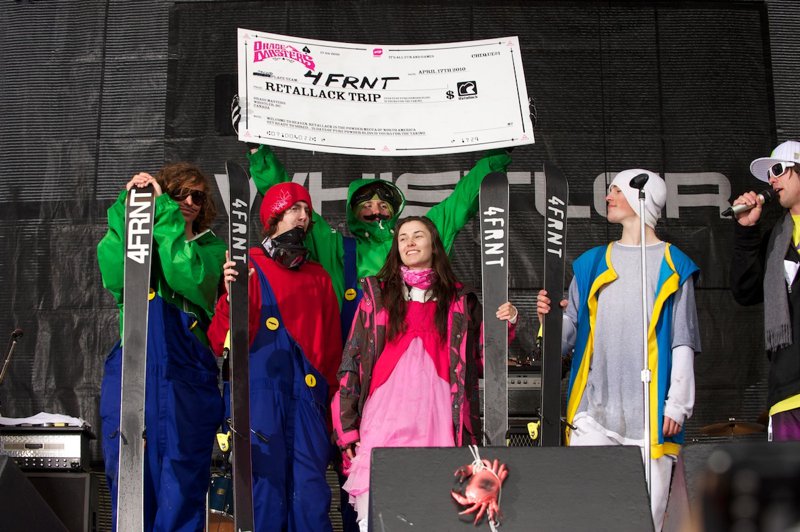 4FRNT takes second place and 15-day trip to Retallack Lodge.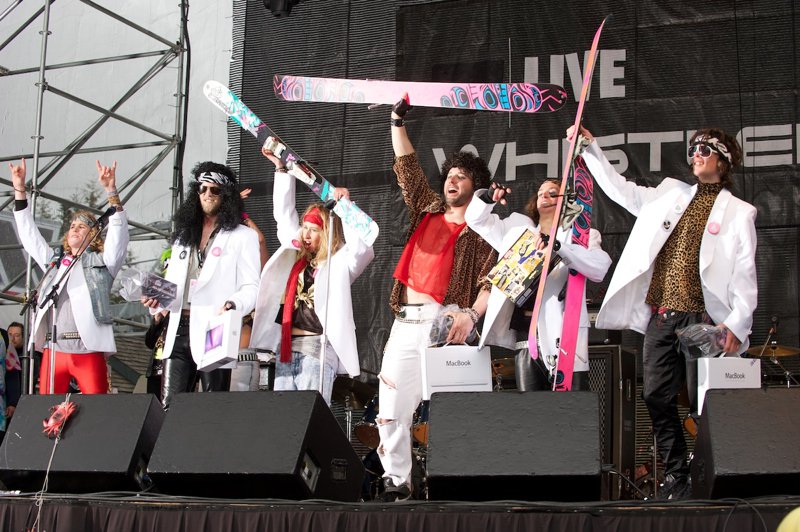 Team K2 receives their first place white jackets, with MacBook Pros and Contour Wearable HD cams for everyone.
The seventh Orage Masters managed once again to wreak havoc on Whistler and break all the rules of what a ski contest should be. While the weather may have been miserable, you would never know it from watching the athletes, team managers and judges, who all stumbled away stoked on the day and primed for the afterparty at the Longhorn. In the words of event founder Mike Nick: "For an event that's a complete shit show, it always seems to work out. It's raining and everyone is still having fun, and that's great."