OPTION QUARTER PIPE SHOWDOWN SAT 23rd JULY 2005
The sun was shining on down for the option quarter pipe showdown today at the
Snow Park NZ. After a snowy start, the 48 snowboarders and 20 skiers in the
competition warmed up into a sunny afternoon for the finals judged by a panel
of Wanaka and Queenstown's 'local legends'.
The showdown really began for the finals when favourite tricks were pulled
out of 'the hat' and then battled out between the top three competitors in each
division. Women's boarder finalists threw some impressive acrobatic Mc Twists
and Rodeos, with Abbey Lockhart taking out the title.
Ranges of comprehensive tricks were shown by the skiers, including technical
switch airs pulled in the women's division to massive 20ft airs which US Professional
Mike Wilson was unable to land, but definitely one of the highlights for the
crowd. The title was taken out by local rider Josse Wells in the men's, and
Swedish Skier Marta Ahrenstedt in the women's.
The men's snowboarding title was fiercely contested, and tricks ranged from
massive air to fakies, a mixture of frontside seven rotations, and 'heave ho'
tricks. After witnessing an amazing spectacle the title was given to Jah Harris,
Snow Park team rider. A total prize pool of $2000 cash was given out with the
winners of each division happily taking home with them $300 cash each.
Mens Snowboarding:
1st: Jah Harris, Wanaka 22 yrs
2nd: Tim Jackways, Wanaka 24 yrs
3rd: Matto Smith, Wanaka 26 yrs
Mens Skiing:
1st: Josse Wells, Wanaka 14 yrs
2nd: Brad Prosser, Wanaka 21 yrs
3rd: Tom Dunbar, Wanaka 23 yrs
Womens Snowboarding:
1st: Abbey Lockhart, Wanaka 22 yrs
2nd: Yukiko Kohara, Japan 24 yrs
3rd: Yuki Furihata, Japan 23 yrs
PRIZES IN EACH DIVISION:
1st: $300 cash
2nd: $150 cash
3rd: $50 cash + electric goggles.
All spectators and competitors enjoyed the fun jam styled event with loads
of option and electric spot prizes received for outstanding tricks throughout
the day.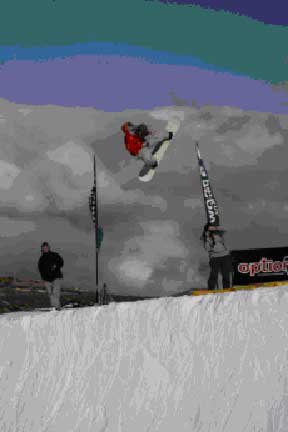 Tim Jackways, huge and lofty air to fakie. Snow Park NZ Photo: Dillon Ryan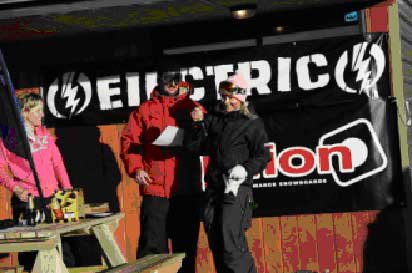 Marta Ahrenstedt receiving her first place $300 cash prize Snow Park NZ.
Photo: Dillon Ryan