This past Saturday I went up to Keystone with some of the team to check out the opening weekend.  The weather was pretty cloudy all day, and snowing on and off, but Keystone set up a great early season park.  It was really crowded, but we managed to get some shots, and have a good time.
We started out on this quarterpipe feature with a rail on top.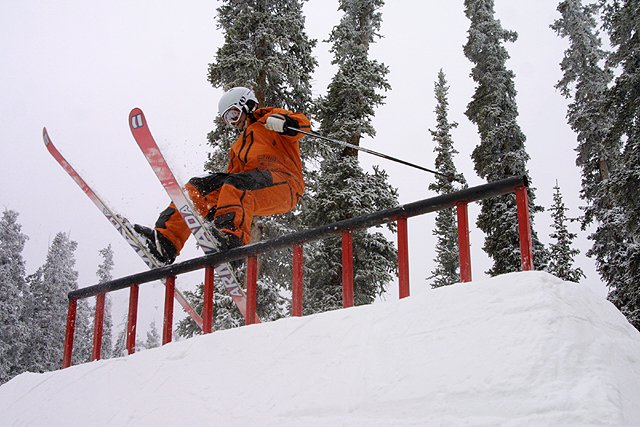 Dan Broadbent
Mike Broadbent
Switch up
Jen Allen
Soon we moved to the down rail, where we ran into LJ Strenio.
We met up with Carrie Rossman:
Then I convinced Mike to throw some spins off the up rail, since nobody else was even hitting it.
Mike was pretty stoked after destroying that feature, so we moved down to the little wall ride.
After that, we decided to head back to the city, because later that night was the Jiberish launch party.
Me, Mike B, and Matt Walker
Held at the Lure Lounge in Denver, it was a great party, where I got to see  tons of friends that I hadn't seen in a while.
Me, Pete from Jiberish, and Mike.  This was a tough shot to get, as Pete was celebrating pretty hard.
Mike, Kenzie Morris, and Jenn Hirsch
Suzanne and Nevill
After a long night, we took the bus home, and found it to be a great place to sleep.
If you're in Colorado, you definitely need to get out there and ski.  Breck, Keystone, Copper, Loveland, and A-Basin are all open.