The One Hit Wonder, coming out of Thredbo, NSW, Australia, is a one of kind competition that draws some of skiing's greatest talents from all corners of the globe. The 80 ft (100ft to the sweet spot) jump booter ain't for the faint hearted, but the set up also features a 50ft transfer and a 40ft kicker.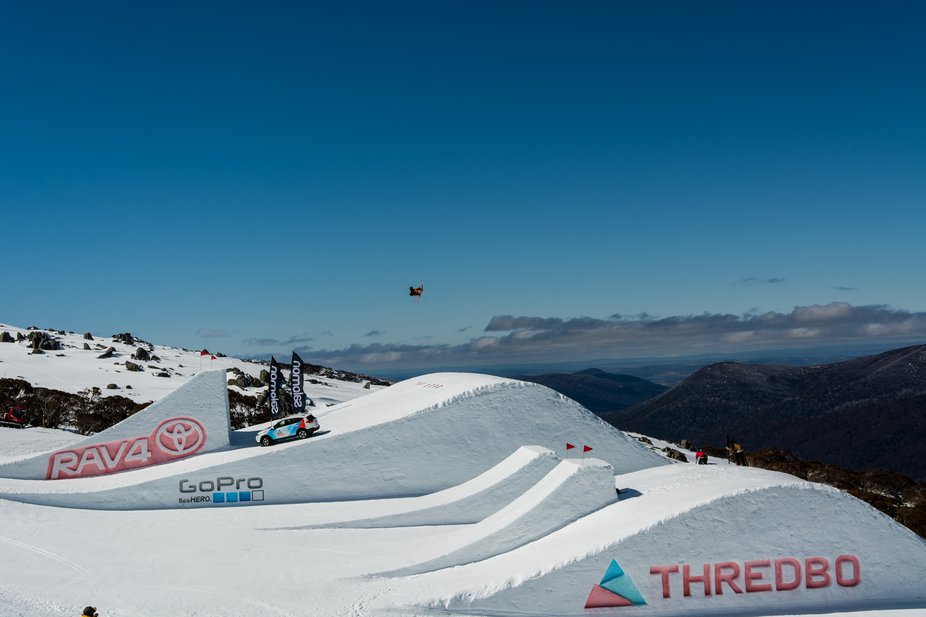 James Woods giving us a banger shot of the set-up- Ben Stevens photo
The list of riders:
Russ Henshaw- AUS
Jeremy Pancras- FRA
Jackson Wells- NZL
Oscar Wester- SWE
Jonas Hunziker- SUI
Evan McEachran- CAN
Jossi Wells- NZL
Jesper Tjader- SWE
Alex Brown- USA
James Woods- GBR
Elias Ambuhl- SUI
Beau-James Wells- NZL
Ryley Lucas- AUS
Olly Cain- AUS
Thomas Waddell- AUS
Hugo Laugier- FRA
Noah Morrison- CAN
Jordan Houghton- AUS
Aleksander Aurdal- NOR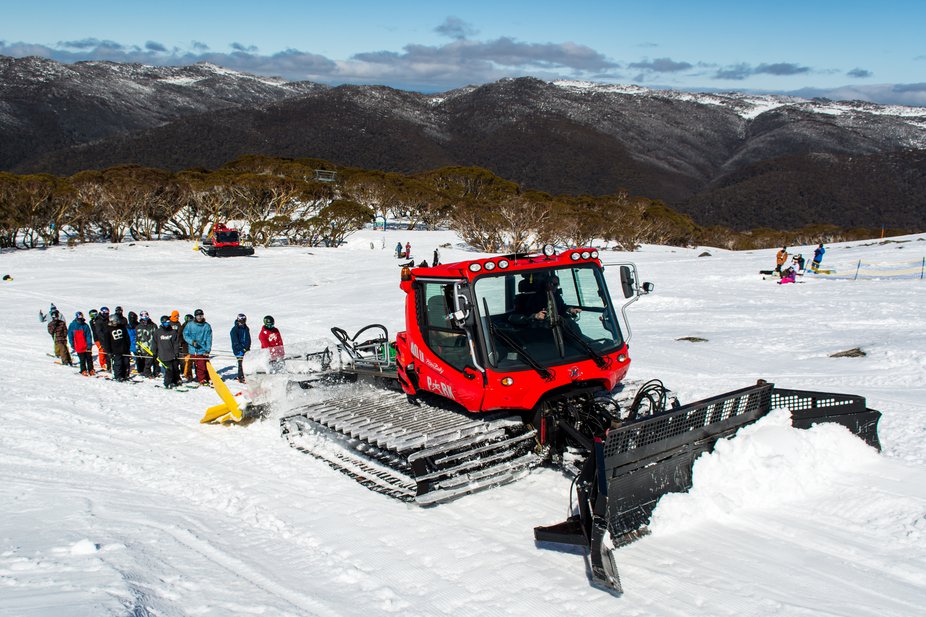 Ben Stevens photo
DAY ONE (Weds 9th Sep) Practice day, scheduled to start at 9am, but the wind was proving arduous. The ever brave, Jesper 'dont-know-how-he-fits-his-balls-in-his-pants' Tjader volunteered as guinea pig and cleared it with ease. This encouraged the others and soon there were a few straight aired speed checks happening. Alex Brown shorted it and copped a knee to the face, resulting in a shiner on his cheek, and the general consensus was that the knuckle needed some work. The park crew, ever obligingly, brought the cat in, changing the knuckle so that is was more forgiving.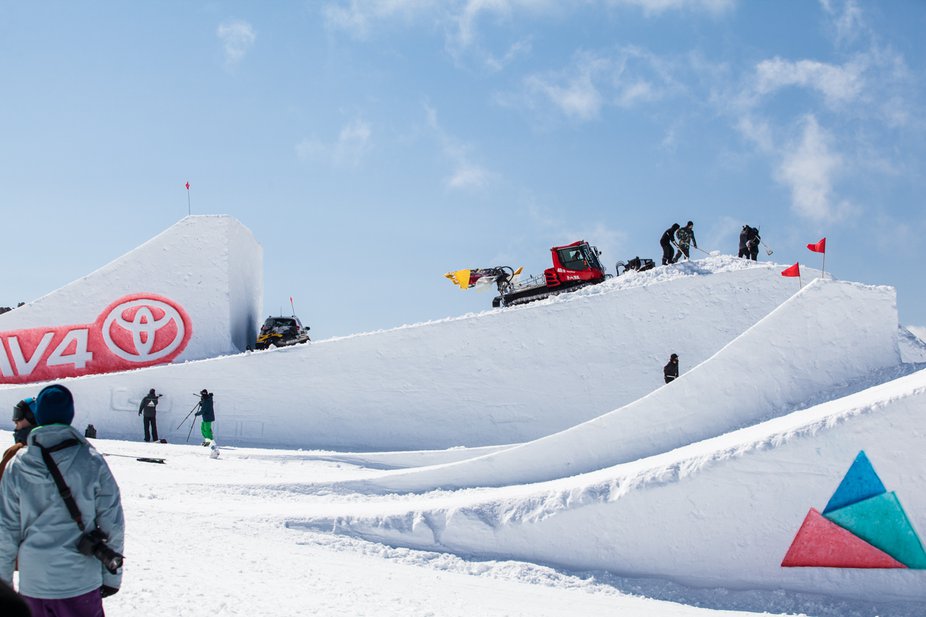 The boys giving the knuckle a reshape during practice.
The boys sat around, ate sausage sangas, a few sessioned the 50 footer and the rest waited for the wind to die down. About midday, they were given the all clear, and practice really began. Unfortunately, the day ended with Alex Brown, one ski ejecting while taking off switch, causing everyone to jump up and run to the landing. He was ski-doo'd down, having torn his hamstring, but was still all smiles and sent it at the bars like the champion he is.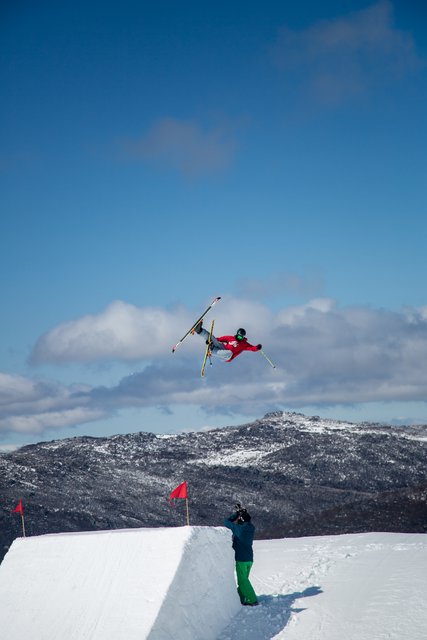 Evan McEachran hitting the 50ft booter- One Hit Wonder Media photo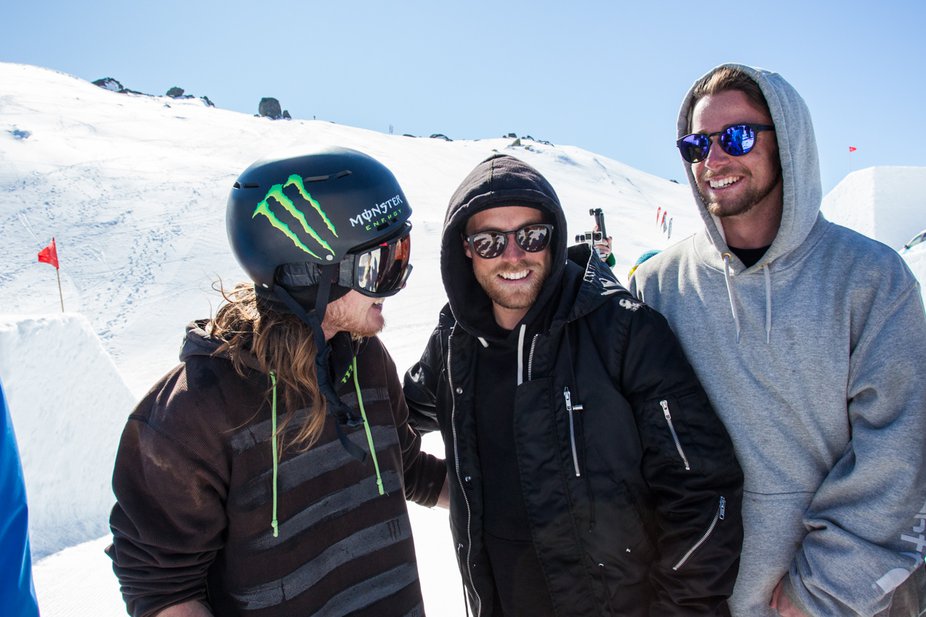 Smiles all round. Woodsy, Jossi and Beau-James- Alister Buckingham photo
DAY TWO (Thurs 10th Sep), the main event. The 18 riders were split into two heats, with 2 runs each, best run counting. Heats were insane. The level of riding was so high and the boys were really giving it their all. After qualifiers wrapped up, the finalists were:
Russ Henshaw, Oscar Wester, Jesper Tjader, Jackson Wells, James Woods, Thomas Waddell, Evan McEachran, Jeremy Pancras, Jonas Hunziker, Aleks Audral, Jordan Houghton and Hugo Laugier.
Finals highlights included Evan McEachran attempting his first triple 14's and 16's, the Wacko special; the trip 10, Jeremy Pancras sending a dub 16, Jesper Tjader with a switch triple japan to truckdriver and Oscar Wester absolutely stomping one of the cleanest triple 16's ever. The top 8 jumps were all triples, so it's safe to say the standard of skiing was among the highest in any competitions, ever.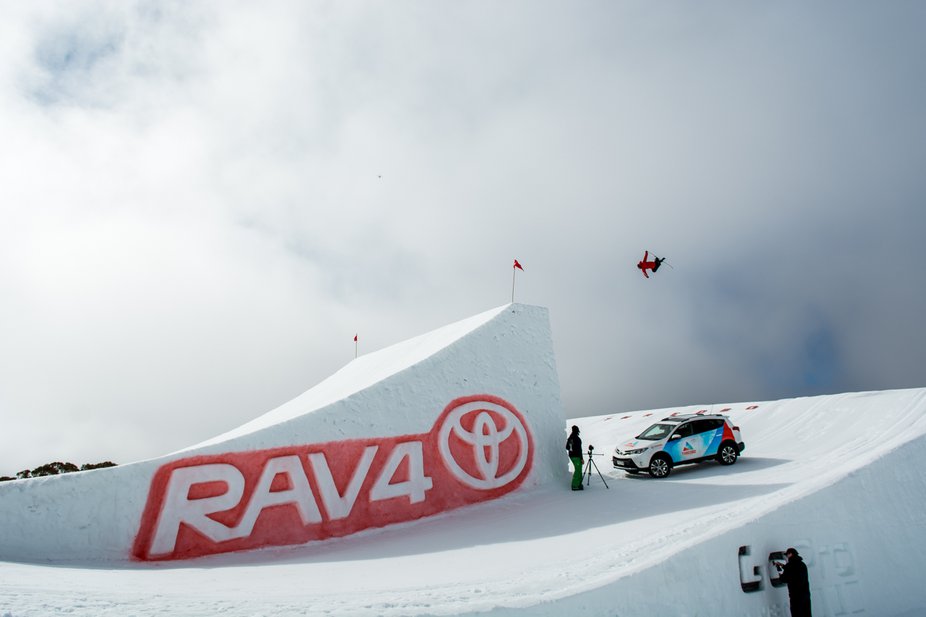 Alexs Audral- Ben Stevens photo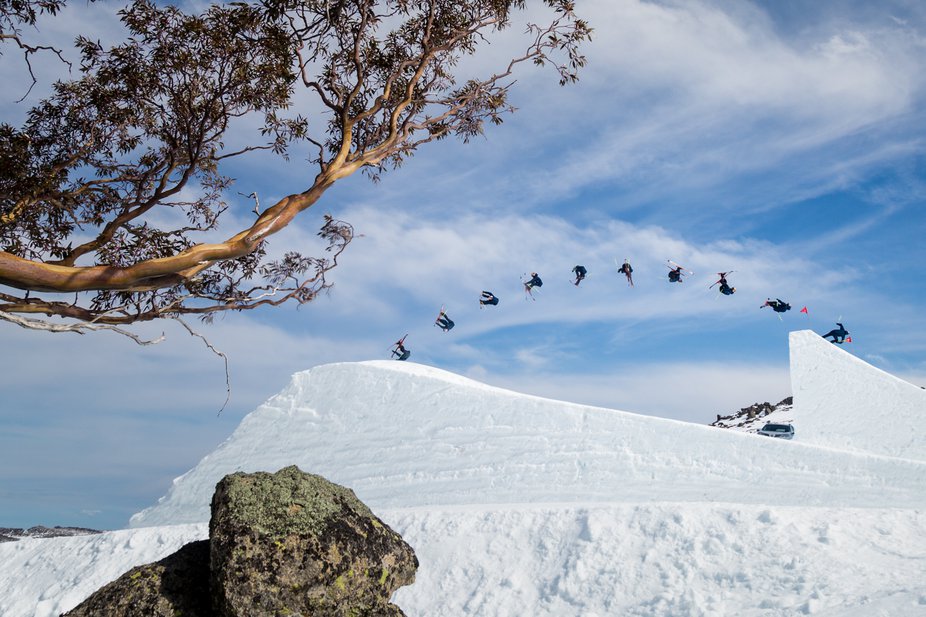 Jesper Tjader- One Hit Wonder Media photo
James 'Woodsy' Woods- Alister Buckingham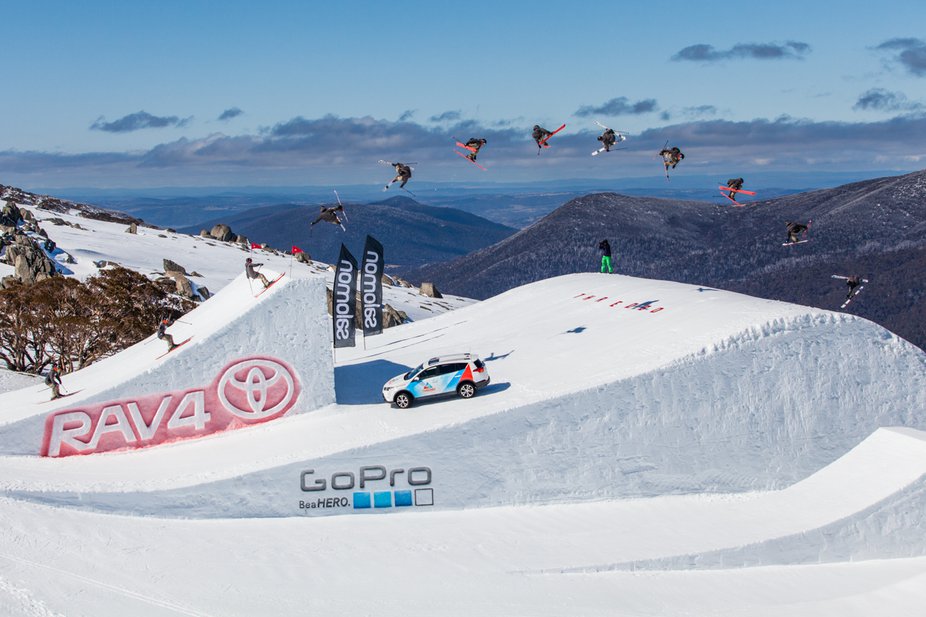 The Jackson Wells special; the trip 10- Alister Buckingham photo
Results:
1st- Oscar Wester- 93.6
2nd- Jesper Tjader- 91.3
3rd- Jackson 'Wacko' Wells- 90
4th- James Woods- 85.6
5th- Russ Henshaw- 85.3
6th- Jonas Hunziker- 80.6
7th- Alexsander Aurdal - 79
8th- Jeremy Pancras- 72.6
9th- Jordan Houghton- 71
10th- Thomas Waddell- 66
11th- Evan McEachran-31.6
12th- Hugo Laugier- 14.3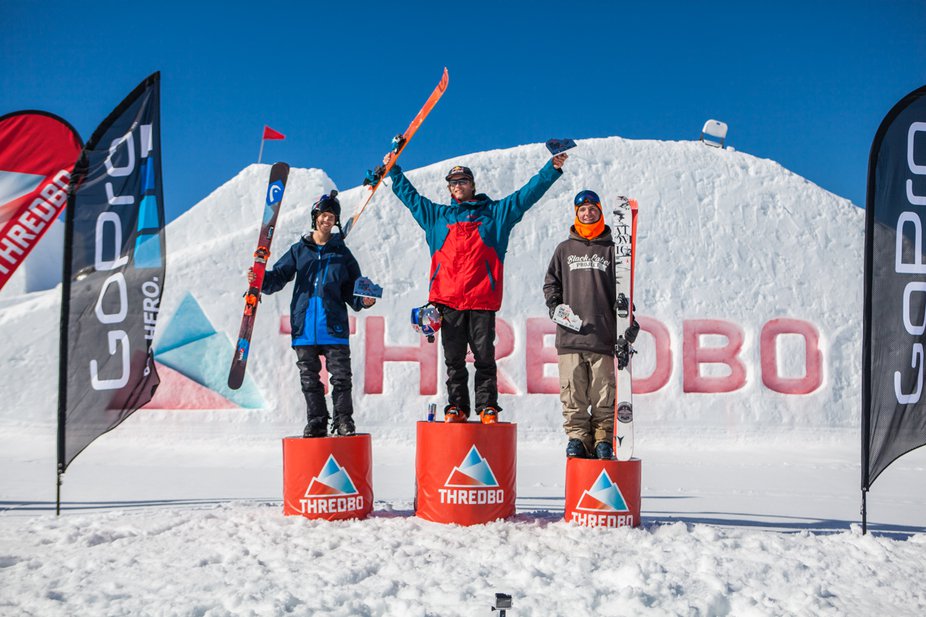 The Winners- 1st Oscar Wester, 2nd Jesper Tjader & 3rd Jackson Wells- Alister Buckingham photo
DAY THREE (Sat 12th Sep) Gameshow style battle for prizes. Here is a breakdown; each skier is paired up with another from a random draw. There are 3 rounds, and each team receives a score, with round winners and then the overall winners. Only one jump for each team, each round.
Rounds are as follows:
Round 1: Teams have one trick each adding up to a combined total of 1080 degrees of rotation.
Round 2: Teams have one trick each adding up to a combined total of 1260 degrees of rotation.
Round 3: Teams have one trick each adding up to a combined total of 1440 degrees of rotation.
So, for Round 1, one skier in a team could do a 360, and the other a cork 7, or one do a zero spin, the other doing switch 10, etc. etc., each combo would make 1080 degrees. Capisce?
The pairs (drawn from a hat):
Russ Henshaw & Jossi Wells
Jackson Wells & James Woods
Jesper Tjader & Evan McEachran
Noah Morrison & Ryley Lucas
Oscar Wester & Thomas Waddell
Beau-James Wells & Jonas Hunziker
This event was really fun to watch. Watching the boys get hyped up in pairs, discussing what tricks to throw, and seeing all the combinations of skiers really made for an interesting competition. There was a bit of wind, so the skiers stuck to the 50ft jump and the transfers.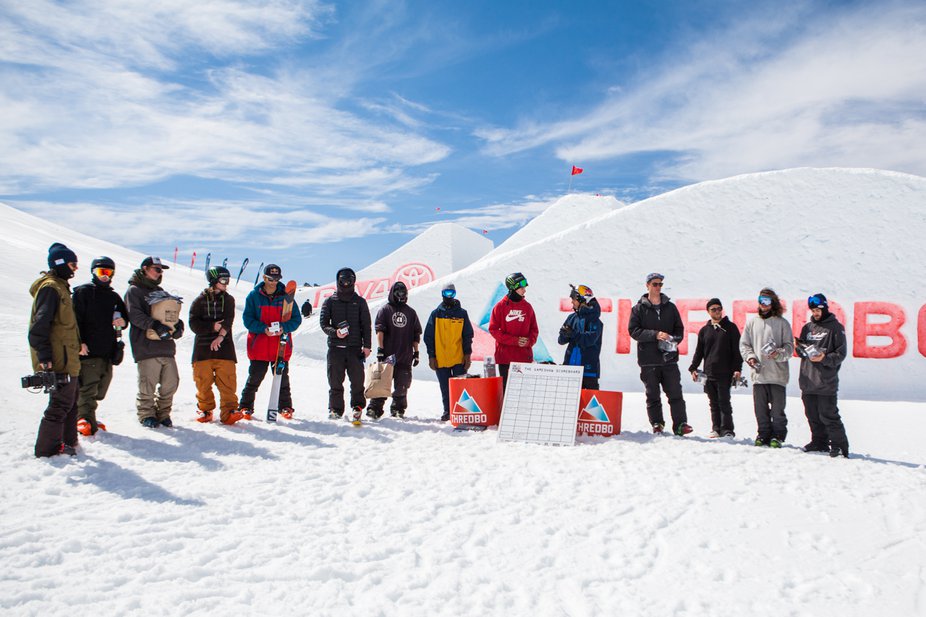 All the boys competing in the gameshow. Alister Buckingham photo
Ryley Lucas transfer 360 & Noah Morrison right cork 9 during round 2 of the Gameshow - Alister Buckingham photo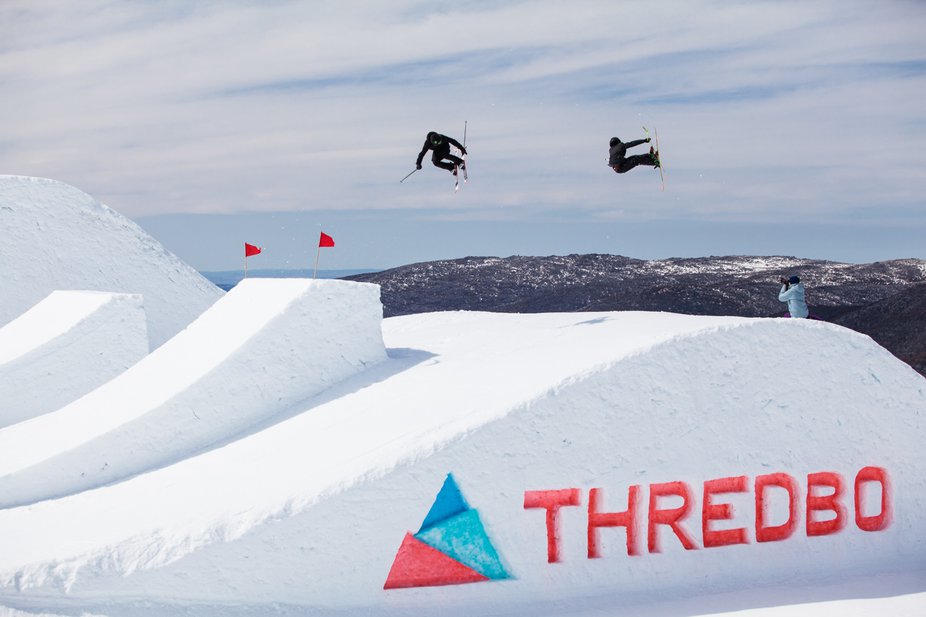 Jossi Wells zero spin, Russ Henshaw dub 10 for round one. Alister Buckingham photo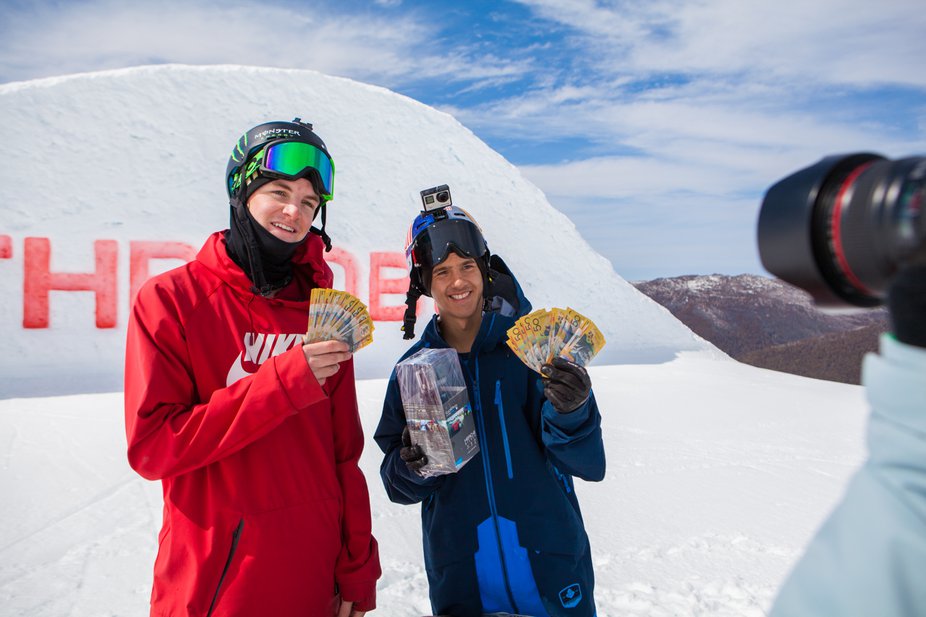 The winners; Evan McEachran and Jesper Tjader.
The boys were super creative with their combinations, including Evan and Jesper throwing rodeo 5 and sw misty 5 side by side off the knucle, and Evan with a cork 7 and Jesper with a huge double backflip over the transfer. Well deserved win by the boys!
All I can say is that it was one super impressive jump, and the boys were goin' ham, but don't take it from me, after all, I sat in a deck chair in the sun, drank beers and snapchatted you guys the entire time. So I asked the guys who know what they're talking about.
Elias Ambuhl: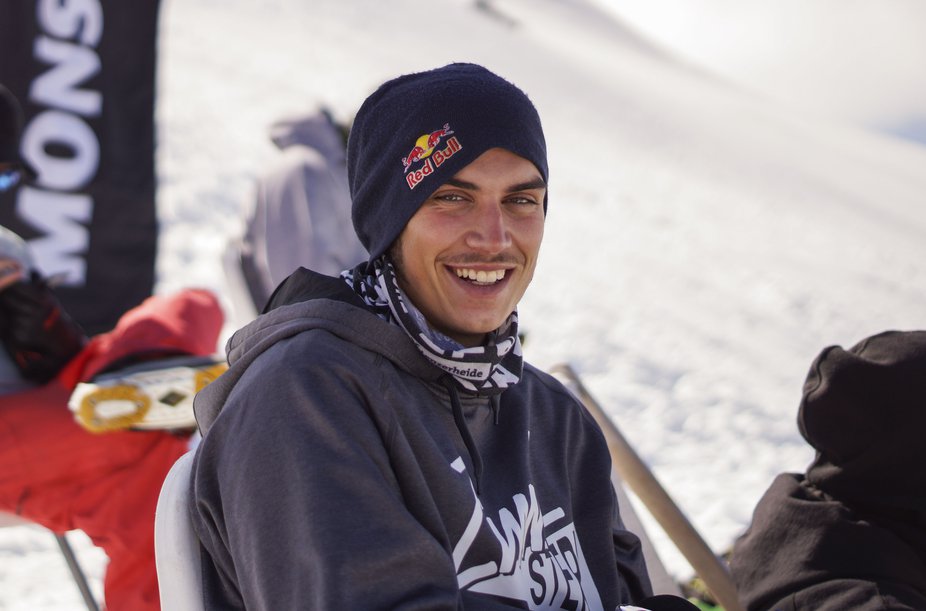 The Swedish machine who took out the win in 2014, and came back to attempt to keep his crown. Unfortunately he crashed both triples in heats and didn't make it through to finals. -Maddie Jones photo
"The jump is pretty perfect. One of the most fun comps I ski in all season. It's early season, and you're just throwing tricks with your friends, that's what makes it so sick."
James 'Woodsy' Woods: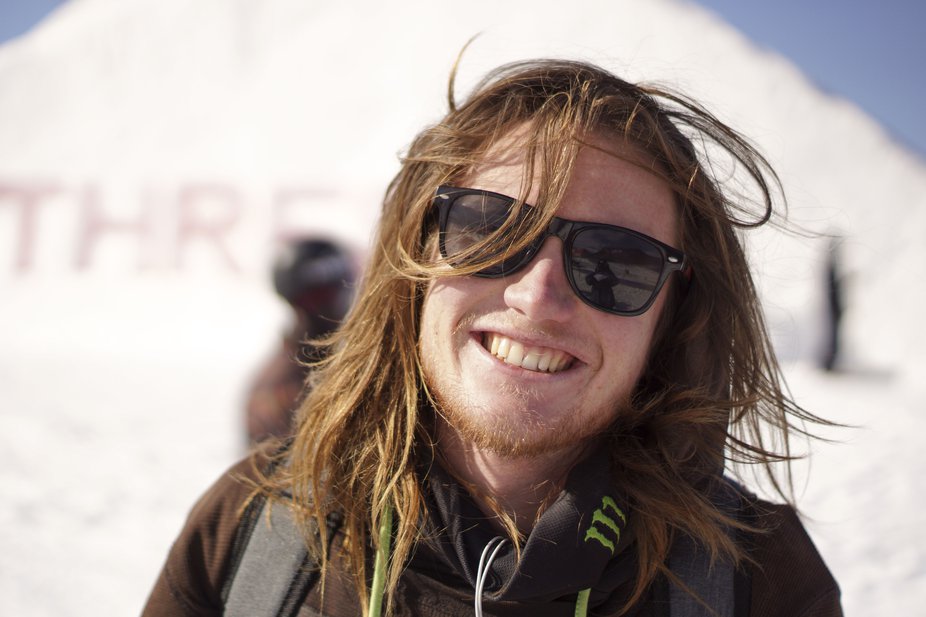 Quite possibly the nicest guy in the world, Woodsy is an energetic and enthusiastic guy, always amped on what was going down. -Maddie Jones photo
"Stoked to be back! Definitely the best jump they've built yet. It's great to be back with the whole crew."
Russell Henshaw: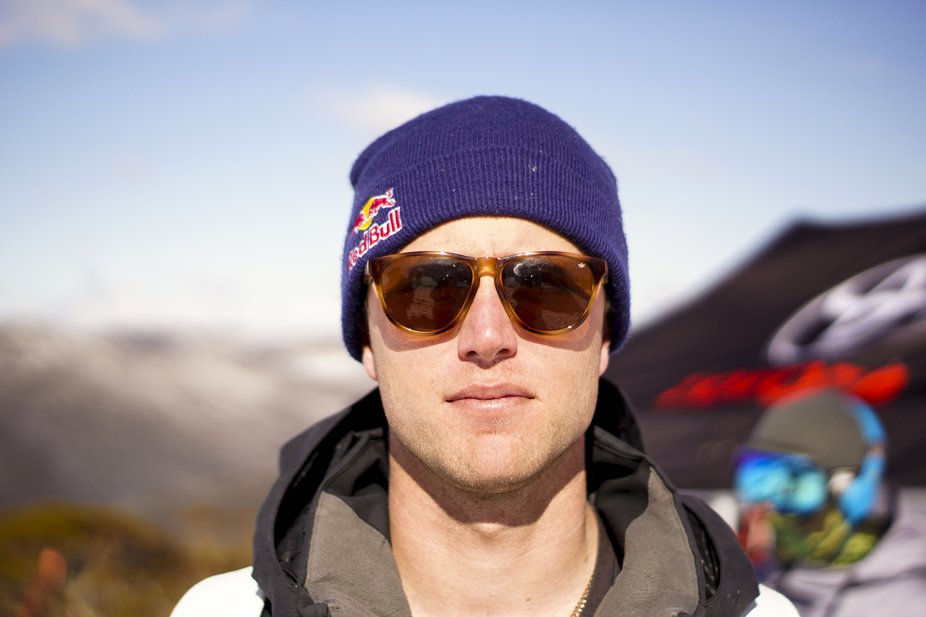 The Aussie powerhouse is back after a year off, and absolutely throwing down. The seasoned local is no stranger to OHW, and it's awesome to see him going big on the home turf. -Maddie Jones photo
"Super good to be back after a break last year due to injury. Jump is super fun- biggest i've hit in a while!"
Jossi Wells: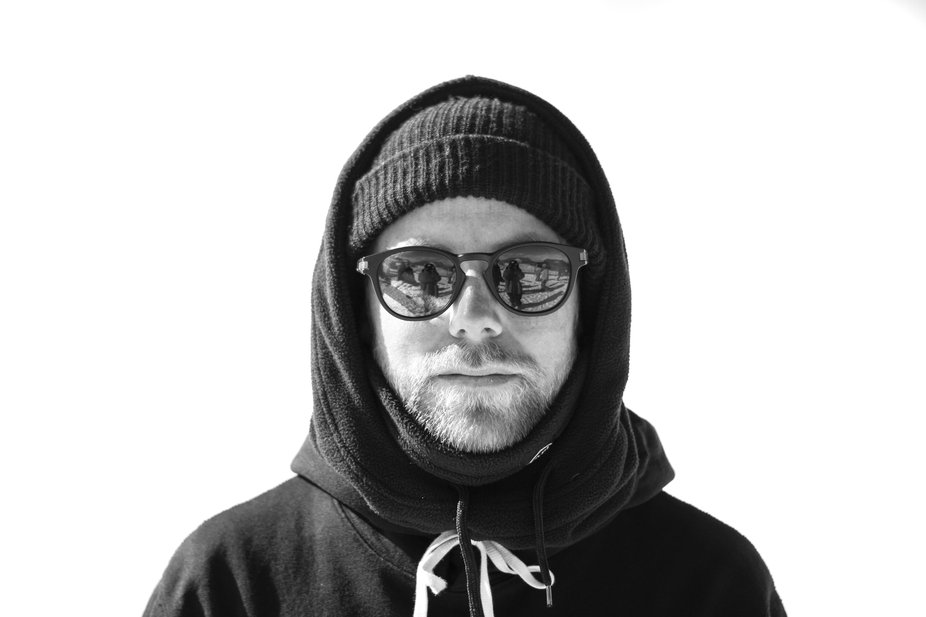 Black and white photo because Jossi Wells.
The King Of Style has returned to the monster booter this year after breaking his back at the event last year, something understandably nerve racking. -Maddie Jones photo
"Hitting it was gnarly for me after last year. Didn't think much about it until I was at the top... It was really cool to put last year behind me."
Wacko Wells: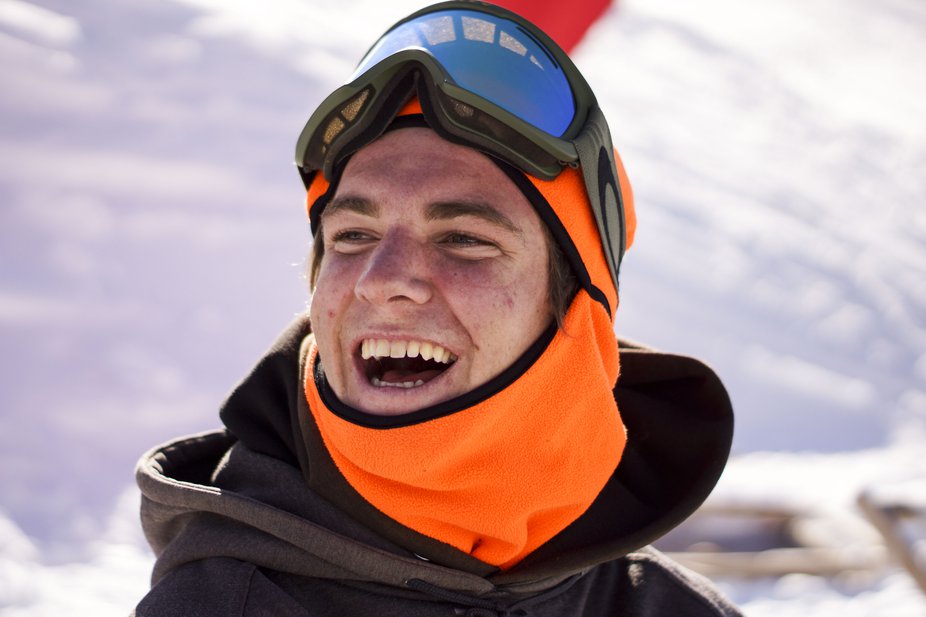 The youngest competitor, debuting at OHW, was all smiles. Wacko ended up 3rd, which is a testament to how powerful this guy is at such a young age. Stacking up against all the talent, he is definitely one to keep your eye on. -Maddie Jones photo
"It's my first time ever skiing in Aus, I'm looking forward to shredding with everyone here!"
Hugo Laugier and Jeremy Pancras: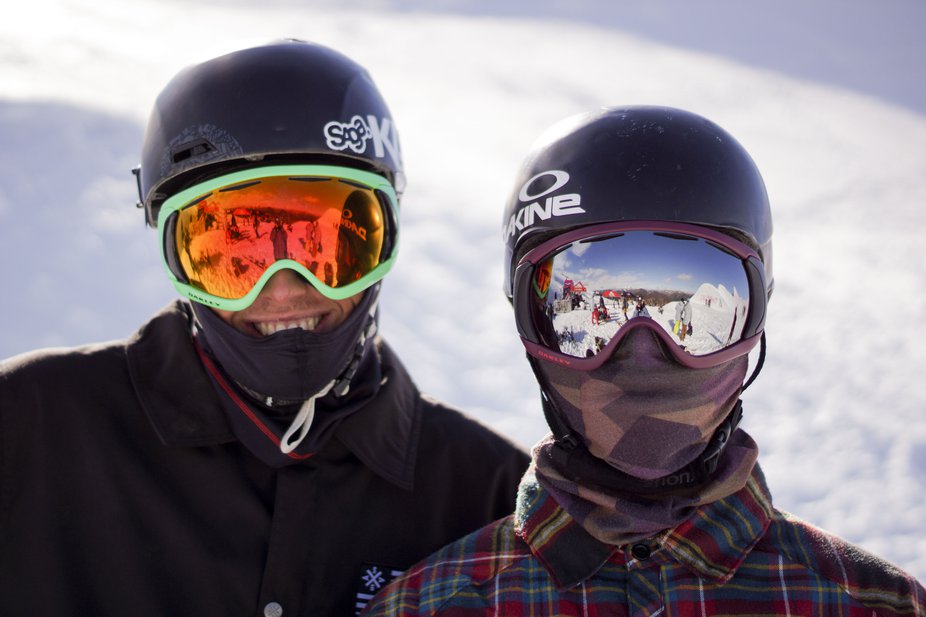 Le Frenchies could be found training each other into transfer hits so closely they had the crowd gasping. -Maddie Jones photo
Jeremy: "The jump is massive and impressive. Well built, perfect transfers. The wind [on practice day] made it hard, but a few tries smooths it out. Looking forward to the comp!"
Hugo: "It's a good jump, a big jump! The transfers are so sick!"
Oscar Wester: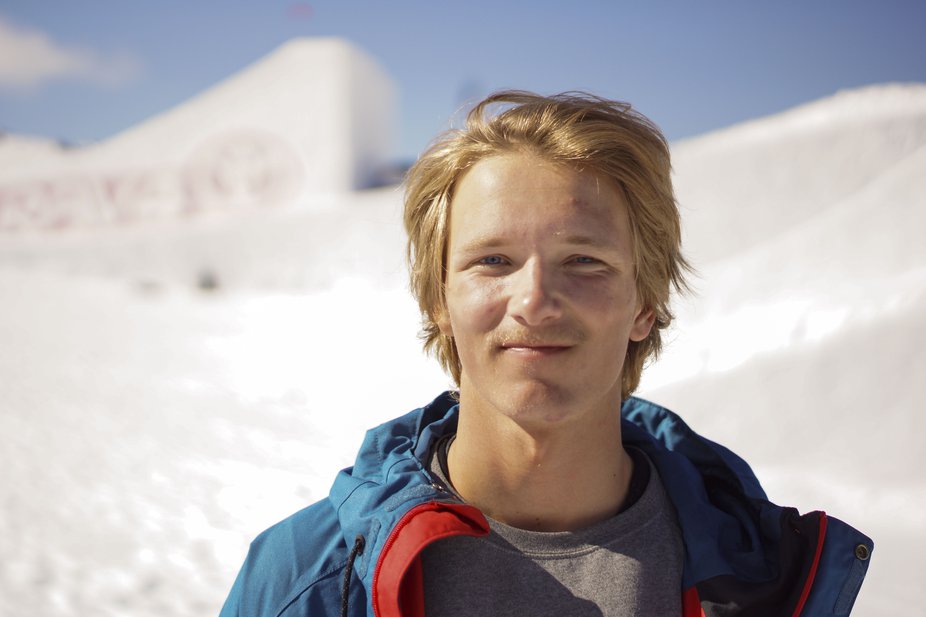 The Swede took out the win this year with one of the smoothest triple 16's ever. -Maddie Jones photo
"It's a big jump. I like it, but 2 or 3 meters down from the sweet spot is pretty heavy, so the right speed is needed for a good trick. But everybody kills it and has a good time. The weather is awesome, the whole event is awesome!"
Beau-James Wells: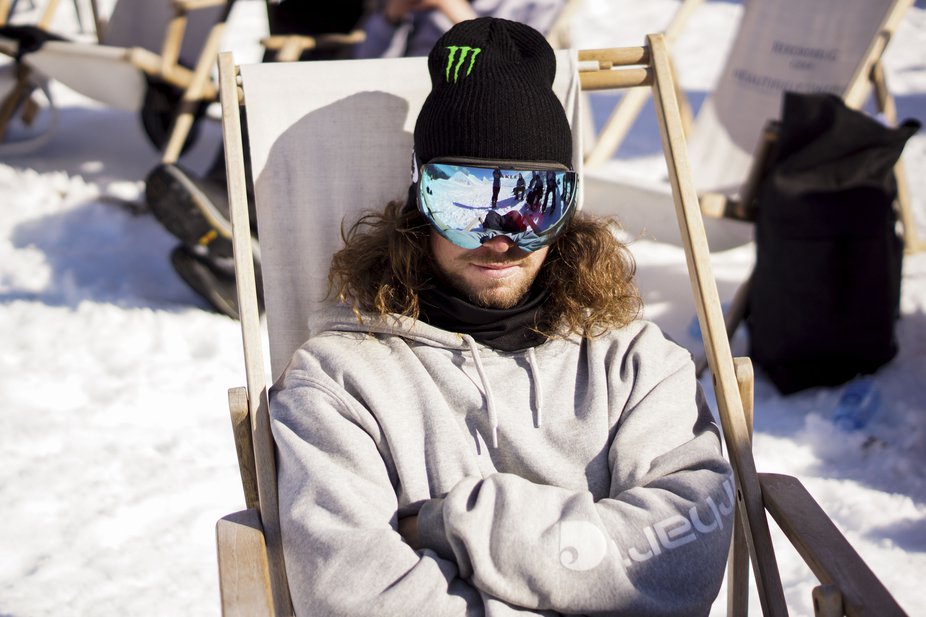 Beau-James was back for another year, and spent a lot of his time on the knuckle cheering for his little brother. -Maddie Jones photo
"Its my 3rd year back, and the jump is better than the last 2 years. I'm looking forward to the comp, it's gonna be fun!"
Noah Morrison: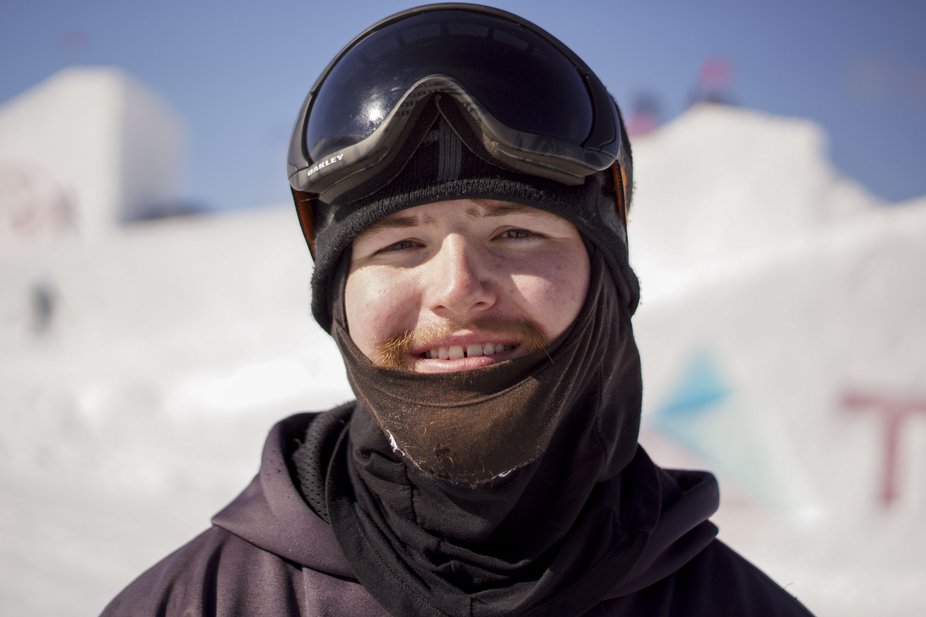 The Canadian sensation is back again, putting his skills and his liver to the test. -Maddie Jones photo
"I'm stoked. The weather was nice this year. Definitely the best built [One Hit Wonder] jump in all the years i've been."
Well, that's all from me guys. Anyone thinking about heading down under next year should definitely do it, and help me take over the NS snapchat again next season, I'll even bring the beers!