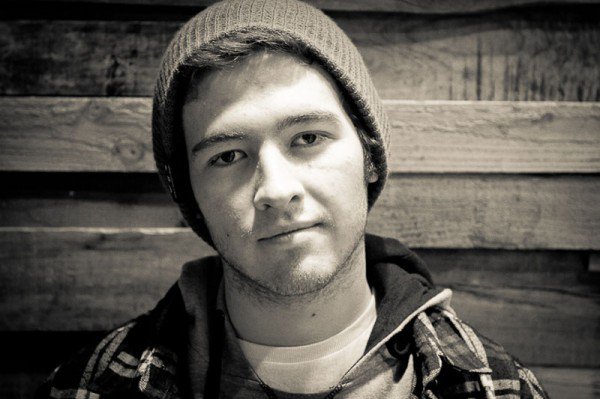 Nicky Keefer loves skiing. Seriously, when he's on hill, Keefer always has a huge smile on his face (you can practically see it through his facemask). Come to think of it, this talented ski coach is pretty much always smiling, whether he's on hill, skating the concrete jungle, or just hanging out with friends. When Keefer's not crushing it in the Windells park on a daily basis all summer, he's spending winter in his home state of Utah, skiing with the homies at Park City and Brighton and filming with 4bi9 Media. We wanted to know what Keefer has been up to since camp, so he filled us in.
SO, SUMMER ENDED MONTHS AGO, WHERE'D YOU GO AFTER YOU WERE FINISHED COACHING AT WINDELLS FOR THE SEASON?
I came back to Salt Lake City, Utah to take a little break from the snow! Just the right amount of time off the skis.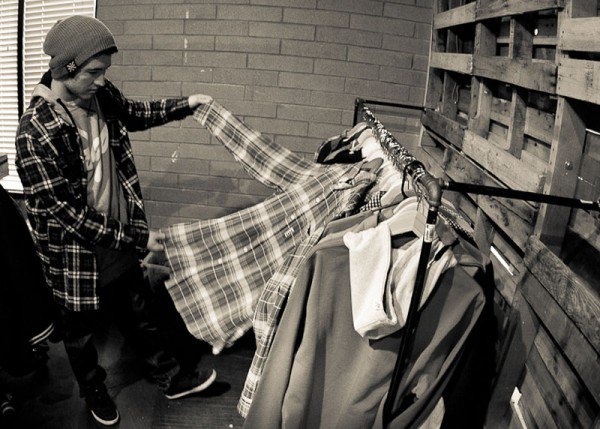 Keefer checking out some new Saga softgoods.
UTAH HAD A LATE SUMMER, DID YOU GET ANY FUN SUMMER ACTIVITIES IN WHEN YOU GOT HOME?
Well, since you basically have to get into skateboarding if you live at Windells.. I came home and skated the Saga mini ramp ALL the time! It's too much fun and I got a job at the one and only bagel place in the West: Einsteins. 
YOU FILM WITH 4BI9, TELL US ABOUT THIS SEASON'S MOVIE, "BEGGING FOR CHANGE". WHAT CAN THOSE WHO HAVEN'T SEEN IT YET EXPECT?
So, this year everyone in the crew came out swinging! AJ and friends produced our best film yet, and I think it is a film for everyone to enjoy with a variety music and a variety of skiing. Please pick up a copy at 4bi9 Media! You won't be disappointed, I guarantee it.
WE HEAR SAGA OUTERWEAR HAS A PRETTY SWEET OFFICE/CLUBHOUSE. DO YOU EVER GO HANG OUT THERE? WHAT'S THAT PLACE ALL ABOUT?
I hang there all the time, the office has a really friendly vibe. It's a mixture of business and pleasure, with the mini ramp and all the games, movies, and a projector. It's hard not to spend all my time, it's even fun to pick stickers and help with other things because of the purpose.
IT SEEMS LIKE YOU AND THE REST OF THE SAGA TEAM ARE REALLY INVOLVED WITH THE BRAND, FOR EXAMPLE, THE SLIMS VIDEO YOU GUYS MADE. ANY SNEAK PEEKS INTO ANY PROJECTS YOU'RE WORKING ON WITH THEM THIS WINTER?
Hmmmm..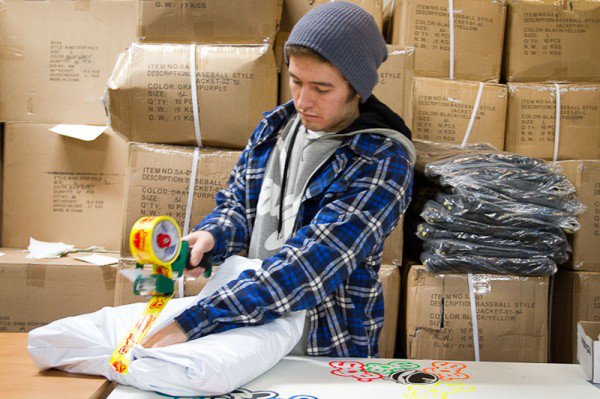 Keefer contributing to the cause, helping in the Saga Outerwear shipping department.
HALLOWEEN WAS PRETTY RECENTLY, DID YOU DRESS UP?
Yeah I put together this last minute janky costume. I was Zorro with a marker mustache. 
WHAT ARE YOU FAVORITE THINGS TO DO AROUND HOME DURING THE PRESEASON? ANY GOOD PRESEASON ADVENTURES YOU WENT ON?
Well, sometimes I go hunting with my dad, Tom Keefer. Unfortunately, his truck broke right before we were about to go this year. We were bummed.. But, we did some nice practice shooting. That is always fun.
SO, NOW WINTER'S STARTING, DID YOU DO ANY PRESEASON HIKING AND/OR SKIING BEFORE THE RESORTS OPENED?
Actually, this year I didn't! Since I got to ski all summer, I was out of ski mode for quite some time. I wanted to not ski as long as possible before the resorts opened, because taking breaks can be super beneficial, especially when you come back to something you missed and get a fresh start. 
UTAH IS A SKI AND SNOWBOARD PARADISE. WHERE DO YOU SKI MOSTLY IN UTAH, IN THE WINTER?
Well I grew up riding resorts like Snowbasin and Powder Mountain, but ever since I have been living in SLC (which is and hour south of where I grew up), I have been riding Park City for the Park and Brighton for pow skiing, and I like to hike too.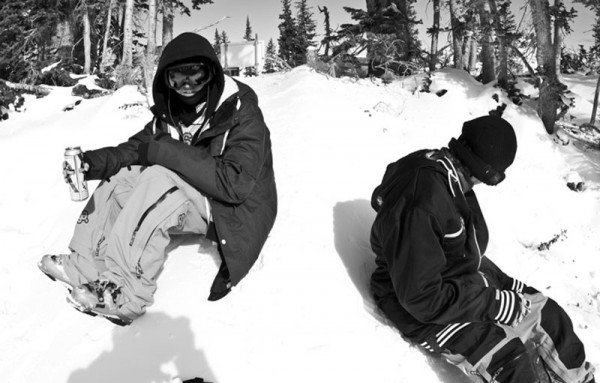 Nicky and Tyler Barnes at Brighton opening day.
BRIGHTON JUST OPENED THIS WEEK, HOW WAS OPENING DAY?
It was a good time defiantly, weather was really nice and my friends Rich Frogh, Tyler Barnes, and Jordan Harper all had a lot of fun. 
WHAT ARE YOUR PLANS FOR THE BEGINNING OF THE SEASON? TRAVELING? FILMING? GETTING READY FOR COMPETITIONS? LAY IT ON US.
This year I have been really trying to figure out the best kind of mind-set for the season, so I can do everything I wanna do…which is filming whenever it snows with 4bi9 and trying all sorts of new tricks at PC for the contests. I defiantly want to do as much as possible, because there are great things involved on both sides of the spectrum of contests and filming. 
YOU FILM A TON OF WEB EDITS THROUGHOUT THE YEAR. WHAT SHOULD WE BE LOOKING OUT FOR THIS SEASON FROM YOU?
Hopefully a ton more! Especially with my main crew of the Ruff Rydrz. These are my friends that I grew up with and hopefully we are gonna put out a bunch of content this season! 
FINALLY, THANKSGIVING IS COMING UP. WHAT'S YOUR FAVORITE PART OF THANKSGIVING DINNER?
Oh man probably my Mom's stuffing. It is the bomb diggity.
 
Windells - BMX. Skiing. Skateboarding. Snowboarding.