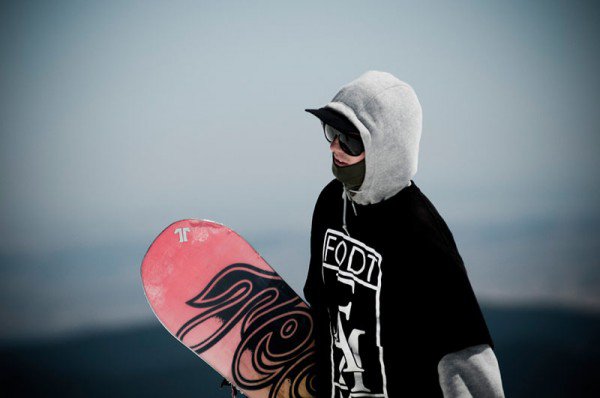 Here at Windells, we're lucky to be able to meet and hang out with some of the best snowboarders, skiers, and skateboarders in the world. Each summer, some amazing riders visit Mount Hood and spend time at camp, shredding the on hill park and skating the Concrete Jungle. Some of guys and girls that come to camp become good friends, and keep coming back year after year. But, what do these talented guys and gals do when summer is over? Well, we are stoked that some of the members of the Windells family are inviting us along for the ride this winter, by sending us updates of the adventures that go down while they're traveling, filming, competing, shredding with their friends, and having tons of fun this winter.
Dylan Thompson is an Oregon local. Dylan's from Hood River and has ridden at Windells for year. He's always been a staple in the Windells park. The last two years, he has hosted a session at camp with the Technine Team and we've gotten to know this awesome guy even better. He is a little shy when you first meet him, but there's nothing quiet about his ability on a snowboard. This year, Dylan completely annihilated the rail line in the park. You've probably seen some of the footage in our videos. In addition to his on hill skills, Dylan's always down for fun at camp. He competed in the Second Annual Technine Doughnut Eating Challenge with the campers, consuming his weight in powdered sugar. Dylan's awesome, so we wanted to see what he has been up to since camp ended. Judging by the photos of Dylan at premieres, contests, and with giant contest IOU checks in his hands, he's been busy. Here's the first installment of On the road…with Dylan Thompson.
SO AFTER CAMP, DID YOU HAVE ANY DOWN TIME TO CHILL AT HOME IN HOOD RIVER AND ENJOY THE LAST PART OF SUMMER?
Yeah, I hung out in Hood River for a few weeks and just did normal summer stuff. I went on a fishing trip and went out to Sun River for my moms birthday. We climbed South Sisters Mountain and went skydiving, which was pretty awesome, but a bit too intense for me. I don't think I could skydive again. I thought i was gonna die.
WHAT ARE YOUR TOP THREE FAVORITE THINGS ABOUT FALL IN OREGON?
I really enjoy the weather and the seeing the seasons change, seeing the leaves turn all those crazy colors, I like the anticipation of the new season, seeing all the new snowboard movies, and doing the premiers and all that, its alot of fun. Also, I enjoy skateboarding everyday, and doing other summer stuff I might have neglected to do all summer. 
SO YOU'VE BEEN TRAVELING A BUNCH THE LAST FEW WEEKS, WHERE HAVE YOU BEEN? HOW'S LIFE ON THE ROAD IN THE FALL DIFFERENT THAN IT IS IN THE WINTER?
We started by making a trip out to Colorado for the premier of "Familia 2″ at Snowboard on the Rocks. Then we had a premier in Salt Lake the next night. Then I went down to Bear for Hotdogs and Handrails. Went up to Seattle for the Downtown Throwndown and then out to Reno and Sacramento last weekend for more premieres. I also am flying out to Ohio in a few hours for a fun event and premier they do at Mad River. Its a lot different traveling now versus when winter comes. In the winter, we usually end up in one spot for a few weeks and it's pretty much all focused on going out and shooting all day everyday. It's fun to switch it up and do a few contests or watch new shred movies and party with all your friends. 
HOW HAVE THE "FAMILIA 2″ PREMIERES BEEN? FOR THOSE THAT HAVEN'T SEEN IT YET, CAN YOU GIVE US A SPOILER ON SOME OF THE AWESOME PARTS OF THE MOVIE?
It's been a ton of fun. Its always cool to get out to new places and meet new people who are stoked on snowboarding. Look out for Paxson and Marco's part, its really good and those dudes came up with some really creative, original type stuff that people are going to be really stoked on. Also, Brewer and Jonah have really dope stuff.
 
HOW WAS THE DOWNTOWN THROWDOWN IN SEATTLE? THAT EVENT LOOKS LIKE IT'S SUPER FUN, HOW MANY YEARS HAVE YOU COMPETED IN IT?
This was the second year I competed in it. The set up was super fun and its always a good time when you get to ride with all those guys. They all kill it so hard. It's awesome. It also didn't rain this year which is always nice. You never know what weather you might get in the northwest this time of year. 
ARE YOU GOING TO DOWNTOWN THROWDOWN IN SAN FRANCISCO?
Yep, I will be there. I'm stoked for that one, I really enjoy hanging out in San Fran. It's a cool city, really unique. [editor's note: since this interview, Dylan not only went to DTTD in San Francisco, but got third. Check out YoBeat's coverage of DTTD in San Fran.]
Photo from MFM and Fam.
 
YOU SPEND A LOT OF THE WINTER FILMING, IS IT FUN TO MIX THINGS UP COMPETING IN PRE-SEASON RAIL JAMS?
Yeah it is fun. It's a good change of pace, and its rad to ride with people you normally wouldn't get to during the season. It's also a lot different. When were filming during the season you can kind of take your time on things. I usually hit something for a while just to get one trick I'm happy with. During a contest, you have to just go for things and try to get them first try. You need to be a lot more consistent in contests.
IT'S ALREADY BEEN SNOWING IN UTAH–ANY GOOD EARLY SEASON STORIES?
We got almost a foot of snow about a week and a half ago. It was awesome riding on some real snow for a bit, but then it warmed up and now it's all gone. We camped up there a few nights before the snow came and managed to get lost in the woods at night. That was probably the most exciting thing that happened. Can't wait 'till we get more snow and we can get back up there for more adventures. [check out photos on the MFM and fam site here]
 
WHAT'S NEXT? WHAT ARE THE REST OF YOUR PLANS BEFORE WINTER REALLY STARTS?
I don't have any plans so far beyond going to San Fran. Hopefully take it easy for a bit. Hopefully get a little more nice weather and skating in. The snow will be here any time, and then I will be hanging out in the woods with all the homies and getting warmed up for the season. Can't wait for another epic season to kick off!
Stay tuned for more from Dylan this winter on the Windells blog and you can purchase "Familia 2″ here to check out his part, along with the parts of the rest of the Technine team!
Windells - BMX. Skiing. Skateboarding. Snowboarding.