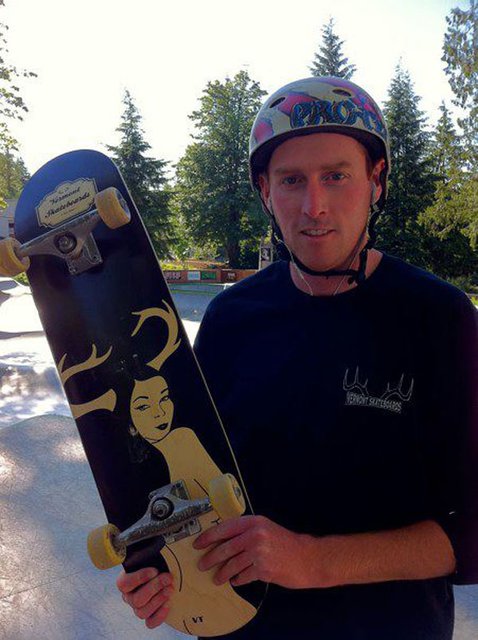 Coach Danger Dave rocking local Vermont Skateboards in Oregon.
This week, as we follow friends and family of Windells during the 2011-12 season, we are checking in with Head Snowboard Coach, Danger Dave. Danger just moved to Summit County in Colorado and is enjoying his new location with tons of snowboarding, skateboarding, and hanging out with friends. What is early winter like for a professional coach and amateur pool player? Read on to find out!
SO, YOU MOVED TO COLORADO THIS SEASON AFTER LIVING AND TRAVELING OUT OF VERMONT FOR YEARS. WHAT HAS IT BEEN LIKE GETTING USED TO BEING A LOCAL IN SUMMIT COUNTY? WHERE ARE YOU LIVING AND SNOWBOARDING?
I did live in Vermont for years, thirty years actually, born and raised! Moving to Colorado this year has been a big change, primarily in the levels of vitamin D that I get from the sun. The hardest part about being here is the quality of riding. I grew up snowboarding every day come hell or high water. Occasionally, it would get so gnarly the mountain would shut down, that's how I knew to take a day off. Here, it's sunny just about every day, so I find myself sitting inside on days I would have normally gone snowboarding back in VT. It makes me fell like a total wussy, but according to my Rome 100 Day Tracker app, my 32 days on hill all ready this season are making me feel o.k. with taking today off. The toughest decision I have to make right now is, do I go ride and immaculate pipe at Copper, fun jumps and boxes at Breck or go to Keystone, deal with the "cool" crowd and play on the big jumps for a while. It hasn't been snowing so riding Vail, Loveland or A-Basin has been off my radar, but the first pow day we get you can guarantee I'll be at one of those places.
So now I'm living in Breck, I've got a sweet one bedroom bachelor pad! It's awesome not having room mates any more. When I leave the house clean in the morning, it's clean when I get home. And I can rest assured that no roaming vagrants will be spending the night in my bed when I'm on the road.
As far as claiming "local" status in Summit, I think that's a joke. I've met 2 actual locals here. In my opinion you either need to be raised in or around the resort to claim local status, that or you have to spend at least 10 years (summers and winters) in the resort town to be able to make that claim. After being a Stowe local for so long, it feels a little weird not being a local anywhere, and I still call the town of Stowe home.
IT ALSO SEEMS LIKE A HECK OF A LOT OF PEOPLE FROM VERMONT MOVE TO COLORADO (THOSE THAT DON'T SEEM TO END UP IN TAHOE). IS THERE A PRETTY SOLID VERMONTER-IN-COLORADO CREW THIS WINTER?
There's a solid crew of Vermonsters in Colorado right now, but the Windells family has been holding it down everywhere I go. I think more of the Vermont clan is chilling in California. While the winters here are sunnier, they aren't much warmer. If you spent your entire existence riding subarctic temps, why not move somewhere where it's warm and snowy?
COLORADO IS ONE OF THE FEW PLACES WITH LOTS OF SNOW RIGHT NOW, HOW'S THE RIDING?
I think the term "a lot of snow" is relevant. Compared to the horror stories I've heard about Tahoe and the East Coast, yeah CO has "lots" of snow. However, this time last year I had all ready ridden waist deep pow here. There's been very little natural snow, but thanks to cold temps all of the mountains have put up at least a couple respectable jumps and some differing but fun jib set ups as well. My jump and rail game has never been more dialed, but I have a Ride Berzerker (the Jake Blauvelt Pro Model) just itching to get back into some pow, and I want to get it there.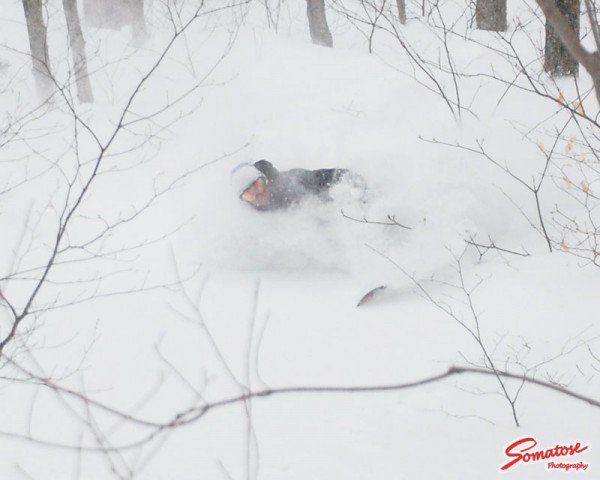 Did you know powder can be like this in Vermont? Stowe. p: Adam Baisley.
THIS TIME OF YEAR A LOT OF SNOWBOARDERS FLOCK TO CO FOR TRAINING AND CONTESTS. CAN YOU DESCRIBE THE SCENE OUT THERE FOR US?
The scene out here right now is really out of hand. I was in the lift line at Keystone the other day and there were 7 RedBull helmets in the line. Seb Toots, Scotty James, some boardercross dude, Sarka Pancochova, Bobby Brown, and so on, all those helmets were legit, it was just weird. You can't drop in to a jump line or halfpipe without snaking the worlds best snowboarders and skiers. The only problem with this is that it attracts a bunch of posers who are bitter that they aren't Bobby or Seb. It can make the attitude in the lift lines a little edgy from time to time. Other than that, it's amazing to be surrounded by such high levels of shredding every where you go. I dig it!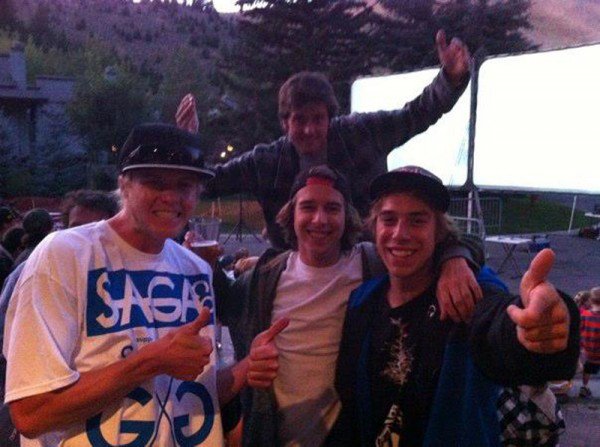 A crew of Windells Ski Coaches psyched for their premiere.
YOU'RE JUST STARTING THE CONTEST SEASON RIGHT NOW. CAN YOU DESCRIBE YOUR DAILY ROUTINE ON AN AVERAGE DAY?
Well for just about everyone else, yes the contest season has started. Ty Walker (the girl I coach) participated in the Paul Mitchell Progression Session at the Grand Prix and finished 3rd, but that was less of a contest and more of a good time shredding a sweet set up. Other than that, the earliest contest on her schedule for this season will be the Burton Canadian Open and that's not until February. I don't think that these December contests are good for the majority of riders. For the best riders in the world, I don't think it's that big a deal. For people on the bubble, about to step up their game, I think December is best spent working on developing the basic skills, getting better at what you are all ready good at, and maybe starting to explore some new tricks. But I know plenty of people who have ended their season in December hoping to finish in the top 20, if you're potentially looking at a top 5, then maybe it's worth the risk. If you're not, get better and win one or two of the contests later in the year.
That being said, Ty and I are focusing on the basics and getting ready to step it up in the new year.
My daily routine looks like this:
Wake up, turn on VH1 for some music videos while I get ready, throw on a bunch of first layer, pack my backpack for the day and head out to the bus stop. The bus takes me to the bottom of the gondola at Breck (I drive if I'm heading to Copper or Keystone), meet up with Ty and start making some laps. Right now we are running a lot of drills between the top of the mountain and the top of the park in the morning. Then spend most of the day lapping the jumps and rails. I trade off between running laps with Ty and standing around videoing Ty running laps so we have something to review every couple of days. When we finish riding we typically head over to Woodward at Copper to hit the trampolines, ride the dry slope or a number of other things. When we've finished the dryland portion of our day I hang around a skate the bowl with homies for a couple hours. After that I head home, call Gourmet Cabby (it's an amazing delivery company that brings you food from just about any restaurant in town. Since I can't cook this is the most amazing thing ever) for dinner then download the days footy and try and relax. I usually end up falling asleep on my couch and then make my way to bed later. That's a typical day. With everyone in town though, there's been tons more skate sessions, group dinners, traveling here or there to hang with long lost buddies of seasons past, and pool, lots and lots of games of pool. That's how coaches compete for total domination. The riders get it done in the parks and pipes, we get it done on the pool table.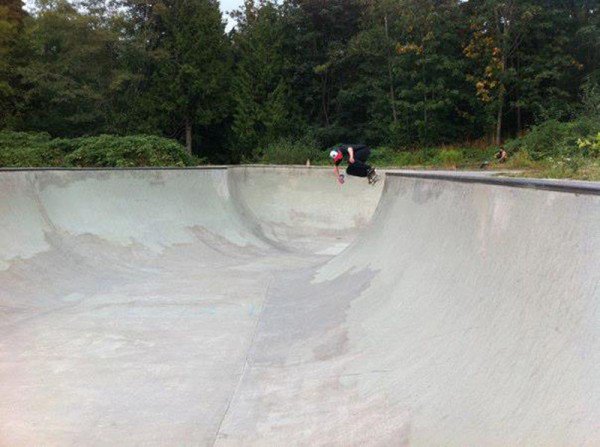 Bellingham, Washington Skate Park. p: Jake Blauvelt.
OK, BRECKENRIDGE HAS SOME OF THE MOST DELICIOUS RESTAURANTS. WHAT'S YOUR GO-TO PLACE FOR GRUB THERE?
Go to places for food in Breck…there's a lot of em. Morning is easy, it's either a breakfast bagel at Clint's Bakery or Daylight Donuts for some delicious breaky burritos. Lunch, there's only one spot in my mind Dougans Deli. They are the closest thing you can get to a NY deli, and they make the most bomb sandwiches. Dinner, things get tricky, again Gourmet Cabby delivers, so often I order in. But if I'm going out, Twist, Blue River Bistro and Modis have all struck a chord with me. I have yet to eat at The Hearthstone, but I hear it's also delicious. All of these spots are not for the "thrifty" snowboarder, they are pricey, but worth every penny. For the more budget conscious rider, I recommend Giampettro's and Empire Burger. Empire has awesome burgers, a great philly and an assortment of condiments that never gets tiring. Giam's has pizza by the slice and the best pasta dishes in town.
WHAT IS CURRENTLY STOKING YOU OUT ABOUT EARLY WINTER?
What's stoking me out the most during this early season shredding is working on the basics. I spend so much time through out the year watching people snowboard, actually getting to do some right now is pretty awesome. I've also been trying to get back my old rail tricks, I'm claiming front blunt 450 out the other day on a box at Breck. I used to have some serious rail skills years ago so getting some of those tricks back is really stoking me out. I'm also declaring it the year of the alley-oop and the air to fakie in the pipe. I've been doing a bunch those in the pipe lately and that has me fired up as well. And skateboarding, I haven't skated this much since I was 16 and I'm not even sure I skated this much then. That has me really pumped.
BESIDES SNOWBOARDING, WHAT HAVE YOU BEEN UP TO IN YOUR FREE TIME?
People always ask me what I do when I'm not shredding. Honestly, I don't know what to do with myself if I'm not snowboarding. December marks my 25 consecutive month snowboarding. Take the shred out of the equation and I'm lost. I have, however, finished my certification process for my USSA Level 300 certification. What this means is I am now certified to either run my own USSA snowboarding program (kinda like what I do at Windells) or certify other coaches at the 100 and 200 level. Actually, about a week after I was certified Level 300, I got to run my own Level 200 cert program. It's awesome to be able to give back some of the knowledge that has been bestowed upon me over nearly a decade of coaching. Other than that I do my laundry, skateboard and shoot pool. I also completed a FIS judges clinic. It's good to know how the judges will be looking at things when you're a coach. I think it will really help me be prepared when it comes time to help Ty qualify for the Olympics. Knowing how you'll be judged gives you the advantage of exploiting the criteria for your best chances at winning.
ANY GOOD RECOMMENDATIONS FOR AWESOME YOUTUBE OR VIMEO VIDEOS WE NEED TO CHECK OUT?
VImeo/Youtube videos… I love Facebook for this stuff. Seriously, my Facebook friends have a ton of free time on their hands and I reap the benefits through the most awesome viral stuff on the web. However, between "Sexual Snowboarding" and the Xavier de la Rue part that's out there, nothing is really impressing me as of lately. The Xavier part though is hands down the heaviest snowboarding I've ever seen. I literally had anxiety watching that. If you fall, you die. That's as gnarly as it gets.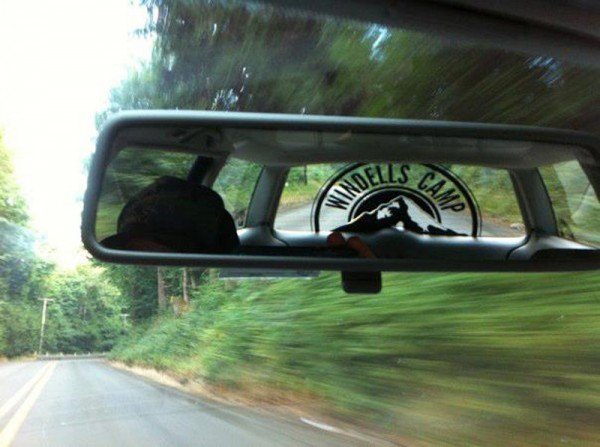 Danger Dave is no stranger to driving cross country.
LASTLY, WHAT ELSE HAVE YOU BEEN UP TO SINCE SUMMER THAT HAS BEEN AWESOME?
I guess the raddest thing that's happened to me since camp ended was my road trip at the end of the summer. I went and visited a good friend of mine in Bellingham, WA and skated a few parks up there, came back to Hood, had my last few sessions in the Concrete Jungle until next spring, then packed my car and started driving. On a whim I swung into Sun Valley Idaho and caught their video premier weekend where I ran into coaches Collin Collins, Brady Perron, John Ware, and Jon Kutcher. I got to check out their video in Collin's home town. I also got to hang with my homies Andy Gilbert who runs the SunValley Snowboard team, and SunValley freeski coach and good times coordinator Ben Verge. I hung at Verge's house for a few days and skated the Ketchum, ID and Hailey, ID skate parks. Both awesome, both super fun. So much so, I extended my stay for a couple more days to the possible dismay of my gracious hosts. Then it was off to Breck where I couch surfed and skated until I found my current man cave. Me and Hans Mindnich got to catch up on old times with some great skate sessions in Breck and Silverthorne. I also visited Vermont in October, helped my mom close up her gardens for the winter, skated Talent Skateparks super sweet bowl and the Burton Bowl (one of my favorite wooden bowls) and got some closure on the fact that I don't live in Stowe anymore by visiting all my friends one last time. I also caught a Spitjack show due to my flight being canceled. They're a punk band from Vermont. They have the worst lead singer ever and if you see them spit your refreshments at him. He's a kook and has an allergy to T-Shirts and deserves to be covered in every one's beverages or random condiments. The rest of the band is cool though, I like those guys, but the lead singer…. ugh…
Windells - BMX. Skiing. Skateboarding. Snowboarding.