Words & photos: Julie Weinberger
A few days before New Years, my buddy Mike Leake asked if I wanted to go to Revelstoke for a few days. I knew the Freeskiing World Tour was rolling through there, and it's been two years since I've shot a big mountain competition. Lots of my friends are on the tour, so this also seemed like a great way to see everyone all together in a sweet place I had never visited.
Suddenly, a few days turned into a 19-day epic road trip from Jackson to Revelstoke to Kicking Horse to Red Mountain and finally back to Jackson.
The adventure began on January 4th when I left Jackson and met Mike and his buddy Jed in Driggs. We loaded up Jed's 1979 camper van with all the essentials, and hit the road.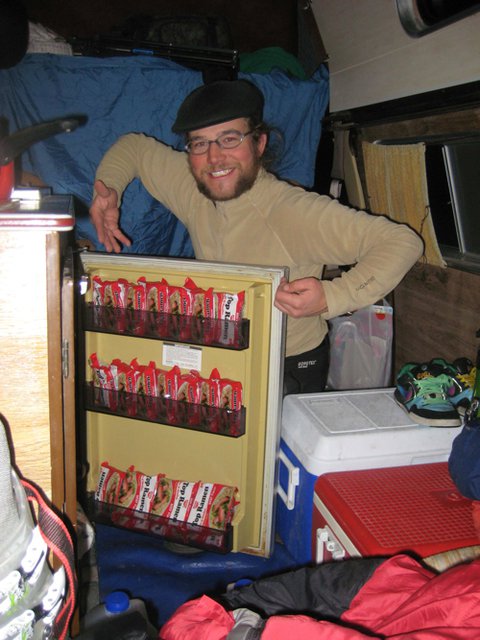 The van is stocked. We can leave for Revelstoke now.
Fifteen hours and countless "Aspen Extreme" and "Dumb and Dumber" quotes later, we were parked in an empty lot, plugged into a sports injuries facility, stealing electricity and Internet in Golden, BC, anxiously waiting for morning for the final push to Revelstoke.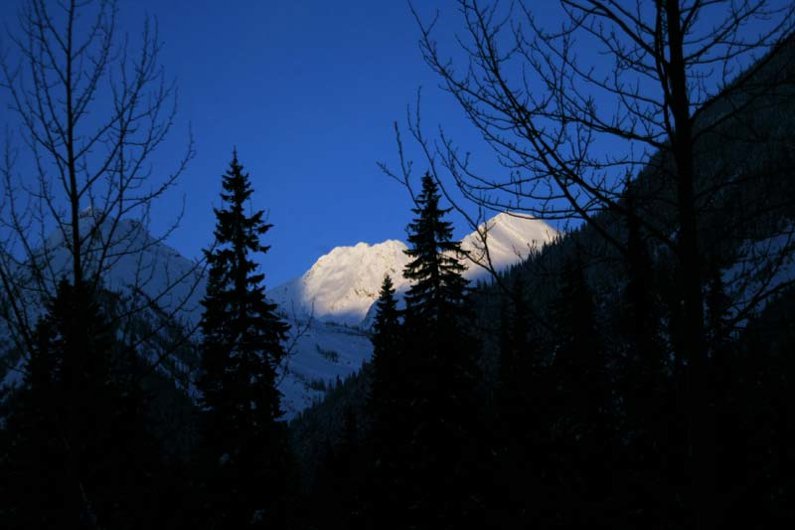 This was our view driving over Roger's Pass on the way to Revelstoke.
Between the competition venue inspection all day and the athlete welcome party that evening, we immediately ran into friends from all over. From people I had met years ago skiing in college to friends made on random backcountry missions to those only seen partying, all these people were gathered in the same place at the same time. As soon as one headed out of town, another rolled in. It was as if we had been around each other all along, never missing a beat.
And, with Level 1, Rossignol, Dynastar and a slew of other companies up shooting, these weren't even all people here for the contest. Everyone was here because it was simply meant to be, because we were all ultimately on the same program, living in the here and now.
Anyway, the contest went off (Revelstoke Freeskiing World Tour coverage). We partied and danced our butts off, and probably cleaned Outabounds Night Club out of Jack Daniels. Once the competition was done, it seemed like time suddenly slowed down. Transient hotel room dwellers returned to their respective homes and bedtime happened before 2 a.m.
At this point, Mike and Jed had already left, and I was tagging along with my longtime ski buddy Chris Tatsuno. Tats is spending his winter running around British Columbia after winning the Powder Highway Ultimate Ski Bum contest...
 
With all the times he has crashed on my couch over the years while living out of a van, the ski bum cycle has come full circle as he returns the favor, playing host to this broke powder craver.
Sitting in the hotel listening to Tats and filmer Justin Dersham plan their assault of the Powder Highway region, I couldn't help but want to tag along for the next two months. Cat skiing, heli-skiing, lift tickets, lodging, new places and, most importantly, good company all sounded so inviting.
Looking ahead at the forecast, it seemed the sunny skies were used up on the inspection and qualifying days.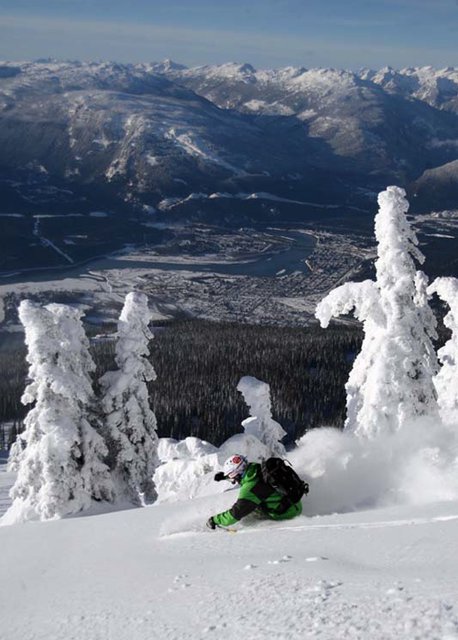 Mike Leake finds pow in Revelstoke.
Snow, however, was heading to Revelstoke in a big way. While it stayed too warm low down for snow, up high was deep, and it kept getting deeper. Revelstoke has nearly 6,000 feet of vertical, so even if only the top 2,000 are dope, it's not a bad day. We even had some lucky moments when the top was above the clouds.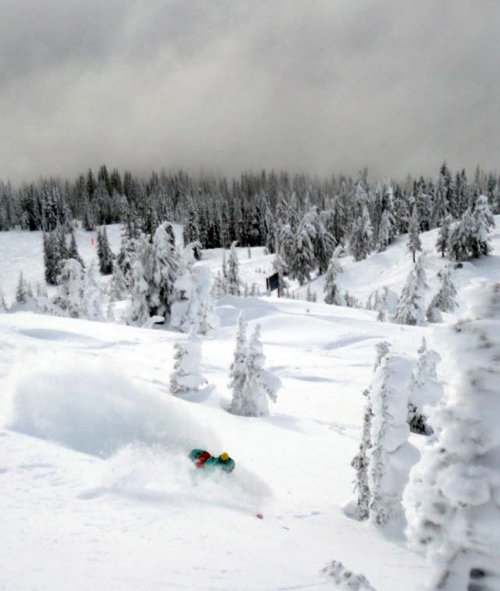 Colter Hinchliffe gets deep above the clouds in Revelstoke.
The sendability factor in the Revelstoke slackcountry was high. We were all pretty dumbfounded by all the hike-to terrain off The Stoke chair lift. It just kept going, and there was stuff for all appetites from mellow trees to AK looking faces.
Chris Tatsuno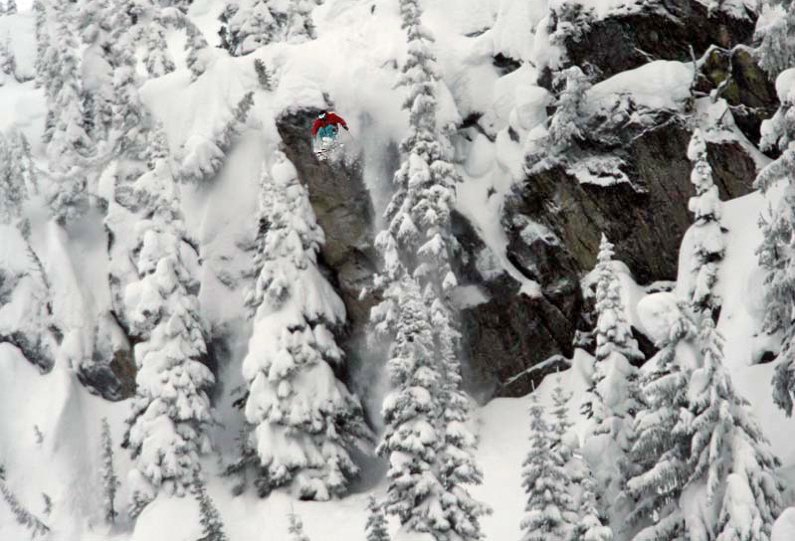 Will Dujardin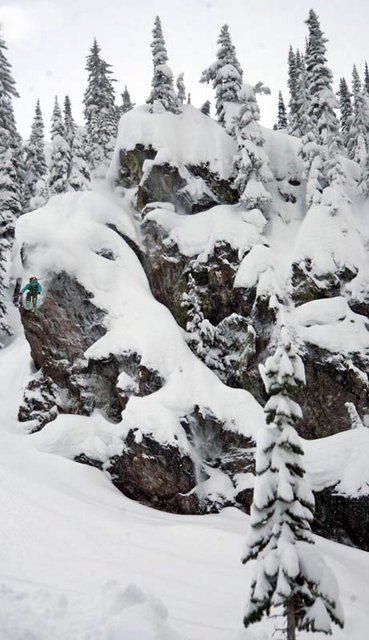 Colter Hinchliffe sending a double stager.
At some point, we had to hit the road to check out another resort on Tats' Powder Highway tour. We opted for Kicking Horse. After a slow, snowy drive over Roger's Pass – it actually closed for avalanche control work for a few hours – we arrived in Golden, ready to rage. The hotel had a sick flat screen TV, so we hooked Justin's camera up to it and looked at the Revelstoke footage. Needless to say, it did not suck, and it got us all super amped for the coming days.
While Justin and I spent most of the first Kicking Horse day in the bar knocking back double whiskey waters due to a lift ticket malfunction, Tats got his ski on under sunny skies, scoping spots. Sadly, though, the greybird returned, creating less than optimal shooting conditions. But, we made do.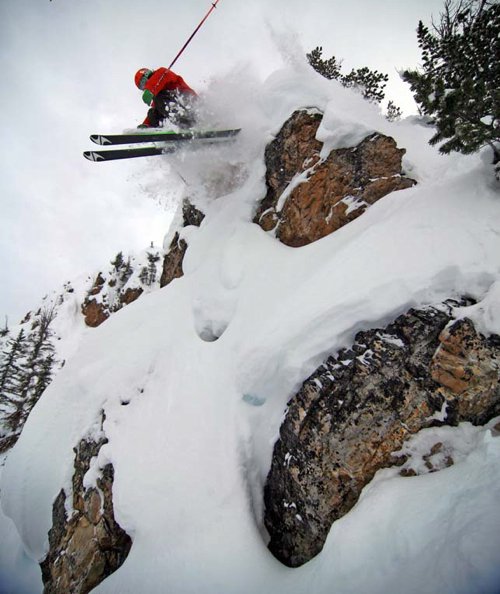 Chris Tatsuno sends it in Kicking Horse.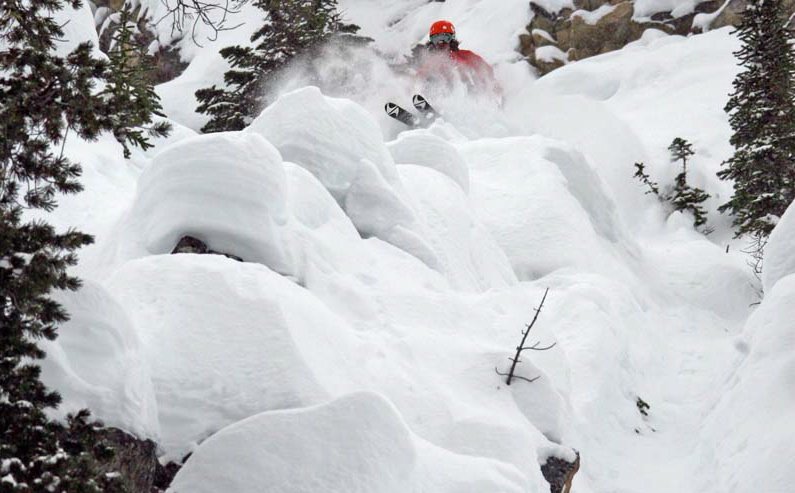 Pillows everywhere.
Kicking Horse has a unique setup of ridges you traverse to off the lifts for an unlimited supply of pillows and cliffs, all with steep, open run-outs. With minimal crowds, the goods stayed good even though it was not snowing much during our stay. We were lucky enough to have the resort's Director of Sales and Marketing, Michael Dalzell, and his buddy Greg Porter, who actually owns Great Canadian Heli Skiing, guide us around one day. Greg can fly every day, yet every Monday he comes to ski at the resort.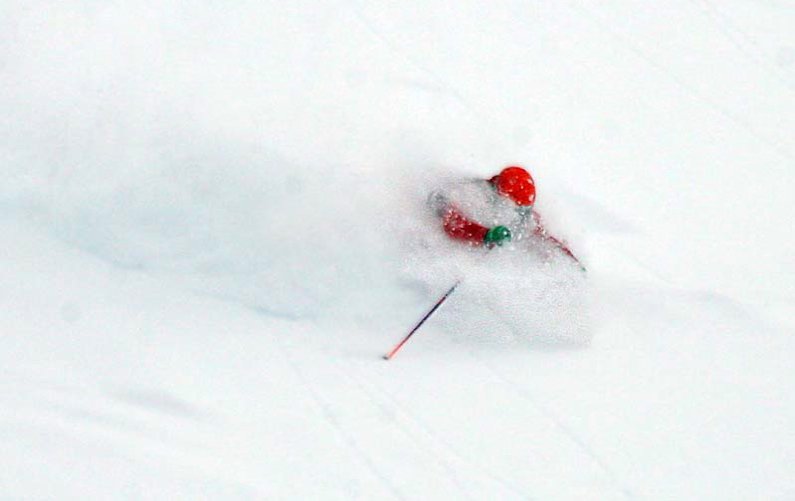 Deep!
Then, it was on to resort number three, Red Mountain, located in Rossland, BC. My plan was to stay there for three or so days, but a quick look at the forecast back home caused me to get back there. After a day of skiing Red and a brutal drive through the night, I arrived in Jackson at 4:30am, and it was nuking. Six hours later, I was floating through 20 inches of pow.
Adventures in amazing places with friends cannot be beat. Something about the overall sprit of such trips makes them unforgettable. But, there is nothing like coming home to your favorite place with a couple feet of fresh.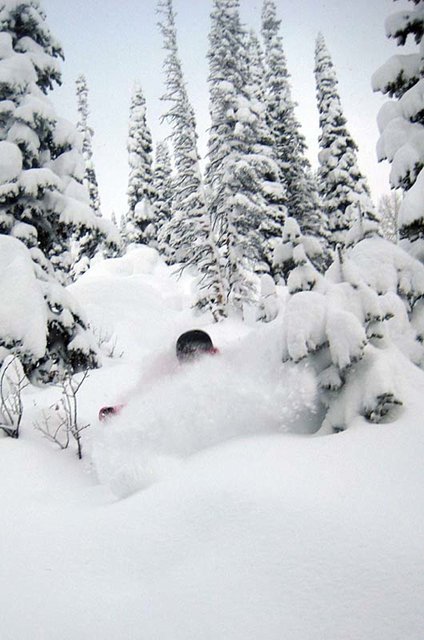 Nothing quite like coming home to this!