We hope you are all having an amazing season and enjoyed the excitement of the Winter Olympics which happened right here in Whistler. On top of all the charged energy for the Games, there was some special pride felt from all of us here at Momentum, with the incredible performances from our former campers and coaches.
Former Campers sweep the Olympic Podium…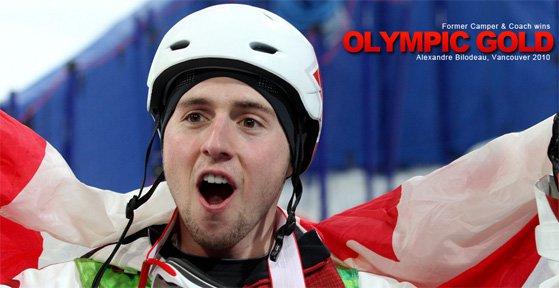 4 of the possible 6 medals went to former Momentum campers! Alex Bilodeau (GOLD), Dale-Begg-Smith (SILVER), Jenn Heil (SILVER) and Shannon Bahrke (BRONZE)! A Huge Congratulations to all the medalists, as well as finalists and former campers Kristi Richards and Pat Deneen and Momentum coach Vincent Marquis, who narrowly missed the podium in 4th! The level of mogul skiing and performances at the 2010 Olympics was remarkable and the atmosphere with the crowd was electric. Alex's historic first Gold win for Canada on home turf has ensured him a place in the nation's history books and has inspired both the new and old generation!
Bilodeau and Marquis confirm they will coach this summer…

Hot off winning Olympic Gold and despite all the demands such a victory brings, Alex Bilodeau confirmed he will be coming to coach at Momentum this summer. Perhaps remembering his own young years as a camper back in 1999, 2000 and 2001, Alex knows what it means to be inspired by champions and is happy to give back to his sport and help the next generation of great skiers. Vincent Marquis has also confirmed he will be back to coach with the crew this year.
Freeride News….

Many of Momentum's Freeride coaches are in Europe for the European Open and the first ever European X Games. A big congrats to JF HOULE for getting back on it and winning the Euro Open Rail Jam! Unfortunately the Superpipe was cancelled but Justin Dorey did win the Qualifier! Just in from the Winter X -Games, Dorey finished 3rd in the Halfpipe with Mike Riddle just behind him in 4th. Read the full story on our web site or Fan Page. If you haven't already, check out all the competition highlights on our news feed at http://www.momentumcamps.com, including TJ's and Pete Olenick's recordbreaking performances at the X-Games.
NEW: Win A Free Camp Contest…


Momentum and TJ have teamed up to run a contest to win a FREE all-inclusive summer session (Session 4, July 10 – 18). TJ will start the week off by picking up the winner at the Vancouver Airport and hooking them up with some exclusive gear! TJ's personal filmer will document the week, which will include on and off snow activities together. Register to enter before March 25th at http://www.momentumcamps.com – Click on 'Contest'. In a couple of weeks all applicants will be sent the contest details and secret link by email.
NEW: Fan Page on Facebook…

Join our new Fan page for all the latest news, deals, contests and giveaways. Go to http://www.momentumcamps.com to join. Check out the latest camp videos and watch for upcoming info on another 'Win a Free Camp contest' with Alex Bilodeau. Become a Fan this week and be entered into a draw for a free Momentum Backpack on March 25th.
Bring a Buddy Discount…

This is probably our best discount offer yet. Bring a friend who has never been to camp before and get a $100 discount off your own camp. If you bring another friend, you'll get a further $100 discount – there is no limit for each new buddy you bring in. If you refer 10 friends you will receive a $1,000 discount off your camp and so on….!
Team Deals…

If you are a member of a club or team, have your coach talk to us about Special Team Discounts and Shadow Coaching options. This is a great way to keep your training going throughout the year and bring your coach to camp for free!
NEW: 5 Day Youth/Adult Session 1

This year we are offering a lower priced option with a 5 day on snow camp, which will be open to both Youth and Adults for Freeride, Hybrid and Moguls from June 18 – 24.
NEW: GROMS Welcome at Momentum…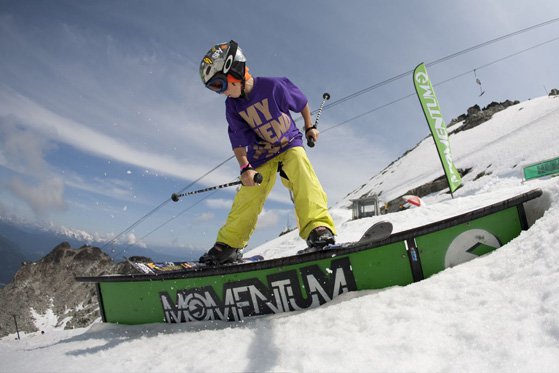 Due to the increased interest and bookings from campers aged 9 – 12, we are opening up our youth sessions to this younger age group. We have packages available for parents to accompany and for those who want to also join the camp we have created Session 1, geared for both Adults and Kids. Please contact us directly to discuss the options best for you.
Spring Mogul Clinics Start March 26th

Momentum Spring Mogul Clinics, geared mainly for adults or families, will be starting again on March 26th and run til April 18th. See website for full details: http://momentumcamps.com/cs/programs/spring/
And finally SMS Clothing Deals…

Great spring sale prices now available for SMS Clothing!
Check out http://www.smsclothing.com and order at 1800 949 7949 or info@smsclothing.com