For immediate release
iF3 Montreal – Official iF3 Montreal 2018 Program and Trailer released!
September 27th , 2018 – Montreal, Québec – Here we are! The official ski and snowboard movie screenings schedule and program (French today & English September 28th, 2018) is now online via our website, ready for download!
This includes the 9 screenings in two cinemas (The Hype Energy Drinks cinema - TAZ Skatepark & the Bain Mathieu Cinema), various activities, iF3 all Girls, Brand village participants and 3 raging parties.
Click here for the official movie screenings schedule & film guide:
https://festivalif3.com/files/venue-event/3-if3_programweb_fr.pdf
Family screening // All Ages?
We heard you! All of the major screenings scheduled in the Hype Energy Drinks cinema at the TAZ Skatepark are available to "all ages"! Major Movie Premieres such as "All In" and "Hoji" from Matchstick Production, "Kamikazu" and "Beta" from Transworld snowboarding and Snowboarder Mag, to name a few, will be featured in "all ages" screenings.
iF3 recognize that its clients & fans expressed wanting to share the excitement of the upcoming Winter season with family members. There is no better way to achieve this goal then to watch these superb images on the big screen with your loved ones!
iF3 All Girls?
In the planning is a new edition of the "iF3 All Girls" with even more fun and surprises. See what's in store for the "girl in you" here:
https://festivalif3.com/en/venues-and-events/montreal_canada_2018/parties/if3_all_girls-6/
We take this opportunity to release the 2018 Montreal iF3 Festival teaser edit. Find it on our social media pages, our website's home page and via our youtube channel.
Follow this link: https://youtu.be/nWcWSnVnJjg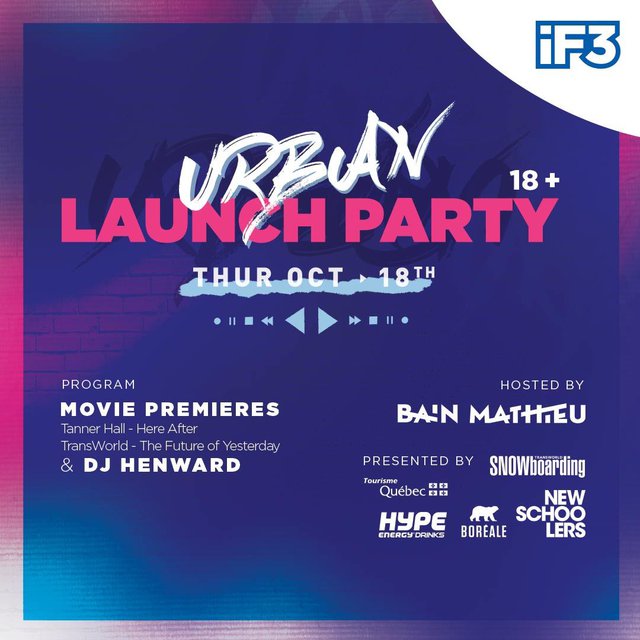 iF3 thanks you for your support, the team is very excited to present 72+ great movies and much more!
Visit our website to further details about the 2018 edition of the iF3 festival and its world tour : https://festivalif3.com/en/
VIP PASSES ARE NOW ON SALE!
You can now buy your all access VIP pass online and save. This is the best product for the REAL iF3 fans. Don't miss out on anything!
VIP passes are limited, get yours now before it's too late
https://festivalif3.ltibooking.com/categories/vip-tickets
Stay tuned for more updates and see you in October !
About iF3
The International Freesports Film Festival was founded in 2007 to recognize and celebrate the excellence in freeskiing & freeriding. It is the biggest festival tour of its kind, travelling the globe to present the world's best ski & snowboard movies of the year. The festival's reputation and recognition stem from being the only independent ski film award ceremony with an international and diverse jury panel in which not only athletic performances are rewarded. In fact, a major part of the gala is dedicated to the artistry and production work involved in bringing ski films, and snowboard films to life.
Press & Media Relations:
Luc Skypowder, 819-578-3448, skypowder@if3festival.com
Communication & administration:
Camille Martin, 514-501-5337, communications@if3festival.com
Event Sponsorships/partnerships:
Marion Gayon, 514-755-4064, marion@if3festival.com
Jeremy Cloutier, 514-475-1123, jere@if3festival.com
Information about iF3 and upcoming events:
https://www.facebook.com/if3festival/
https://www.instagram.com/if3festival/?hl=en (@if3festival)