I am not like
99% of American worker bees, in that I actually relish Monday
mornings.  They are special to me, because after 3 straight days of
running and coaching the largest developmental freestyle ski team in
Colorado, I get to hike for my turns at Berthoud Pass with my 2
Newfoundland dogs, Ella and Nieves.  It brings me peace and clears my
head.
Monday, January 11, 2010 was
set to be an epic day.  The boys had No Name Peak in their sights, a
60-80 minute hike from the Berthoud parking lot (elevation 11,307
ft./3,446 m.), on the west side of Highway 40.  We've skied this peak
many times; it's always a blast. A few years back I got the nerve up to
straight-line it.  New snow 4 days prior meant 10-15 inches of fresh
powder awaited us at the summit (red flag #1 - new/windblown snow). 
The sun was shining, another fabulous Colorado bluebird day to remind
us all why we moved here in the first place.  The wind was nonexistent
as we began skinning up to the top o f the west side, then hiked up
Russell Peak, and resumed skinning south towards No Name Peak.  The day
was warming rapidly (red flag #2 - weakening cornices), forcing most of
us to shed a layer.
The 5 of us
gathered at the top, and began to put away our gear, put on our
helmets, have a drink of water, and enjoy the fabulous view.  We
watched Angela descend Oatmeal Bowl, a lower angle south aspect run on
the other side of the bowl.  There was a recent avalanche approximately
150 feet to the north (red flag #3 - recent avalanche activity).
I
was considering launching the 10-foot cornice.   I can't just 'ski down
the shoulder'; it's not in my DNA. Generally, cornices by their very
nature have 'overhang'.  This did not.  It was completely vertical,
perhaps feeding a false sense of security.   I voiced my concern to my
friends, "the only thing I'm worried about is the slope ripping out on
me when I land".  Pete replied, "well that's a pretty valid concern".  
What I found out later was I was actually standing on last year's
cornice, which never fully melted due to a large snow year, a very
short summer, and a very cold and wet autumn.  I tapped it a few times
with my pole from 4 feet back.  It seemed very solid to me, I could
feel my heart rate start to surge just thinking about hucking it into
the powder below.  I gathered a few rocks from the peak (without skis
or poles) to see if anything would release on the slope below.  I truly
thought I was in a safe spot standing 5 feet back from the cornice lip,
otherwise I would not have been anywhere near it.  As I reared back to
throw the first, the cornice collapsed behind and underneath me.  Nick,
standing 20 feet skier's right of me, witnessed the entire incident
from start to finish.  He described it as watching me falling through a
trap door, everything happened so fast.  My other 3 friends were behind
me and did not see me fall.  They all heard the noise of the cornice
collapse/subsequent avalanche.  It would have been impossible not to,
as one of the most beautiful, still days of the year was briefly
interrupted by the force of 12 by 12 feet chunks of ice and snow
erupting like a bullet through a plate glass window, and hurtling down
a 550 vertical feet 35 degree slope (red flag #4 - optimum avalanche
slope degree).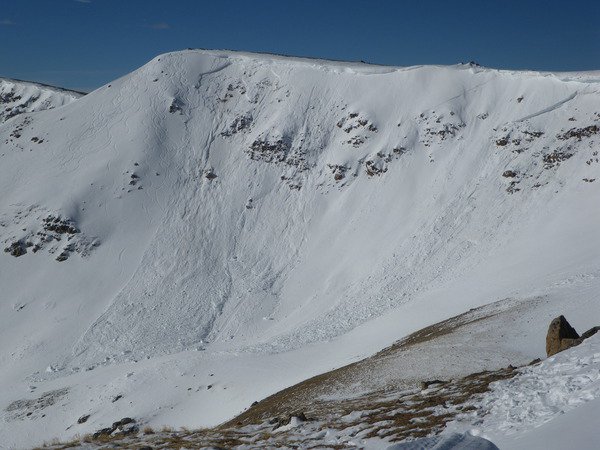 I fell approximately
15-20 feet into No Name Run.  My momentum of throwing the rock forced
my legs out from under me when the cornice collapsed.  I landed on my
back after the fall and immediately rolled over to thrust both fists
into what was left of the snow (this top section slid mostly down to
rock) and attempt a self-arrest.  I did not have skis on.  My attempt
at self-arrest lasted for maybe 2 seconds, bringing an all to rapid
sense of relief, as I felt and heard the snow below me release. Then
the continued cornice collapse from above took me out.  I did
everything in my power to hang on, but could not.  My helmet was
dislodged on this initial impact.  I was now sliding down in the middle
of the avalanche, swimming to stay on top, and therefore alive.  I was
later asked what I was thinking during the slide.  This made me pause,
but to be honest I never had time to think, it all happened so fast, I
only had time to react.  Remembering the training I have received, I
swam towards the top the entire time.  The snow carried over a 10-15
foot rock band in the middle, and I went with it.  This impact buried
me below the snow as I was swept down the bottom half of the slope. 
Nick said I was below the snow in this bottom section for more than 100
feet, he also estimated my speed at 40-50mph.  At one point I swam to
the top during the fall and yelled out, "HELP!"  I continued swimming
to the top and the light, away from the darkness you could say, and now
had some snow forced down my throat, forcing minor asphyxiation.  I
began punching for an air pocket and continued swimming as I felt the
snow begin to slow down at the end of the 550-foot slope.  I ended up
on top of the snow in the middle of the debris run out.  My helmet was
on top of the snow 20 feet below me.  The entire fall from top to
bottom lasted approximately 15-20 seconds.  It felt like much longer.
After
all the mistakes we made (see red flags above), I am pleased in how
everyone reacted in the aftermath - calm, confident, with purpose. 
Nick spotted me during the entire fall/descent, aside from the section
in which I was under the snow.  My other 3 friends were already taking
out their beacons and planning a safe route down the shoulder to begin
the search.   Angela was at the bottom and saw the entire incident from
the front angle.  She also began to remove her beacon, until she saw me
get up out of the snow on my own accord, probably looking a bit haggard
and bewildered considering the circumstances.  I took 4-5 steps and
fell down, feeling punch drunk.  I took another 4-5 steps and fell down
again.  My equilibrium felt off axis at best.  I had snow everywhere -
jacket, pants, ears, nose, mouth, hair.  I told Angela I needed a hug.
I realized at that exact moment I had just cheated death.