Nipwitz edits have been among the best in skiing for years now, both in terms of their creative/gnarly blend of skiing and their fantastic production value. After 3 years, twelve webisodes, 2 IF3 awards and over 1million views they announced they would be embarking on a 2 year full length project. Their first (and last) movie is called Brain Massage and the wait is almost over. The trailer is out, the premiere is next month and pre-orders are available now. I sat down with some of the key figures in the crew to chat about what they've been up to over the last 2 years, and why this is their best work to date.
https://www.newschoolers.com/videos/watch/740198/Nipwitz---Brain-Massage-OFFICIAL-TRAILER
For those who don't know... Who are you? Where are you from and how did you get started skiing, filming and producing?
Oskari: We are a freeskiing collective hailing from the urban mecca of Jyväskylä, Finland. We got into skiing at an early age and started filming when Aarni got his first camera. I guess back then we just wanted to copy our elders and make ski movies.
After all this time, Brain Massage is your first movie. What have been the biggest challenges scaling up from edits to a full length film?
Aarni: I feel that making webisodes was more challenging than making a movie. You had to go through the same workflow of planning, filming and editing four times in a season. We all live in different cities and it was really hard to get the crew together for a shoot. For the movie we've had plenty of time to plan and film without any distractions. On the other hand, it is easier to make an interesting 5 minute webisode than a 25 minute movie.
Most media has been getting shorter and shorter over the last few years, with riders focusing on individual parts and webclips. You guys were one of the first putting out ski movie quality edits, what made you decide to buck the trend you helped start and work on one big two year project?
Oskari: At first I'd say it was a matter of easing the logistics. We're living in different parts of Finland at the moment and most of us are taking Uni courses so to get the whole crew together for a shoot is not that easy. But when you have two seasons of time to spend versus just a month for filming an episode, you have more opportunities to schedule shoots. And of course, this is a unique chance to really make a statement and end the Nipwitz-project on a high note.
Aarni: We knew we would end the Nipwitz-project sometime. Making a two year movie project as the last piece felt right.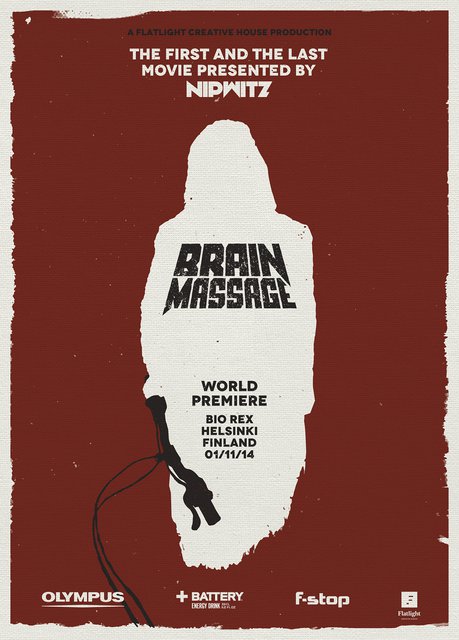 In this day and age, ski edits are quickly forgotten. Having taken a two year break are you worried people may have forgotten about Nipwitz?
Oskari: There's a real surplus of everything on the internet. It's different today than when we started five years ago. In the midst of scrolling through endless Instavideos, I think people still want to look for stuff that someone has really put thought into. It's like choosing to read a good book instead of just skimming through some online articles.
You were one of the first crews to only shoot on street spots, is the movie all urban too or have you branched out?
Oskari: Our episodes haven't only been urban so our movie will follow the same path.
Aarni: The work we have done in the past have included more than just pure skiing shots. But skiing wise urbans have been our first priority and that's what we followed in this movie.
You mostly shot in Russia and Estonia, what made you travel there?
Oskari: The ex-Soviet regions offer a real playground for urban missions. Estonia is just a three-hour ferry ride away and it's really an unexplored country when it comes to skiing urban. There's a seemingly endless amount of spots both in Estonia and Russia and the people over there are super friendly!
Aarni: Skiing on yellow snow, rusty metal and cracked concrete looks good on film. All that can be found in our neighbouring countries.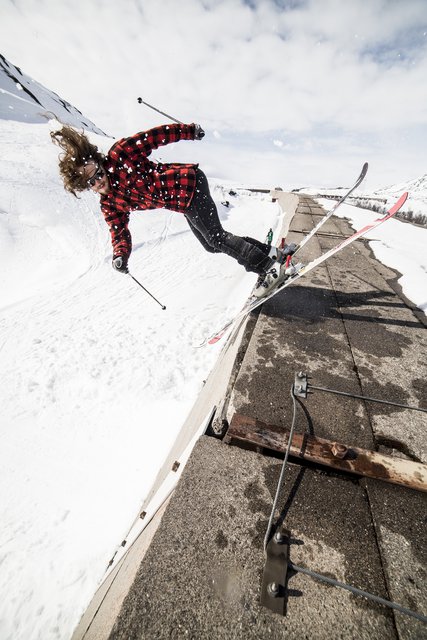 Riku Laakso stalling. Photo: Ville-Petteri Määttä / Nipwitz
Give me 3 of your best stories from film trips in Russia...
Oskari: Well, although the Finnish Embassy didn't advise filming in Russia last March because of the situation in Ukraine, we did some heavy drinking in Murmansk and ended up at some local dude's afterparty and woke up in his bathtub at 9 am.
Aarni: We learned that urban skiing culture exists in Murmansk. The local skiers and snowboarders helped us to find spots even though we didn't share a common language.
Matti: Not every day you get to hit a spot at an elementary school and then move on across the road for another spot, which is an abandoned building full of used needles. And yeah, there was also a prison right next to the landing on that wallride spot.
Rumour has it you built yourself a ridiculously fast winch, tell me about it. Apparently it's so fast it broke Oskari's finger?
Oskari: Seitan is a true beast, it has to be the most powerful winch in the world for its purpose. I suffered a mallet finger because of a power spike the engine meant it gave out while holding the rope. The middle finger is almost straight now.
Aarni: It is a 480cc two-stroke engine with +70 horsepower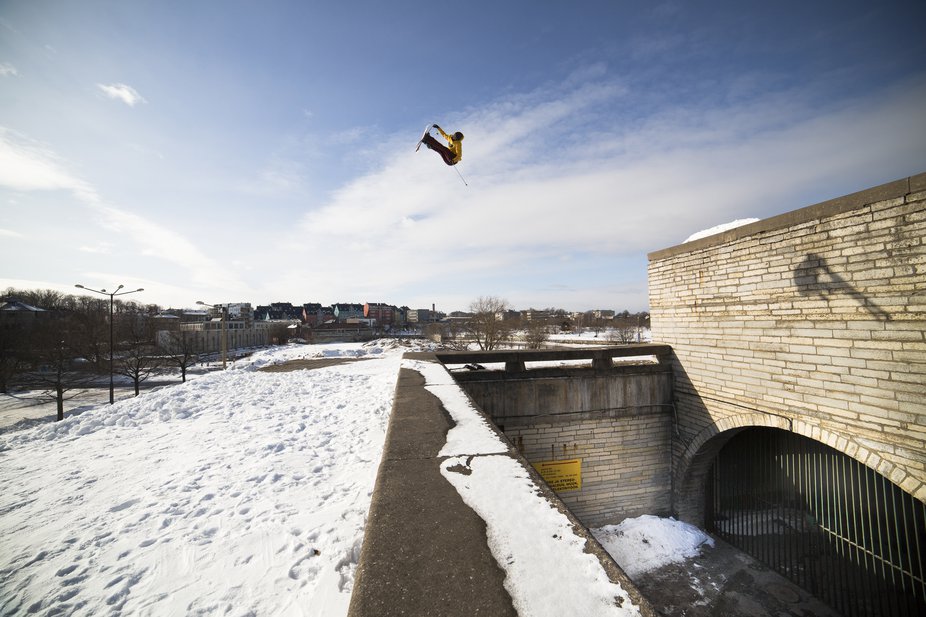 Kalle Leinonen - Cork 7 True Nose. Credit: Ville-Petteri Määttä / Nipwitz
On the subject of injuries, you guys hit some seriously gnarly spots. Were there lots of injuries in the making of the movie?
Oskari: We got surprisingly lucky with injuries. The injuries we had were pretty minor, although Matti did get a pretty nice hit to his head.
Matti: On the first season of filming Brain Massage I wanted to get a big gap to wallride shot on our trip to Estonia. The first day I twisted my knee a bit and the second day of trying I got close to landing it, but then I hit my head in the landing quite hard. I experienced a couple of hours of short term memory loss followed by three months of really disturbing headache, inability to turn my head properly and not being able to sleep on my side for that time.
Who generally takes the worst crashes? Is one of you that really annoying guy who always seems to get the shot in 3 tries and never gets hurt?
Matti: I guess I am the chip leader in the crash statistics. I either want to do new kinds of tricks or hit new kinds of spots, so it really is a matter of trial and error. But Kalle Leinonen usually nails everything at every spot he does. Actually, he has never left from his spot without the shot he wanted in the first place.
You're also known for being creative, both in your choices of tricks and spots, as well as post production. Where do you get you inspiration and how do you pick what spots to hit?
Oskari: My biggest influence must be some of the earliest Think Thank-movies like Patchwork Patterns and Thanks Brain! I like to pick a spot based on a trick I want to try on it. The visual aspects of the spot are as important and we cooperate with the filmers and skiers to get the most of a spot both trickwise and visually.
Aarni: I don't have to seek for inspiration outside of the Nipwitz crew that often. The ideas and visions live their own life. We realize the ideas with the help from the whole crew and my job is to make them look as good as possible.
The Crew. Photo: Ville-Petteri Määttä / Nipwitz
Without giving too much away, were there any shots you really wanted to get for the movie but for whatever reason, it didn't work out?
Oskari: There was multiple spots we would have liked to hit, but were unable to do so because of the shitty snow conditions in Scandinavia last season. But then again, we got to explore new places up north and that gave us some perspective and fresh ideas.
And what should people look forward to the most in the new movie?
Aarni: The movie follows the tried and tested Nipwitz style, but we have put more effort in it than any other project before.. ever.
Finally, when will the movie be released?
Matti: The world premiere of Brain Massage is 1st of November in Helsinki. We are releasing a limited a collector box, which includes DVD and Blu-Ray copies of the movie with extra materials from two seasons and all the episodes we have done. The collector box comes with a book with photos and stories from our two year journey and limited edition merino wool beanie made in collaboration with Sauna Beanies. The box can be pre-ordered from www.nipwitz.com and shipping starts in the beginning of November. There will be an online release at the end of this year or early 2015.