words by Jeff Schmuck
photos by Felix Rioux
The sunny skies that baked the slopestyle course and its spectators on Friday seemed a distant memory over the weekend at the Nippon Freeskiing Open in Joetsu Kokusai, Japan. As weekend warriors a plenty poured into the resort from Tokyo via the country's impeccable bullet train system, skiers from around the world took the skies for the superpipe portion of Japan's biggest freeskiing event.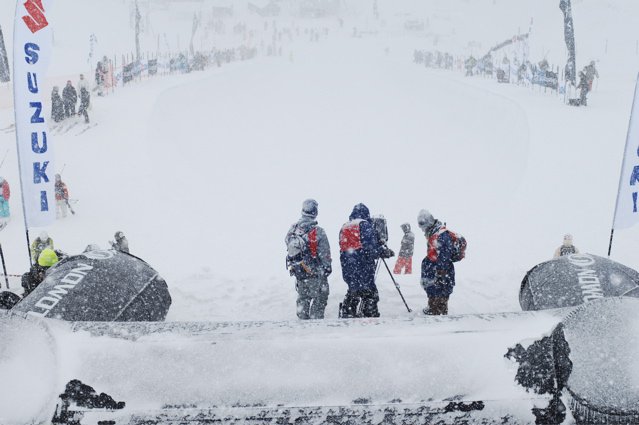 Saturday was qualifying day and things started out nicely enough, with 50 men competing for the 25 or so spots in the finals. Byron Wells continued his reign of terror on the pipe circuit, qualifying with a higher score than anyone else. Not too far behind was Nathan Wood, who's clean spins and switch hits made him a winner with the judges.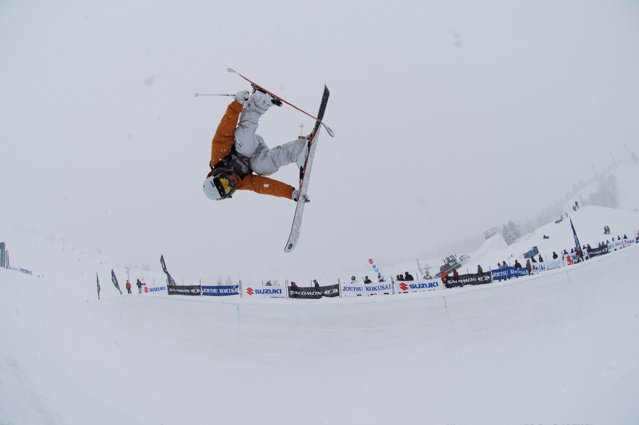 Nathan Wood
But it was around the half way mark of the qualifiers when things started to turn ugly weather-wise. The early morning saw some mild cloudiness and snow but as the girls were preparing to take their turn it began to rain, and then snow, and then rain again. However despite the conditions the remaining men and women charged on, with Dania Assaly qualifying first followed closely by Anna Segal.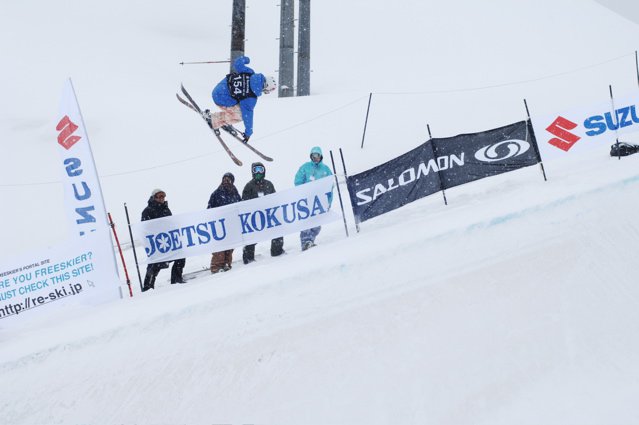 Davina Williams
Sunday morning dawned a bit nicer for the finals, with some mild snow falling and a cool wind in the air, but as the day progressed Mother Nature continued to do her best to reek havoc on the pipe, much to the dismay of the competitors who began wondering if they should have busted out their powder skis to compete.
Nonetheless, finals went off as best they could, with the 25 men from qualifiers and 15 pre-qualified plus the six qualified and pre-qualified women doing their best to weather the storm and put on as good of a show as possible for the large Japanese crowd, who were undeterred by the weather and screamed their hearts out all day long for their favorite skiers.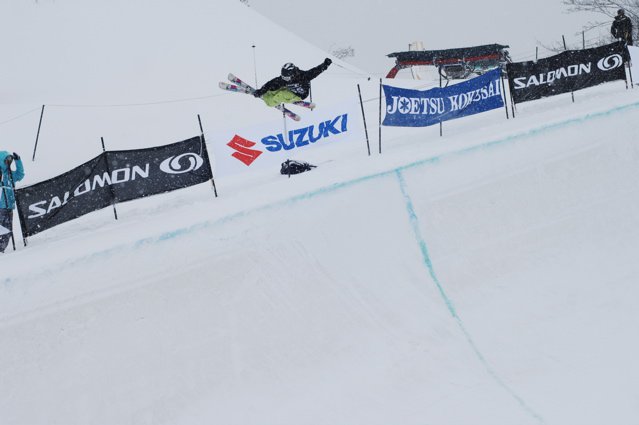 Anna Segal
On the women's side of things it was anyone's game as pipe duchess Sarah Burke was extremely ill and after taking a few runs in practice decided to sit this one out. Anna Segal kicked things off with two super smooth runs with a nice switch 3 at the bottom. Anais Caradeux dropped in shortly thereafter with some huge airs (perhaps the biggest of any of the women that day) and clean style, which was followed up with more of the same from Jess Cumming, who is continuing to ski extremely well this season in pipe.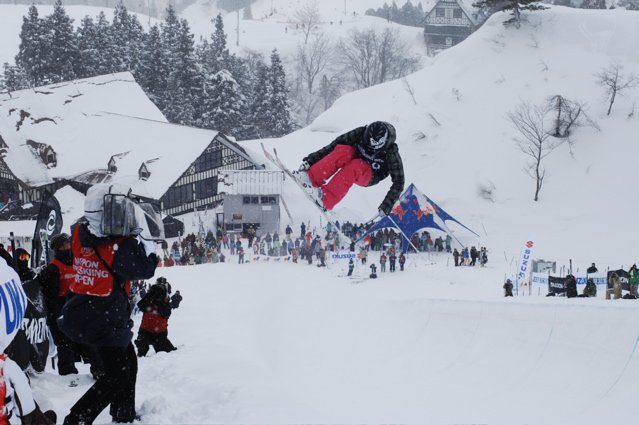 Jess Cumming
First place qualifier Dania Assaly also threw down, with a big 5 up top and a nice 7 at the bottom. But in the end, the day belonged to Jen Hudak, who after playing bridesmaid for the better part of the year to Sarah Burke took home the gold with some big straight airs, an alley-oop 5 and a clean 7 at the bottom that Mr. Clean would have crossed his arms and smiled at. Rounding out the podium was Miyuki Hatanaka from Japan, who was boosting large and in charge airs all day, and Anais in third (who skied down after her runs and missed the podium, thinking she wouldn't have made it).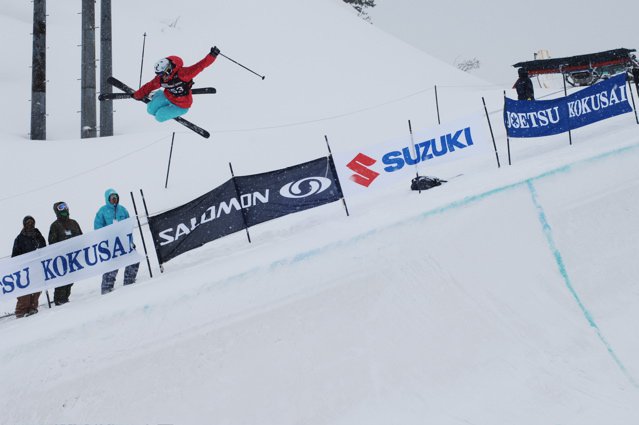 Jen Hudak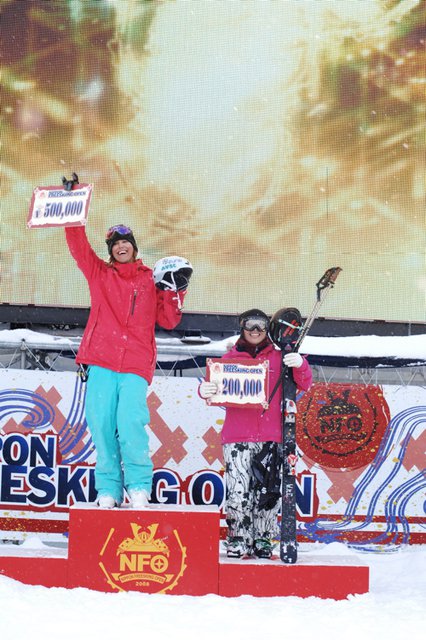 Jen Hudak (first) & Miyuki Hatanaka (second)
Up next was the men, and while the sun showed its face for a few minutes during their semi-finals, the snow continued to be a factor, slowing pretty much all of the boys down to the point where a lot of the tricks that are standard issue for them became difficult to even attempt. Jossi Wells, who is roughly half the size of the others, had the most difficult time with it, and after taking a run in practice complete with a push in the start gate and multiple pole plants on the in-run only to go about three feet out on his first hit, decided to pass on the competition. Much like with the girls, with the 48Straight champion watching from the sidelines, the door was open for anyone and everyone to walk on in and take advantage.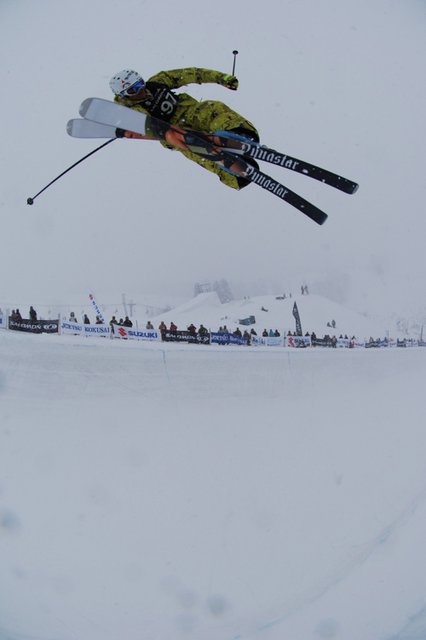 Mike Riddle
The early favorites were Mike Riddle and Justin Dorey, who despite the conditions seemed to have the speed issues figured out in practice (with a little, scratch that…a whole lot of help from Kenny from Swix) and were throwing big 9's and 5's and nice switch 7's at the bottom. However much to the dismay of the large Canadian contingency cheering them on at the bottom, Riddle couldn't hold it together and crashed on both runs during his switch hit, and while Dorey's runs were a sight for sore eyes, he put his hands down enough for the judges to decide he wasn't podium-worthy.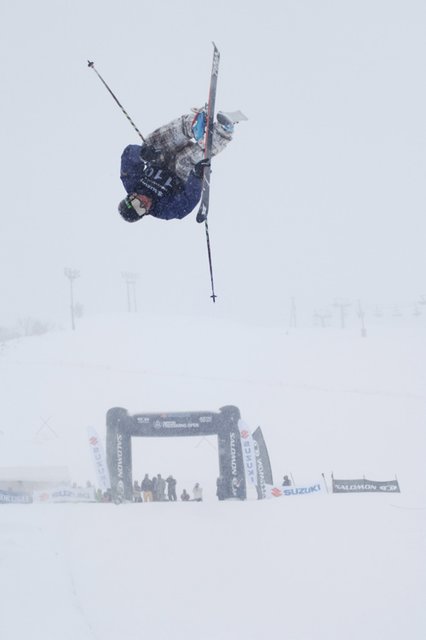 Lyndon Sheehan
Lyndon Sheehan also seemed to have the speed figured out, and made no bones about boosting bigger than anyone expected him or anyone else to go, and at the rate he's going will have competition organizers building bigger height-o-meters in a few years. Nathan Wood also continued to ski consistently well throughout the day, but had more trouble in finals than in semis and qualifying, but still landed himself in a respectable sixth place position.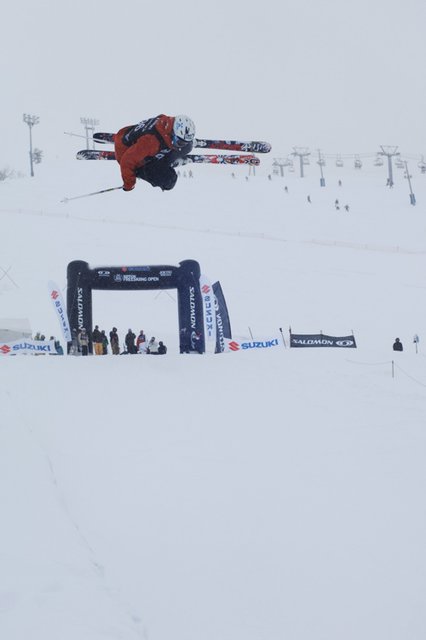 John Symms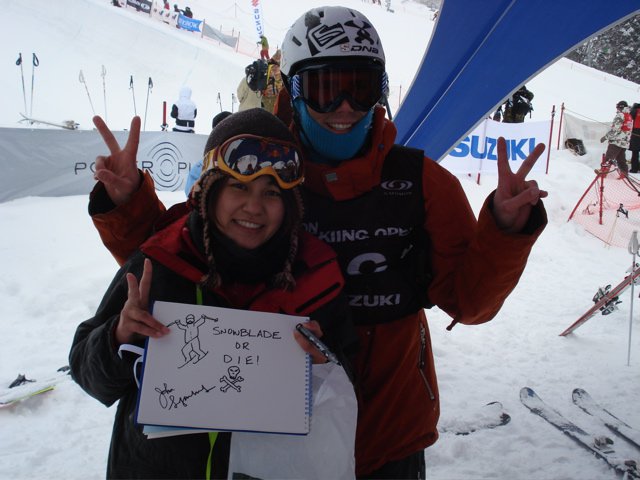 The same could be said for Japanese legend John Symms, who after signing elaborate autographs all day about how much snowblading kicks ass (which was a reoccurring theme all week after we all discovered just how many people rock snowblades over here) put together some great runs in semis but seemed to have trouble with speed during the finals and ended up in seventh.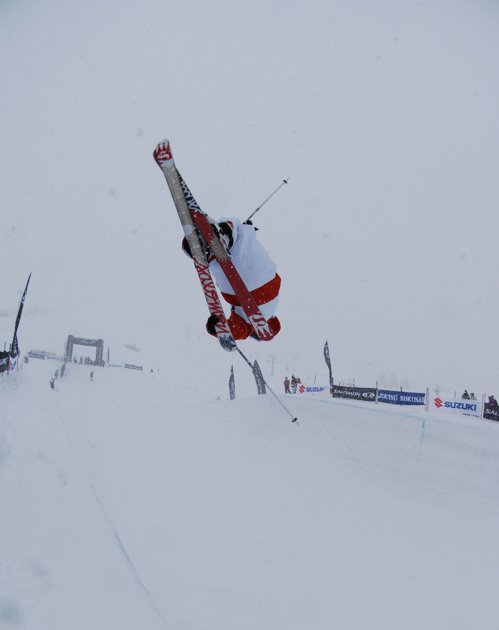 Mike Clarke
Right behind him was Mike Clarke, who was sporting one of the biggest smiles of the day after deciding last minute to compete in pipe and then scoring himself eighth place. Not bad for someone who's only skied pipe twice this year (take note…Mike Clarke is blowing up). Rounding out the top 10 was a true Japanese legend, Yuta Ueno, who on top of being one of the nicest and most popular skiers in Japan, killed it all day despite the conditions.
Yuta Ueno
The top three put on the biggest and best show though (complete with fireworks going off during their runs), with Xavier Bertoni going larger than anyone all day on his last run and throwing the nicest 9 in recent memory.
Xavier Bertoni
In second place was AJ Kamppainen, who again and again again is proving himself to be the next big thing in pipe with his style, technicality and consistency. But speaking of consistency, the undeniable and unquestionable hero of the day was Kalle Leinonen, who's left and right 9's and steezed-out cork 5 double tip grab landed him on top of his first podium of the year.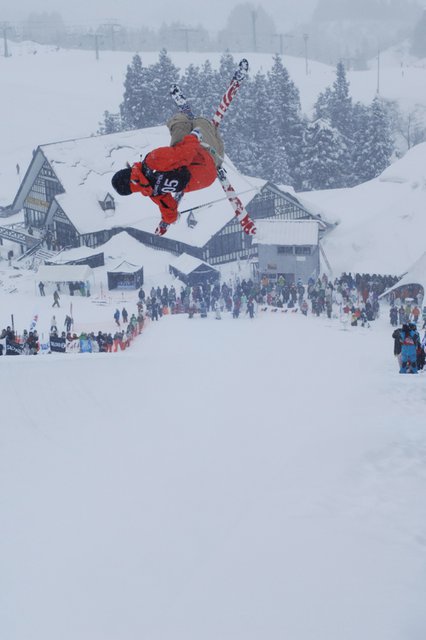 Kalle Leinonen
Lyndon Sheehan (fourth), Xavier Bertoni (third), Kalle Leinonen (first), AJ Kamppainen (second)
All in all, despite the weather in finals (and the lack of extra-curricular activities at night) the Nippon Freeskiing Open was quite the event, and a big thanks have to go out to the event director, the Godfather of newchool skiing and just the all-around man Mike Douglas for making it happen. Mike shoveled, raked, hiked and worked his ass off all week long in bad weather to make it all go down, and we all love him almost as much as the sushi for it. Sayonara from Japan!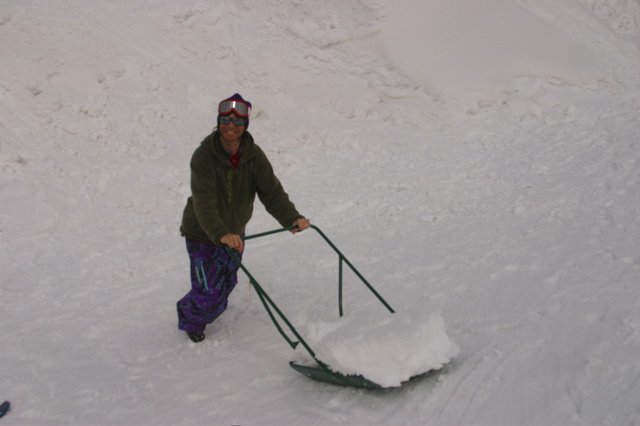 Mike Douglas is the man!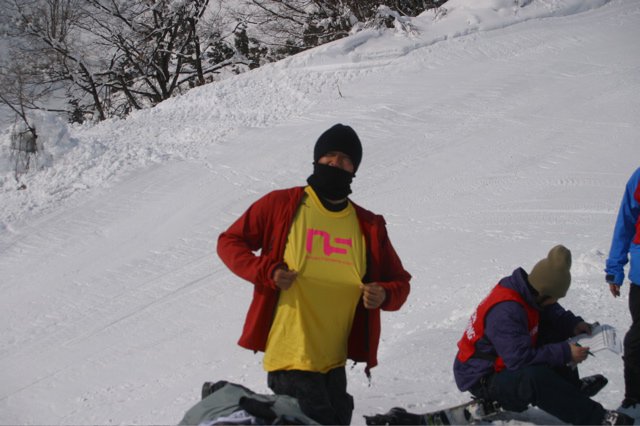 Japan loves Newschoolers!
Final Results
Men
1: Kalle Leinonen 86.4
2: AJ Kemppainen 84.0
3: Bertoni Xavier Bertoni 80.8
4: Lyndon Sheehan Lyndon 77.8
5: Justin Dorey Justin 74.4
6: Nathan Wood 68.4
7: John Symms John 62.0
8: Mike Clarke 56.6
9: Loic-Collomb Patton Loic 50.2
10: Mikiya Tanno 47.0
11: Yuta Ueno Yuta 44.4
12: Mike Riddle Mike 27.8
Women
1: Jen Hudak 84.0
2: Miyuki Hatanaka 72.6
3: Anais Caradeux 66.6
4: Dania Assaly 65.2
5: Anna Segal Anna 62.4
6: Jess Cumming 57.8
7: Rosalind Groenewoud 53.6
8: Emi Matsuura Emi 49.4
9: Davina Williams Davina 41.6
10: Shuri Terada Shuri 30.3
11: Iku Suzuki Iku 22.5
DNS: Sarah Burke