Words by Nimbus Independent
Photos by Erin Valverde Pollard, Alessandro Belluscio & Eric Pollard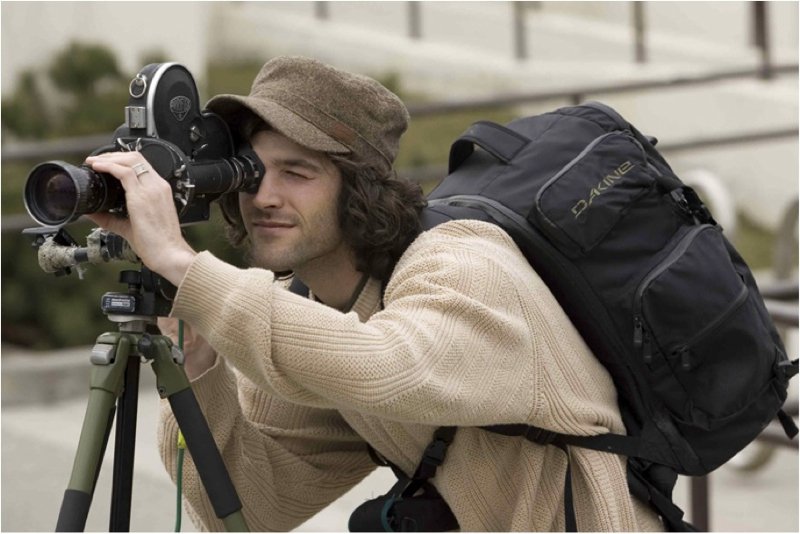 Eric Pollard
I began Nimbus in 2007 with Pep Fujas, Andy Mahre, Chris Benchetler, Erin Valverde Pollard, Justin Wiegand and Ike Smith. We decided to start a production company with more than one goal in mind. We wanted to experiment with different ways of documenting ski culture, attempt new editing formats, try different distribution channels, connect and relate with our audience in new ways, and create productions with a focus on style and technique. Over the past three years we have had the pleasure of producing thirteen full-length movies and countless short edits. Our audience, our sponsors and our peers have allowed us to focus on the art of skiing and movie making and have encouraged us to produce movies that are not simply mass appeal music videos. Nimbus is truly a skier owned and operated company. We are a collective of individuals who have a similar perspective on skiing. I can't thank our presenting sponsor K2 enough for trusting a squad of skiers and snowboarders who had an Idea. To all of the Nimbus partners who make the project possible; EVO, Atomic, Dakine, Tecnica, Line Skis, Marker, Dragon, Surface, Go Pro, Downdays, Newschoolers, and Powder, Thank You. Personally, the past three years of the Nimbus project have been the most fun, creative and rewarding time of my life. Working with my favorite skiers in the world, and having my best friends run the cameras has been a dream come true. Behind the scenes I have received endless support from the Nimbus crew, my sponsors, my family, my friends and my wife. Everyone who watches our movies, everyone who writes us, everyone who reads this message, this movie is for you. Our latest movie, "Thank You" is a token of our appreciation to everyone who has helped us do what we love. We look forward to making many more movies. Thank You.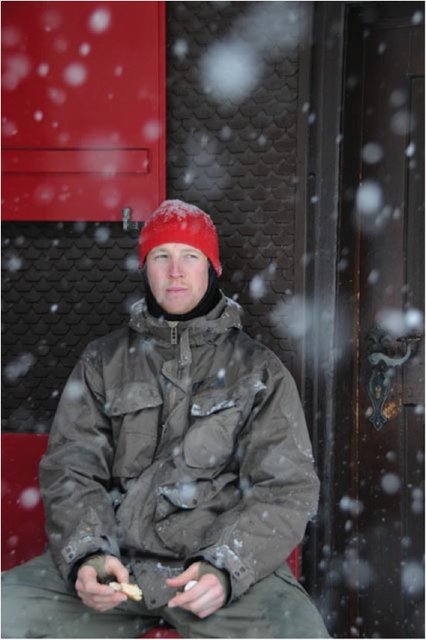 Ike Smith
First off, I would like to thank all the sponsors for making this amazing project possible for the last three years. My wife, Nikki, for putting up with my constant traveling, without much notice as to when I'm leaving again. All of the Nimbus followers, without you none of this would be possible. The entire Nimbus crew, for your tireless work ethic, and being the funnest co-workers a guy could ask for! I look forward to many more years working with my friends to keep creating something new and exciting for the viewers to enjoy!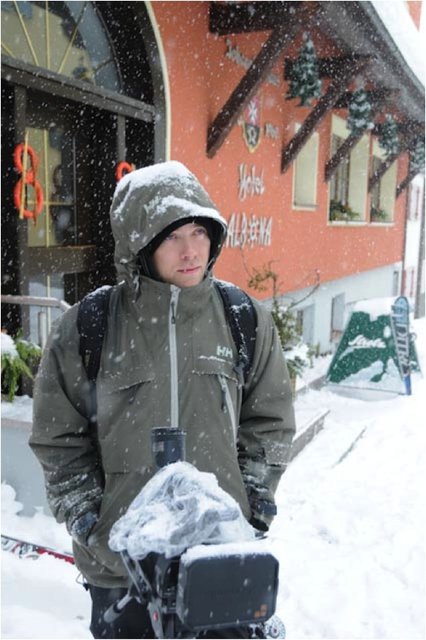 Justin Wiegand
To the fans and all the great friends I've met over the years...Thank you so much. I can't do what I get to do without all of your help and support. Eric, Erin, Team Nimbus, Iberg, Scotty, and my family. To you I owe the biggest thanks, but it's the fans and your support that keeps us rockin' out. Thanks you for the lifetime of special memories I have. It's been a dream come true.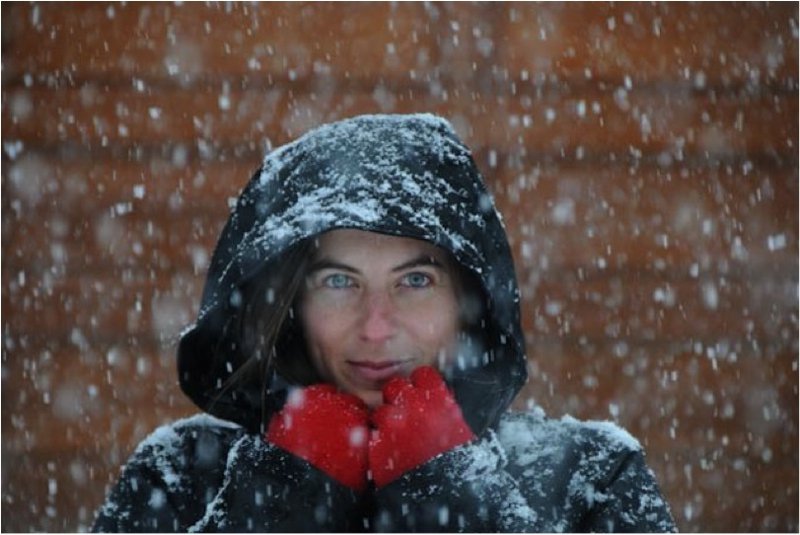 Erin Valverde Pollard
I would like to thank my husband Eric for all his patience and encouragement throughout the years. The entire Nimbus Crew for putting up with a girl in the crew and being the best gentlemen I could work with. My parents for their love and support they give us. Of course all of our amazing sponsors that keep us afloat every year. And most importantly, I thank our audience. Without you, Nimbus would not exist.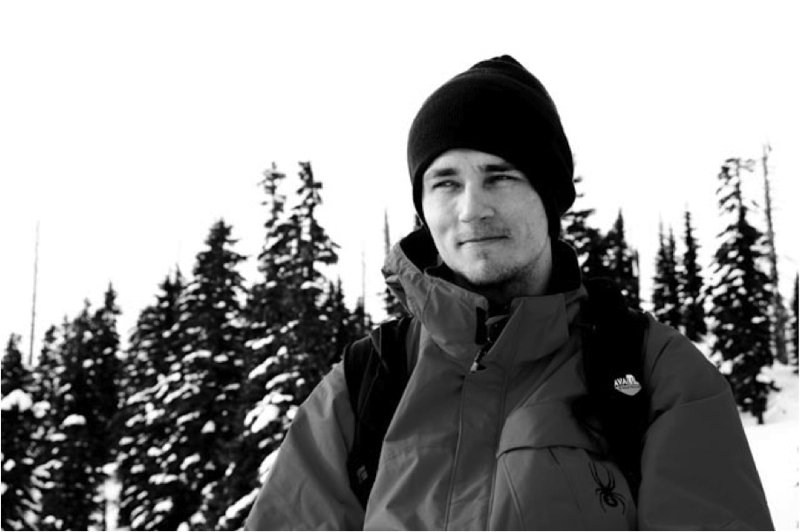 Blake Nyman
Being a skier has been a wild, tough, interesting, fulfilling and fun ride. I love it and wouldn't be able to do it without the support of my family, friends, sponsors and fans. So I owe a huge thank you to my wife Alex for her support, belief and patience in me (sorry for my last minute travel plans!). Many thanks to my parents and brothers for their huge help, motivation and introduction to skiing. Thanks to my friends for always being there for me and supporting me. Big thanks to Eric Pollard for giving me the biggest opportunity in my ski career and all the other Nimbus guys for being the best and most fun crew out. Super excited for our many years ahead! And another huge thanks to my sponsors and their faith in me. Mike at Surface, Russ and everyone at Spyder, Sara and Stefan at POC and everyone from Bula, Ortovox, Joystick, Full Tilt, Skullcandy and Evo.com. And lastly thank you to all who are reading this and have supported Nimbus in the past! Without your support we wouldn't exist, so thanks for allowing us to live the life we work for. Thank you!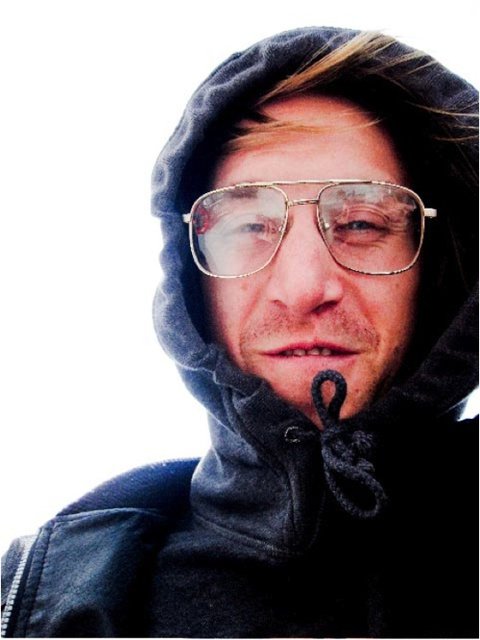 Anthony Boronowski
Thank you to my family and friends. Without your support this would have never been possible. It has been a dream. Thank you to Nimbus. This last year was amazing, and I really felt at home. Thank you to Nick Hickling. Without you my part in Nimbus wouldn't have happened. For filming all those days when we were both exhausted and beat down. I can't thank you enough. Hire this guy if you need a filmer! Thank you to my sponsors. Surface, Under Armour, Evo, Full Tilt and Alpine Initiatives, I appreciate you backing me. I know how hard things are financially right now, and what you do for me really means a lot.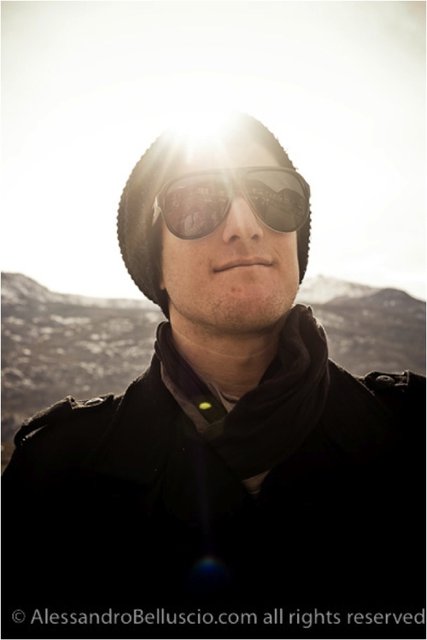 Chris Benchetler
I'd like to thank Eric and the entire Nimbus crew for believing in our vision, creating something different, and doing a great job documenting it. ALL of my sponsors and supporters. Atomic who gave me the opportunity and complete control with creating my dream ski. Mammoth Mountain for supporting my entire career and the teams that taught me the fundamentals to help my skiing grow. Sessions, Dragon, Dakine, Clif Bar, Ctii, Joystick, and EVO for backing my vision in skiing and continuing to support me over the years. My mother and father for giving me all the necessary tools to pursue my dream. My fiancé, Kimmy, for the continued love and support. All my friends that helped push me and pointed me in the right direction. All our fans, and supporters of skiing; Thanks for keeping faith and interest in what we love to do...God for keeping me healthy and watching over me. And to all those we've lost, and their families. Thank you for shedding a positive light on our sport and helping us realize what's important in life.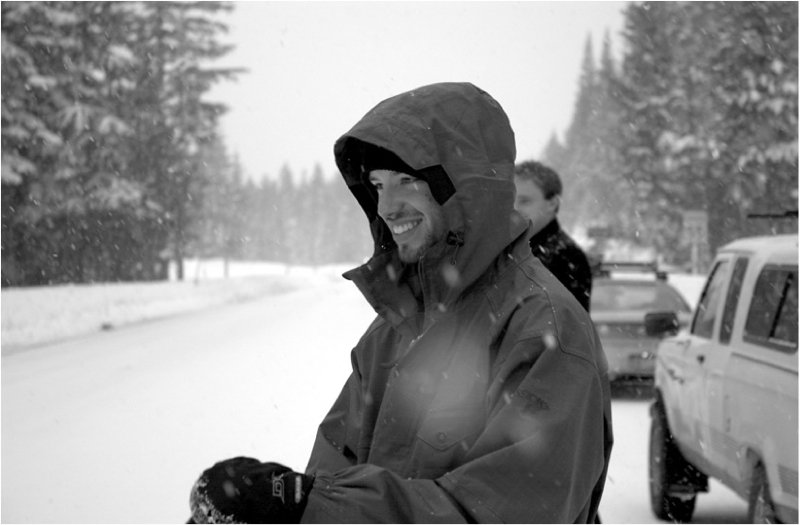 Andy Mahre
A big thanks goes out to three groups of people. My parents, family, and friends. The contents of these three groups is more than just a few close people. It's Nimbus, it's my sponsors, and it's the viewers. It's my neighbors, it's my cousins, it's my nephew. All of you have supported or inspired me in life and I cannot thank you enough. I am thrilled that I have met and befriended so many great people in so many places. Your support of me and your support of Nimbus has given us some really amazing opportunities, and I truly hope that we can continue to produce up to your expectations, as a thank you from US. Cheers to another deep winter!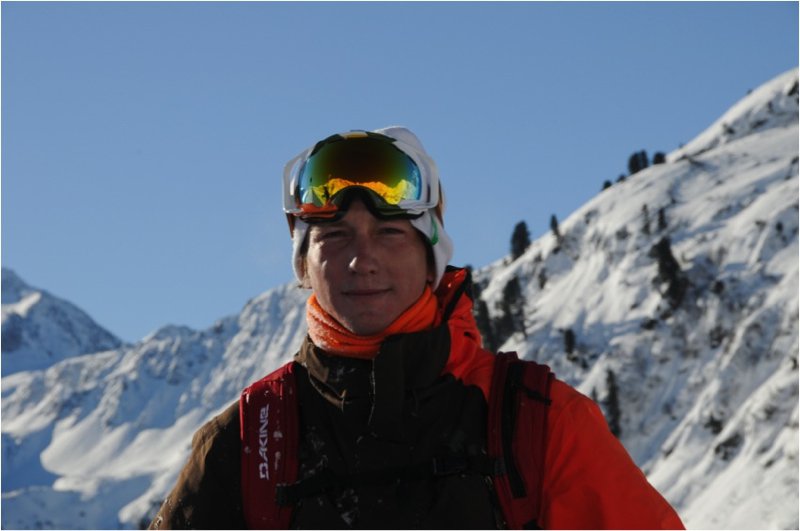 Pep Fujas
There are many thanks to be given for making the last three years of Nimbus possible. From the hotels and resorts who have given us discounts, to friends and friends of friends who have let us crash, to all the fans, and finally, to our wonderful sponsors whom have made our dream come true. Thank you! I would also like to thank the Nimbus crew for being the best, easiest and most fun people to work with. To my family for always believing and supporting me. To all the people I come into contact with who brighten up my day and make the world a better place to live in. To the snow for creating such a wonderful playground. And finally to all of my sponsors who have supported me through thick and thin, K2, Oakley, Dakine, Marker, Mammoth Mountain, Joystick Poles and Backcountry Access. To many more adventurous years.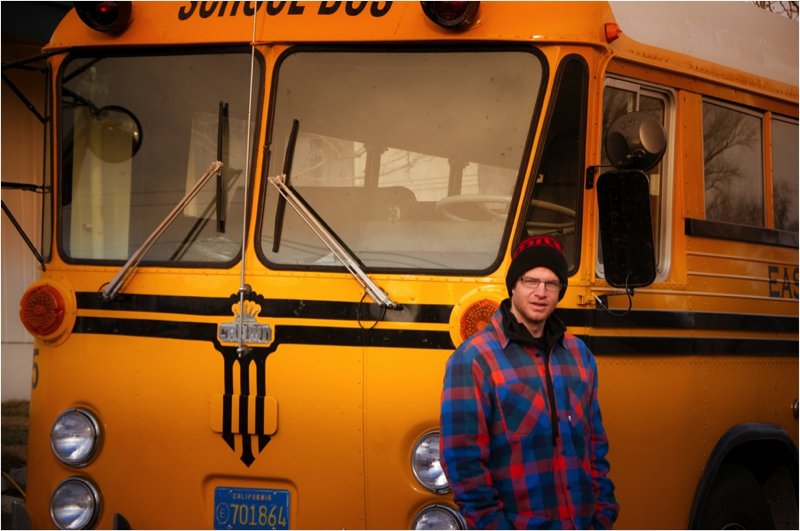 Dylan Hood
I would love to thank my parents for supporting me through all my decisions, and allowing me to follow the path I have wanted to lead. They have always been there for me, and I would not be where I am with out them. I would also love to thank my brothers for being the best bros someone could ask for. They are great people who have taught me so much, and I will always look up to them. I want to thank all of my friends who have influenced me in one way or another. Eric Pollard and the Nimbus Crew for creating something different and new. It's been a treat getting to work with Nimbus over the past three years, and has inspired me to grow as a skier as well as a person. I would love to thank all the fans and fellow skiers, for being pumped on our sport and pushing it to places we have never seen. And of course my sponsors Volkl, The North Face, Tecnica, Smith, for supporting me through out the years, as well as supporting the sport we all love. Thank you. See you slope side...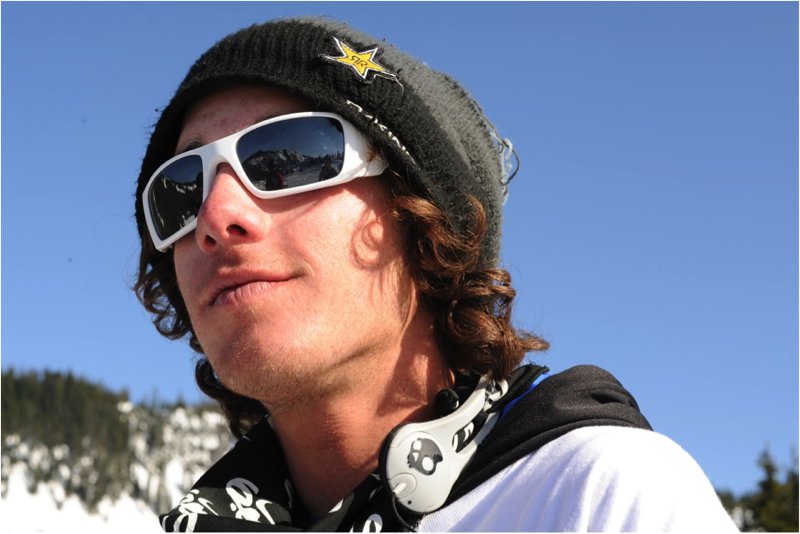 Sammy Carlson
I would like to thank my family for all the love and support. All my friends for the epic times and unforgettable memories. My fans for making all this possible! Of course my sponsors Salomon, Oakley, Nike 6.0, Rockstar Energy Drink, Skullcandy, Dakine, Swix, all companies I would support regardless of them hooking me up. Kenny Knault for keeping my skis gliding during all the comps. Tim Windell for always letting me shred his lane. Steve Kruse at Timberline for being such a cool guy and hooking me up with summer passes since day one. Kyle Bradley for building the sickest jump ever. I also gotta thank the few kooks that I've met along the way, you help keep the fire burning! And everyone else that has impacted my life along the way. Thanks!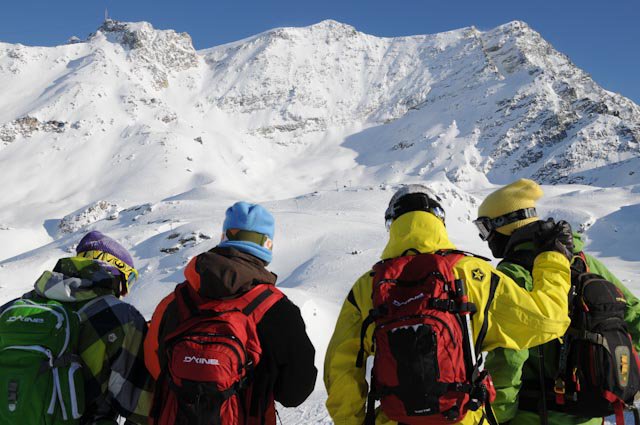 From right to left: Benchetler, Fujas, Mahre, Pollard. Checking out where to ski in Austria.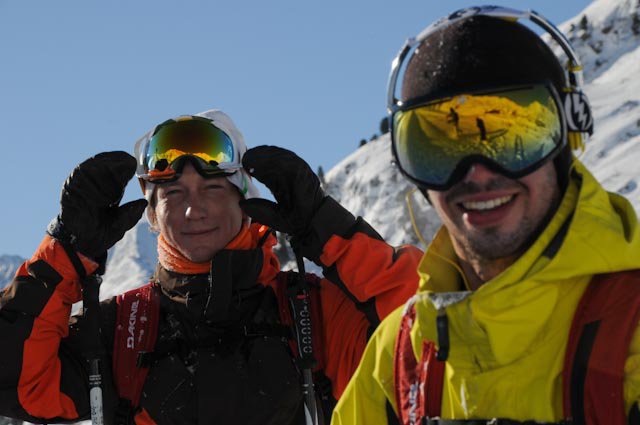 Fujas and Mahre.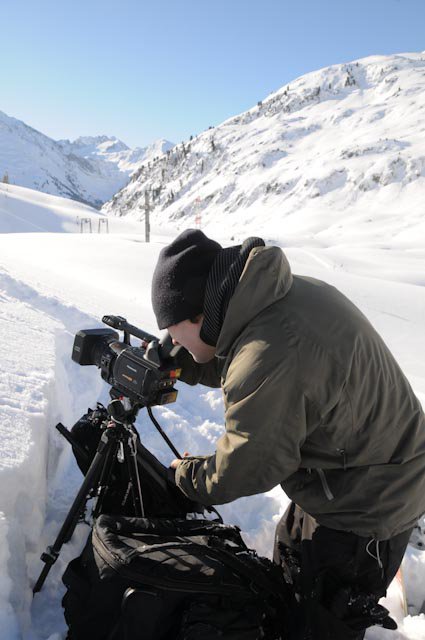 Wiegand filming in Austria.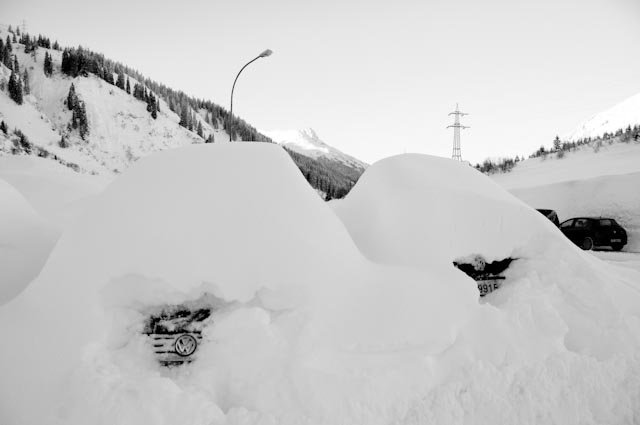 A very good sign. One of the best pow days I've ever had in Europe! Krippenstein, Austria 2009.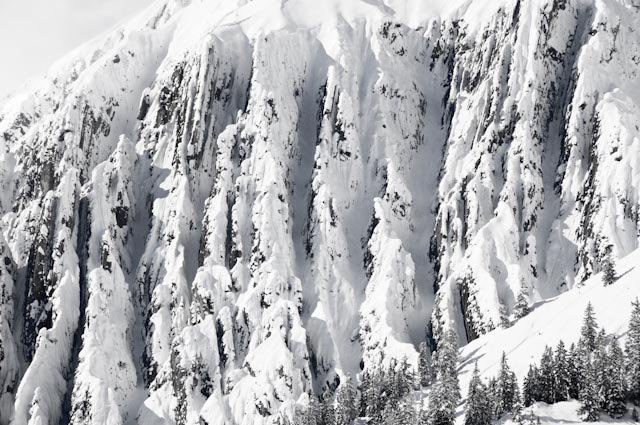 Arlberg, 2009. Hit a road gap across the valley from these gnar spines.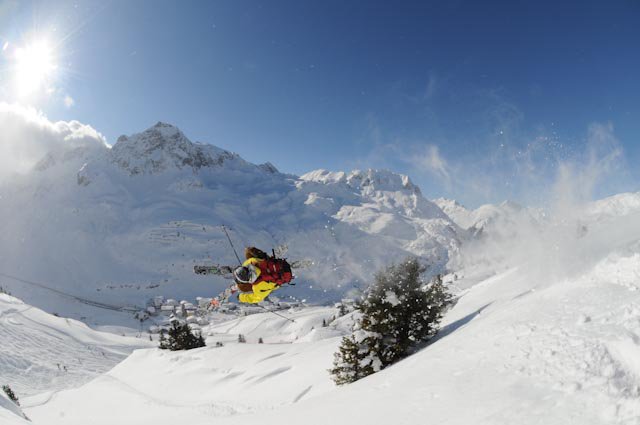 Andy Mahre. Stuben, Austria. Switch 5.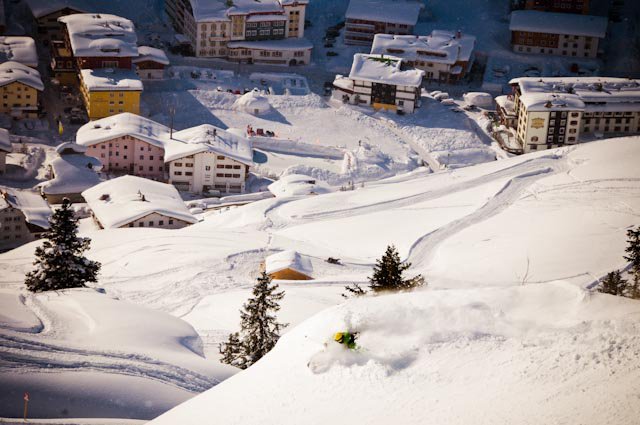 Pollard, Stuben, Austria. End of a great day home run.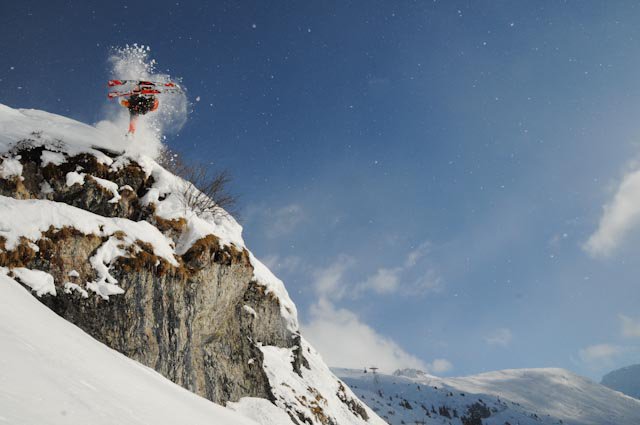 Pep Fujas, pure creation. 25-foot cliff to flat, hand drag 3. Boom!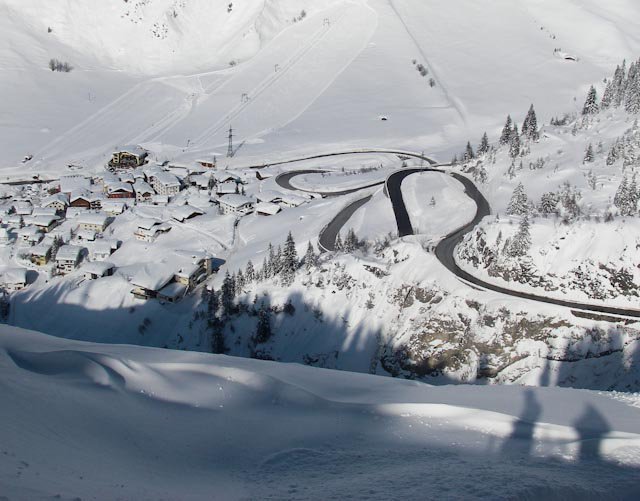 Driving back and forth on these road hasn't got old yet.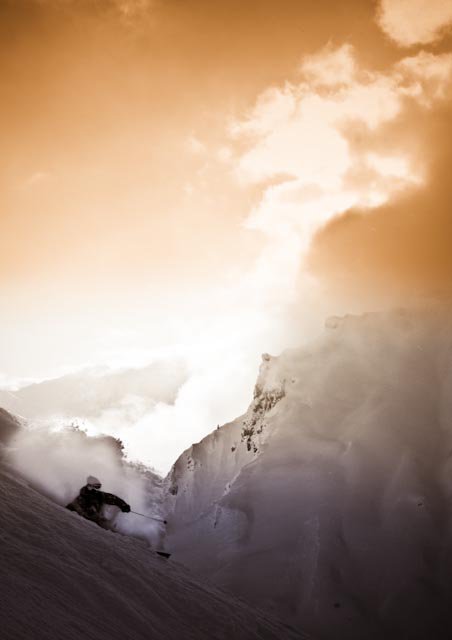 Arlberg, Austria. Pollard pretty pow turn.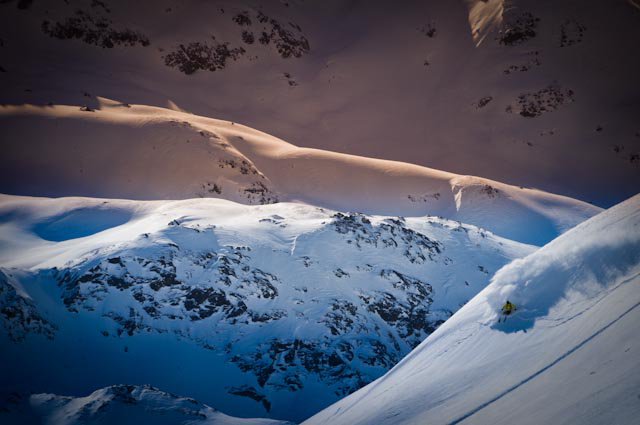 Stuben, Austria. Andy Mahre, he hiked to this line and earned his turns.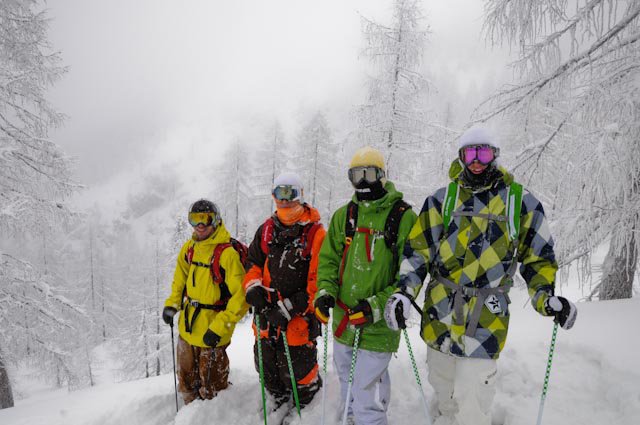 Krippenstein, 2009. Deep. We shot the entire Austria webisode in eight days. Seven days of puking powder and driving all over Austria, and one day of sun in Arlberg. Pulled it off.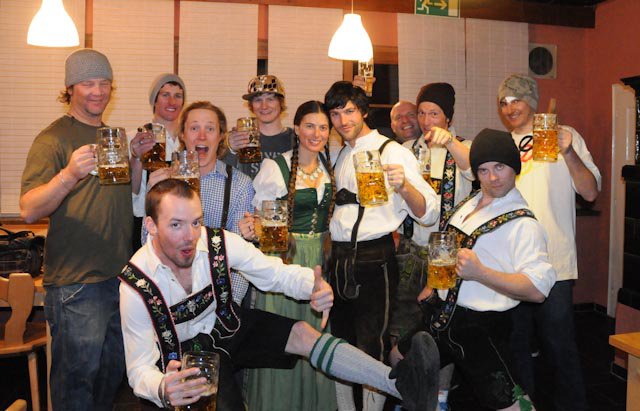 From left to right: Skye, Benchetler, Mahre, Smith, Korbi, Erin, Eric, Wolfgang, Fujas, Wiegand, Martin. Awesome night!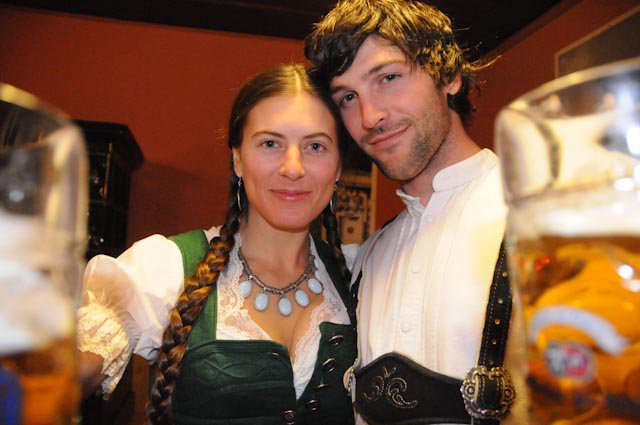 Erin and Eric Pollard putting down a massive amount of beer before their long flight home!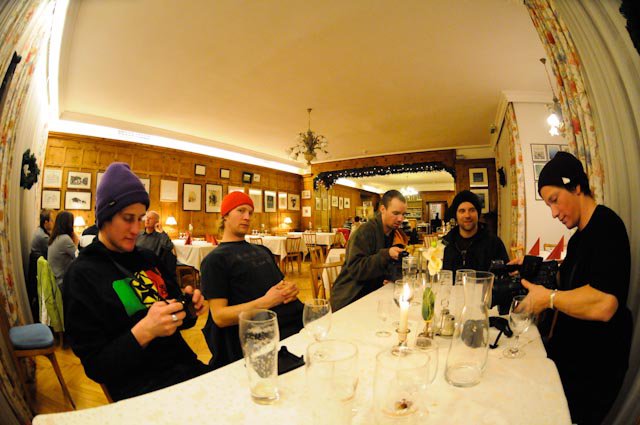 We like to think we have more fun than any other film crew in the world. I remember we booby trapped Benchetler's Beer with a couple shots of Schnapps at this dinner and then we tricked him into pounding it. haha!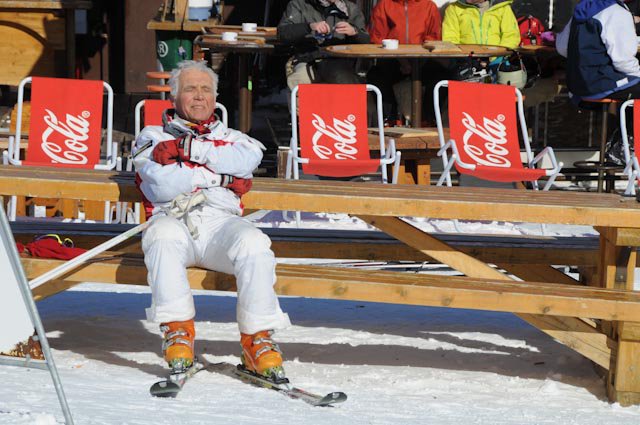 Saint Moritz, Switzerland. The Aspen of Europe. This guy was just eye candy all day long.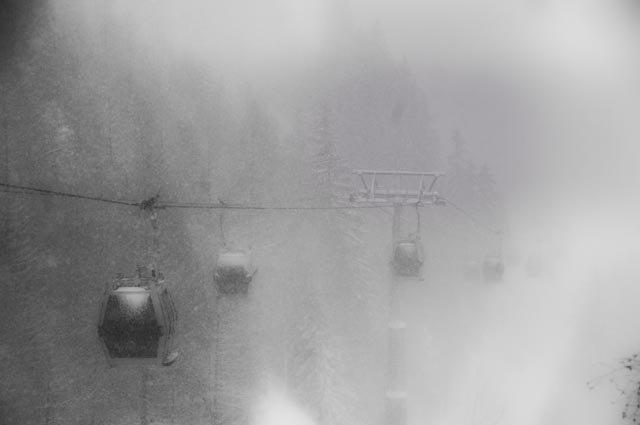 Italy 2010. More powder!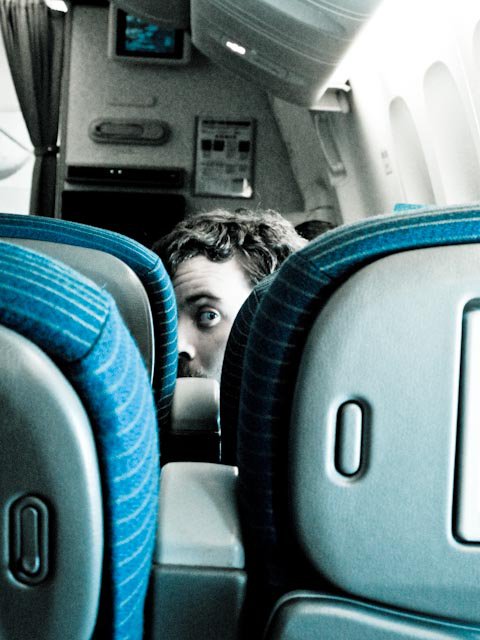 Wiegand, taking full advantage of Lufthansa's international drink policy.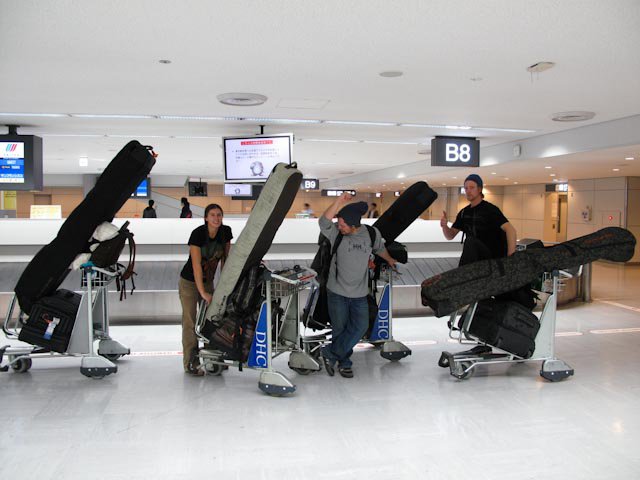 Airports with ski gear, you learn to love it.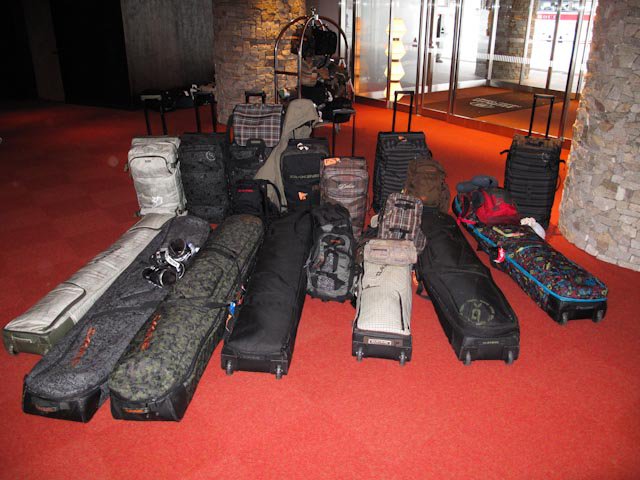 Japan hotel lobby 2008. Tired of dragging our matching luggage around a bunch of airport and bus stops.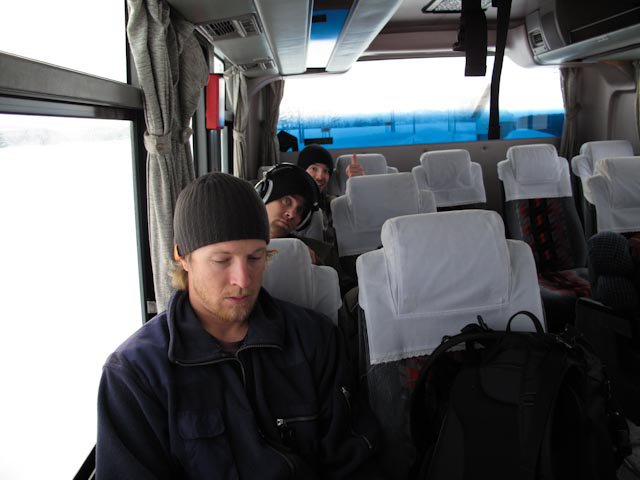 On the road in Japan 2008.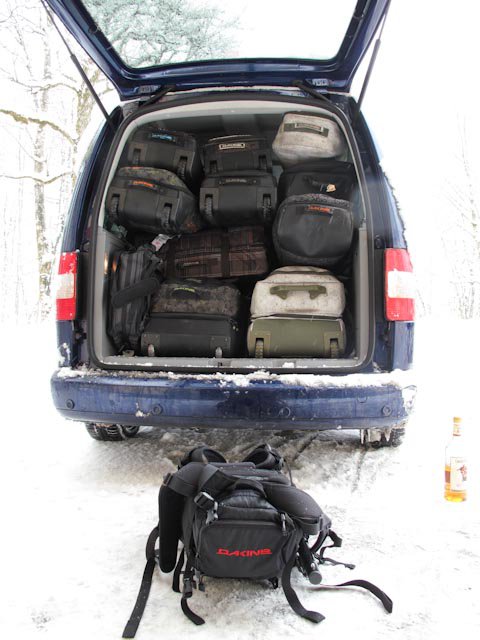 Rental car choice is key to success. Fujas held it down as always (one of the most experienced travelers in the business).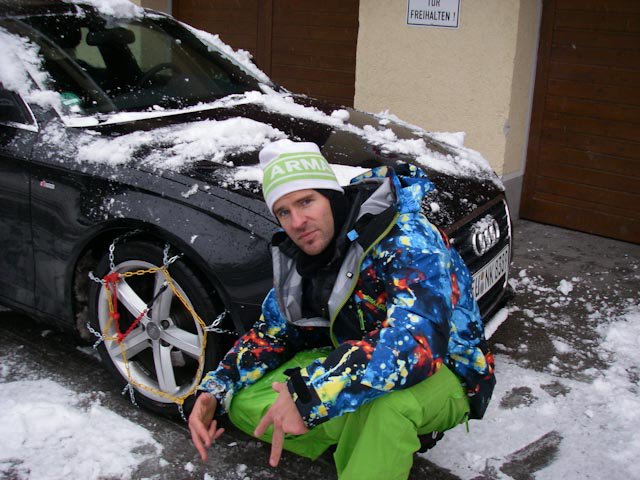 Chris O'Connell got stuck in the parking lot with his A6. Whoops.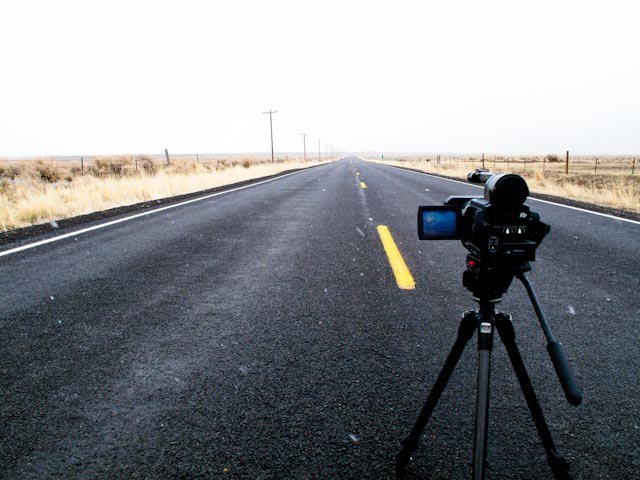 Part of our movies focus on documenting the landscapes we pass through.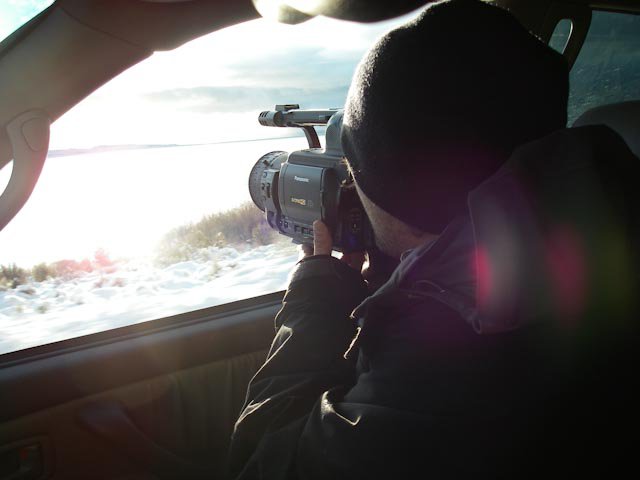 From inside and out. We attempt to document the entire experience of a ski trip.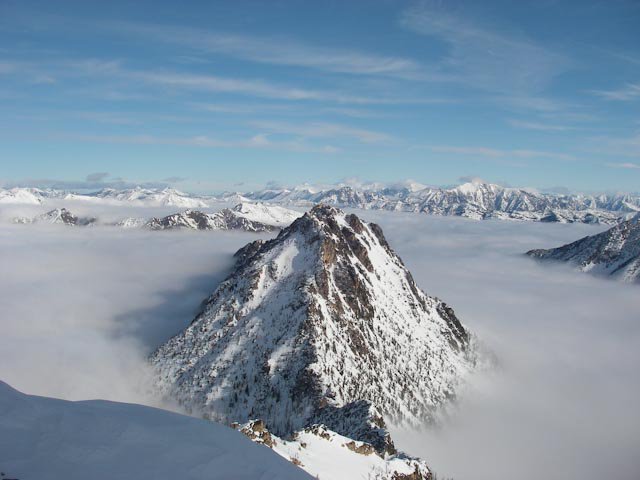 North Cascade Heli in Mazama, Washington offers some of the most radical terrain in the lower 48.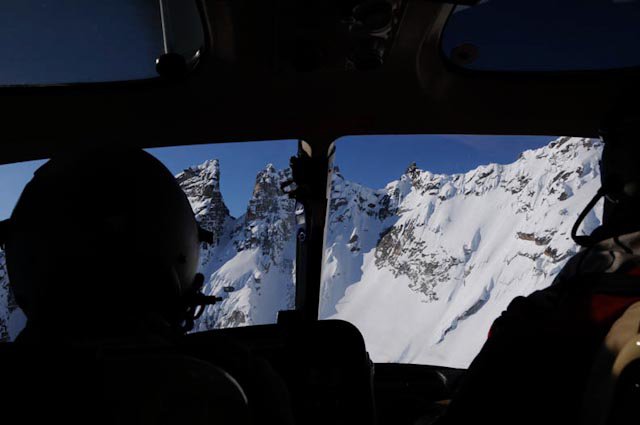 Always fun to get up in a heli with an amazing helicopter pilot like Seamus at North Cascade Heli.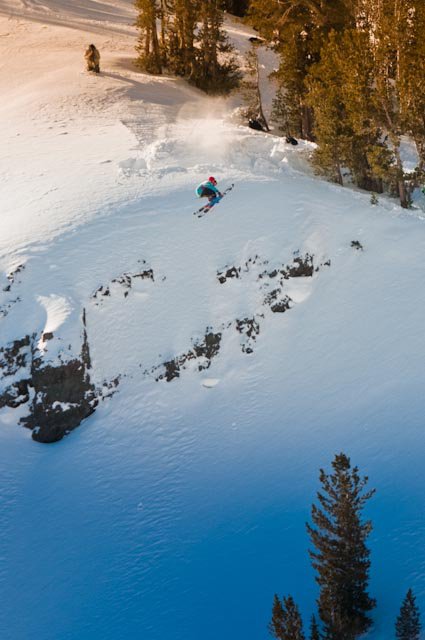 Benchetler, first day of shooting for the 2010 year. Left 7.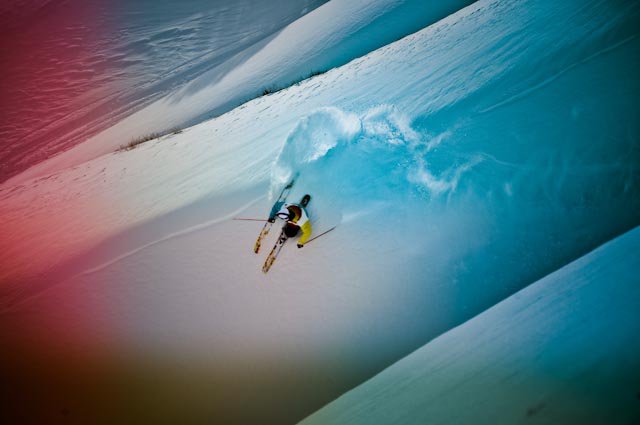 Same day, heavy surf influence. Benchetler off the top.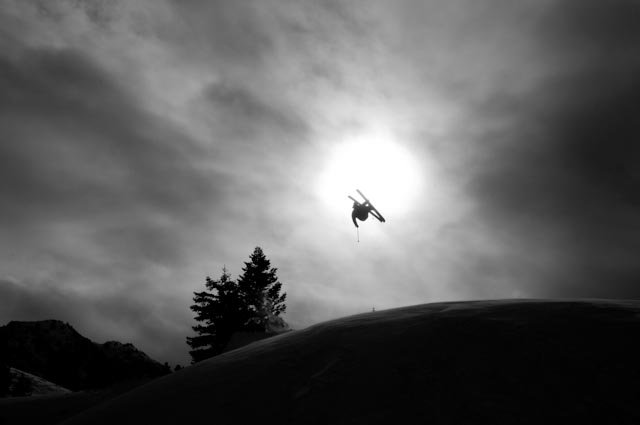 Dylan Hood, huge rodeo session in 2010.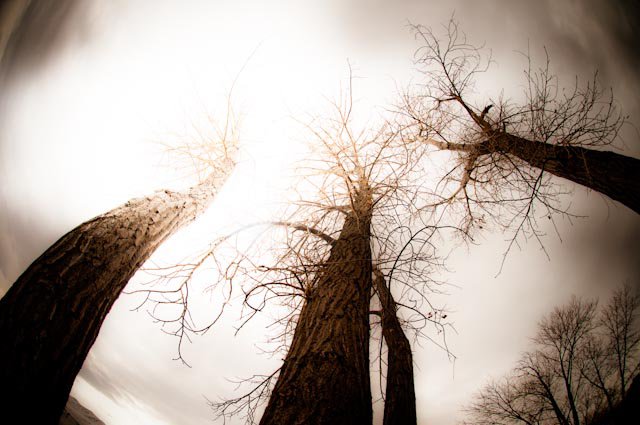 Cool trees.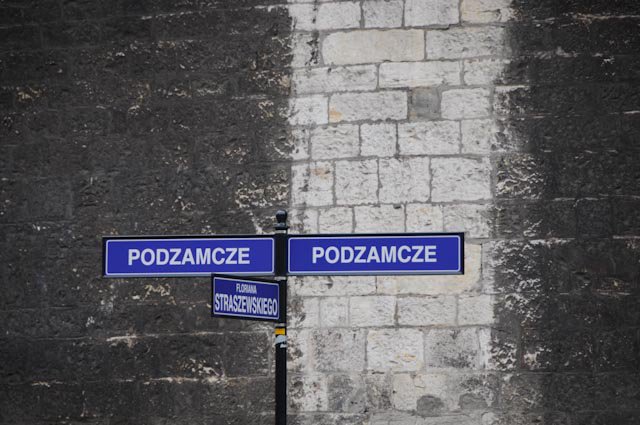 Which way?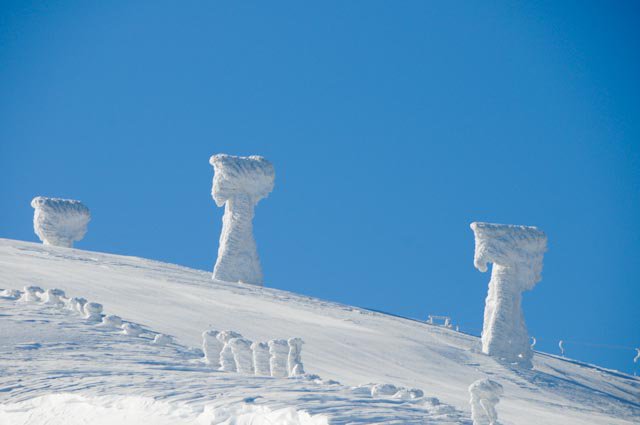 Slovalkia, 2009. Amazing ski area called Jasna.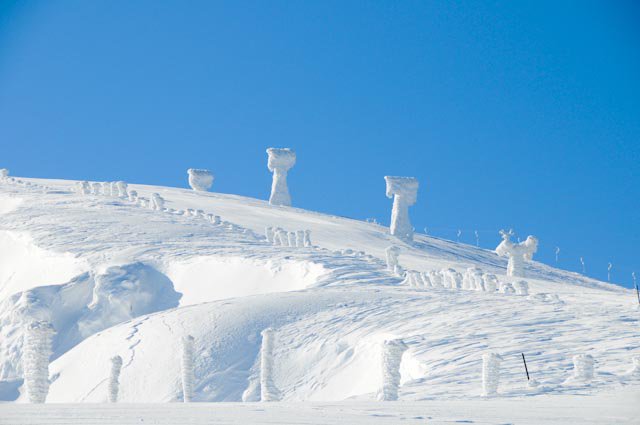 All the ice on the lift tower's reminded me of Timerberline, Oregon in the winter.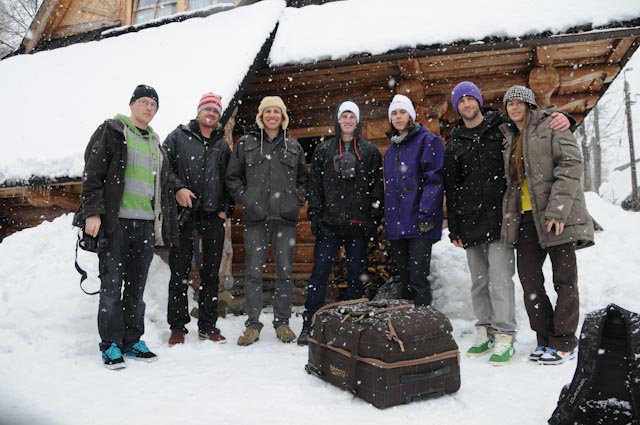 The Poland/Slovakia crew: Wojtek, Adam, Jonny, Benchetler, Marek, Pollard, Valverde Pollard.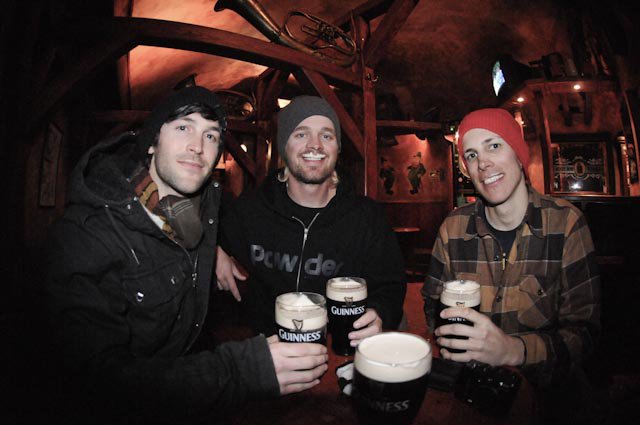 Saint Paddy's day in downtown Krakow, Poland. Still able to get our grubs on some pints of Guiness.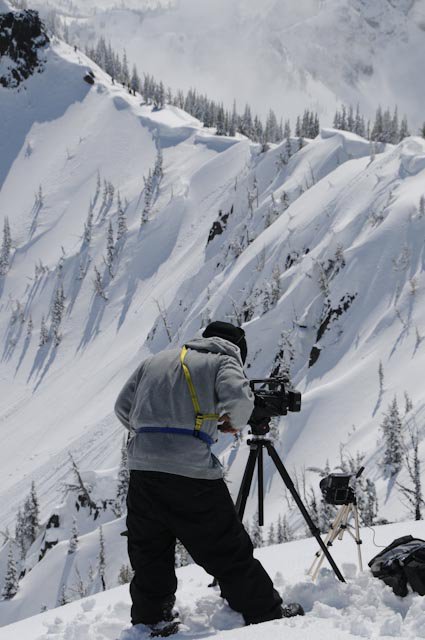 Justin Wiegand filming us at Crystal Mountain Washington in 2009. Benchetler killed it this day.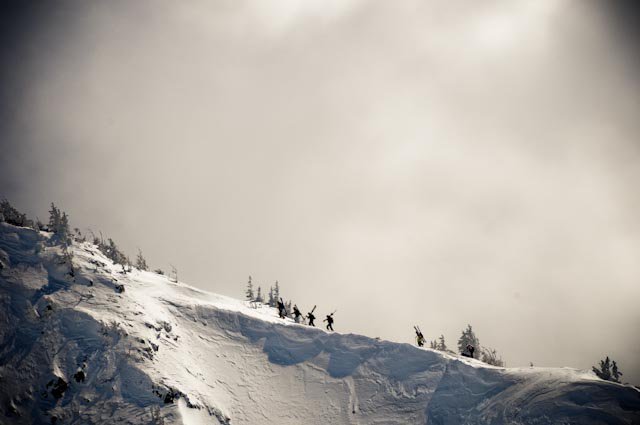 On our way up.
Pollard on the way down.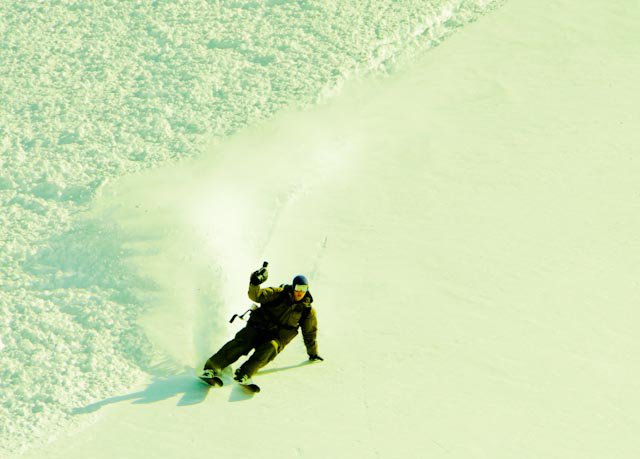 Ike follow cam with Mahre.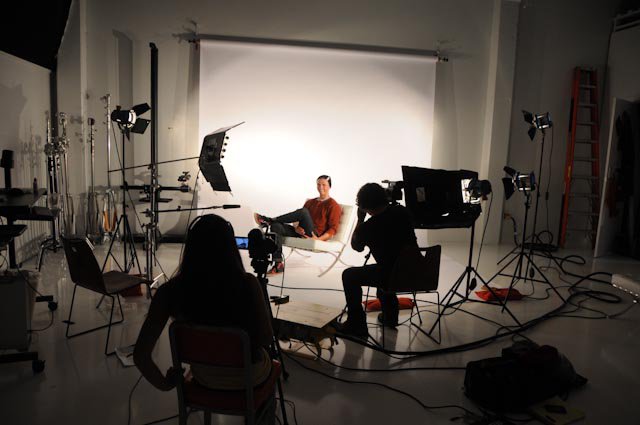 Blake Nyman, interview for Contrast.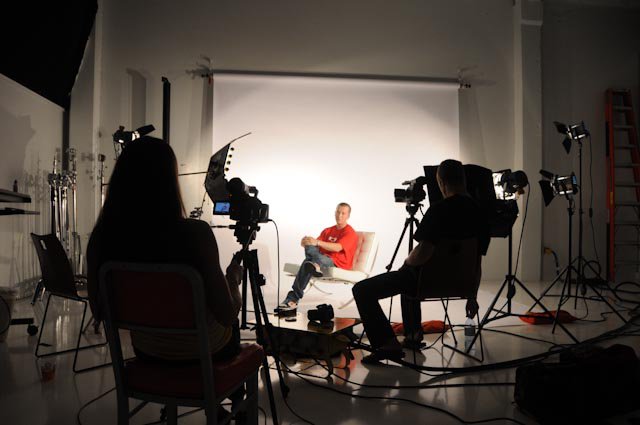 Pep Fujas, interview for Contrast.
Ike follow cam with Blake Nyman.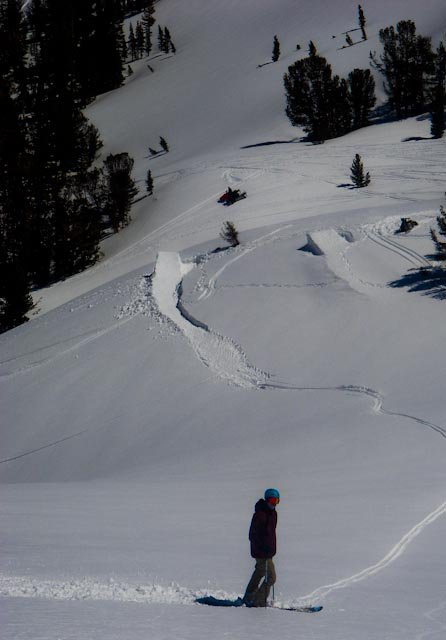 Blake, about to drop into one of the most fun jumps ever. January 2010.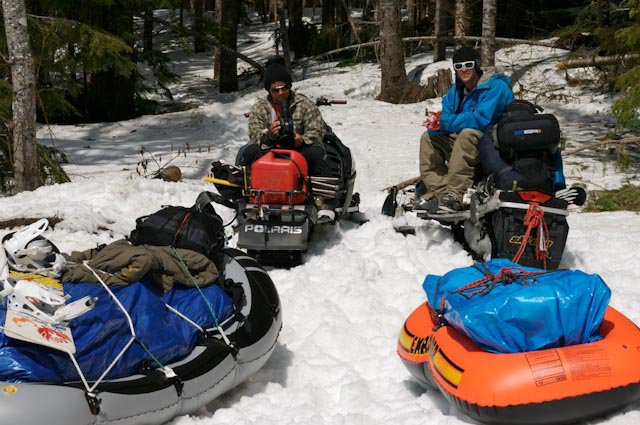 Camping trip to Mount St. Helens.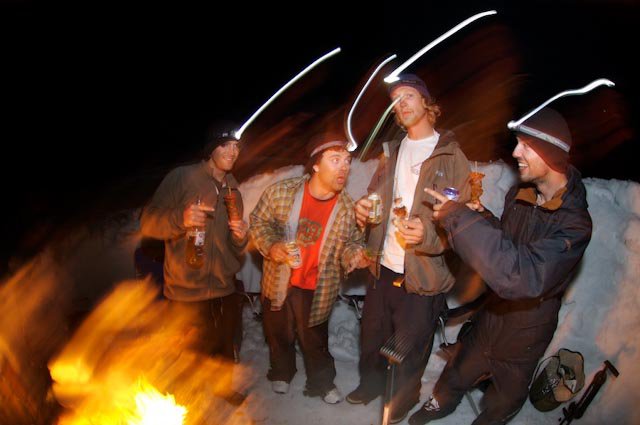 Campfire and BBQ after a day of Helens.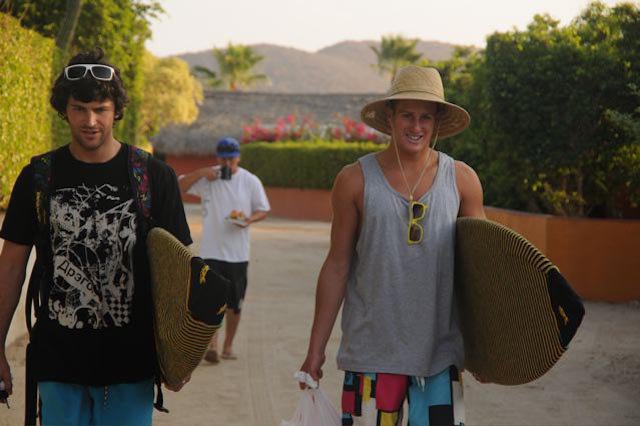 Filming for Hunting Yeti = a good excuse for a surf trip to Mexico.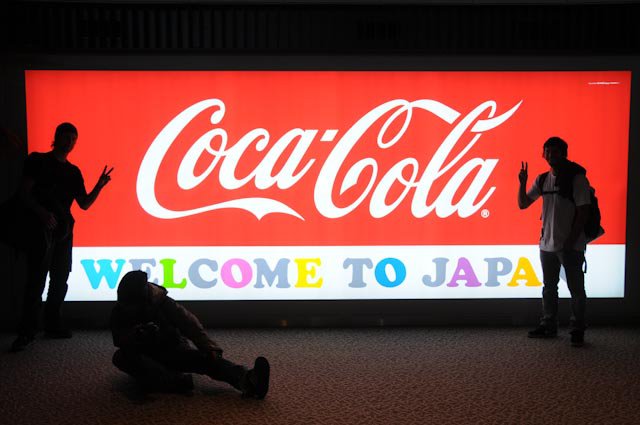 Arriving at the Sapporo airport 2009.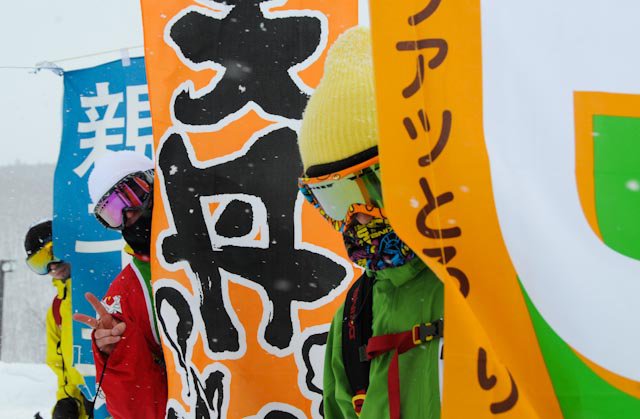 Next day, pow.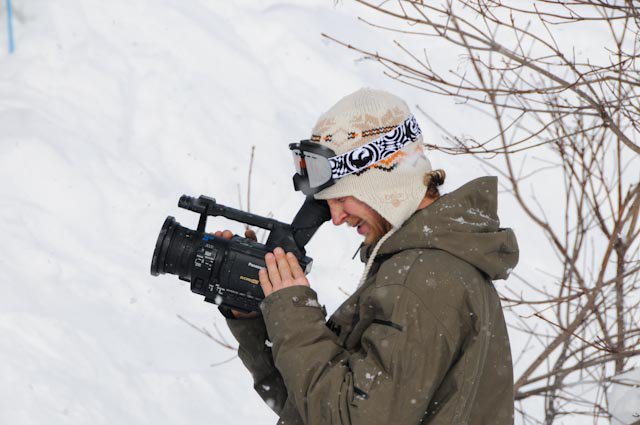 Ike Smith, fisheye master.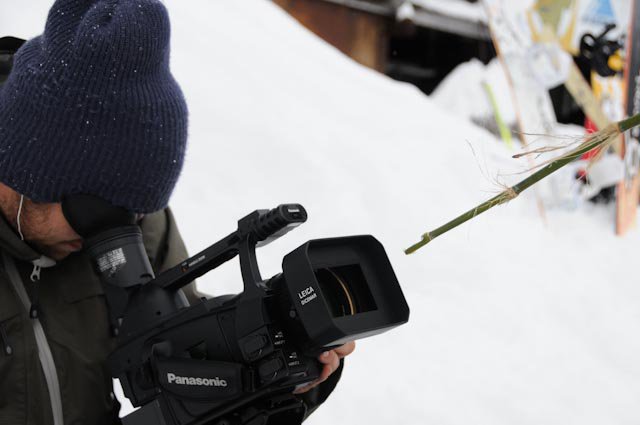 Wiegand Shooting Andy's bamboo ski poles that he grabbed first day in the Japanese forest.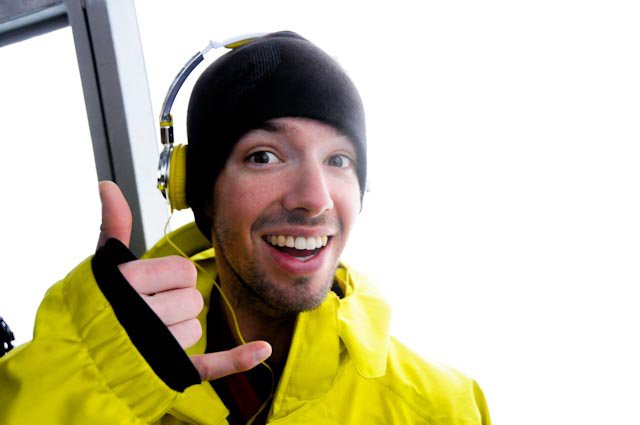 Andy Mahre enjoying himself.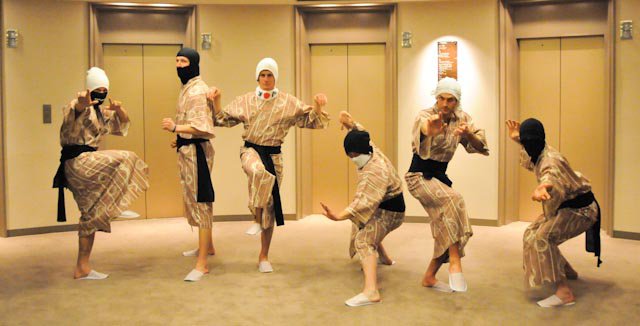 Powder Magazine Video Award acceptance get ups. We got a few odd glances while shooting this in our hotel.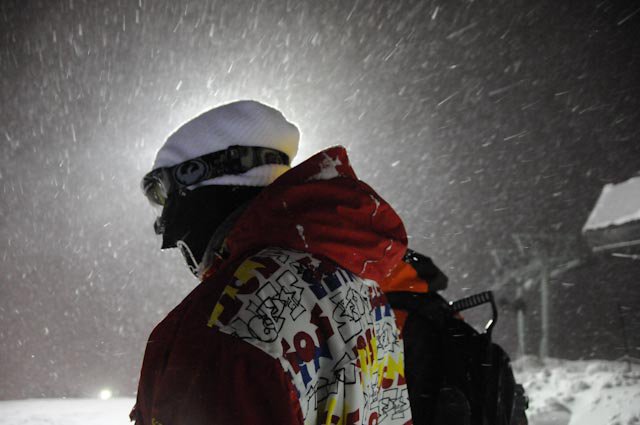 Grand Hirafu! Niseko, Japan. All time. I always recommend doing this trip to anyone who wants to get away to a foreign culture and ski some amazing terrain. Seriously all time. I'm going back.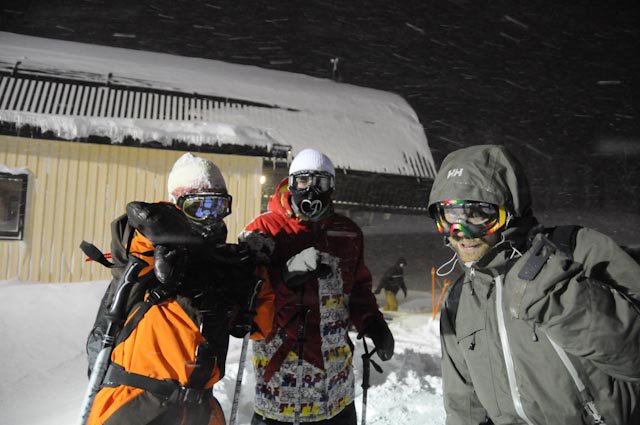 Fujas, Benchetler, Wiegand. Solid.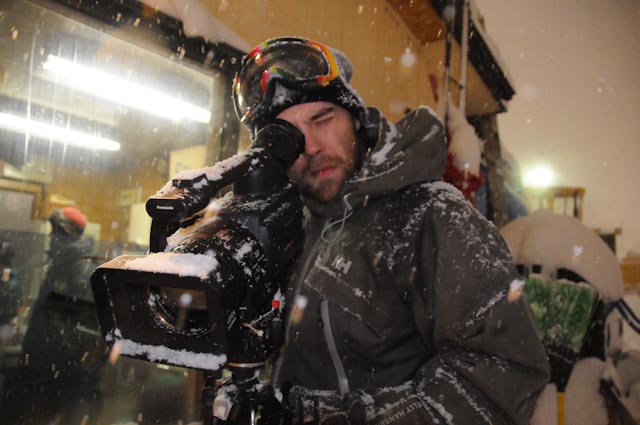 Shooting in snowstorms can make it very difficult to keep your camera gear working. Wiegand is one of the best.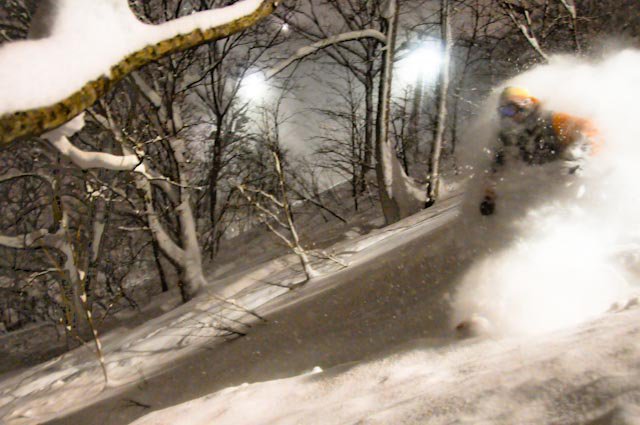 Pep. Shutter was too slow to freeze this man.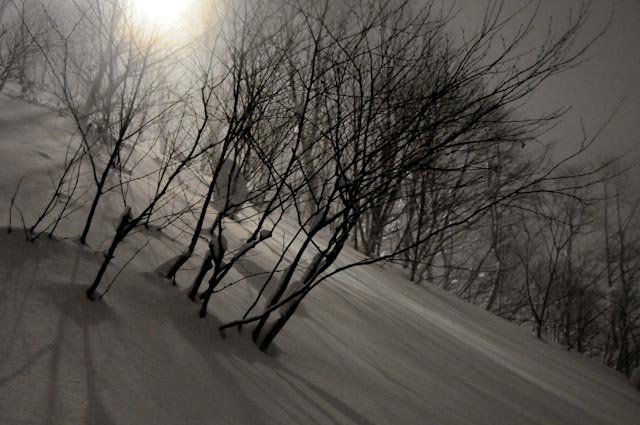 Niseko.
Niseko.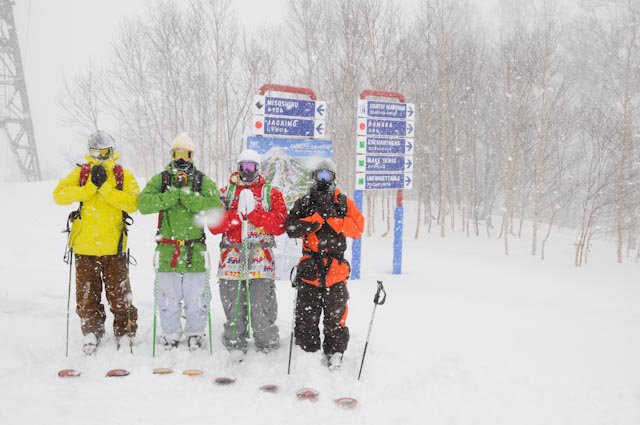 Mahre, Pollard, Benchetler, Fujas. One of my favorite trips. Our first attempt to make a full length movie in two weeks. Huge success thanks to the crew.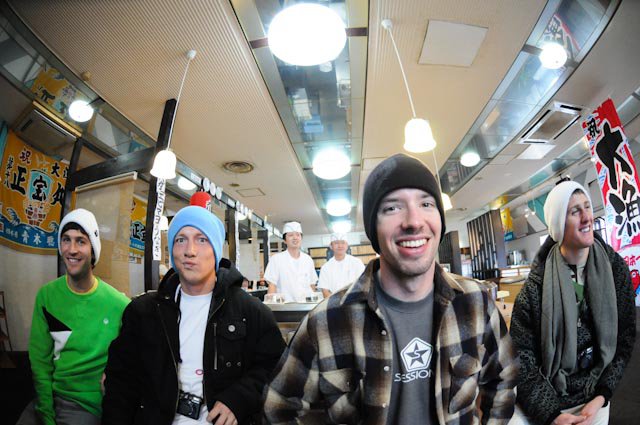 Real deal sushi.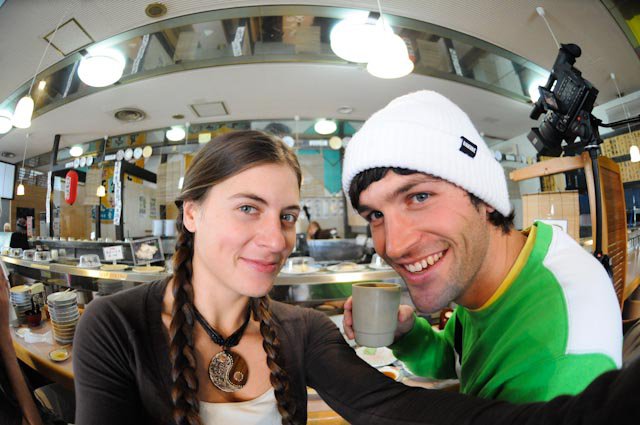 Cute right?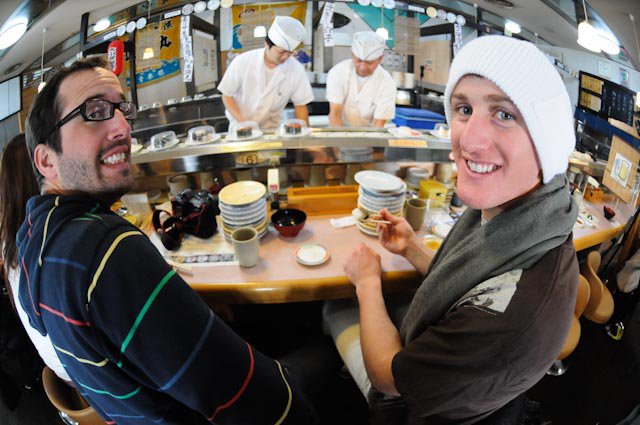 Levin and Benchetler.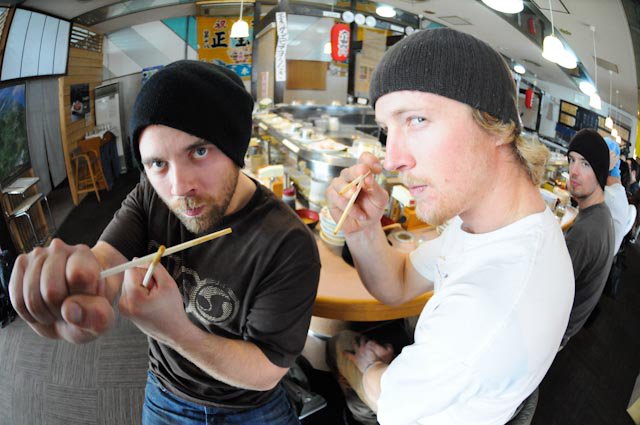 Wiegand and Smith.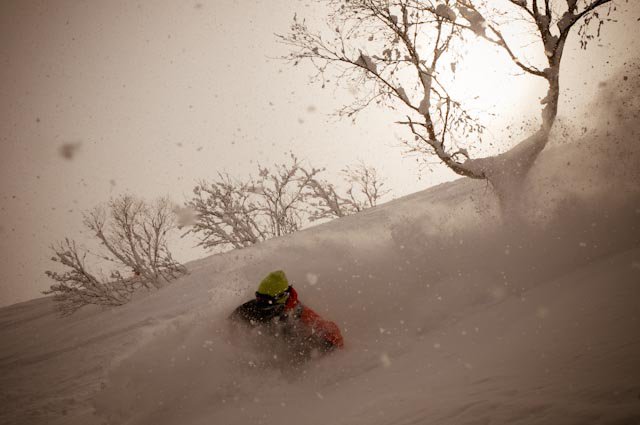 Fujas, slaying.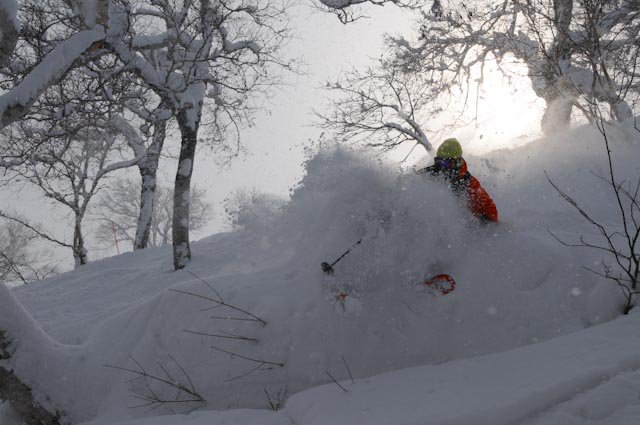 Again.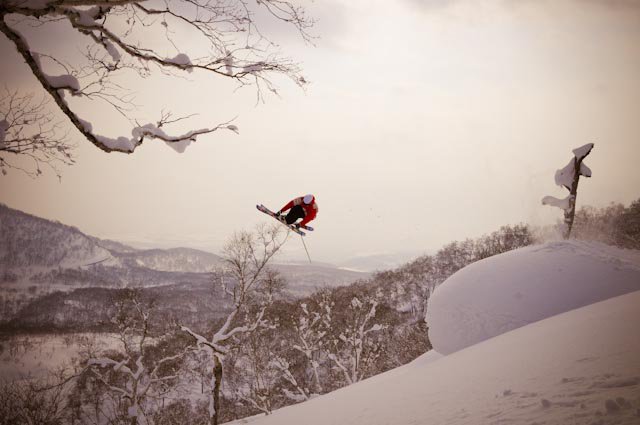 Benchetler switch 5 pillow action.
Eric and his little friend, the GoPro camera.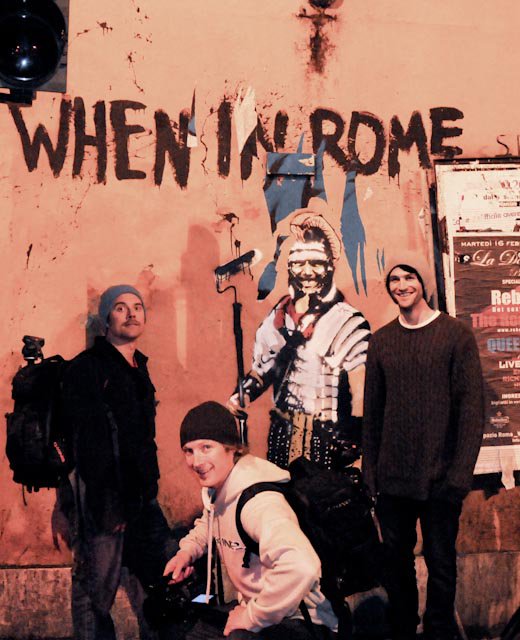 When in Rome. Wiegand, Smith and Pollard. Pollard's teeth were dark purple by this point due to wine consumption.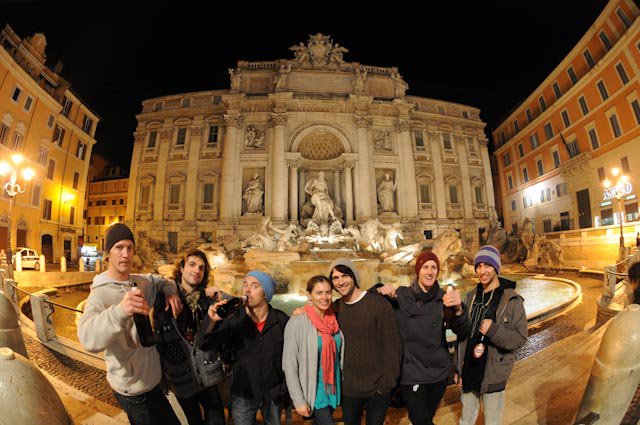 The Italy crew: Smith, Bruce, Wiegand, Erin, Pollard, Benchetler, Cosco. We did Rome for a day and then hit up the Alps.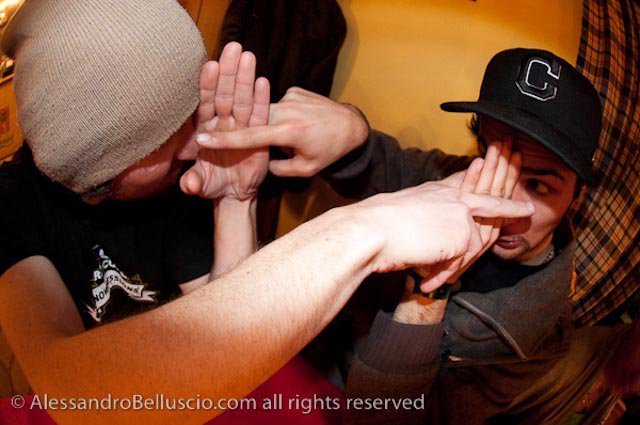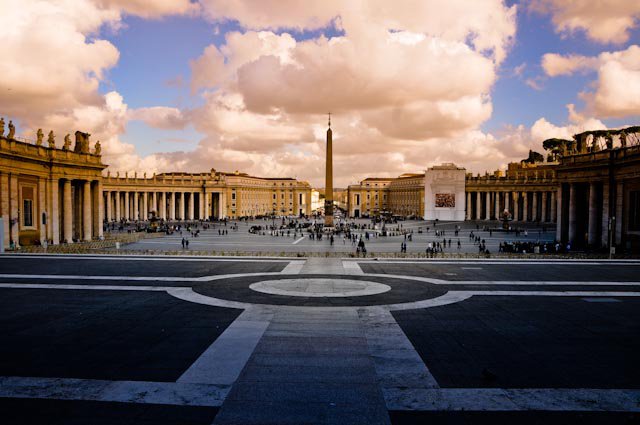 Rome is amazing.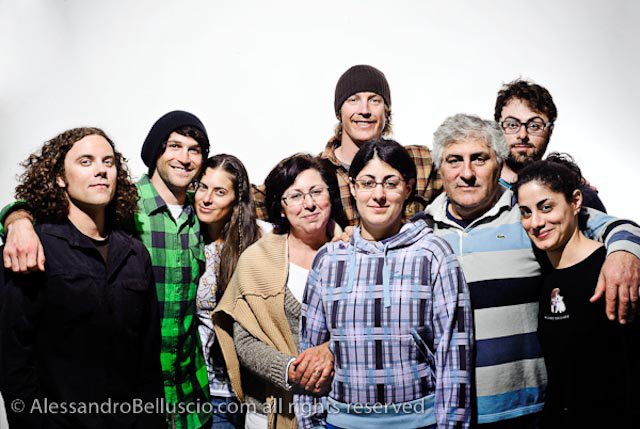 Alessandro's family made us a home cooked Italian meal, then we took a group shot in his father's studio.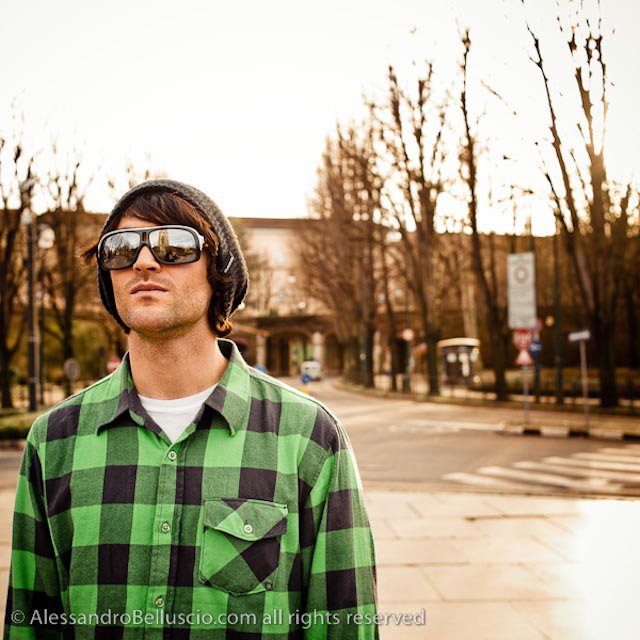 Eric contemplating his navel.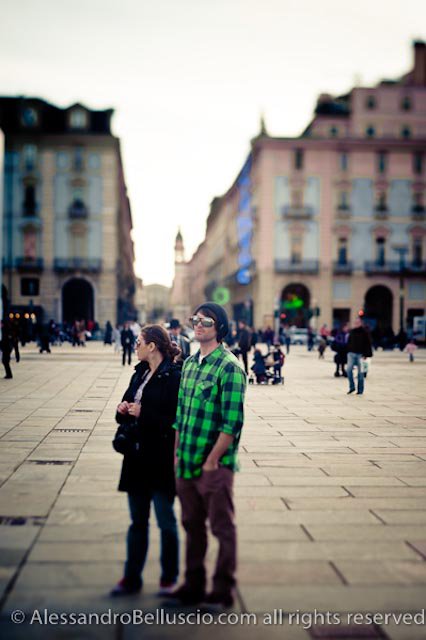 Eric and Erin somewhere in Italy.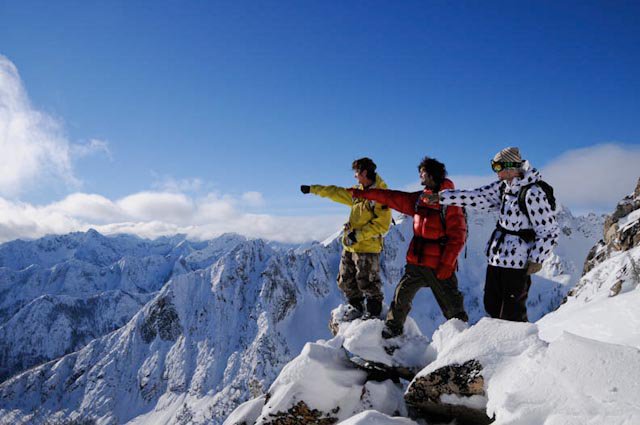 Our first Nimbus trip. December 2007, North Cascade Heli.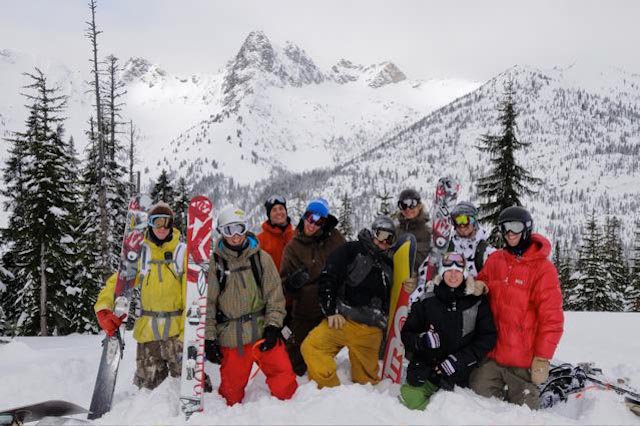 Fujas, Bryce, Jeff, Alex, Wiegand, Smith, Erin, Mahre, Pollard.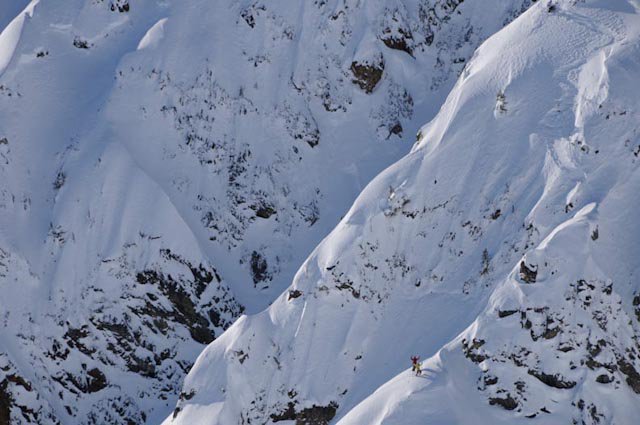 Fujas and Pollard after surviving a sketchy road to their lines.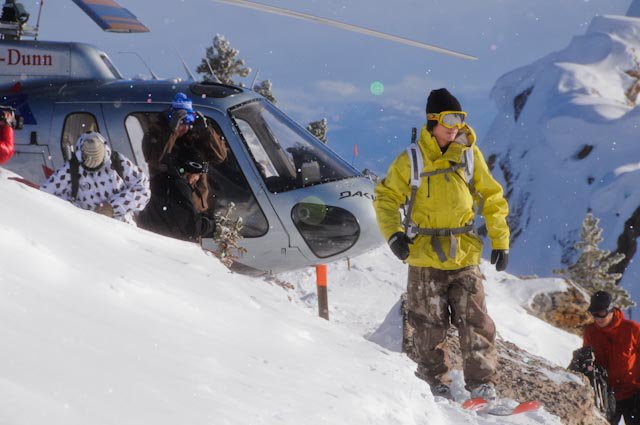 Fujas.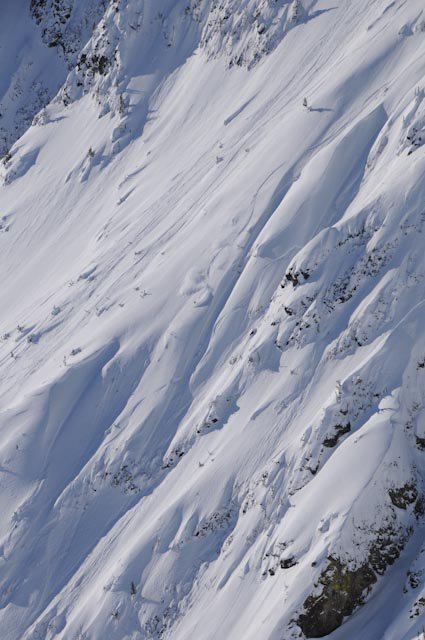 Fujas flashed this face in seconds. So fast.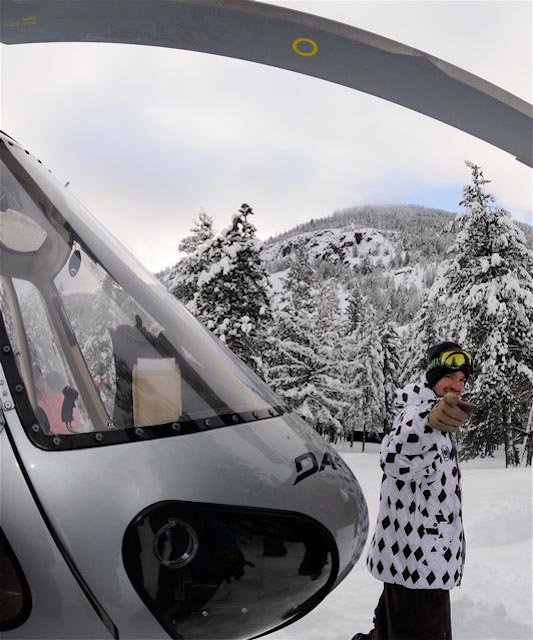 You. Mahre.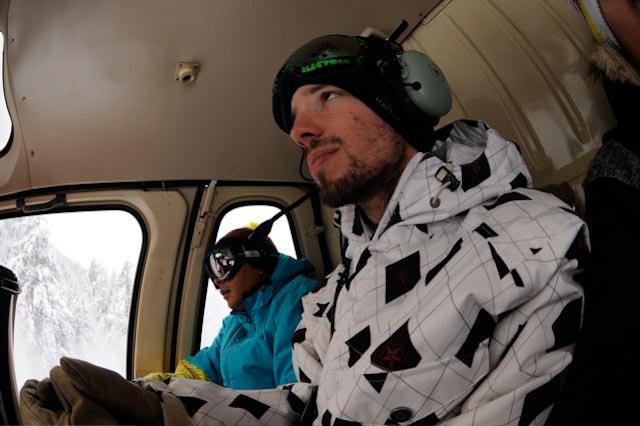 Bryce Phillips and Andy Mahre. Great trip.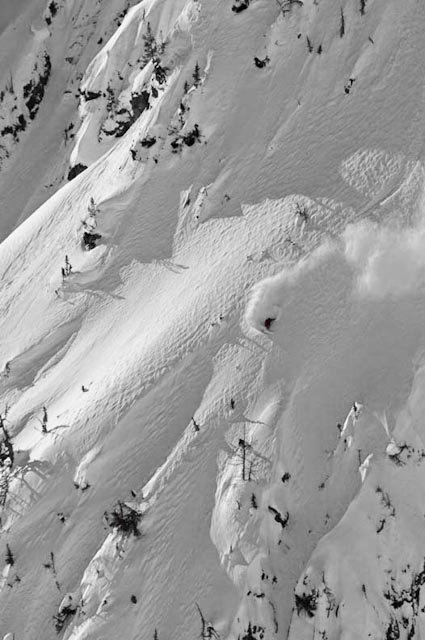 Pollard. Layback.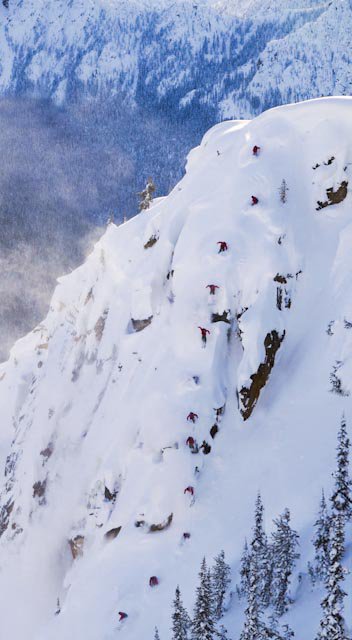 This was a super blind line. The light was off the face, the wind was blowing snow everywhere. Always hard to show the perspective of the skier. Pollard, North Cascade Heli 2007.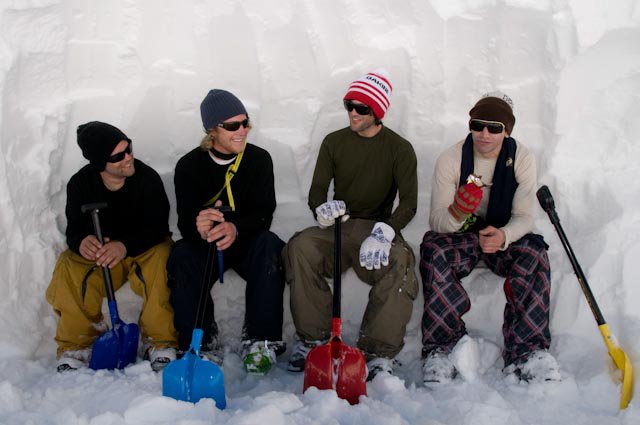 Snow cave in Cali 2008. Wiegand, Smith, Pollard and Sirianni.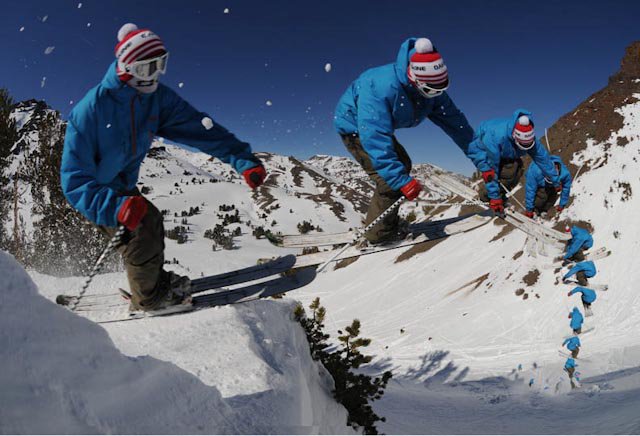 Pollard step down. Hunting Yeti Webisode 2. Cali.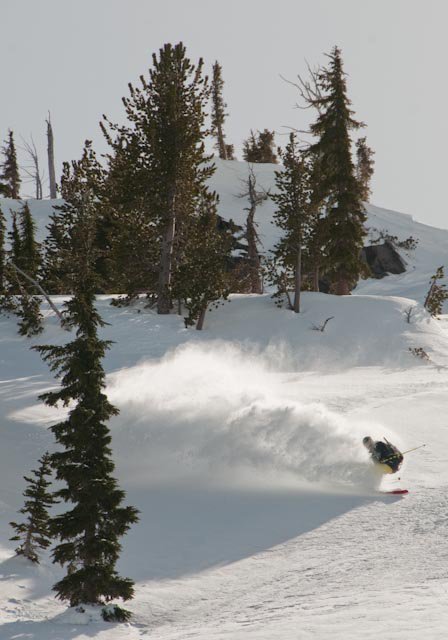 Pollard, switch turns. One of his favorite things to do. We almost never shoot turns or slashes, they normally happen after an air. This shot was taken after a sizable 180.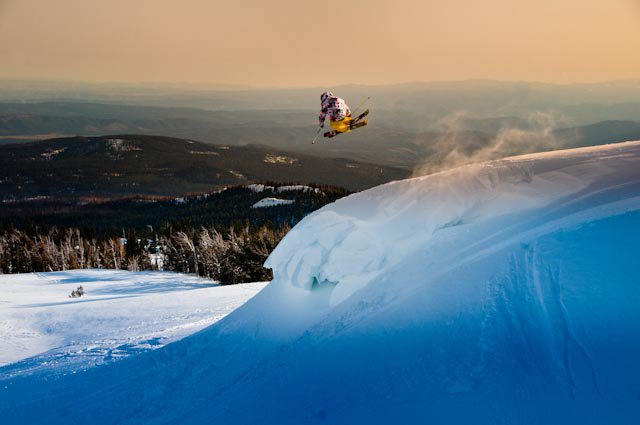 Sammy Carlson in Oregon. Airing our cornice.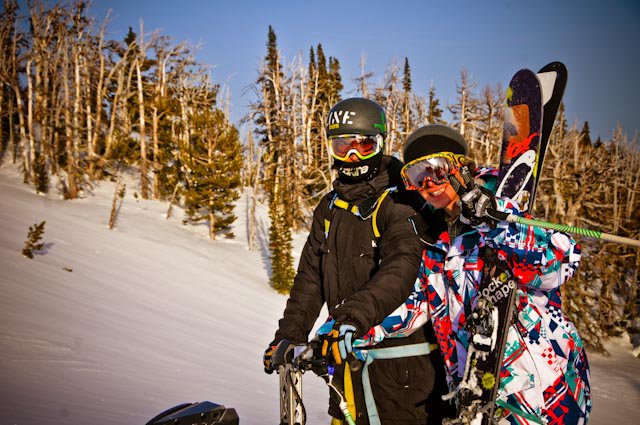 Pollard giving Sammy his one thousandth ride to the top. Sammy can keep going all day.
 
Nimbus Independent presents: Thank You