Words by Jeff Schmuck
Photos courtesy of iF3
Day two of the sixth annual International Freeski Film Festival is in the books here in Montreal, Quebec, Canada, and following a stellar kick-off on Thursday (click here to check out our coverage), it only got bigger and better yesterday.
Much to the delight and relief of the multitude of hungover individuals following the previous evening's Alpine Initiatives iF3 Launch Party, the day began late, with the first of six premieres taking place at 3:45pm in Monument National, a historic and gorgeous theatre right across the street from the iF3 Outdoor Village and Hotel Zero 1.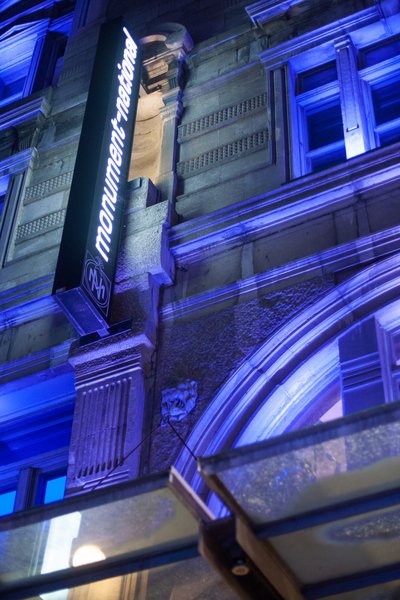 Monument National
Following an episode of Kevin Rolland and Xavier Bertoni's Follow Us, Freeski-Crew.com's aptly named Dynamite was the first film to be shown, and what a pleasant surprise it was from the newcomers from Europe. With a great mix of stylish park skiing on gargantuan jumps and a powder-packed backcountry trip to various locations in British Columbia, Dynamite helped kick off the day with a bang, and you won't want to miss it when it becomes available online later this fall.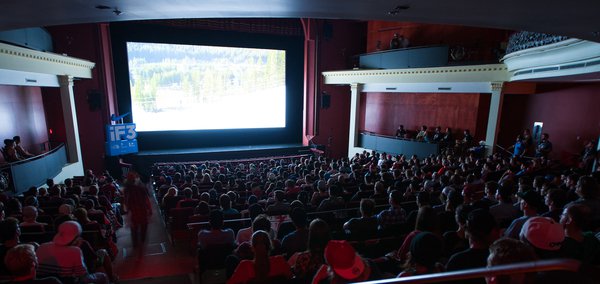 Following Dynamite was the fifth feature-length offering from Norway's continuously rising stars, Chaoz Productions, who unleashed yet another beautifully shot film, complete with a host of sunset jump shoots overlooking breathtaking Norwegian fjords (during which Gaute Silseth got the crowd's fists pumping with his highly diverse bag of tricks), some incredibly intense and hair raising backcountry skiing, and awe-inspiring pipe and urban offerings from Walter Wood and Kim Boberg respectively.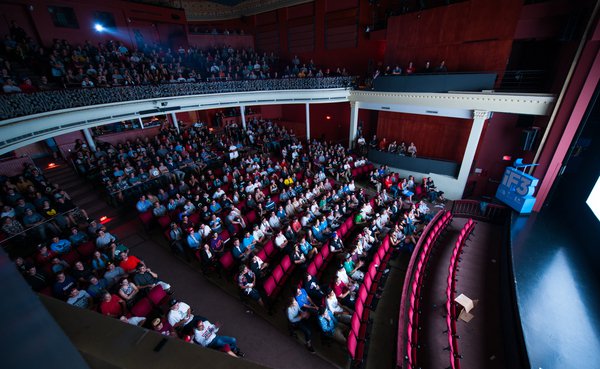 A short break then ensued before an even larger crowd made their way back into the theatre for Toy Solider Productions' latest gem, Act Natural, which is without question their best film yet. The reasons for this are plentiful, including Noah Wallace, Shay Lee, Khai Krepela laying waste to every feature in their path (highlighted by a high risk session on a gap jump over a skate bowl, which graces the film's cover), Finn Anderson and Austin Torvinen keeping it real and then some in the streets, and some A+ snowboarding from Dash Kamp. But the biggest standout segment of the film (and perhaps the entire festival thus far) belongs to Sandy Boville, who's warp speed urban prowess blew the minds of every single person in attendance and will surely establish himself as a more than worthy candidate for Rookie of the Year.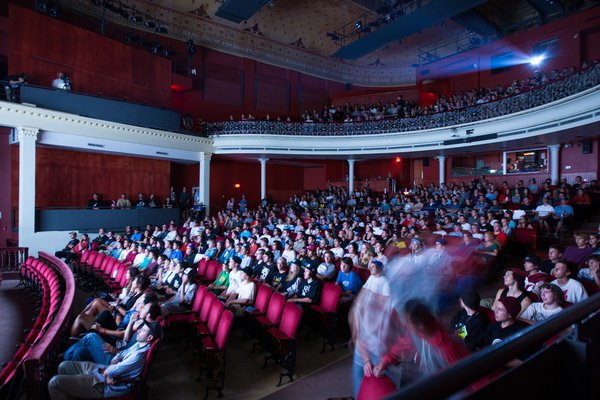 PVS Company's At Your Service was up next, and once again (and to no one's surprise, based on their previous offerings), it was one of the most creative of the bunch, with some seriously weird and seriously cool intros for each athlete, which led into some of the finest big mountain and park skiing the long list of talented freeskiers from France have to offer (highlighted by some beautifully shot trips to Iceland and Russia), along with yet another head turning segment from 10-year-old Kelly Sildaru that has to be seen to be believed.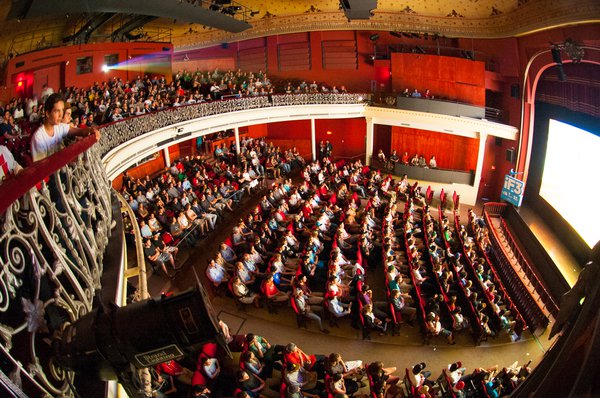 After another short break the theatre filled up to the ceiling, as a sold out and buzzing crowd prepared to take in the last two films of the day, Inspired Media Concepts' The Education of Style and Level 1 Productions' Sunny. Before the former began though, the crowd was treated to an episode of the locally made Irie Indians, which got the Quebec-based crowd primed, loud and ready for some of the most anticipated premieres of the festival.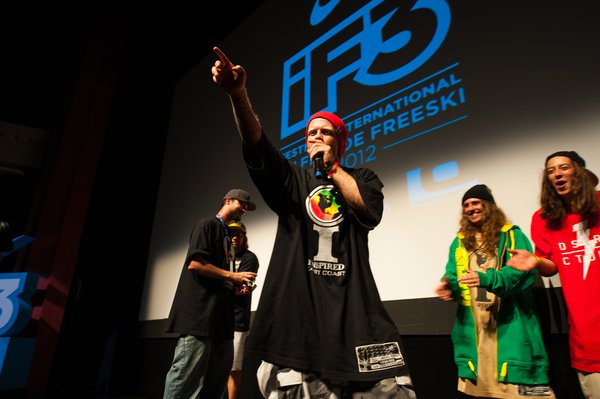 Tanner Hall with Eric Iberg, Henrik Harlaut and Paul Bergeron.
Tanner Hall, Phil Casabon, Henrik Harlaut, Paul Bergeron and Eric Iberg then took the stage, where as expected, Tanner promptly grabbed the mic and delivered another classic State of the Union-style address, during which he asked everyone in the audience wearing an Inspired t-shirt to join him on stage in a show of unity. The Education of Style then began, and while I'm sure many of you have seen it by now, highlights include B-Dog's opening segment that acts as simulated mushroom trip, T-Hall unleashing his best and most well-rounded segment since his injury, and E-Dollo proving why he may be and should be considered one of the best and most creative skiers in the world.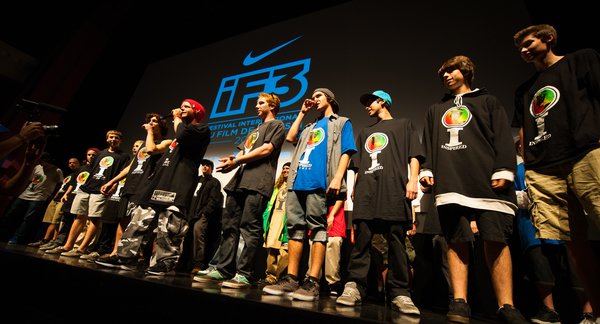 Inspired!
Level 1 Productions' Freedle Coty, Wiley Miller, Chris Logan, Will Wesson, and local hero Alex Bellemare then stepped into the spotlight to present Sunny, which is without question one of the best films of the year. The astonishing and long list of highlights are so numerous that it would be easy to write an entire article about just how damn good this movie is, but the biggest standouts are courtesy of Mike Hornbeck's hot fire opening segment, Chris Logan's best part ever, a hilarious and highly enjoyable urban and powder-filled trip to the Land of the Rising Sun, Logan Imlach's unique look at urban skiing, Wiley Miller being a boss, another iconic Sun Valley park shoot and an amazingly unique one at Breckenridge, Tom Wallisch and Tim McChesney's joint jaw-dropping and head-shaking part, and Parker White's closing segment, which solidifies his status as one of the best all-around skiers in the world...period.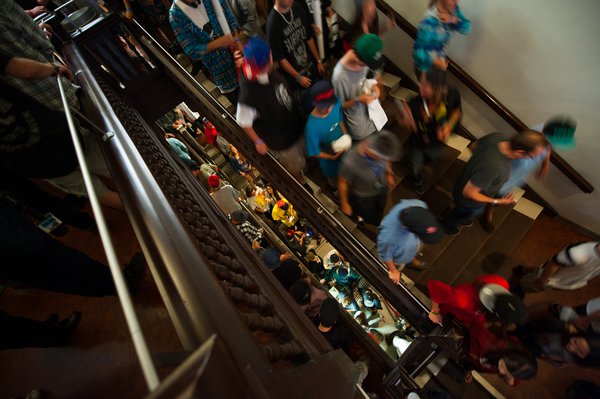 Fans en route from Monument National to the iF3 Hip-Hop Party.
Following the films the crowd stampeded out of the theatre to brave the rain for a 10-block stroll to Olympia for the iF3 Hip-Hop Party (which was live webcasted right here on Newschoolers), which featured electrifying performances from Jah Cutta, All Star, Rahzel and Mix Master Mike. And since my recollection of everything that went down is similar in nature to the photo below, I'll go ahead and let the pictures do the talking...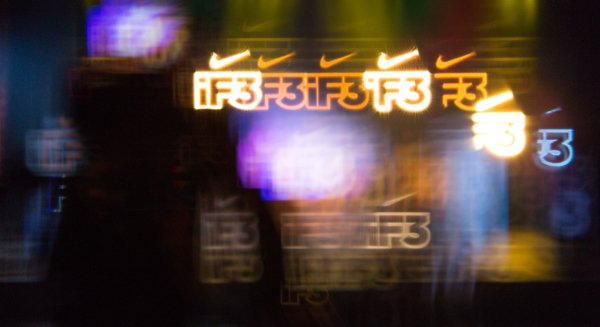 Olympia, site of the iF3 Hip-Hop Party.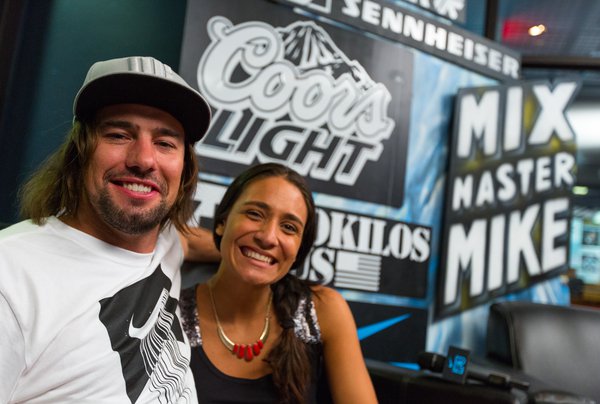 The hosts of the live webcast, Luke Van Valin and Camille DG.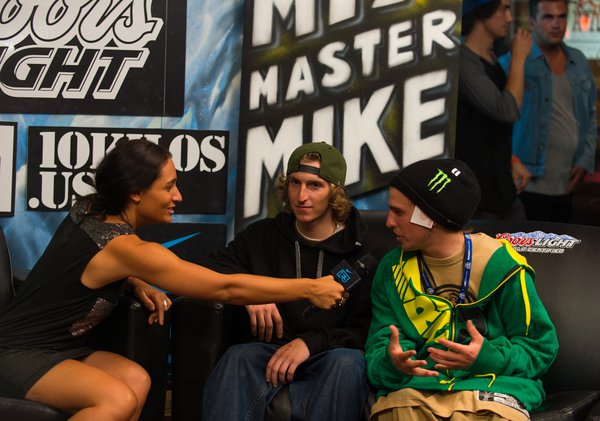 Camille interviewing Phil 'B-Dog' Casabon and Henrik 'E-Dollo' Harlaut.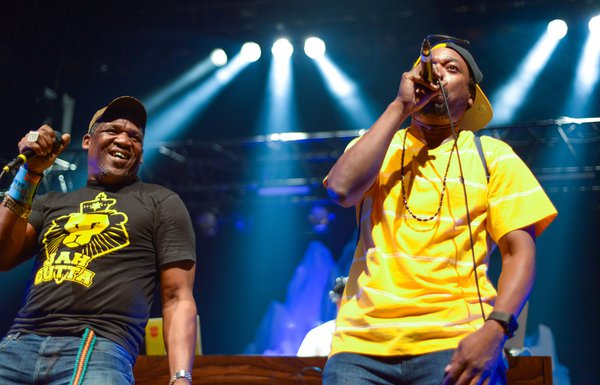 Jah Cutta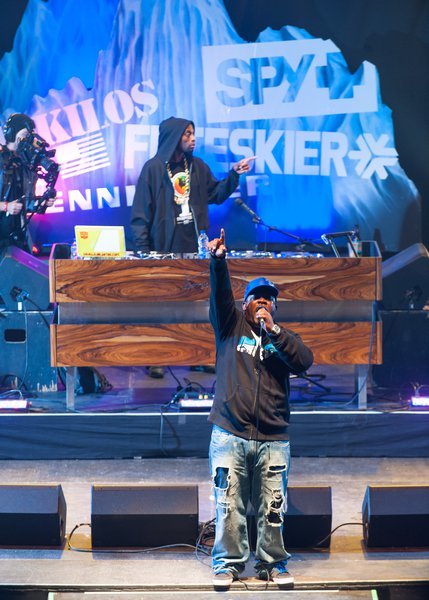 All Star...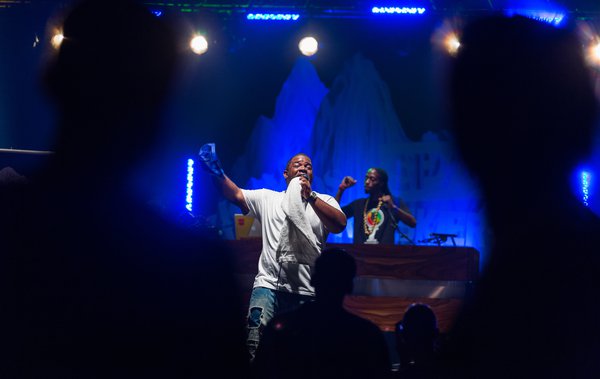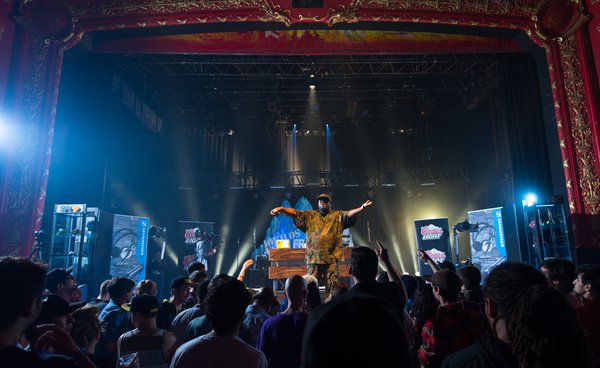 Rahzel...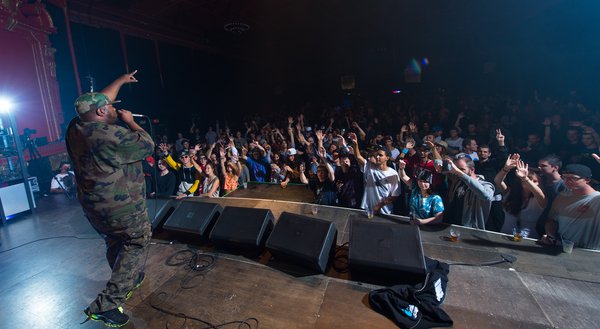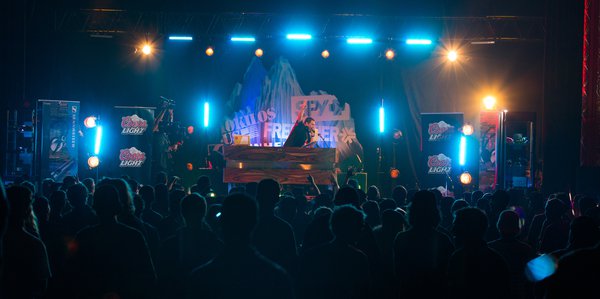 Mix Master Mike...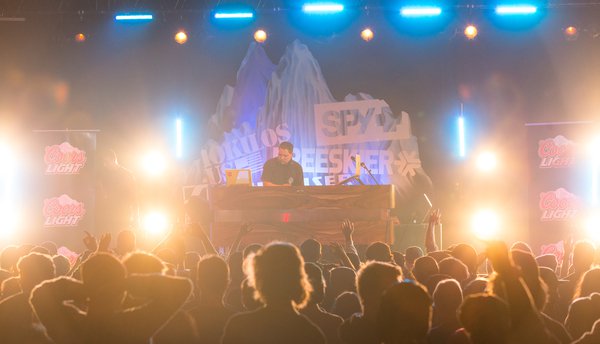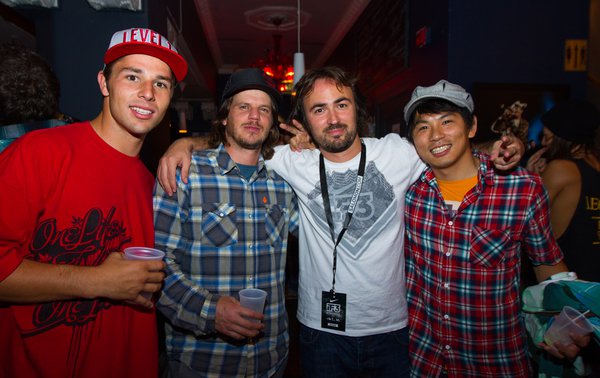 Chris Logan, JF Cusson, iF3 President Felix Rioux and Bravoski's Tatsuya Tayagaki.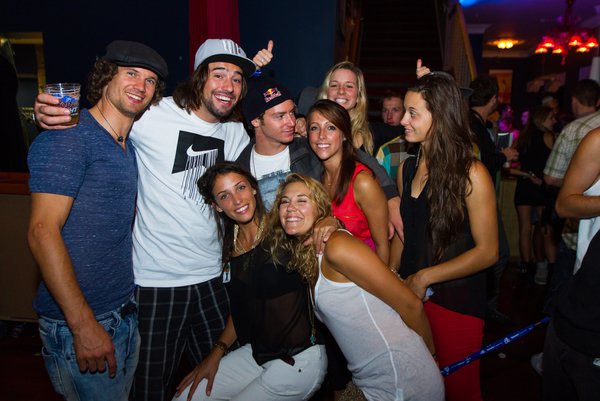 Party time!
The sixth annual International Freeski Film Festival continues today with its most jam-packed schedule yet, including the all girls screening, highly anticipated premieres from 4FRNT, PYP, Voleurz, Meathead Films, Stept Productions, Poor Boyz Productions and many more, along with the iF3 Movie Awards and the sure to be out of control Sean Pettit Rocker Party. Stay tuned to Newschoolers for more coverage, and for more information on the Nike iF3 and/or to purchase tickets for today's events, head on over to iF3.com.