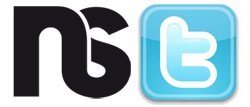 As you've probably noticed, we recently launched a new Twitter feed at the bottom of the homepage and along the sidebar in the forums...#nschat.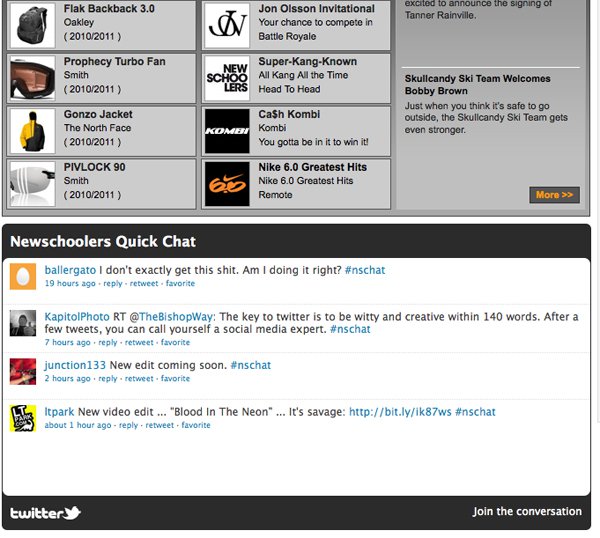 Part of the reason for this was because once upon a time on Newschoolers we had a quick chat system set up, but took it down due to server performance issues. Then while we were in the midst of toying with the idea of bringing it back in some form and revamping our Twitter feed, we decided that we could kill two birds with one stone by initiating a hash tag chat on the ever expanding Internet phenomenon that is Twitter. All you have to do is write #nschat after one of your tweets, and it will automatically show up in the Newschoolers Quick Chat for your fellow members to see and respond to. Simple and cool right?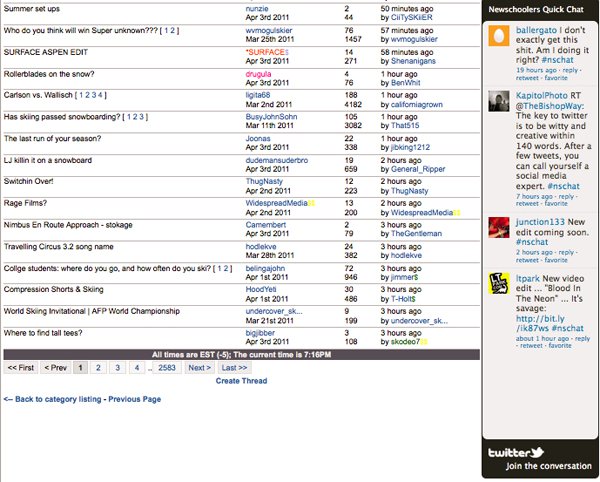 Twitter itself is nothing new of course, but it is ever-growing, and has quickly moved to the fore front of all social media outlets, with virtually every media source, company, athlete and celebrity jumping on board. And over the past little while, we've come to realize that perhaps many of you aren't on it, and if that is in fact the case...then why not sign up? Because in addition to being able to participate in the new #nschat and the fact that we unleash a ton of real time updates from events along with videos and fun tidbits that you may have missed on the site from the Newschoolers Twitter page, all of your favorite pro skiers are on there, along with some of your fellow Newschoolers members, plus all of the companies you love and the resorts you ski at. And once you start using it, you'll begin to realize that in some way, it's not all that different of a premise from the forums right here on Newschoolers that we all love so much. So if you haven't already, we encourage you to log on and give it a shot.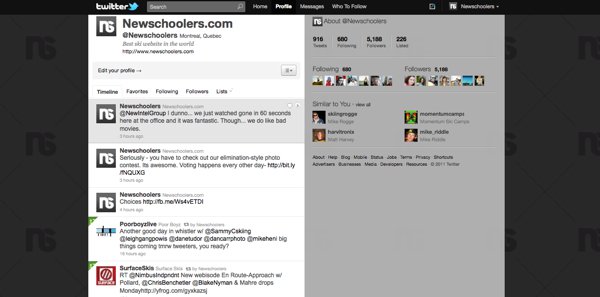 And to help those of you who are interested in diving into the Twitter pond or have been swimming around in it for a while, we've recently launched five extensive lists on our Twitter page for all things skiing, including a list of 84 Brands, 170 Resorts, 113 Athletes, 220 Industry figures and 79 Newschoolers Members (and we'd really love to see that last number jump up!)...and they all drop cool updates on what's new with them all the time! And once you're done prowling through our lists, also be sure to check out the sweet articles that our friends at Freeskier have put together on the same subject that has links to the Twitter accounts of ski media, resorts and athletes as well.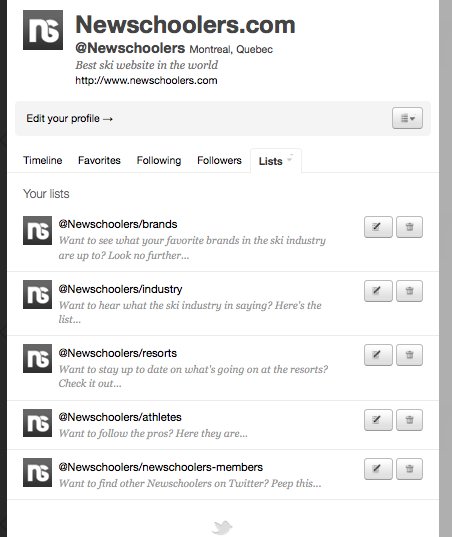 So don't just sit there, head on over to Twitter, follow @Newschoolers, and get in on the #nschat!