Perhaps my biggest goal since joining Newschoolers (there are a couple of other big ones too), has been to make sure that all our gear coverage is honest, in-depth, and open to all brands, big or small. That is what we strive for with our Roofbox Reviews and our Editors' Picks, and I think we're doing a better job each year. Once again, we're last to the annual Editors' Picks party, and that's because I wanted to make sure every ski had a chance. This year my test pair of Vishnu Wets only arrived at the end of September, so it took me until now to make the final call.
Trying to define the best park skis is very much a matter of personal preference. A couple of years ago, as a result of editorial differences over what type of skis work for us in the park, we split our best park picks into categories (Comp, Jib, and Fat). Since then we've eschewed that approach, and instead, we've picked the skis we actually chose to spend our own riding time on, the ones we kept riding even though the review period had come to an end. These are the skis we'd choose to ride, and that's the best endorsement we can give.
*Roofbox Reviews of all three picks will be dropping in the coming weeks*
_
Vishnu Wet - Lemuel (Also currently being tested by Twig)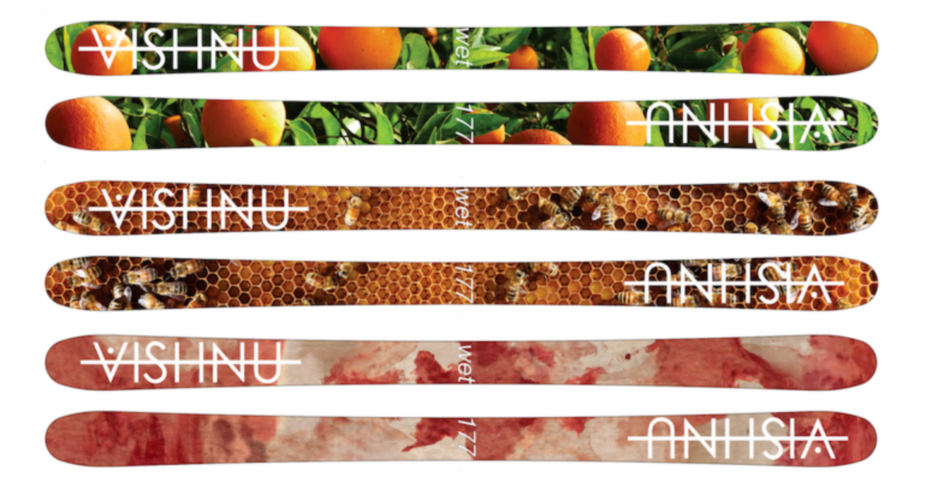 "I wish I could find a real fault in the Wet but no ski has ever felt so perfect for my skiing. The swing weight is so low and even after 30+ days of hitting rails, jibbing rocks, and driving them like a rental car, there were no edge cracks." - Lemuel (Full review, click here).
I'm riding these skis myself right now and, while I don't agree with everything in Lemuel's review, trying out the playfulness of the Vishnu Wet for the first time was enough to make me reinstate them as an Editors' Pick. They are, in my experience at least, completely unique. They truly are the 100% jib-focused skis they claim to be, possibly the first ski ever made that genuinely doesn't try to cater to on-snow performance for the average skier in any way and solely focuses on making something fun to play around on. That comes with definite compromises when it comes to 'actually skiing' but for many, that doesn't matter and you'll know if that's you. To me, they really only work well at low-to-mid speeds and only on decent quality snow or they become pretty unstable (compared to pretty much all other skis). And while I know guys like Cal Carson manage to slay jumps with them, they are definitely not a ski I'd choose to ride big features with. But for playing around in the park and generally enjoying flexing the fuck out of your skis no matter where you are, there is literally nothing better.They are just so much fun and at the end of the day, isn't that what it's all about? Durability also appears to be a major strongpoint (ha) too, judging by both Lemuel's account and the fact that my pair is holding up perfectly so far.
An ideal ski for: Those who like to flex, butter, and jib... and don't give a damn about anything else.
_
Armada EDollo - Twig

The other two skis in this Editors' Picks were shoe-ins because of how much other gear editors have loved them, but nailing down my own pick was a real challenge. I definitely considered going with the ON3P Magnus 90 because I think they are a fantastic ski, similar in basic shape to the Wet, but stiffer and more versatile (and less playful/less easy to ski as a result). However, I personally prefer a wider platform than either of those skis ultimately offer, so I decided against.
For my full, in-depth Armada EDollo review: Click Here
The ski I actually ended up skiing on pretty much every park day I could last season, because I enjoyed it so much, was the new Armada EDollo. Not that much has changed since the old EDollo, but I prefer the slightly softer tail. It gives the ski a more balanced feel despite having rockered tips and cambered tails. The new edges are slightly fatter (though still not as thick as I'd like to see) and the new core, with its full-length ash stringers, provides more energy on takeoffs and on the exit of butters. They are at their heart, a soft, buttery ski. However, they are still superior on jumps and groomers to heavily tail rockered skis like the Wet/Magnus and even softer skis like the Line Blend. It's hard to pin down exactly what it is about these skis but I loved the old model and I love the new one, it's as simple as that.
An ideal ski for: Those who like soft skis, playful skis, but still want a ski that performs decently outside of the park.
_
Liberty Helix 98 - Peter (P3t3r & markymark)

The Helix 98 is similar in shape to the EDollo but far stiffer making it much more of a charger's ski. It takes this spot in our picks as a more versatile, stiffer park ski, narrowly ahead of the K2 Poacher which Mark is also a big fan of (as am I). The Poacher is a great ski, as is the Armada ARV 96 that was also considered, but ultimately it was the durability Mark has experienced on the Libertys that tipped the balance. Mark is our resident ski killer. He smashed his way through two pairs of review skis this season in a matter of days. So when he says a ski is super durable, we take notice.
For Mark's full, in-depth review of the Liberty Helix 98: Click Here
"I personally loved the Helix for my aggressive ski style, mostly hitting large jumps and rails. What I really enjoyed is the wider 98mm platform because it gave me more ski to work with on rails. The stiff camber section allowed me to charge jumps, with the super low swingweight making it easy to go big & spin fast. The slight tip rocker felt great too when initiating turns on trails and skiing slushy days." - Markymark
An ideal ski for: Park skiers who like a wider platform but don't want a softer, less stable ski. Those who like to go big.
_
To see our reviews and gear content before anyone else, download the Newschoolers App: iPhone - Android
Next week: All-mountain Skis