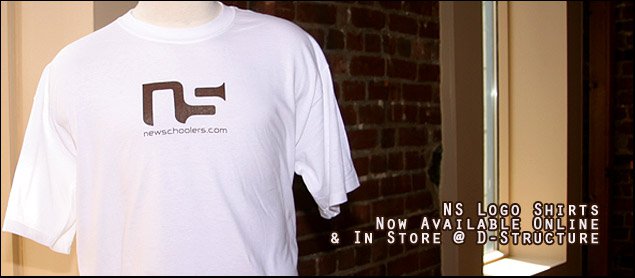 Newschoolers is happy to announce that our new logo t's are now on sale! T's are available in White & Brown and are available in store at D-Structure's two locations (Montreal & Quebec City) as well as online @
http://www.d-structure.com.
We'll be expanding the line as the season approaches so check out all of our offerings in the menu under The Site Gear. Garments are 100% Cotton and are available in S, M, L, and XL. Get 'em while they're hot!Price: $25.00 CDNDirect Link to Brown Logo T @ d-structure.comDirect Link to White Logo T @ d-structure.com*As of launch the clothing is only available in Canada, we're working to be able to fulfill International orders as soon as possible.** For US orders you can contact D-Structure at: store@d-structure.com with your name and telephone number and they will organize shipping and payment with you.