Words by David Lesh
Photos by David Lesh & Alex Applegate
Video by Fabian Weber
I think articles with nothing but pictures of skiing are boring, so I will attempt to tell a more complete story about the events leading up to and including the ski competition known only as the Newschool Picknick. A phonetician like yourself might be wondering why they threw in a few K's in "picnic." Well, that's how it's spelled in German and the Newschool Picknick takes place in German-speaking Austria.
After Red Bull Playstreets, I went back home to the states for 11 days before returning with good friend and fellow Liberty rider Alex Applegate to Europe for a month long multi-tasking ski adventure.
My transatlantic flight strategies are pretty dialed. Wait until the final boarding call, making sure I'm the last one on the plane and grab the best looking empty row of seats I can find. I pre-order a special meal online, but since I'm in a different seat I get the normal meal and afterwards ask for my still unclaimed special meal as well. Then I complain abut the "audio video" system and get a free travel voucher. I get back at United every chance I get.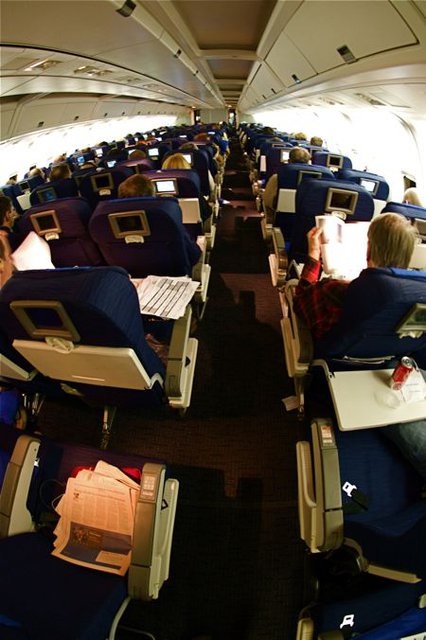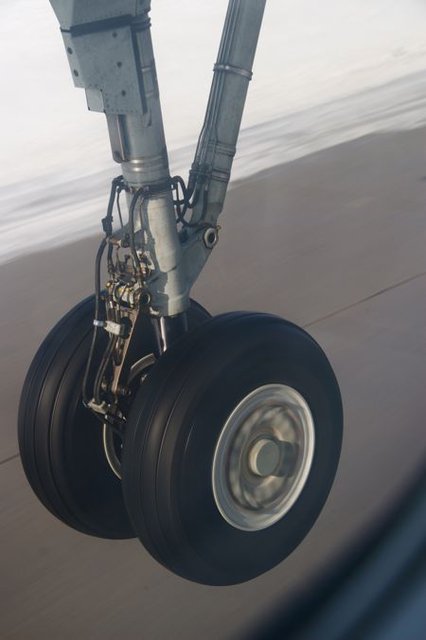 We touch down in Zurich after a few mechanical delays in DC.
Our first week would be spent with Austrian super hero Fabio Studer and friends who graciously invited us into their homes and hearts. The first day was a long one (NS blog entry soon to follow entitled "1 day. 5 countries, and skiing. No sleep").
Fabio grabbed us from the Airport and we headed East out of Switzerland towards Austria, passing through Lichtenstein.
Lichtenstein is a wonderful little country that occupies a 62 square mile chunk of land between the border of Switzerland and Austria and is home to 35,000 people. Although they have a government that writes laws and whatnot, the prince has final say over everything in his monarchy. They are considered one of the "tax haven" countries and have no interest in joining the EU. They boast one of the highest standards of living in the world.
This castle, perched atop an overlooking mountain, is the Prince's home.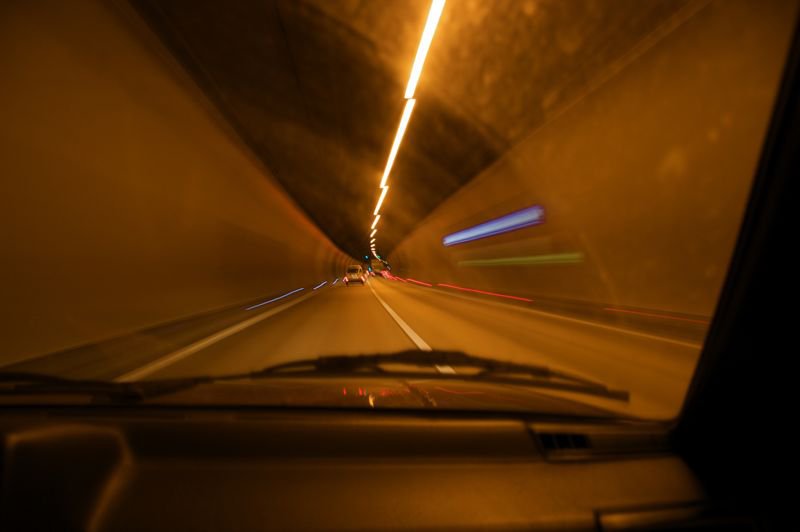 I swear Austria has more collective length of tunnel than open roadway.
After relaxing in Fabio's home village of Koblach, Austria for a few hours, we decided to head to Germany for some night skiing. The weather was warm, the lighting was minimal, and the heavy fog gave the small hill of Alpsptiz Bahn a very unique atmosphere. This combined with not having slept yet meant that Alex and I were skiing around in an almost trance-like state.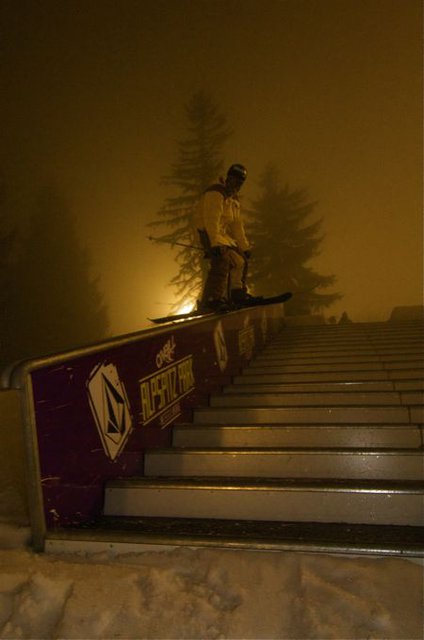 I still managed to slide a rail or two though.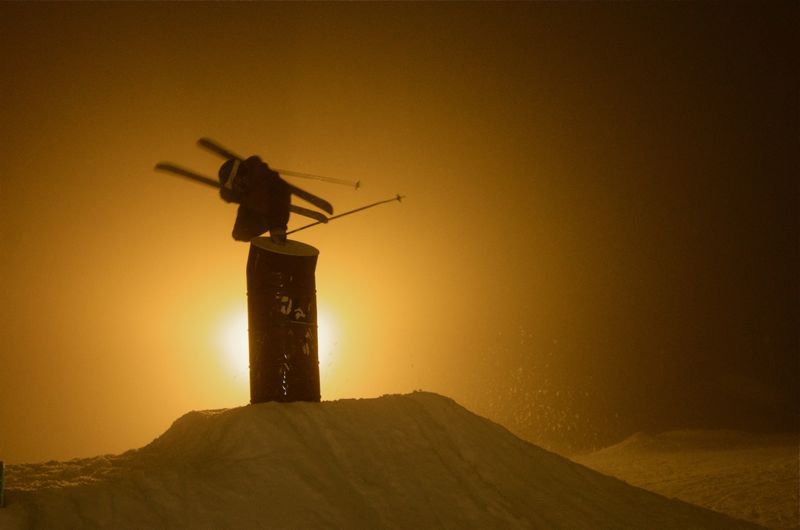 Alex didn't actually do this handplant, he just dreamed it in his thick stupor.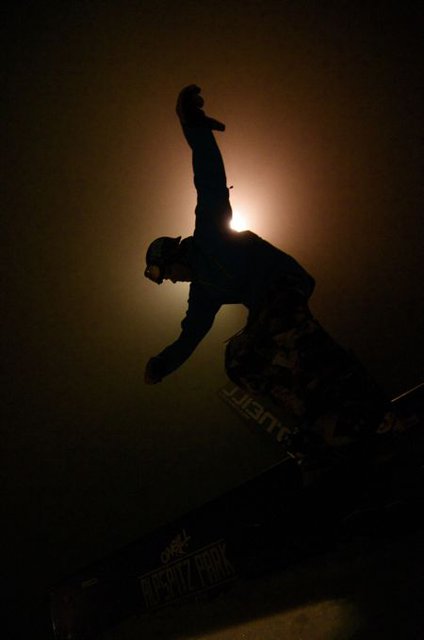 I was so cracked out, I thought I saw God descending from the heavens.
We needed a break and some nourishment, and as we wandered towards a mountaintop restaurant, an old lady emerged from the shadows to open it up just for us. She then cooked us a real German dinner, wurst and krout.
The next day we headed to Silvretta Montafon with a big crew in hopes of building and filming a backcountry jump. Everything was pretty baked out, but we still managed to find a few decent aspects.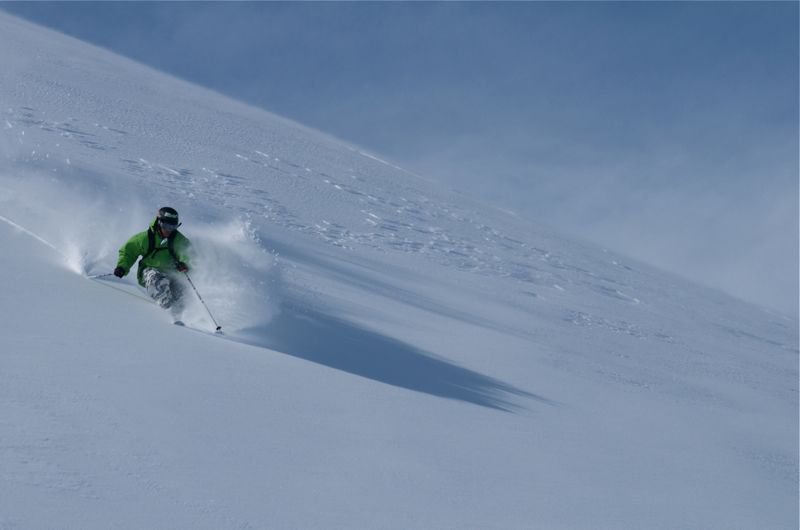 With the weather taking a turn for the worse, Alex and I spent the following day adventuring around the Austrian countryside. We came to a MASSIVE river and spent half an hour stacking stones in an attempt to make a passable "bridge" across it. I made it, but Al is quite horsely and caused the rocks to collapse during his crossing.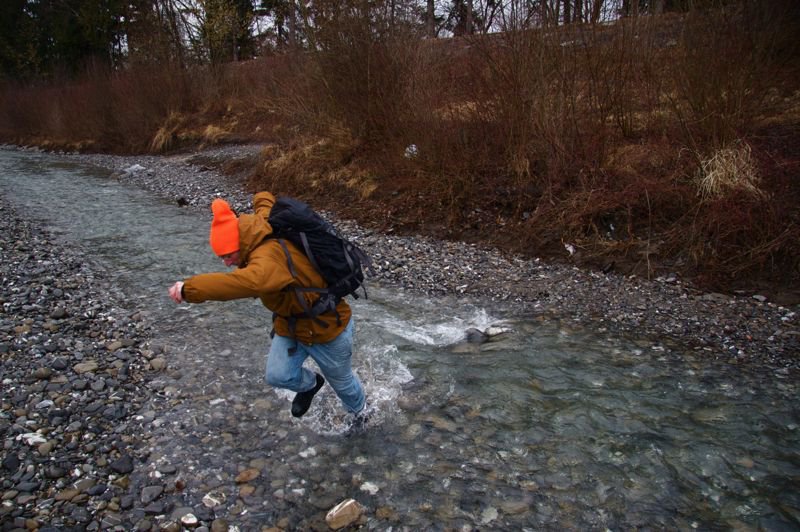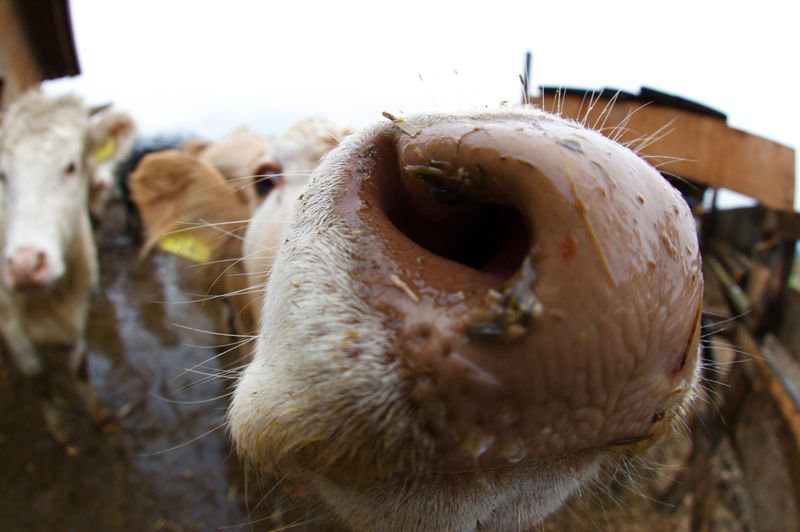 We came across some cows and made quick friends.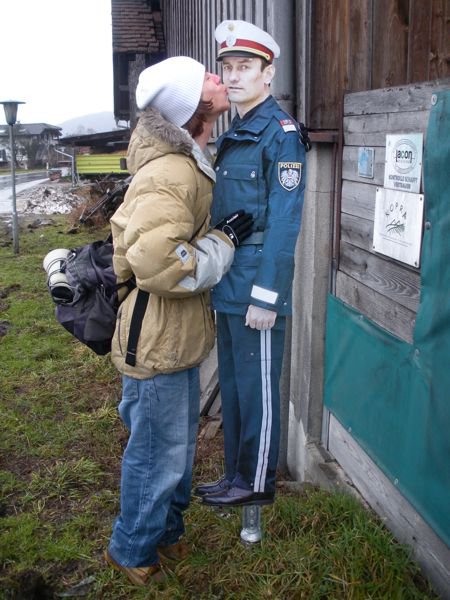 We also befriended the local POLIZEI (police) man.
Just when we began to wonder where our adventure would take us next, we were invited to compete in the Newschool Picknick in Planai, Austria. Bags and cars were packed and after making the 5-hour drive, which included going over Arlberg pass (the birthplace of skiing), we arrived just in time for dinner and the riders meeting.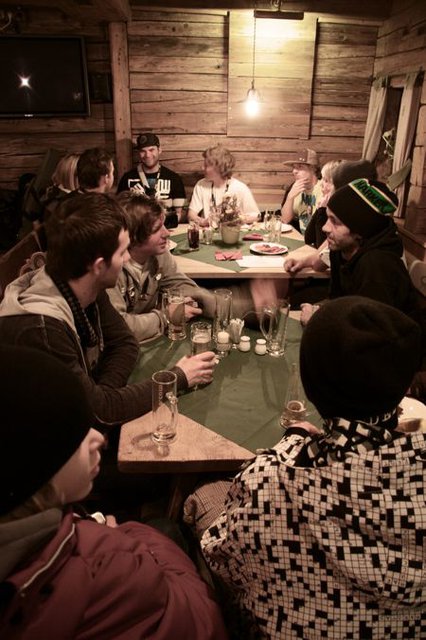 Practice and qualifiers began in the morning with 30 invited riders. The jump was built at the bottom of the main World Cup arena, so a good show was guaranteed. The weather was cloudy but warm. The jump was well built with a nice long, steep landing and speed was not an issue. Even the 20+ mph winds didn't bother any of us. The only thing a lot of us struggled with was the transition from landing to run out, which got really sloppy almost immediately. A little salt would have gone a long way, and we took a few diggers out when trying to stop or revert from switch. However, the snow was slushy and the jump was safe and everyone had a blast.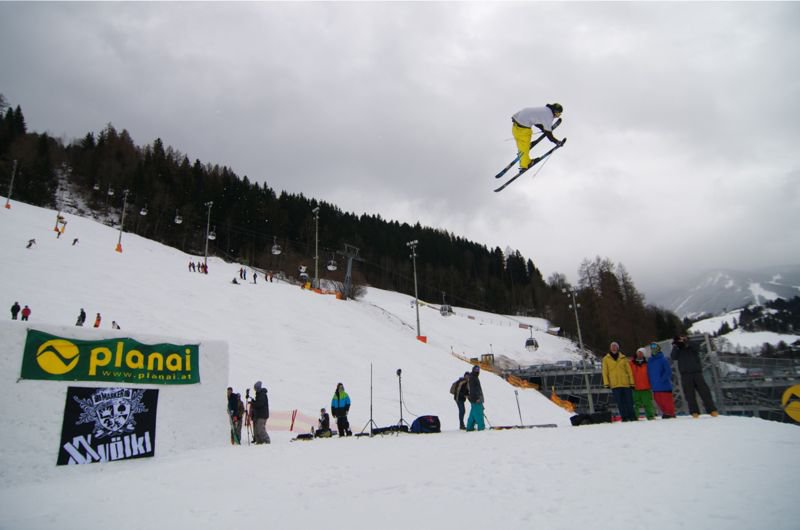 Steffen Hamre gives both of his skis the ol' "got your nose gag."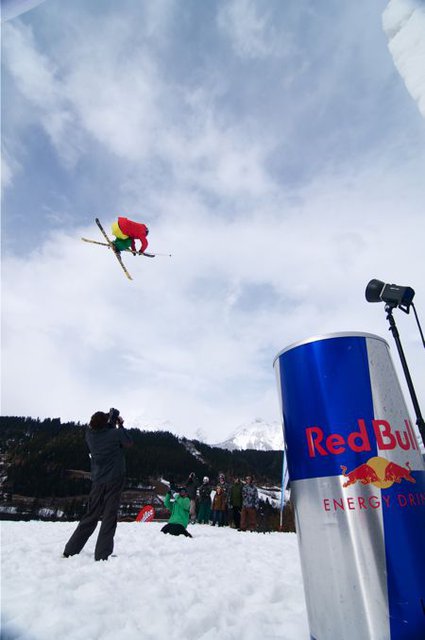 Fabio "extreme" Studer gets extreme with a switch 9.
Switch 10's were definitely the trick of the day, with almost everyone throwing them. I would have loved to see some more variety.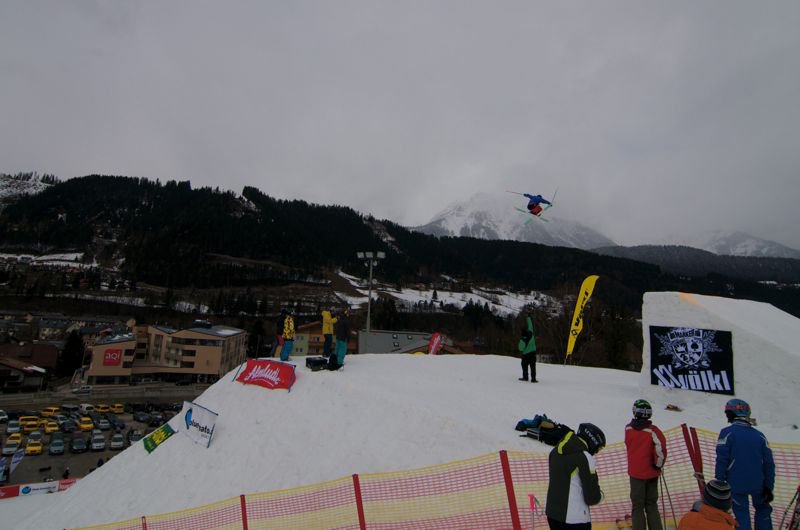 Patrick Hallaus knows how to make them look good though.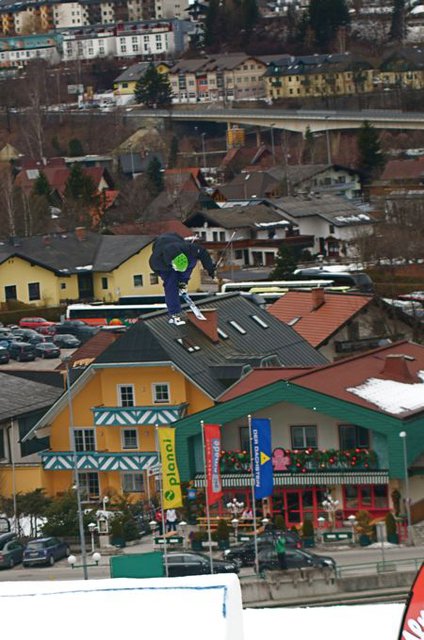 Harry Pettit is an up in comer from down under.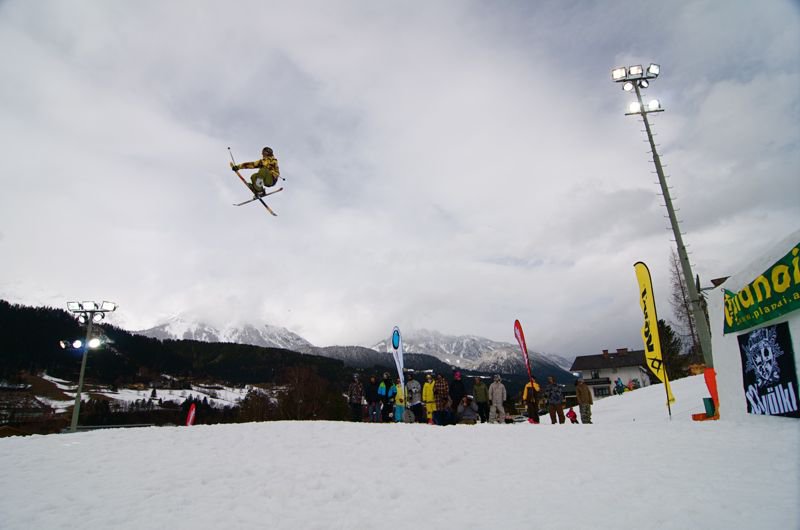 Sebi Geiger put on a good show with smooth grabs and big airs.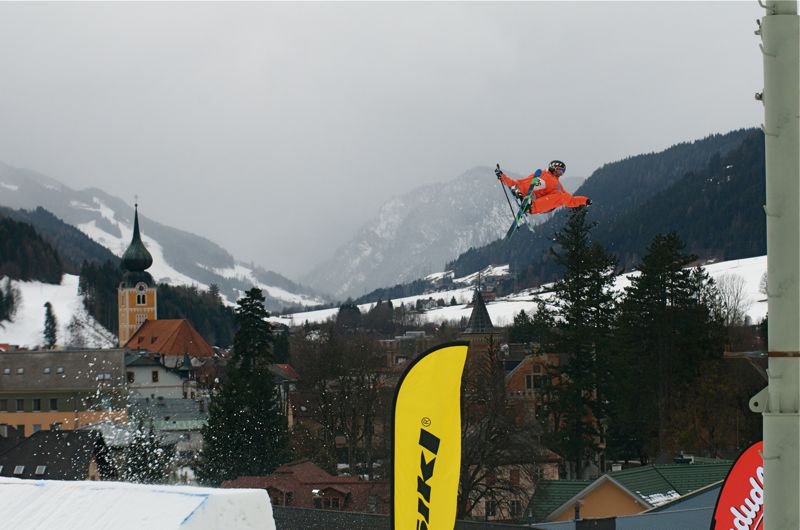 Bene Mayr was in full form and after one speed check run, began throwing double corks. His determination was easy to spot. He took a break from the doubles for this switch misty 9.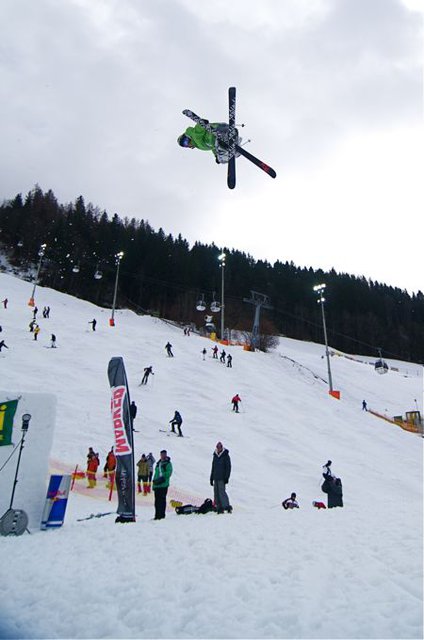 Due to a number of factors, I didn't sleep AT ALL the night before, but your author (David Lesh) still managed to put a few cork 9's to his feet.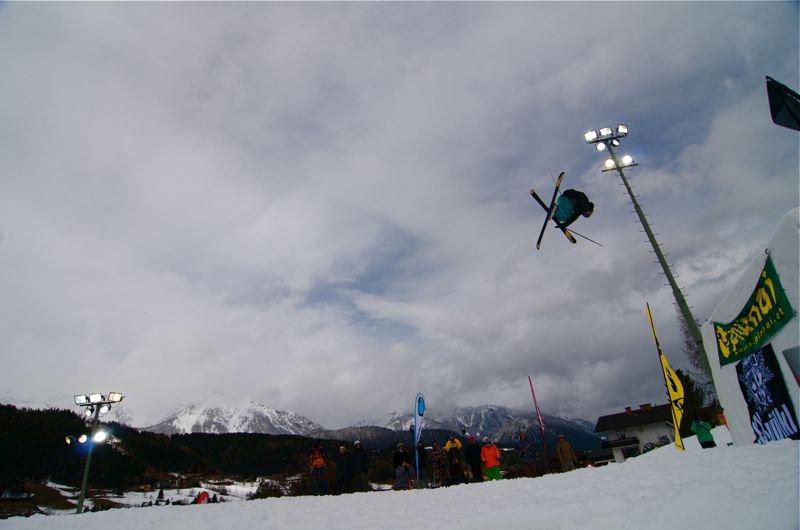 Maybe we would all be as good as Paddy Graham if we grew up in the UK skiing dry slope. Paddy begins the first rotation of a double bobble 10.
We all got two runs, and with the qualifiers over Alex and I decided to head back to the hotel (in a neighboring village) for some food. We thought we had figured out a short cut through the woods and began traversing. Having five Red Bulls in my pockets didn't stop me from making a few turns on the way there.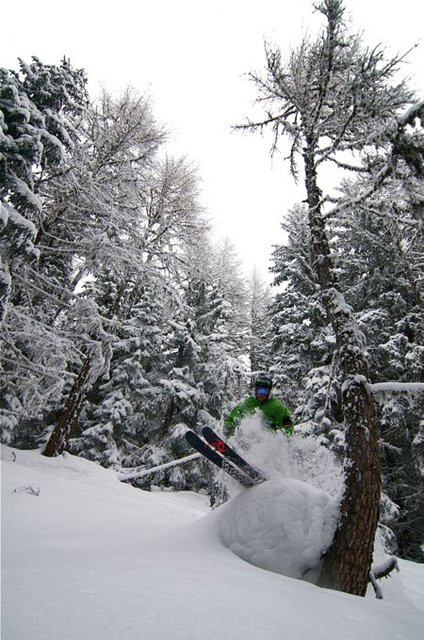 After traversing for a while, we started to make our way down. The snow got thinner and thinner and the pitch steeper and steeper. We began using trees, roots, and rocks to repel down cliff faces in an attempt to get down to the valley floor. Did I mention how I hadn't slept the night before and hiked a big air jump all morning?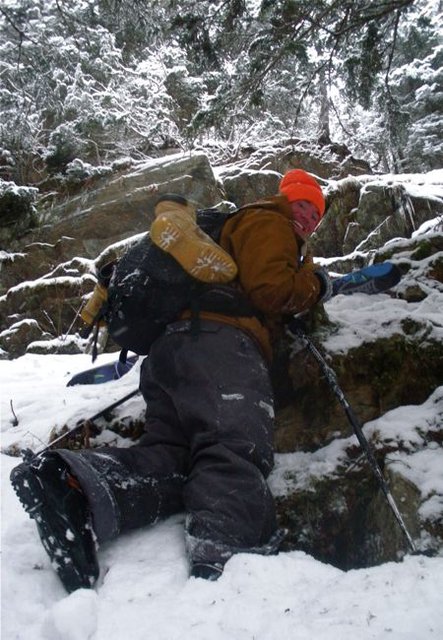 Completely cliffed out, we could go no further. It was getting dark and we had no choice but to attempt the climb back up. We had a very small window of time to get out before dark, and thoughts of having to spend a cold night in a snow cave lost in the Alps drifted through our heads. The combination of lack of sleep, a deceptive trail map, and misjudged topography had us ending up in a totally different drainage, miles away from anything. That's not a road in the distance, that's a river.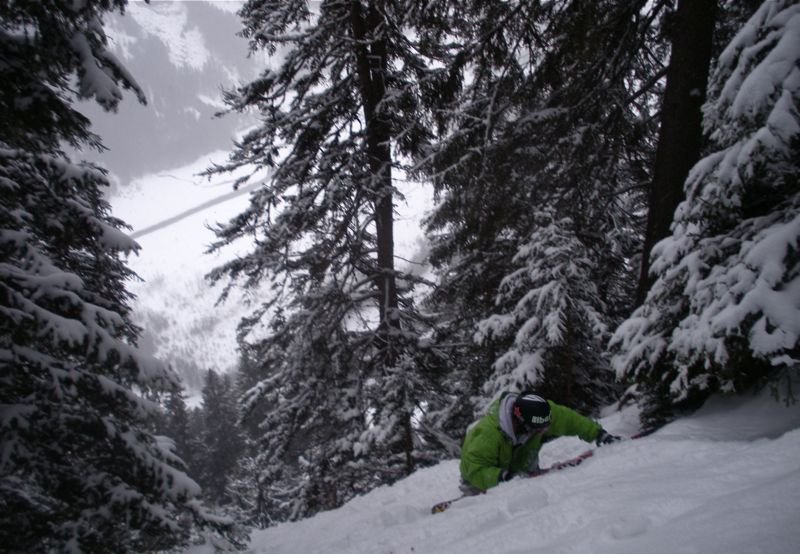 This was one of the easier pitches we climbed up. You can tell, because we felt safe enough to pull out the camera.
As it got later, we lost all light including the moon since it was cloudy. Tearing clothes, completely soaked, hungry, and exhausted we continued back up for hours until finally traversing over at the top of a ridge. We picked our way down, completely destroying our skis in a last ditch attempt to not have to spend the night up there. Skiing through farmland, avalanche paths, and barb wired fencing, we made our way down to the valley floor and found a little dead end road in the middle of nowhere. After some time we flagged down a car and got the hell out of there.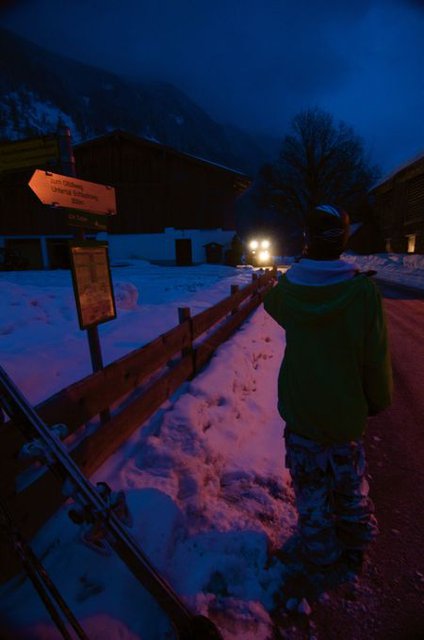 After getting back to the hotel, we regrouped, slammed a few Red Bulls, and headed out to hitchhike to the arena in time for the finals. After all, we had a job to do!
We got there just in time. The 10 finalists qualified in this order:
- Russ Henshaw
- Fridtjof Fredricsson
- Bene Mayr
- Elias Ambuhl
- Patrick Hollaus
- Pekka Hyysalo
- Elvis Harsheim
- Thomas Hlawitschka
- Andri Ambuhl
- Sebi Geiger
They got the best two of three runs, two of which had to be different axis, rotation, or direction of spinning. For example if you spun a switch 10 on one of your two best runs, then the other run would have to be either a forward trick, unnaty trick, or something with a different axis, like a misty. You could also choose to do something completely different though, like a quadruple front flip if you so desired.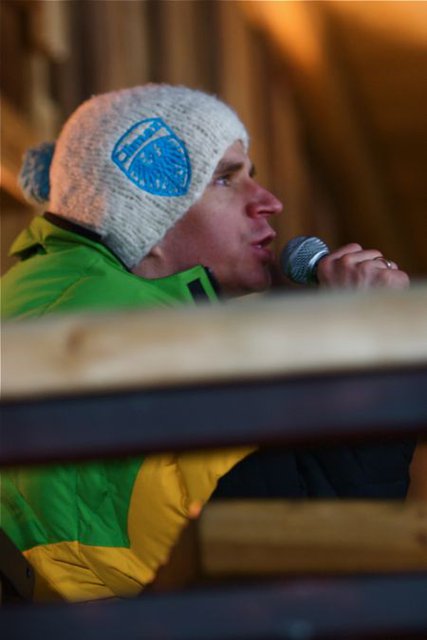 Red Bull's Alex Zika was on the mike all night, belting out play-by-play entertainment in both English and German.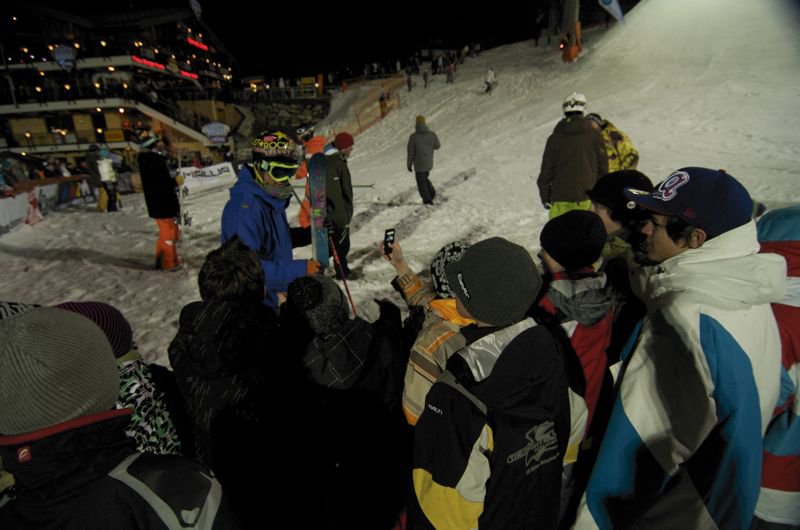 Patrick Hollaus greets his adoring fans at the bottom for some autographs.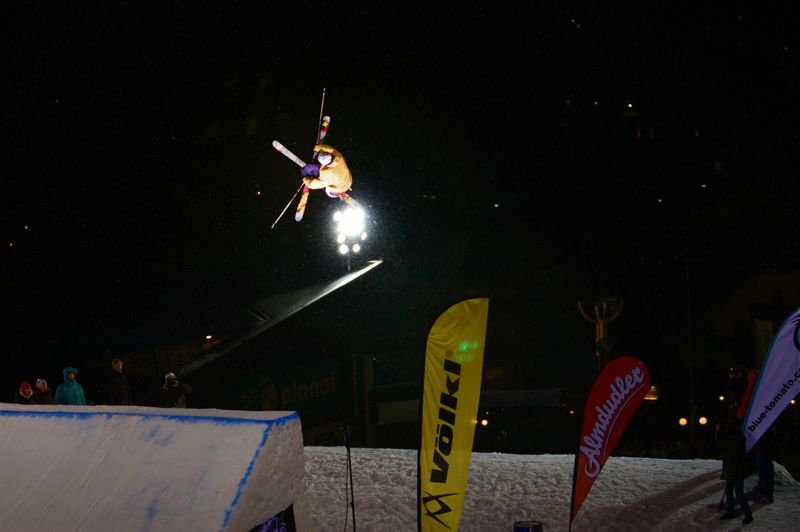 Russ Henshaw is a good guy, consistent skier, and an easy mate to root for. Stomping forward double cork 10's like it's his job. Wait, it is.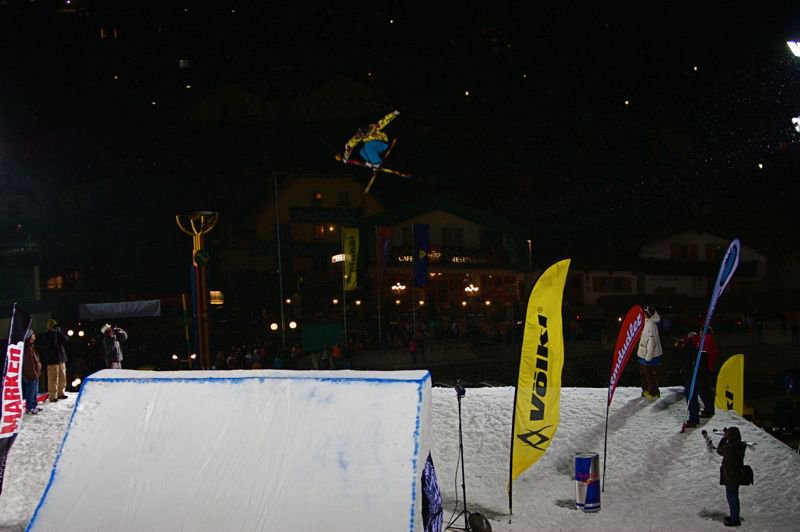 Andri Ambuhl did what he does best, switch 10's.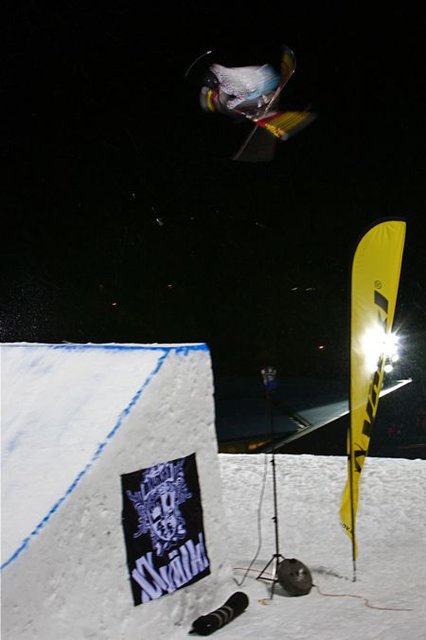 Riders were spinning so fast, they were just a blur.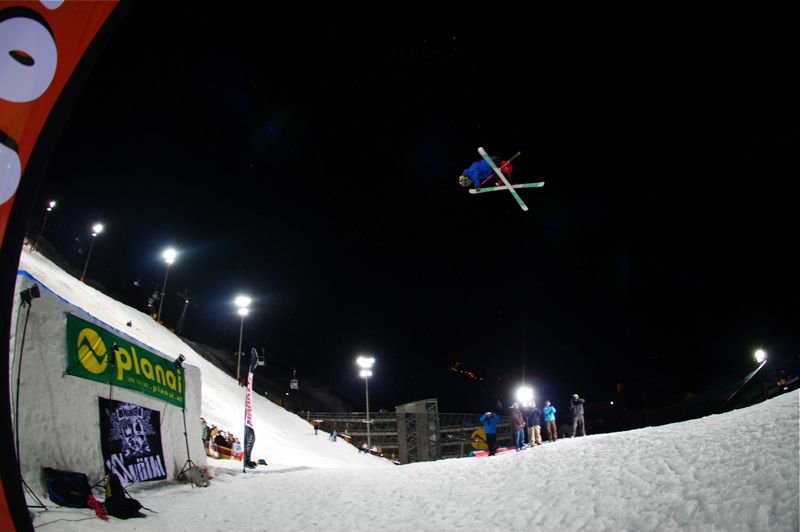 Patrick Hollaus winds up a 9er.
Four super finalists were picked, and were given another three runs to sort themselves out. They stacked up in this order:
- Russ Henshaw
- Bene Mayr
- Elias Ambuhl
- Pekka Hyysalo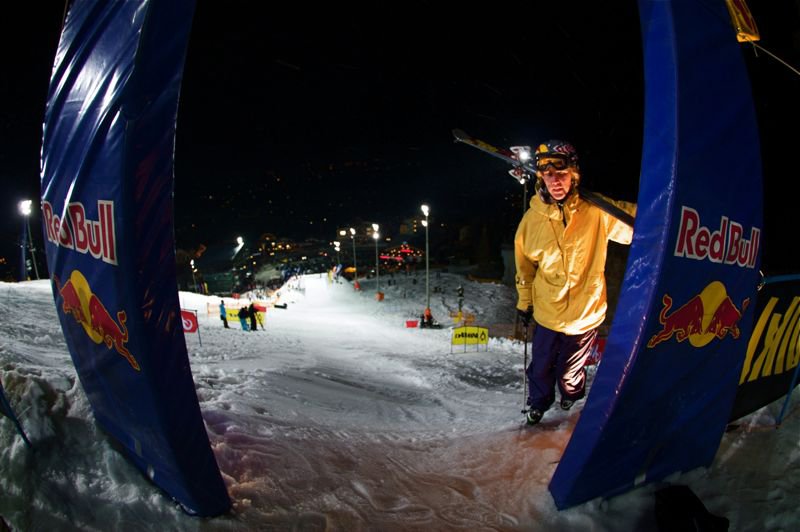 As you can see, Russ was in the lead from the start. The young Aussie hikes to the drop in for his second run.
He dips into his second rotation during a double cork 10.
Partially thanks to the liquor flowing from the slope side bars, everyone stayed warm enough to make it through the finals.
Bene Mayr made me feel like I was back at home in good ol' buck hunting Wisconsin. Couldn't figure out exactly what it was though…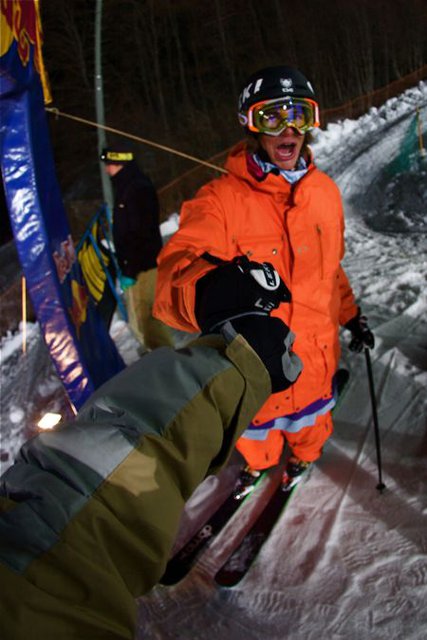 I give him a pound before he drops.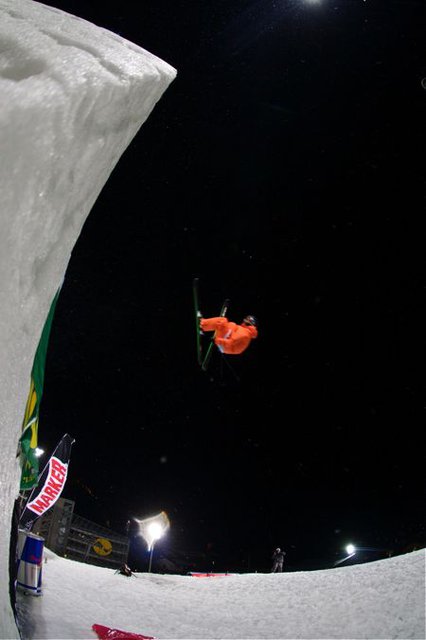 Must have good luck, because he put this double flat 9 to his feet.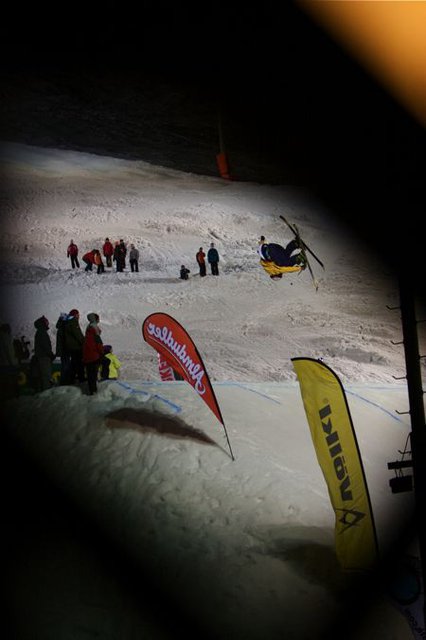 Russ takes his second run.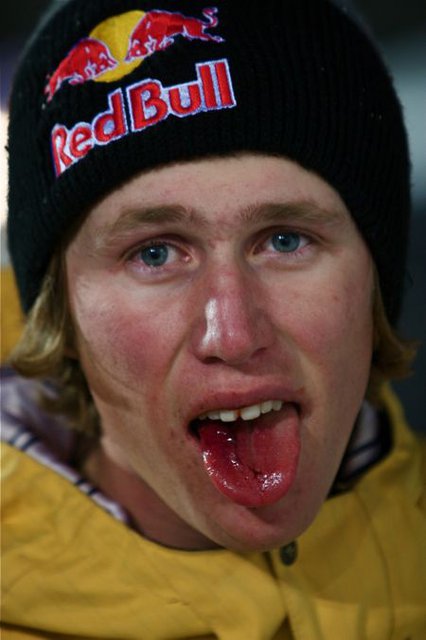 He under rotated his double cork 10 and put his knee through his face, chipping his tooth and biting through most of his tongue.
He was bleeding everywhere and in a good bit of pain, but being the champ that he is, went back up for his final run. He had only one chance to take the lead, and this time stomped his double cork 10 clean. First place was his!
The super finals went down as follows:
1st place: Russ Henshaw
- switch double cork 10 mute, double cork 10 mute (crashed), double cork 10 mute
2nd place: Bene Mayr
- double flat 9 safety, double flat 9 safety, switch misty 9 tail
3rd place: Elias Ambuhl
- switch 10 tail, switch double flip 10 (crashed), switch double flip 10 mute
4th place: Pekka Hyysalo
- switch bio 10 mute, switch 9 mute, cork 9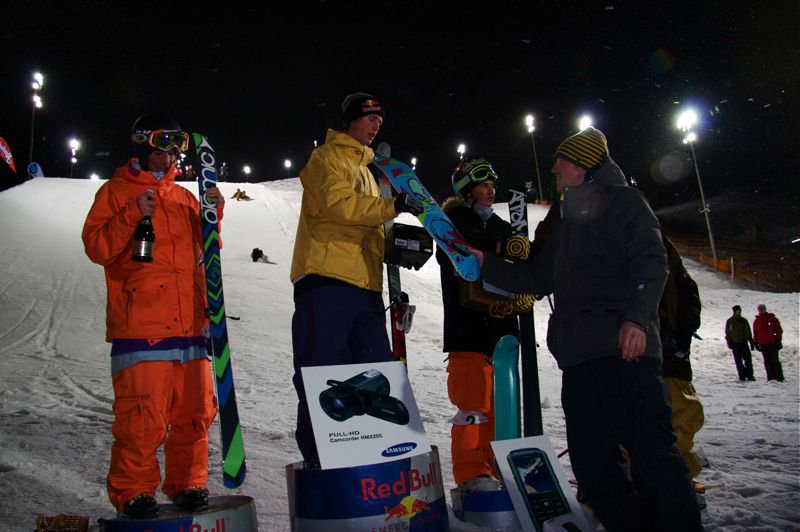 The boys claim their keep.
Picnic baskets of prizes were dropped and everyone fled as the champagne started to fly. That's twice inside two weeks Russ's winning has caused me to get my camera and self completely drenched with champagne.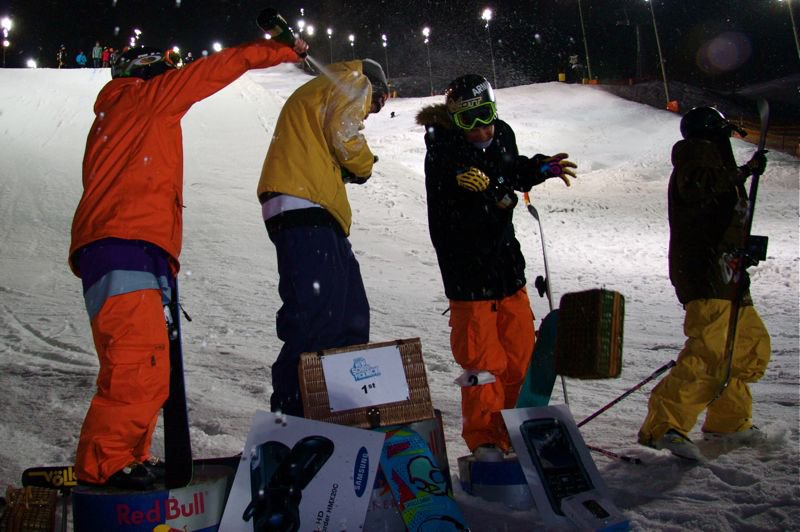 As the athletes were interviewed, the spectators went into the four-story slope side club to get a head start on the evening. Fabio insisted we make a fashionably late entrance to our top floor VIP afterparty, so we headed into the riders lounge and Paddy began handing out 80's sunglasses and shots of Polish vodka in glasses that he found in a storage room.
For myself, it had been a LONG two days without sleep and in short order Alex and I began our walk back to our hotel in the neighboring village of Rohrmoos.
The Newschool Picknick was over and after getting cursed out in German by the chambermaid the next morning, we hit the road to Flachauwinkl for Absolut Progression. Unfortunately Alex and I are only here for twocdays before making the eight hour train trek back to Switzerland for a two week Liberty skis photo trip, similar to our (very successful) trip last year.
Look for upcoming blog updates on this and other adventures in the very near future.
Thanks for reading,
-David Lesh