Words by Mark von Roy
Photos by Nick Johnson
A strong international field of freeskiers took part in The North Face Freeski Open of New Zealand Slopestyle Finals yesterday at Snow Park NZ. The bar was set high after the previous day's qualifiers, but only the top three men and women could take home the cash prizes in addition to valuable AFP Gold level event points.
The exhibition of some of the world's best freeskiers from four different continents induced a series of jaw-dropping tricks, including Gus Kenworthy's switch double cork 1260 in semi-finals. The American and 2011 and 2012 AFP Overall World Champion entered today's competition with a broken wrist, deserving respect despite placing out in 5th place overall.
In the end, Russ Henshaw went home with the $6000 NZ cheque for winning slopestyle finals, scoring a massive 84.80 out of 100. The X Games medalist displayed an array of different skills in his run with a front 450 off the close out rail, a lip 270 on 270 out of the down rail followed by a switch 540 tap over the bonk feature. Over the jumps he dominated with a right double cork 1260 mute backed up with a switch left double rodeo 900 japan, and finished things up with a 450 off the infamous ʻRock and Roll Horns'.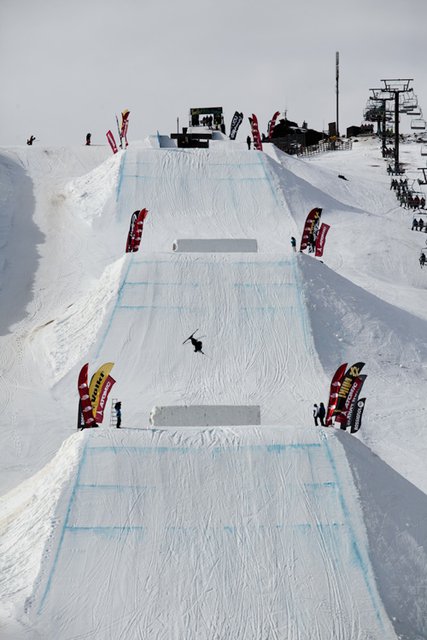 Russ Henshaw
"I am super stoked to be able to compete at The North Face Freeski Open of New Zealand this year, after missing out through injury last year," said the ecstatic Australian. "Getting first here in New Zealand is just the best feeling I have had in a long time!"
The young Swede Jesper Tjader kept close with Henshaw over the kickers, meeting him trick for trick, but had to settle for second place, even though he stomped a creative 270 to front flip off the knuckle on the ʻThe Horns' feature. In third place was Jules Bonnaire from France, who impressed the judges with a style-filled run, including a technical switch right bio 900 and a left rodeo 1080 tail grab.
Beau-James Wells kept up his impressive form through the semis even though older brother and AFP world number three Jossi didn't make the finals. Beau-James claimed a 78.40 in the semis becoming the only male Kiwi to clinch a finals spot. Beau was in the best form of his life in the finals, finishing off in 8th place with one of the most flawless switch double rodeo 900s the judges had ever seen.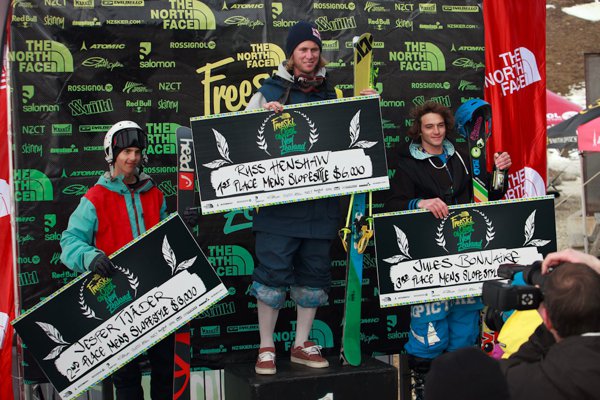 Jesper Tjader (2nd), Russ Henshaw (1st), Jules Bonnaire (3rd)
American Freeski Team member Emilia Wint crushed it in the ladies final, leaving the blocks with all guns blazing, putting down a left 540 to switch left rodeo 540 critical and finishing off her run with a giant 720 tweaked mute grab which left the judges speechless. Emilia was awarded a well-deserved 84.50 and $3000 NZ cheque. In second place was Canadian Dara Howell, whose run included a 540, switch 540 and a massive 900. New Zealand's very own Rose Battersby came in 3rd for the second year in a row, nailing a styled out left 900 to finish her run. She was super stoked with her first result of the competitive season after finishing 4th in the overall AFP World Tour standings last season.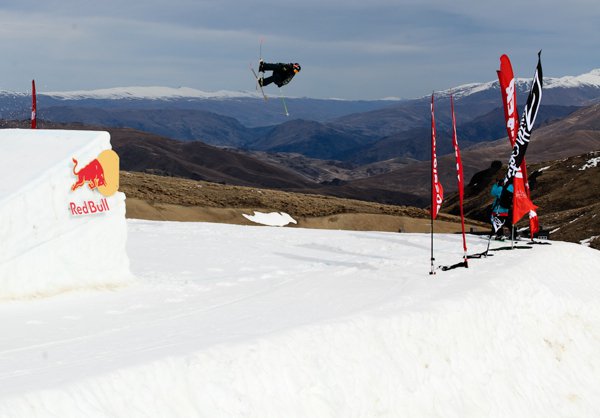 Emilia Wint
"I am so happy to get third again," exclaimed an excited Rose. "This third place is way more rewarding than last year, as the field was far more competitive this year!"
Rose Battersby
The Halfpipe Finals are up next today at Snow Park NZ, with an even more competitive field than today's. Next week the Big Mountain competition kicks off at the Remarkables,so there is plenty more action to come at The North Face Freeski Open of New Zealand.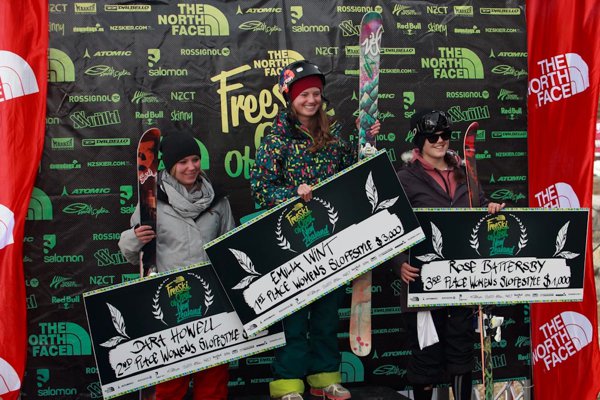 Dara Howell (2nd), Emilia Wint (1st), Rose Battersby (3rd)
Results
Women
1) Emilia Wint - 84.80
2) Dara Howell - 79.00
3) Rose Battersby - 77.00
4) Tiril Christiansen - 72.20
5) Emma Whitman - 64.40
6) Maude Raymond - 61.40
7) Jamie Crane-Mauzy - DNS
8) Emma Dahlstrom - DNS
Men
1) Russ Henshaw - 86.40
2) Jesper Tjader - 85.80
3) Jules Bonnaire - 83.40
4) Antti Ollila - 80.40
5) Gus Kenworthy - 78.40
6) Nick Goepper - 77.80
7) Oystein Braten - 77.00
8) Beau-James Wells - 74.40
9) Lauri Kivari - 73.60
10) Noah Morrison - 73.40
11) Mikkel Joraandstad - 65.20
12) AJ Kemppainen - 64.20
To see how this event affects the AFP World Tour Rankings, go to afpworldtour.com.
The North Face Freeski Open of New Zealand Slopestyle Finals Highlights