Words by Mark von Roy
The North Face Freeski Open welcomed over sixty international freeskiers to fight it out in the halfpipe at Snow Park NZ this weekend, where the athletes had to fight poor weather conditions as wind and fog affected the course all day. After a four year hiatus from competition, Tanner Hall came back to pick up the win, while Tiril Christiansen also won her first major competition.
The schedule for the day had to be moved directly to men's semi-finals and ladies' finals due to the weather. Yet all competitors still threw down an array of different tricks thanks to the outstanding job of the Snow Park shaper crew and volunteers. After discussions with the competitors about the adverse conditions, the decision was made to run a straight final for the ladies, while eventually the fog obstructed visibility completely, causing the men's finals to be cut to one run.
Nevertheless, freeski icon Tanner Hall stole the show with a smooth run down the pipe, including a big 900 tail, alley-oop 360 japan, a styled out switch 720 mute, right 900 safety, finished off with a 1080 tail; gaining a score 85.00 and first place.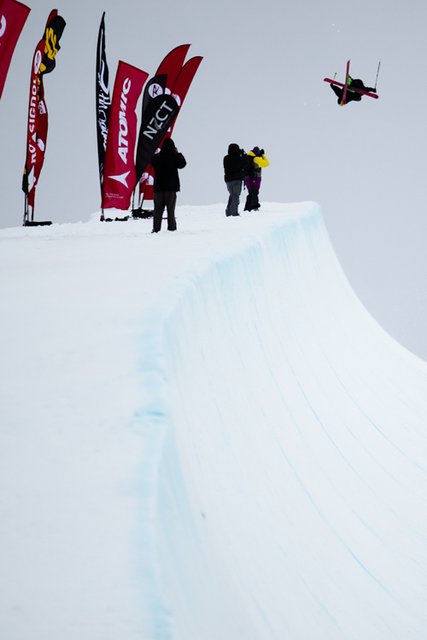 Tanner Hall. Photo by Nick Johnson
 "I am so stoked to be back after four years of not competing, and coming back to win The North Face Freeski Open of New Zealand is the best feeling ever," exclaimed Hall, followed by a modest acknowledgement of first place qualifier and local hero Jossi Wells. "Big props to Jossi, who skied amazingly well in both the qualifiers and finals. In my opinion he had one of the best runs of the day."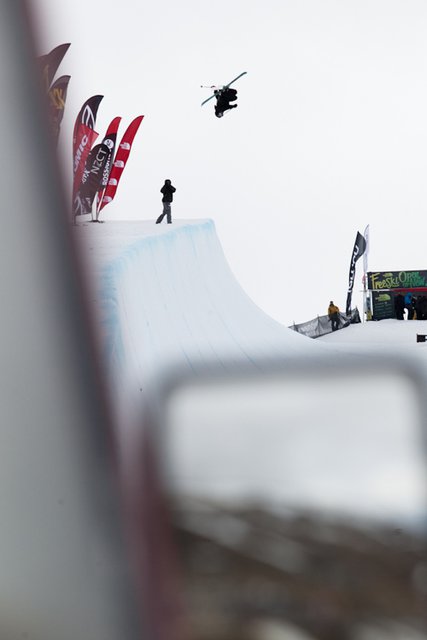 Jossi Wells. Photo by Nick Johnson
Torin Yater-Wallace came in second after landing a massive run including a solid switch right 900 mute at the bottom, while in third place was the Frenchman Benoit Valentin, who impressed judges with huge amplitude and a clean double flair at the top. After qualifying in first, local boy Jossi Wells fell victim to the one-run final, ending up in fourth place despite skiing strongly all day.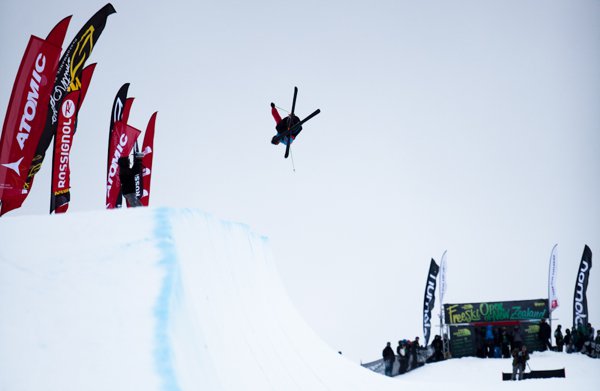 Benoit Valentin. Photo by Nick Johnson
On the ladies' side of things, Norway's Tiril Christiansen took home the title, with a phenomenal score of 88.20. Her run included two big right 540s with differing grabs and a solid right 720.
"I can't express how stoked I am" said the elated Norwegian. "It is the first time that I have won a major pipe competition so I couldn't be happier! I will definitely be back next year. New Zealand is one of the most amazing places I have ever visited!"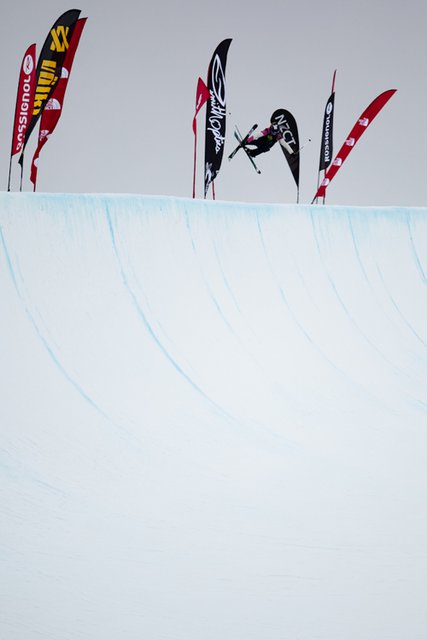 Tiril Christiansen. Photo by Nick Johnson
Angeli Vanlaanen, of the USA, had to settle for second place with a score 87.00 on her last run which included a big 720 to finish, while Belgium's Katrien Aerts went big all day and in combination with a lofty 540 mute, grabbed third place.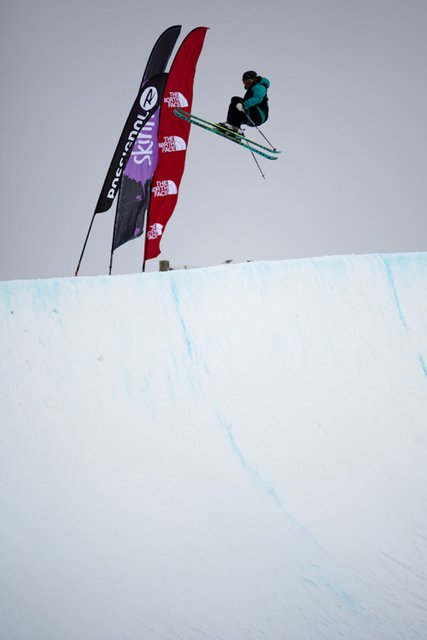 Angeli Vanlaanen. Photo by Nick Johnson
Coming in fourth was New Zealand's own Janina Kuzma, famous for her big mountain excursions on the Freeride World Tour. Her run included both a left and right 540, however may have needed a little more amplitude to push her on the podium. Only recently focusing on halfpipe skiing, Janina is one to look out for in future competitions leading up to the 2014 Olympics.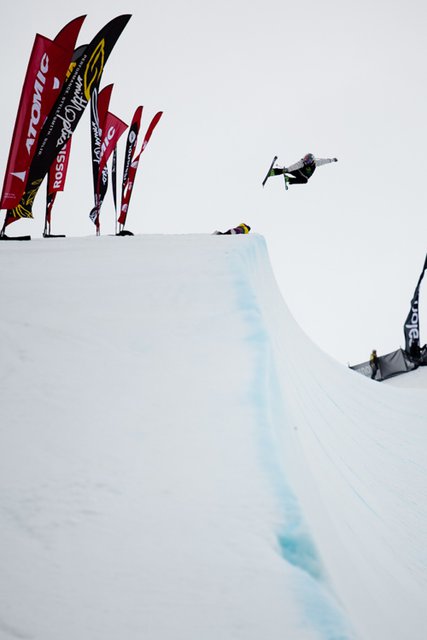 Janina Kuzma. Photo by Nick Johnson
The North Face Freeski Open of New Zealand now moves to The Remarkables next week, for the 3 Star Freeride World Tour Qualifier Big Mountain competition. Two fine weather days will be picked between the 3rd and 8th of September for the qualifiers in Shadow Basin and finals in the Alta Chutes.
Results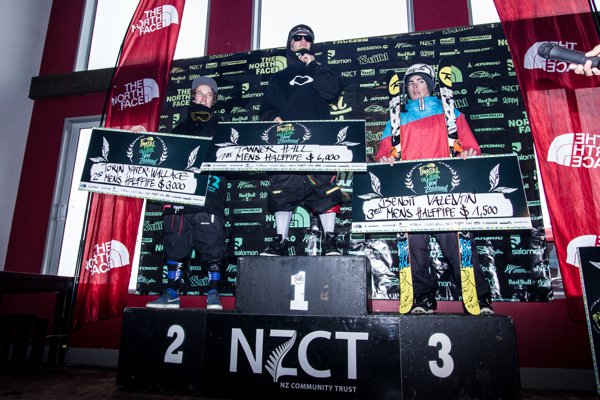 Torin Yater-Wallace (2nd), Tanner Hall (1st), Benoit Valentin (3rd). Photo by Dan Power
Men
1) Tanner Hall - 85.00
2) Torin Yater-Wallace - 82.60
3) Benoit Valentin - 79.60
4) Jossi Wells - 78.00
5) Christian Allen - 77.20
6) AJ Kemppainen - 76.00
7) Fabian Meyer - 75.60
8) Alexander Ferreira - 74.20
9) Aaron Blunck - 71.80
10) Lyndon Sheehan - 65.20
11) Joffrey Pollet-Villard - 40.00
12) Taylor Seaton - 15.00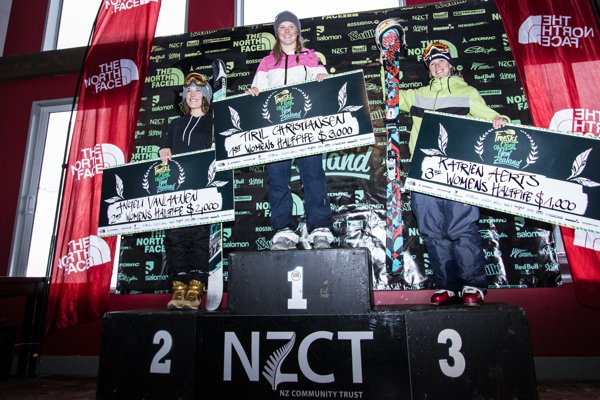 Angeli Vanlaanen (2nd), Tiril Christiansen (1st), Katrien Aerts (3rd). Photo by Dan Power
Women
1) Tiril Christiansen - 88.20
2) Angeli Vanlaanen - 87.00
3) Katrien Aerts - 83.00
4) Janina Kuzma - 81.80
5) Ayana Onozuka - 80.60
6) Annalisa Drew 76.20
7) Manami Mitsuboshi - 70.60
8) Mirjam Jaeger - 70.20
9) Dara Howell - 69.00
10) Zyre Austin - 62.00
11) Maggie Stout - 58.40
12) Shuri Terada - 57.00
13) Rose Battersby - 56.00
14) Samantha Poots - 52.80
15) Yuri Yamazaki - 46.40
16) Jenna Anderson - 44.00
17) Isabelle Hanssen - 40.80
18) Maiko Satoh - 36.60
To see how this event affects the AFP World Tour Rankings, go to afpworldtour.com, and for more information on The North Face Freeski Open of New Zealand, check out http://www.nzfreeskiopen.com.
The North Face Freeski Open of New Zealand Halfpipe Finals Highlights