New Olympic Sport Launches Brand Identity
NEW YORK (May 2) – Freeskiing athletes from the newest Olympic sport played a key role in development of the brand identity for the U.S. Ski and Snowboard Association's (USSA) new U.S. Freeskiing athletic program. The design was unveiled Monday at the New York offices of DraftFCB, which collaborated with the USSA on the creative process together with sport stakeholders.
The USSA announced the new U.S. Freeskiing program in January including the events of halfpipe and slopestyle skiing, along with skicross. In April, the International Olympic Committee added halfpipe skiing to the 2014 Olympic program in Sochi, Russia.
"We are an athletic organization and it was important that the athletes in this sport be integrally involved in the development of the new brand identity," said USSA President and CEO Bill Marolt. "Freeskiing athletes have taken great pride in advancing their sport to the Olympics and showcasing it through the millions of youth who ski in halfpipes and terrain parks at resorts across America."
USSA President and CEO Bill Marolt (left) and Chief Revenue and Marketing Officer Andrew Judelson proudly display the new brand identity for U.S. Freeskiing as the U.S. Ski and Snowboard Association launchesthe new identity for U.S. Freeskiing at the USSA Center of Excellence in Park City, Utah.
The U.S. Freeskiing brand identity is the sport's visual language. The creative design is wrapped in patriotic red, white and blue, featuring a badge-like US on the left with a handcrafted flowing word mark for the word Freeskiing. The design evolves the shape of traditional letters into a dynamic motion – like freeskiing evolved from breaking the rules of traditional skiing. Each letter evolves in motion.

"The design represents how we feel about ourselves in our sport," said X Games champion Jen Hudak. "There's a feeling of independence – there are no rules, you can see that in the letters."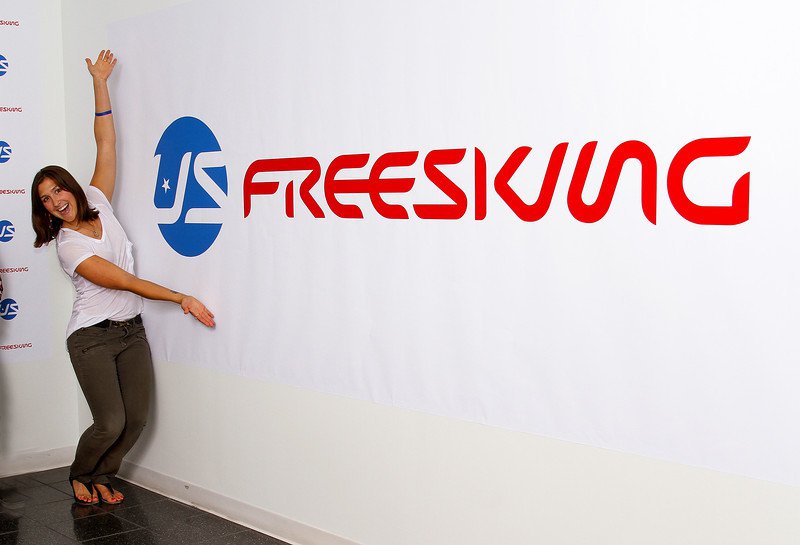 Jen Hudak shows off the new logo. Photo: Ian Smith
The USSA retained noted global agency DraftFCB to coordinate the creative process after a national agency search. Together with the USSA, DraftFCB managed an in-depth process to integrate freeskiing athletes in focus groups and maintained engagement with athletes through surveys and private interviews to foster original ideas and garner feedback leading up to the final design.
The new brand identity joins the USSA's family of notable brands including the U.S. Ski Team and U.S. Snowboarding. "As athletes, we've pushed for our unique U.S. Freeskiing brand and we're proud to be a part of this highly respected family of programs," added Hudak.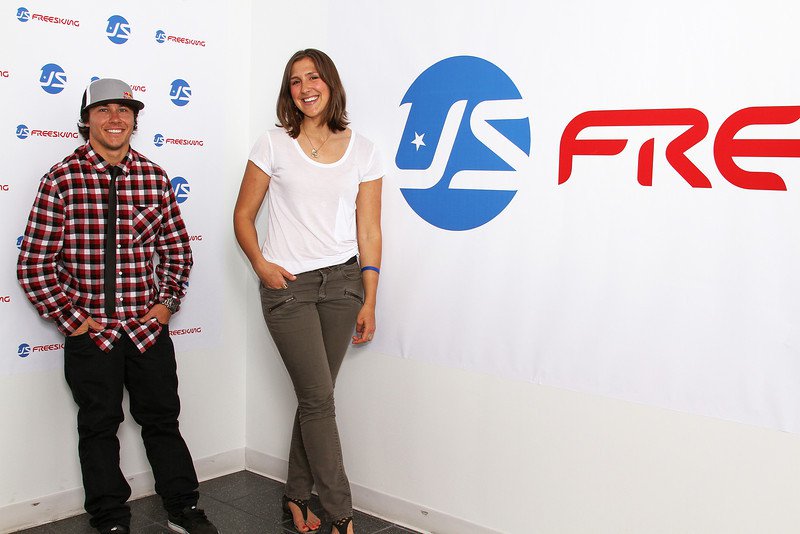 Simon Dumont & Jen Hudak. Photo: Ian Smith
"Freeskiing is the most rapidly expanding market in skiing globally," said the USSA's Chief Revenue and Marketing Officer Andrew Judelson. "The brand identity developed together with  DraftFCB with the athletes will greatly enhance the public awareness of U.S. Freeskiing, benefiting athletes and partners in these new Olympic sports and help us generate new revenue to support those programs.."
"No single movement defines the sport of freeskiing," said DraftFCB SVP Group Creative Director Roald Van Wyk. "So our challenge was to create a brand identity that encapsulated the constant change that freeskiing is going through - capturing the movement and evolution of each trick."
The brand identity will showcase the sport in U.S. Freeskiing television programming on NBC, Versus, and Universal Sports, as well as print and digital marketing materials. It will be available on a variety of merchandise from licensees and suppliers.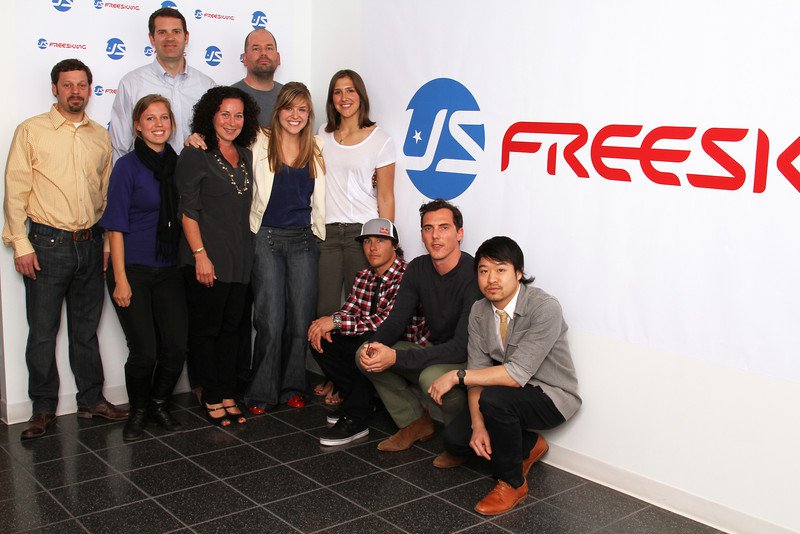 Photo: Ian Smith
Freeskiing events are showcased annually in the USSA's Revolution Tour, Hole Shot and Grand Prix circuits, along with X Games, Dew Tour, The North Face Park and Pipe tour and Association of Freeskiing Professionals events, as well as the International Ski Federation's Freestyle World Cup.
Final approval on slopestyle skiing is pending with a decision anticipated in May or June. Skicross joined the Olympics in 2010
About U.S. Freeskiing
U.S. Freeskiing, as part of the U.S. Ski and Snowboard Association (USSA), encompasses the sports of skicross, halfpipe and slopestyle skiing. It is dedicated to the progression of the sport from grassroots programs to elite level success with the ultimate goal of helping American freeskiers reach the Olympic podium.
About DraftFCB
Draftfcb is the first integrated, global marketing communications agency to operate against a single P&L, with a network that spans 94 countries and employs more than 9,200 people. The agency is driven by The 6.5 Seconds That MatterSM, an operating system that recognizes the brief period of time marketers have to capture consumers' attention and motivate them to act. With nearly 140 years of combined expertise, Draftfcb has roots in both consumer advertising and behavioral, data-driven direct marketing.  It firmly believes there is no way to separate creativity from accountability, which it refers to as Return on IdeasSM. The agency is part of the Interpublic Group of Companies (NYSE:IPG). For more information visit DraftFCB.com.