Hey hey hey Shredders…
Winter is winding down in the northern hemisphere, as temps creep upwards. Like the end of wave season in Hawaii, you're prolly getting your last sessions in before the goodies are all gone and you trade in your skis and snowboards for whatever your summer activity of choice.
To get you salivating for the next winter Shred Season, we'd like to show you the sneak peek of new 2011/2012 goggles to wet your whistle… ohhh yeah, baby.
Go ahead and check em all out at: http://www.shredoptics.com/shred-survey-for-2011-2012-goggles-and-helmets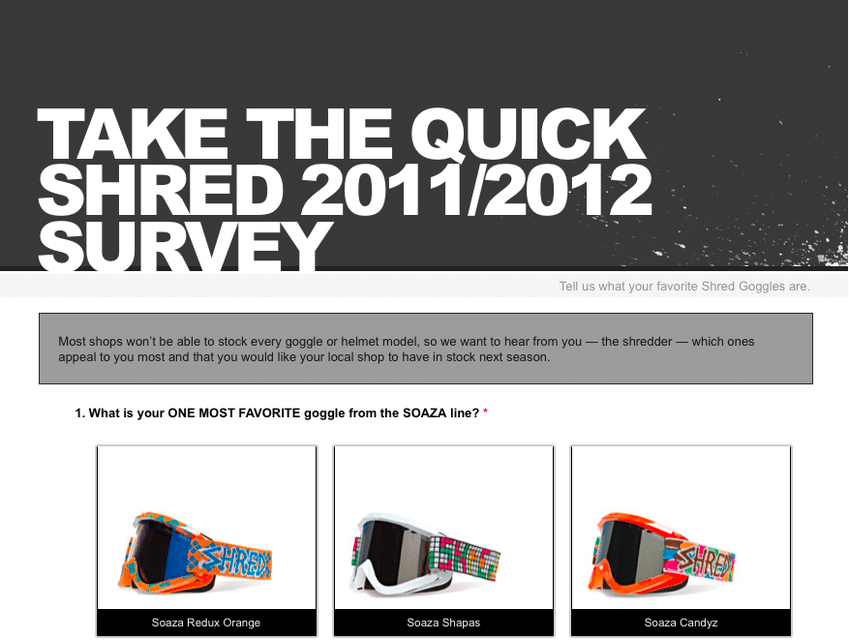 Click on the Image to take the Survey
Related posts:Shred Wants to Hear from You Hey Shredders… We've got some killer gear in the works...
Shred Optics at ISPO in Munich 2011 For all our Euro-side shredders, check out the new Shred...
You're Invited to Join Shred at SIA in Denver A little birdie told me that Shred is now owned...
Related posts brought to you by Yet Another Related Posts Plugin.