All photos: Lévy Loye
Pulling off any kind of event is more difficult than you ever imagine it could be when you start out down that road. Pulling off a backcountry (freestyle) event during a pandemic AND a snow drought is pretty next level. But that's what Nendaz Freeride, Mont Gele Gear, and Tanner Hall managed to do this weekend. We're not going to claim it was perfect blower pow, or that we saw never been done tricks... that's not how it goes when conditions don't play ball and this season, they didn't. But a jam session backcountry contest between some of the finest backcountry jump skiers on the planet is always going to be a great show, one that skiing has certainly missed in recent years. The Nendaz Backcountry Invitational aimed to bring back the glory days of Linecatchers & Cold Rush and barring a slight lack of one vital ingredient, snow, they smashed it.
The day's proceedings pitted a diverse crew of skiers, from Markus Eder to Magnus Graner, against each other on backcountry booters and a playful face with plenty of options. The conditions weren't perfect but it's safe to say that everyone was surprised by how good they were. The night before the comp, at the riders' meetings, both hopes and expectations were low. The 'skiers' union' made the call to opt for more of a jam session than the proposed head-to-head format in order to make things a bit more chilled given the expected poor snow. A direct result of a face check that didn't look positive, not just speculation.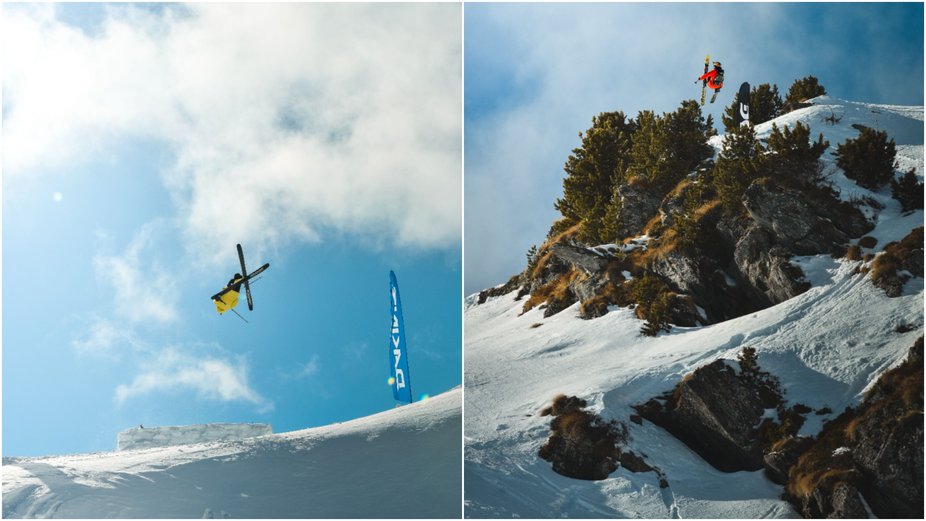 The next morning we were greeted by clouds and a thin crust on the snow. It was 10 am, well past 'start time' and things didn't look great. During the unplanned pre-comp coffee break, expectations hadn't improved. But eventually, it was drop or cancel, and thankfully, the decision was to drop. The snowboard men dropped first and run one saw sevens. Suddenly, it was on. The landings were all better than expected and things spiraled out of control from there.
The ski women were sending, with Lea Bouard sending a huge backflip off the bat, and taking a big crash, breaking a ski in the process. She was back up the hill within an hour and sent two more runs, finding herself second on the podium. Local lady, Alison Charmey took the win with her first run of the day though, courtesy of a massive three on one of the main fall-line jumps and another on the step down on the lower section.
On the men's side, things started crazy and built from there. Run one saw Tom Ritsch attempt to land switch into the couloir section, Alex Hackel and Maxime Chabloz tossing multiple sevens on their opening runs and Sampo Valloton popping to switch on the icy face that set you up for the cross slope booter and stomping a switch 5. As the day proceeded, Markus Eder stomped multiple double flats, including a crazy dub flat to hard right turn in to immediate nosebutter 7 off the stepdown. Sampo stepped up the switch 5 to a switch 9, which had to be the single trick of the day, ending his run with a double flatspin and staking his claim for top spot. Tanner dropped in for one run, putting down a flat 3 and two dub backies and showing that he still has the power to send anything despite the crazy injury catalog. But at the end of the day, the winner was pretty unanimous. The event ended up being rider judged and pretty much everyone I talked to had one name, a clear winner, at the top of their lists. That man was Magnus Graner, who put down 3 totally different runs, took unique lines on all three, was the only guy to hit the biggest of the gaps, got the most features in his runs, and generally put down a clinic in how to ride backcountry creatively.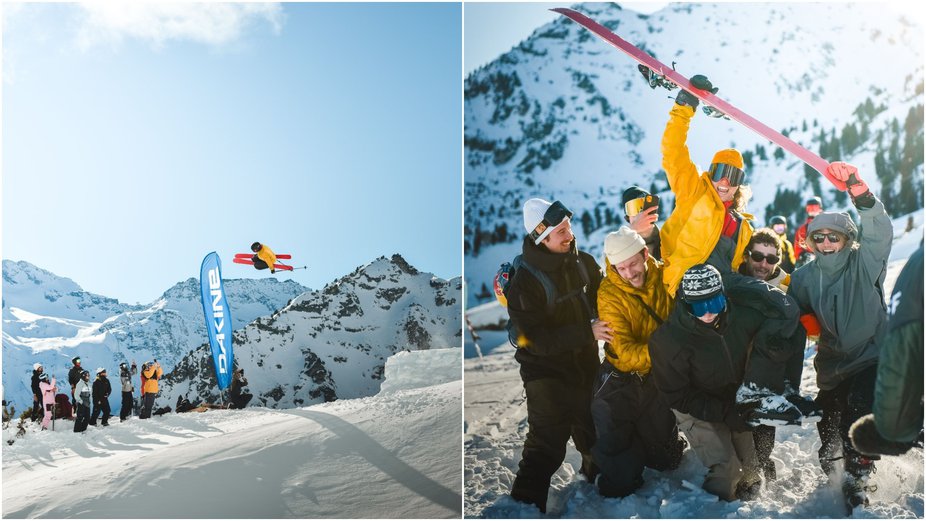 But the day wasn't really about who won or what tricks they threw. It was about the return of this style of event and, cliché as it is to say the vibes that it brought. There is no doubt that everyone who stopped during their ski day to take in the comp was blown away. There was a solid crowd on-site and the lack of pressure brought the most out of a crew of skiers who, mostly, you'd never see at either a freeride or a slopestyle event. There's certainly a space in skiing for more of these events. In fact, there's a need for more, it was certainly the best I've been to in some time. Hopefully, this weekend's show can provide the impetus for that.
_
Ski Women:
1. Allison Charmey
2. Lea Bouard
3. Elsa Sjöstetd
_
Ski Men:
1. Magnus Graner
2. Sampo Vallotton
3. Markus Eder
_
Full highlight edit coming soon