Yep that's right...the NS Store has officially reopened for business, and what better way to commemorate it than by having a grand reopening Boxing Day blowout sale!
Beginning today we'll be liquidating all of our current stock until it's gone to make room for some tasty new treats, and the stock is limited, so don't miss out on this amazing one of a kind offer!
Here's all the juicy details: All movies are $5 off their regular price, All t-shirts are only $10 (regular $20) and all sticker packs will come with one free bumper sticker. Plus every order that contains a movie and/or t-shirt will come with either a sticker pack, a lanyard or some bumper stickers.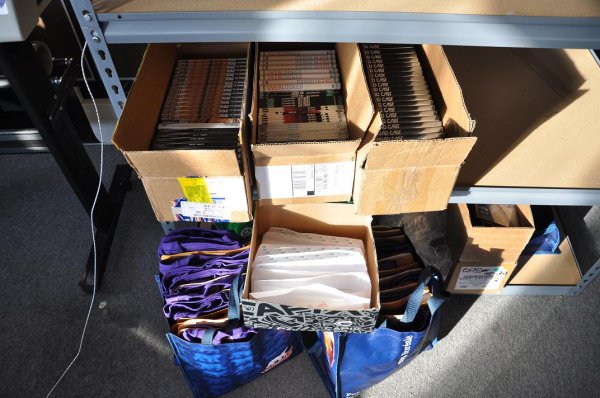 here's everything that's left...get it before it's gone!
Yeah we know, we're crazy! But it is Boxing Day after all, and it's the least we could do for you, our loyal customers, considering how much we appreciate all of your patience over the last few weeks while the store was down, and all of your understanding and continued support over the past few months when we should have been more on top of our shipping process.
And to show our further appreciation for your patience in regards to that matter, check this out...during this sale we will be offering a shipped in 48 hours guarantee. That's right, we absolutely, positively, 110% guarantee that anything and everything you order during our Boxing Day blowout sale will be en route to you within 48 hours of you placing your order, and the shipping will be free if you live in North America.
Pretty good deal eh? It sure is...so what are you waiting for? Stop reading this, head on over to the NS Store, throw down all that Christmas money you just got from your grandparents and deck yourself out in the freshest NS gear so you're the flyest cat on the hill.
the new & improved store setup in the NS office
Thanks again for all your support, and speaking of which, here's a special holiday message from the one, the only, Doug Bishop...
"The users of newschoolers.com are an incredibly special breed. We're one of the tightest communities I've ever seen on the internet, and every day we're astounded with what we see happening on this site. I'm honored that you guys are stoked enough on the brand that you want to purchase our branded items, and I love seeing you out there wearing them with pride. I know that we haven't been super on top of things so far, but we've learned our lesson, beefed up the resources and are ready to provide friendly, professional and FAST service. Please don't hesitate to call the office anytime (514.448.2760) if you have questions about your order, or with any complaints.
I give you my word that we're going to get your orders turned around in 48 hours or less. No matter what it takes, we will adhere to this as it is our #1 priority around the office right now. Know that you can have confidence of professionalism when you're shopping at the Newschoolers.com online store!"