It's happening, folks. Grab your skis, grab your livers, open your minds and get ready. December is almost upon us and it's time once again for the east coast's premier rail contest, Rails 2 Riches.
Peyton O'Connor circa 2014 | Photo: Peter Cirilli
R2R 2015 promises to live up to its legendary heritage: 40 or so of the best male and female rail skiers descending upon Killington for one massive throw-down. You will see, in person, tricks you could only dream of stomping yourself. You will see your favourite pros shredding the always-unique, always-gnarly Killington Parks set up. Some of them will blow your mind with effortless style, and others will blow their heel pieces trying to stomp their way into first place.
Last year's competition was stellar, but it also signalled the start of something new and strange and beautiful: the NS Gathering. Since its infancy there at Killington, the Gathering has grown into a many-headed monster; a loud, hilarious, totally debauched experience that is, by last count, 80% guaranteed to give you legal adults alcohol poisoning. This is the first get-together of the season, and we would like to kick things off in style. Tell your friends, tell your parents, tell your boss you'll be sick next weekend - we want you to be a part of this epic season-opener. We have a loaded sponsor list including Planks, Dalbello, Marker, Volkl, Pit Viper, Outdoor Technology, Pret, Virtika, SPY, Dakine, Oneill, and J Skis so you're pretty much guaranteed to be walking away from this weekend with a pocket full of memories and cool sunglasses.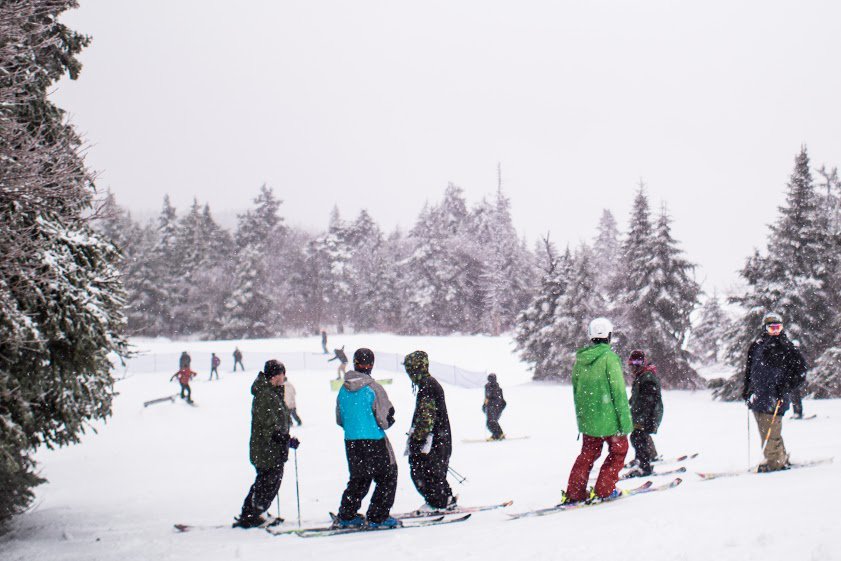 Feel the enthusiasm! This could be you.
And so, you are cordially invited. No, wait, fuck that. You are hereby called upon to join the Newschoolers crew at Killington Resort on Saturday, December 5th for a day of skiing, pro-ogling and reckless behaviour.
Here's how it's going down:
Schedule:
10:00 AM: Meet out front of the K1 Lodge, below the contest venue
10:01: Begin to pull from flask
12:30PM: Ski Qualifiers / Lunch (Oh my God, is that Khai?!)
12:45: Challenge someone to a hotsauce drinking contest
2:00: Rail Jam in the Stash Terrain Park
2:07: Get screamed at by a grown man for being afraid to hit kinked rail
2:10: Harm body but not dignity hucking your meat for prizes, earn praise of grown man
4:45: Finals
5:00: Return feeling to extremities with additional pulls from flask
After: Party down!
Check the Facebook event here to RSVP!